What do you want to achieve in 2020?
It's fair to say that 2020 hasn't gone as I planned. And sometimes it's tempting to just write it off and forget about it. But as the halfway mark slipped past, I started to consider what I really want to achieve this year and how I want to be able to remember it.
2020: Worst year ever?
Without a doubt, 2020 hasn't been a good year. The Covid-19 pandemic has brought sweeping changes to our way of life that I've certainly never experienced before. Borders have closed, hundreds of thousands have died, and literally billions of people have been disrupted. Even the use of the word "unprecedented" has been unprecedented.
Memes have sprung up cataloguing apocalyptic threats, of which my personal favourite is this one: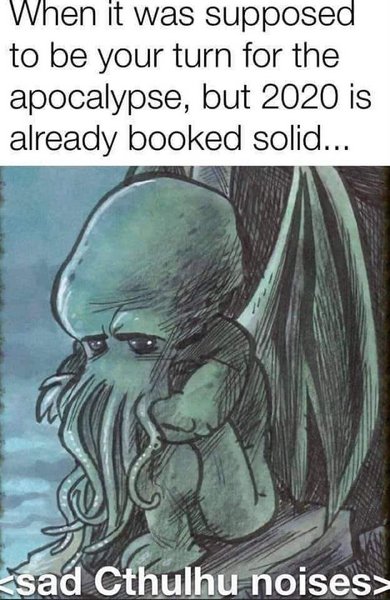 It's certainly worse than 2016. And on a personal level it has contained sorrows and joys, losses and gains. But I think I'd prefer being here and now to being in 1916. Or for that matter in 1919, the last time the NSW borders were closed due to a pandemic.
For me, the first couple of months of 2020 were pretty much a continuation of 2019. I was even part of a crowd of 86,000 on International Women's Day, strange as it is to think of now. Now the halfway point has passed, I've had months of disruptions, and it's a good time to consider what I want to achieve for the rest of the year.
Not a wasted year
By March I was already seeing people writing off 2020 as a "wasted year". Plans, hopes, and dreams were having to be put back on the shelf. With lockdown shutting many businesses and unemployment rising, for many the struggle had switched from getting ahead to trying not to go backwards.
I guess at the time I was starting to think of it as a wasted year too. I had had big travel plans for 2020, and, while I didn't actually cancel them till closer to the time, I didn't really expect them to go ahead.
Now, pretty much everything I had planned for 2020 I've pushed back to 2021 (and even that's not guaranteed). As a result, any tentative plans I had for 2021 have been pushed back till at least 2022. And that does make it sound like a wasted year. But that's not what I want.
Not using 2020 as an excuse
It would be easy for me to say "I had great plans for 2020, but they didn't work out and so the year was wasted. Blame it on the pandemic". And it's certainly tempting sometimes.
But the truth is that this year I've still had many opportunities available to me. They may have been different opportunities from previous years, but it's still up to me to decide which ones I take and which ones I don't.
I want to consciously choose to do things I value, and achieve things that I value. I want to be able to get to the end of the year and be satisfied with the choices I've made.
This isn't about making the perfect year: There will certainly be things I miss about the year I planned. Nor is it about expecting me to be perfect. This year is a new and somewhat scary experience, the situation changes rapidly, and the perfect long-term plan doesn't exist.
I'm not going to get to the end of the year and mark myself out of 10. Nor am I going to lose any sleep over opportunities missed because the situation was too uncertain. But I don't want to have missed those opportunities because I'd already given up on 2020 mentally.
Gathering the gems of life
For years, this quote from The Hobbit has reflected my views when travelling:
They gathered gems and stuffed their pockets, and let what they could not carry fall back through their fingers with a sigh.
And I think it applies to life experiences generally: There will always be more places I could visit, more books I could read, and more things I could learn and do. Each choice that I make also means choosing not to do other things. There will always be things that I miss out on and regret, but I try to appreciate the things that I am able to achieve and experience. It may not be perfect, but it is enough.
Things that I planned for 2020 may be very different if I do them in, say, 2021 or 2022. Some of them I may never end up doing.
At the same time, there will be things that I do in 2020 that I enjoy, and that I wouldn't have done if 2020 had worked out as expected. So I want to focus on the things that are in my control, not the things that are out of my control.
Not creating a brand new me
Another persistent narrative for 2020 has been that it's the perfect opportunity to redesign your life. With the lengthy commute disposed of, social catchups reduced, events cancelled, and many more hours spent at home, you too could embrace a simpler, more meaningful life. There's time to take up a new hobby, learn a new skill, or do something you've always wanted to do and never quite found the time for.
However, I quickly found that this just wasn't true for me. Yes, I'm sure there are some things that take less of my time than they did in 2019. But those things were there for a reason, and so I've found that I need to replace them.
However, there's a deeper truth here: I've already redesigned my life. In 2016, I quit organised religion. That left my weekends and weeknights much freer than they had been - but it also left me having to find new purpose and direction in life.
Part of this was satisfied in the online world - not only have I been running this blog, but I've also been part of various online communities where I've been able to learn and grow and make friends I would never have made otherwise. However, I also changed my relationship with Melbourne in particular, in a philosophy I've described as bringing the tourist spirit home.
I think this is why the Tolkien quote so appeals to me, because I do try to seize the opportunities and stuff my pockets full. Keeping my life fairly busy is a deliberate choice, and I'm sure some would find it too busy. However, at the same time I try to recognise those opportunities as gems and give them my full attention. The goal isn't being busy for the sake of being busy, but of choosing things that I value and will improve my world. And if that means I have to let other things I might value slip through my fingers, that's just the way the world is.
In the past four years, this philosophy has taken me to some unexpectedly wonderful places. It's meant frequent hiking, finding autumn leaves and spring flowers, jagged peaks and gentle hills. It's meant visiting museums and seminars and plays and orchestral performances and festivals. It's meant opportunities to learn, to enjoy, to share, to be fully in the moment, and to appreciate the world I live in.
At first, it might seem that these in person experiences don't prepare me for a socially distanced 2020. But there are online equivalents that I can find.
For example, I haven't attended any in person plays since January, or any live music since March - but I have watched plays streamed by the National Theatre and operas streamed by the Met Opera. I haven't attended any in person talks since early March, but in the last few weeks I've attended sessions online from the Melbourne Writers Festival and from National Science Week (both events that I attended in person last year). I'm sure there will be more such opportunities in 2020 - I just need to choose which ones I accept.
I'm not trying to make things exactly the same as 2019. That's not possible. But I am trying to maintain the same spirit and goals. I'm trying to be the same person in very different conditions.
This philosophy also includes seeking new experiences: I'm sure I've added things I value every year from 2016 on, and I expect the same to be true of 2020. But that's not because Covid-19 has been a dramatic wake up call, but because I'd already built "Try new things" into my life.
Valuing day to day life
When looking back on any particular year, only a few things will stand out. But the full year is made up of thousands of small experiences, both good and bad. They may not make it into a year-end review post, but they still matter.
An important one for me is spending time with family and friends and being there for them when they need it. This can be harder when it's electronic only, but it still matters. When we started to re-open in May & June I may not have gone travelling far, but I was glad to be able to meet with family again, and I want to spend more such time with them once the current outbreak is under control.
Another thing that takes a lot of my time is work, and in this time of uncertainty I know I'm privileged to have a stable job I can do from home. I want to get to the end of the year having worked with co-workers to build functionality that will be used.
I also want to read books that I chose to read. To watch films that I chose to watch. To follow blogs that I chose to follow. To learn and to share and to come to a better understanding of my place in the world.
My hiking has been largely confined to my local area, and I want to have found new trails and to know the area better than I knew it at the start of the year. There are many sunset viewpoints near me, so I want to have seen and appreciated many beautiful sunsets. I've been able to follow bear hunts, see rainbow decorations and chalk drawings, and discover Spoonvilles, and I want to continue to appreciate the things I find in my local area.
Basically, I want to do the things that make yet another lockdown easier to bear, either for me or for others. And I want to remember that even in a bad year life can contain many simple pleasures, and 2020 can't take them away from me.
What about the blog?
This blog is one place where I can easily see exactly what I achieved in a particular year, and where I can compare output for different years.
So far in 2020 I've met my baseline goal: I've published at least one post every month. In fact, both my post count and my word count for the year are significantly higher than this time last year. And only once has my first post for a month been right at the end of that month (compare that to four times in 2018 and three times in 2019).
However, just about every time this year I've promised one or more sequel posts, I've ended up with extensive drafts that haven't quite got published. This means the word count for unpublished drafts has stuck pretty close to the word count for published posts. This is fairly normal for me, but I still want to change it.
Really, a lot of what I want to do is just to complete the outstanding review posts from the 2010s and from 2019 (talk about setting the bar low!). I know the tempestuous 2010s had at least two posts outstanding. For 2019, I did at least squeeze one post into the first half of 2020, but I still have a lot to unpack from my travels in NZ before reviewing the year as a whole.
Covid-19 is the gift that (unfortunately) keeps on giving. Like I said in my first Covid diary, we are living during a "historic moment" and I'd like a record of it. It has exposed both the best and the worst in us, so there's a lot I want to say. However, Melbourne has been in a second lockdown for over a month, and I haven't even written about the first lockdown yet…
I'd also love to complete Eve's Tale and my associated critiques of Divine Command Theory. Yes, I know I've said that too many times already, but it's still a tale that's close to my heart, that I loved writing, and which I'm sure I can make better if I actually spend the time on it.
To do all this would require more than one post a week for the rest of the year. Past history shows that's unlikely to happen. And that's not even counting the burning new post ideas that are sure to pop up between now and December 31.
So what I end up with, who knows?
(Kinda) Travel-related posts
Without Covid-19, I would probably have been in the Alps right now, perhaps in Switzerland or in France. And I'm OK with that: It's disappointing that things didn't work out, of course, but there are far worse problems in the world.
However, I decided to write posts relating to some of the places I was intending to visit:
Singapore: I've spent less than a day outside Singapore airport, but it triggered a post on black swans and white swans.
Israel: Growing up religious, Israel was one of the countries I heard most about. At home, we had multiple maps of Israel in Biblical times, and I might even have known its geography better than Australia's. That association triggered a post on Elijah at Mount Carmel.
Switzerland: In my list of 30 posts for NaBloPoMo last year, there are at least five that are in my mind associated with time spent in Switzerland, and I want to write at least a couple of them.
USA: As a child I spent four months in Denver, which is still the furthest east I've got. I was looking forward to meeting friends and seeing some of the sights in the east, but if I write anything, it will be based on that childhood experience and particularly on encountering snow for the first time.
India: I saw swans in Singapore on my way to India for a final mission trip. Writing about swans got me to re-read my diary from that mission trip and reconsider my role there, and so I want to be able to share some fun experiences and exorcise some personal demons. And I already know I've got the raw material for at least three posts.
Travel
This goes back to the gem-gathering image again. There are many, many places I would love to visit in the Northern Hemisphere - but there are also many places I would love to visit in Victoria, in other states of Australia, and in New Zealand. Definitely more than will fit in a lifetime. I've only used two days of leave so far this year and spring is approaching, so I'd like to see what I can discover.
Back in June, when both Australia and NZ were looking relatively Covid-19 free, there was a lot of talk about a Trans-Tasman travel bubble. And I think if it had come about I would have strongly considered visiting NZ North Island, both to contrast with my South Island travels last year and to provide the volcanic action I can't get in Italy or Hawaii. However, with recent developments in both Victoria and NZ I'd be very surprised if I'm able to visit this year.
Similarly, I expected the borders to South Australia, Tasmania, and NSW to be open to me in spring. However, since then even the NSW border has closed, and I'm not sure all those borders will re-open even if we bring the current outbreak under control. Right now, I can't go more than 5 km from my house or be out hiking more than an hour.
I can't yet know which places I'll be permitted to travel to some time this year, nor do I know when and where I'll consider it safe to travel. And I won't lose sleep over opportunities that aren't there or that I don't feel comfortable with. However, I hope that at some point there will be opportunities that I value, and if so I want to make sure I take some of them.
Maybe that means staying within Victoria, or maybe it means travelling further afield. Who knows?
Long distance hiking?
Four years ago today, I was at the historic Hadrian's Wall, approaching the end of my Pennine Way thru-hike. In recent months I've been seeing people come out of UK lockdown with other plans disrupted, then deciding that this year is the year they will complete the Pennine Way. And the pictures I've been seeing remind me of the views and the heather and the daily grind of working towards completing a goal.
In the years since, I've said that one day I'd like to do a long distance walk in Australia, but it's never been high enough on the list. Perhaps the disruptions of this year will provide the perfect opportunity to try, say, the Great Ocean Walk.
Disclaimer
I realise that I'm fairly privileged, and that others have been affected by 2020 far more than me. There's no one right way of dealing with all the disruption 2020 has brought.
I'm not particularly interested in telling anyone else how they should deal with 2020, nor am I interested in anyone else telling me how I should deal with it. All I'm interested in is making sure that I've thought about how I want to deal with it.
Conclusion
Will 2020 be everything I hoped and dreamed on January 1? No. Definitely not.
However, while facing different circumstances, I want to be the same person. I will certainly remember 2020 as the first Covid-19 disrupted year, but I don't want that to be all I remember it for. I don't want to look back and consider it a "wasted year", so I have to plan now to try and make sure it isn't.