A year ago, I left wintry weather behind to spend three months travelling the USA with a couple of forays into Canada. Ever since, I've been intending to write about it and share some photos, so this made a convenient deadline to finally get it over the line.
The summary
When I got back, work colleagues asked what I'd done, so I tried to put it in a sentence: I spent time with friends, visited the Great Lakes and Niagara Falls, explored some East Coast cities (Boston, New York, and Washington DC), headed west to visit Glacier Country, then dropped in on San Francisco and Hawaii on my way home.
Sounds simple, right? And it does get the gist of how the trip fit together, even if it wasn't always as logical or thought out in practice as it sounds in theory.
I was out of Australia for the first time since 2019. In the northern hemisphere for the first time since 2016, and in the US for the first time since 2014. I visited Canada for the first time, got to the US East Coast for the first time, and saw and touched the Atlantic for the first time.
Perhaps a couple of flags would help paint the picture: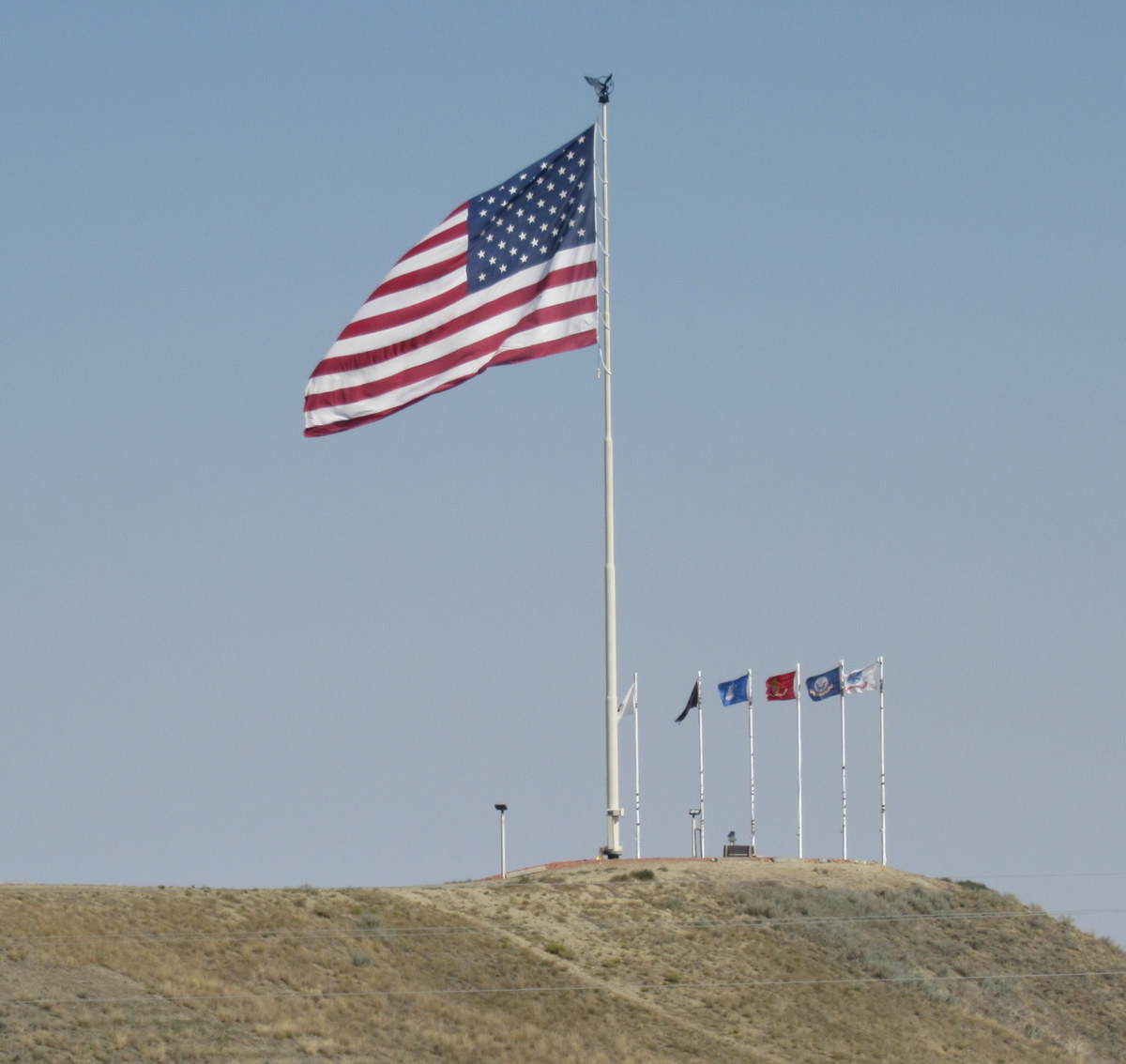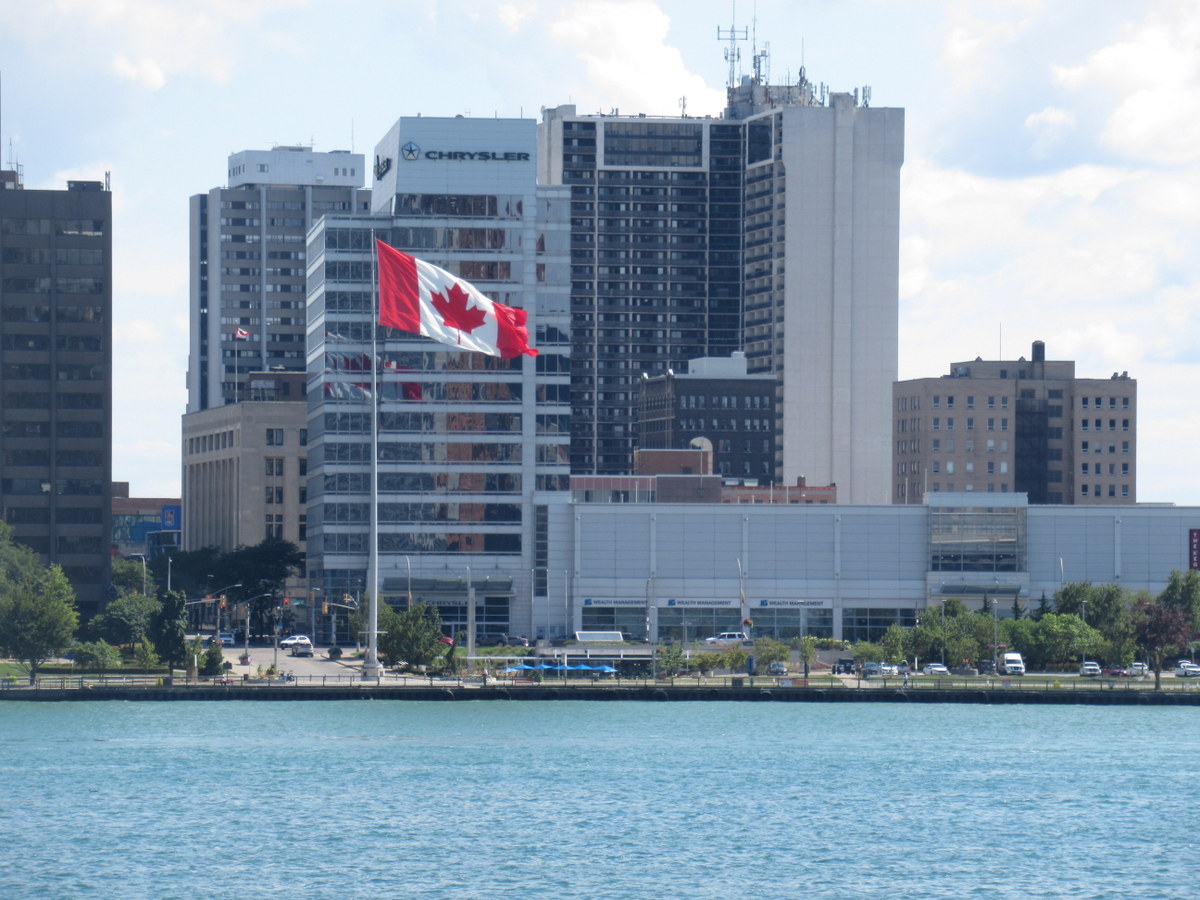 The United States flag comes from a place near the border where I saw both sunset and sunrise, while the Canadian flag is taken from one of the few places where it's possible to look south into Canada from the US.
Compared with my 2016 UK trip, I visited fewer countries - but travelled much further within the countries I visited. In fact, by the time I got to Hawaii I'd travelled nearly halfway home from New York - which I'd left less than three weeks before. Like that UK trip, most of the places I visited this time round were new to me, though I was glad to return to places like Yellowstone and San Francisco. And also like that trip, some things might have been planned as much as weeks in advance, but many things were only planned hours before they happened (if anything, my planning might have got even more chaotic and last-minute in the years since then. Though I can't match the couple I overheard in Honolulu talking about how they'd decided to come from San Francisco - a five hour flight away - that lunchtime).
Some numbers
In that three months, I went on eight flights with seven carriers, ranging from 40 minutes to 14 hours. Drove four thousand miles using three different hire cars. Took two long distance bus trips, one of them overnight. Used public transit in seven different cities, and acquired public transit cards for five of them. In all, I stayed in 28 different places, along the way visiting three provinces of Canada and at least nine states of the USA (plus the District of Columbia).
I also took nearly 60,000 photos, including many days when I ran my camera battery empty and had to fall back to using my phone, while also trying desperately to coax the camera to take a few more sunset shots. I saw 12 sunrises, and no fewer than 64 sunsets (yes, I knew I'd seen quite a few sunsets, but that surprises even me - it's nearly 3/4 of the days I was there). And after those sunsets there were sometimes beautiful, starry nights.
What else was there? I saw a moose in a lake grazing, a bear in the bushes munching on berries, and a couple of whales crowding the boat I was in. There were dolphins, hawks, swans, bison, mountain goats, snakes, pikas, groundhogs, marmots, chipmunks and squirrels. Some of those I'd seen on previous trips, but many were completely new to me.
I saw volcanoes, glaciers, and snow-capped peaks. I walked far and wide, en route climbing dunes, mountains, and even a 14er that allowed me to be freezing cold watching a sunset in tropical Hawaii. I visited gardens, walked by rushing rivers, and admired magnificent waterfalls (including one of the grandest in the world).
I visited museums and art galleries, historic sites and skyscrapers, zoos and aquariums. In fact, it felt like I saw more art galleries in three months than I'd seen in a dozen years.
I found beautiful walks in the middle of densely populated cities, and fascinating museums in far more sparsely populated areas.
I went to a classical concert (in a historic church), a rock concert (in a baseball stadium), a musical (on Broadway), and a Shakespearean opera (a new commission for San Francisco Opera's Centennial Season).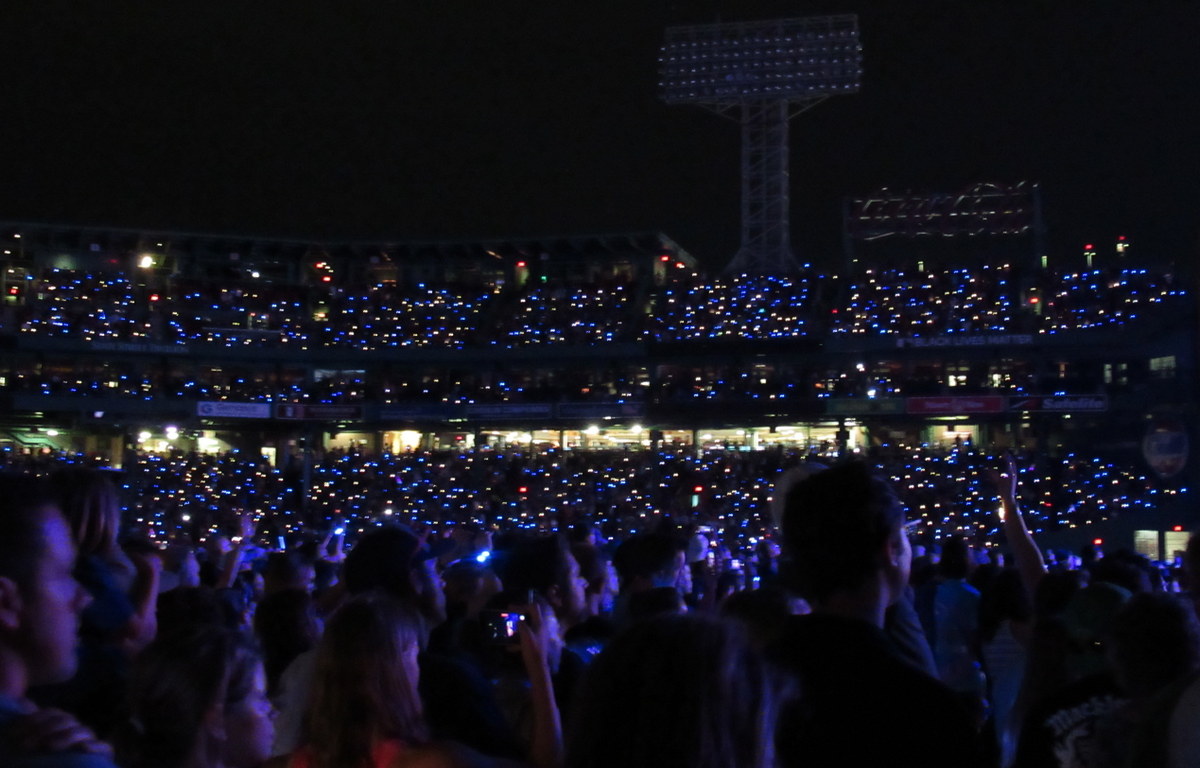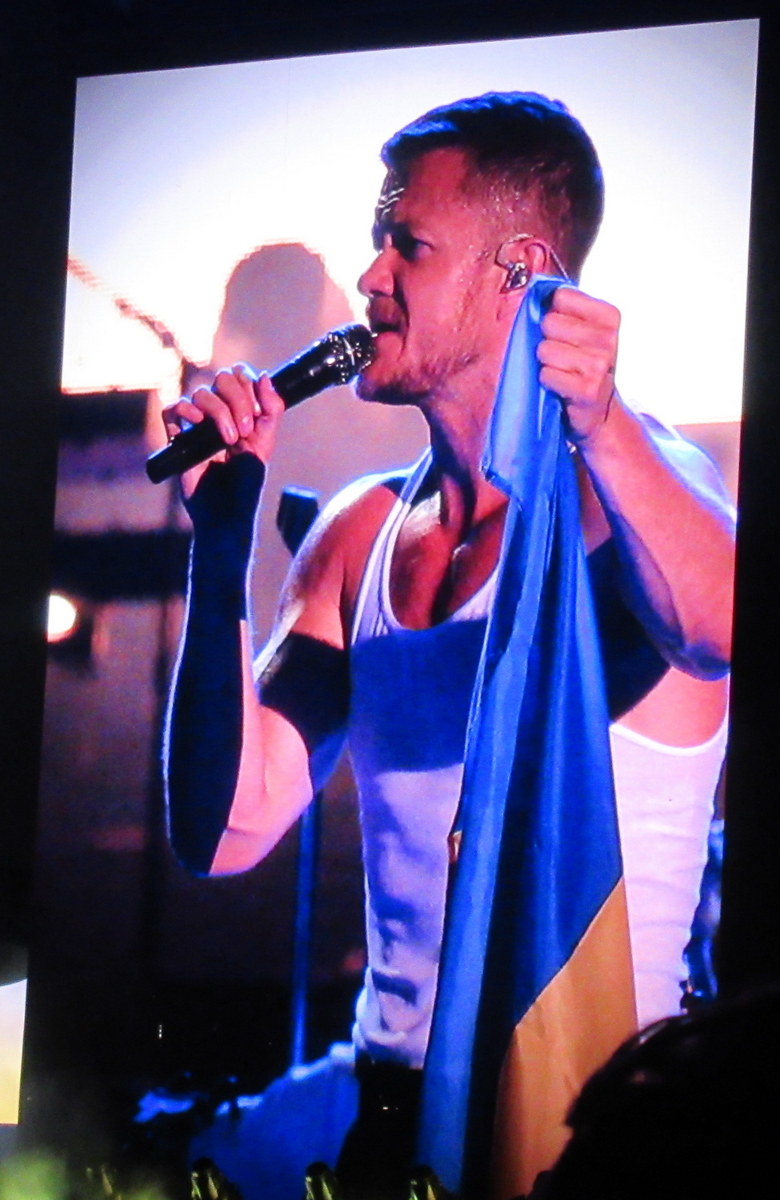 Some watersports
I swam in the Atlantic, the Pacific, and the Great Lakes. I went snorkeling for the first time, watching the fish dart about and a green sea turtle swimming in the trench below. I also went white water rafting for the first time. and went kayaking on Lake Erie and the San Francisco Bay.
I kayaked on Lake Erie and in the San Francisco Bay. Since the life jacket I was given in Ohio had a protective phone pocket, I also took photos while kayaking for the first time: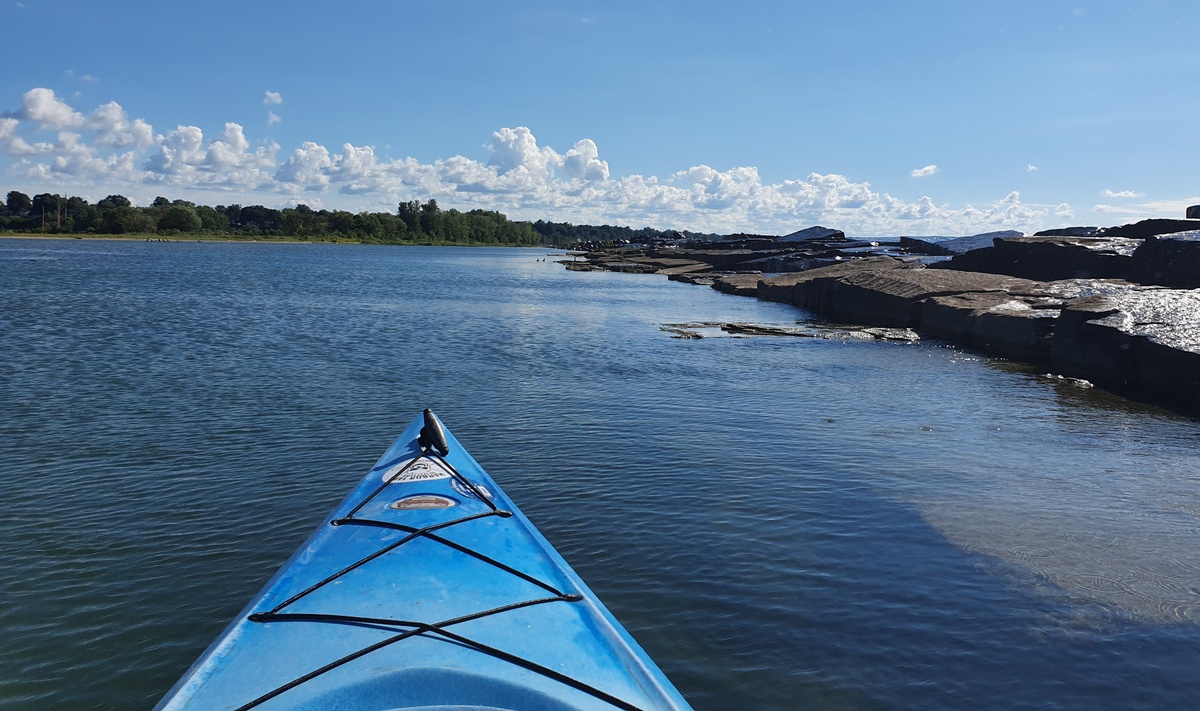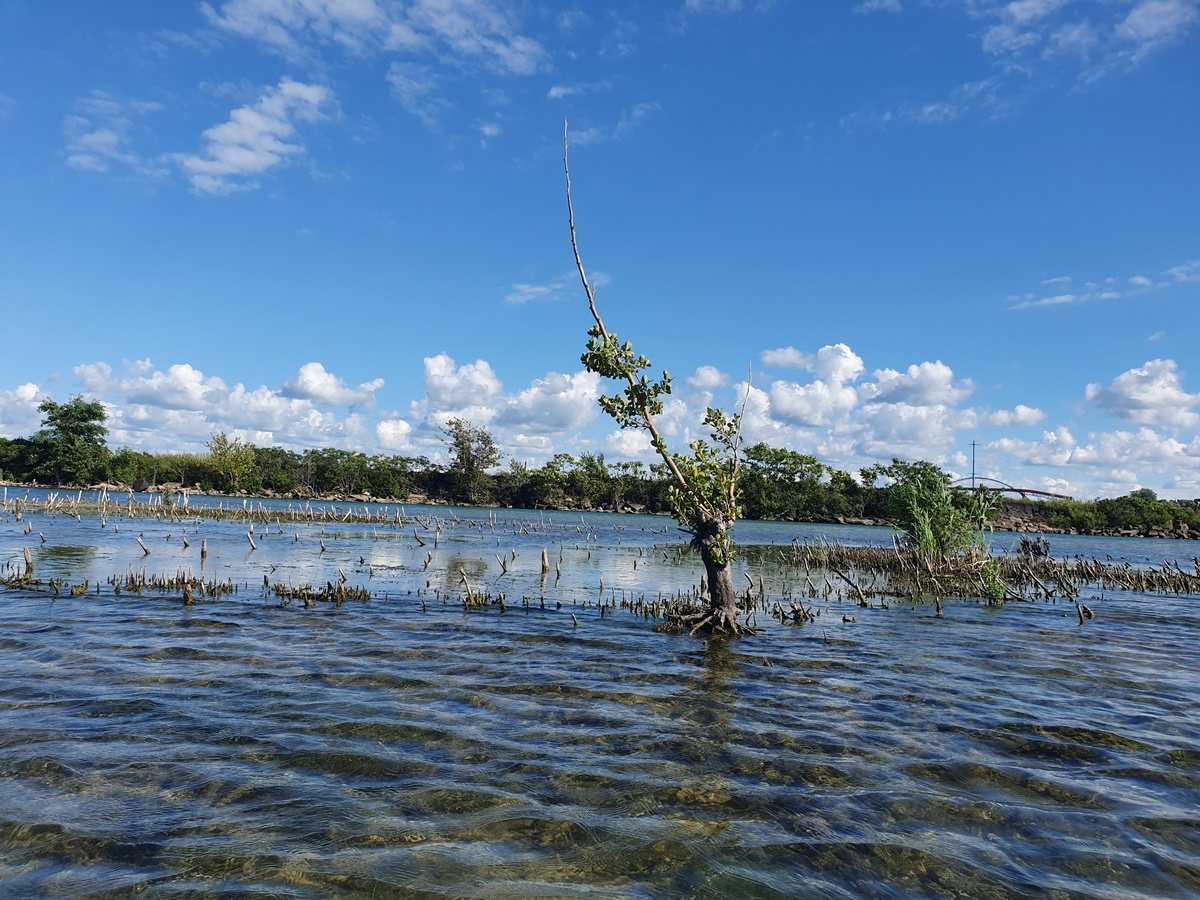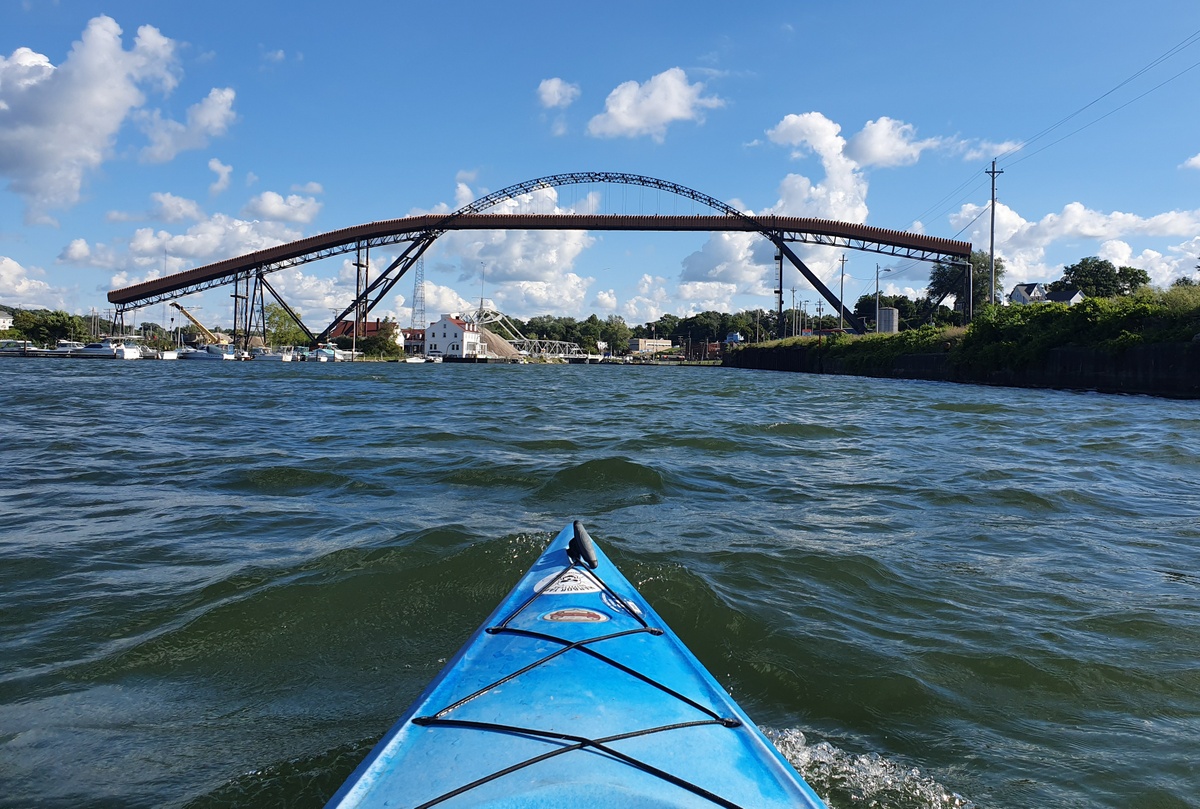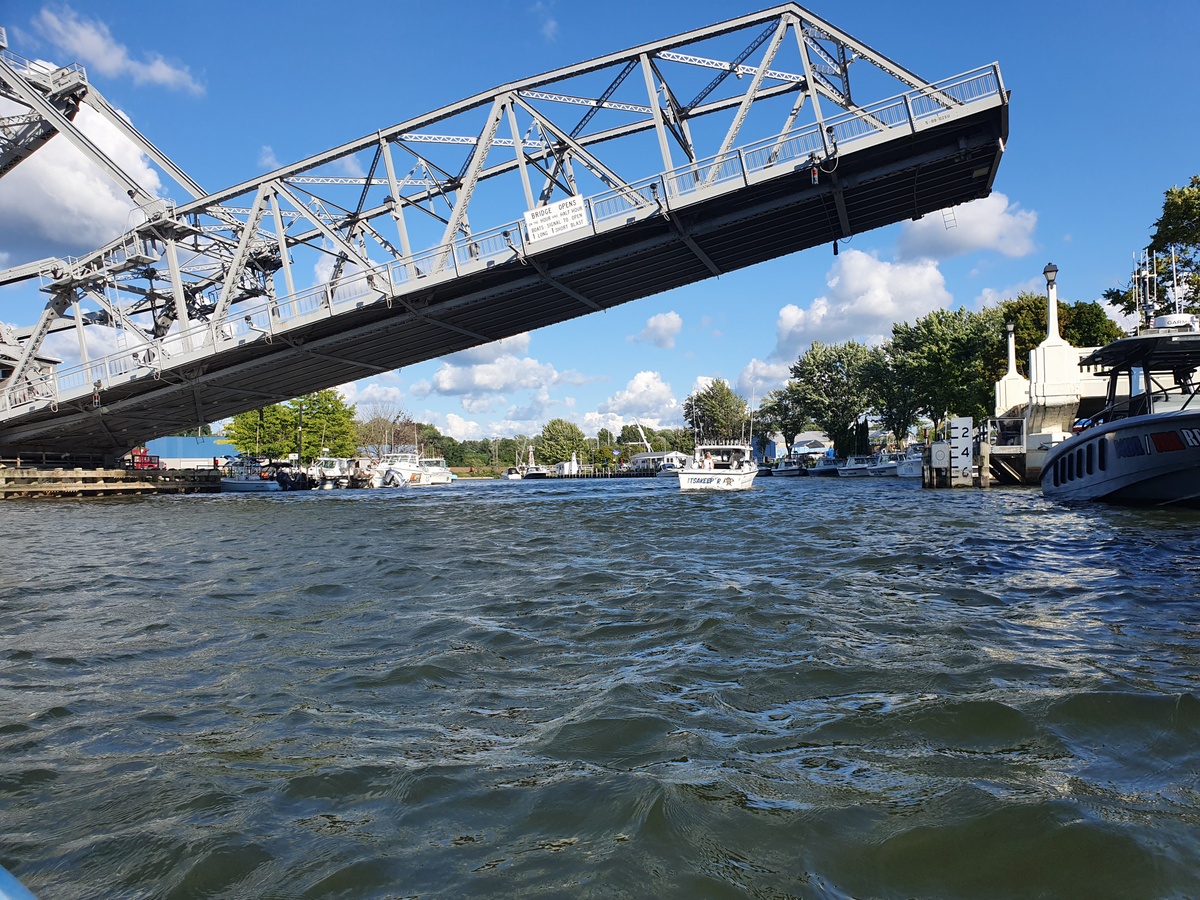 Both those times the weather was rough and staff encouraged me to stay in calm, sheltered areas. And I was happy to admire the waves over the breakwater without having to be out in them. That's one of the things I like best about kayaking, really, just being able to take it easy and admire the scenery and the birds and the water. Turns out it goes well with photography, too, even if I've never felt safe taking photos from the water before.
And a bit of disc golf
Since I picked up disc golf in 2021, I've tried to add extra courses while travelling Australia. So I leaped at the chance to play in a different country for the first time. I played with my trusty Piwikawaka on nine courses over two countries, from the rainforests of Hawaii to the snowfields of Canada.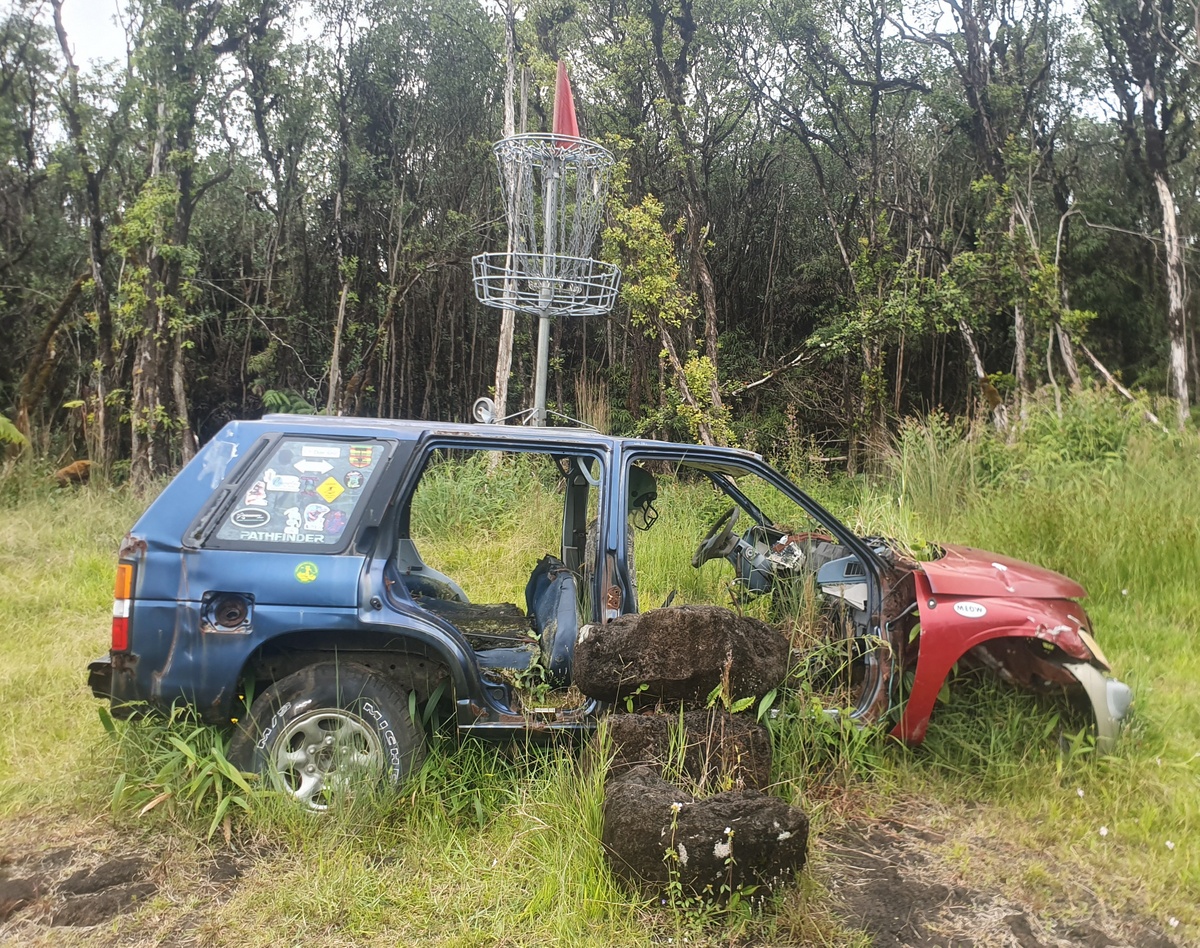 And didn't quite manage to lose it, either, even though sometimes it felt a close-run thing: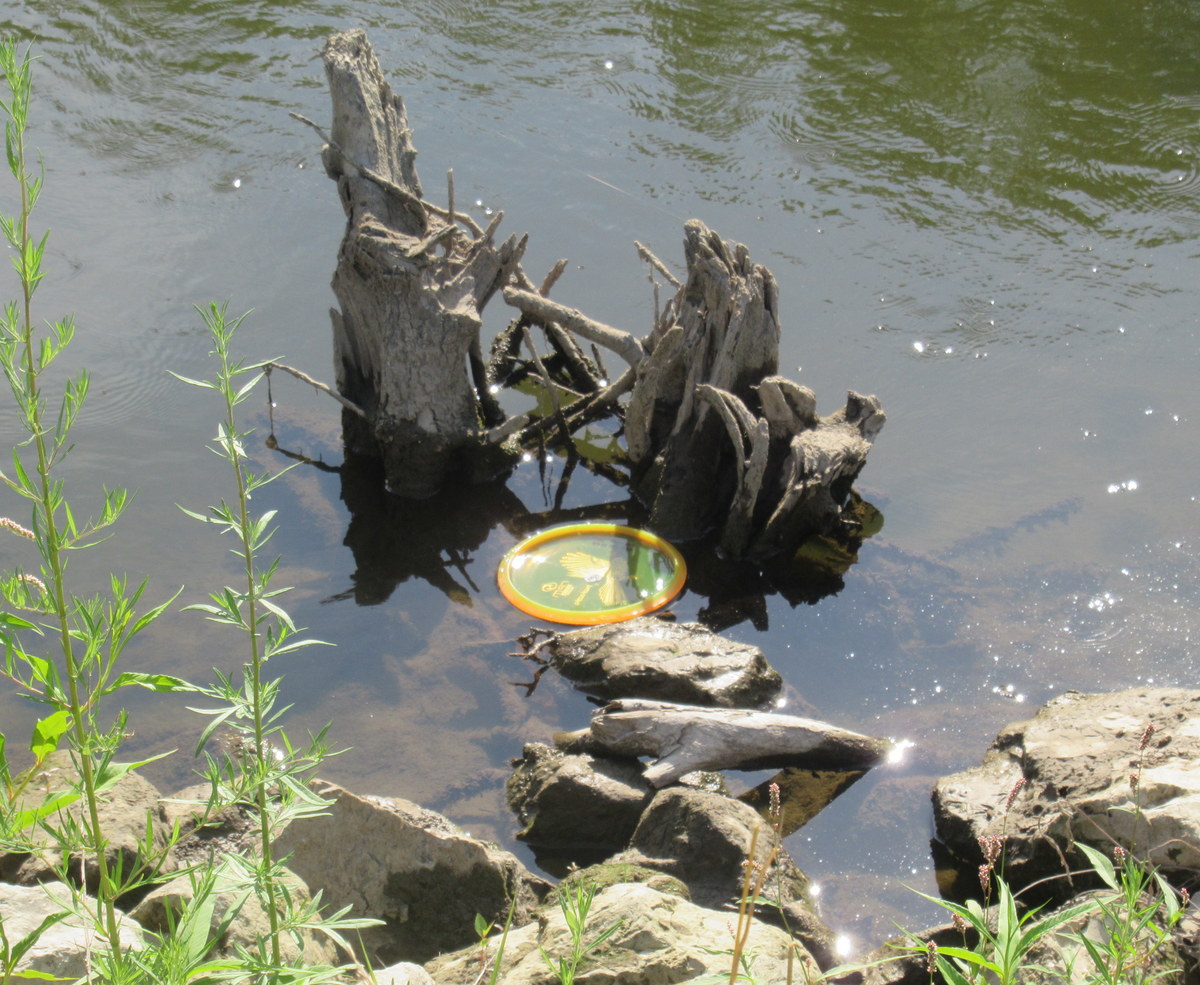 The Hawaii course is privately owned and the owner very kindly showed me round. And I got a souvenir disc from there that, um, I still haven't thrown in the few rounds I've played since getting back. But at least it has a beautiful stamp.
I particularly wanted to try and visit a course that was on the world top 10 list. Given I was going to be in the Great Lakes area, and with a car, Flip City seemed like the best choice. It was ranked #9 in 2022, though this year it's dropped to #15. I can't compare it with other top 10 courses, but it was a wonderful course.
It's the only course where I've got to the end of the first round (doing six optional holes as well as the regular eighteen) and went "That was really great - I should do it again". Then got to the end of the second round and went "I really feel like doing it again, but it's getting late in the afternoon, so I guess I should head on".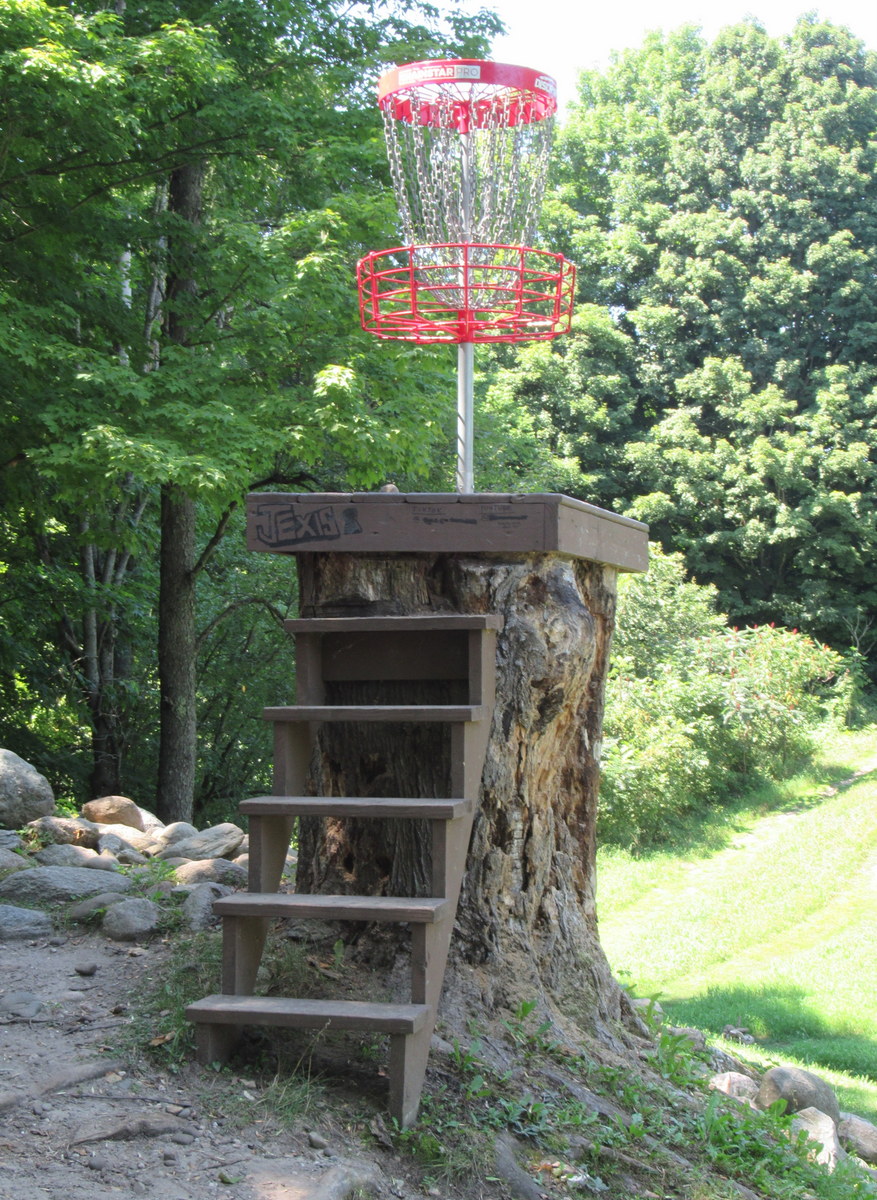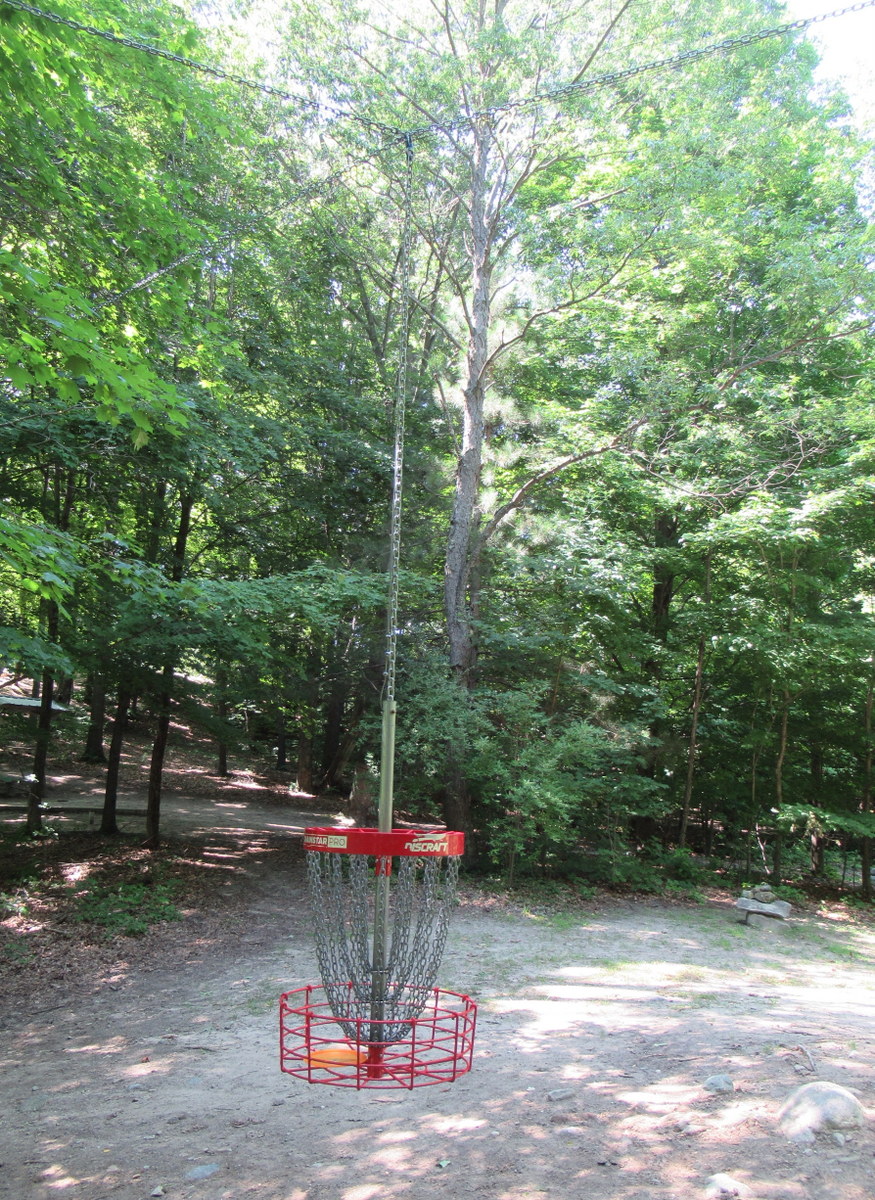 A check-list
With that overview out of the way, and with the stats done with, it's time for (gasp) a checklist.
I actually didn't write this check-list down till I was partway through the trip, but it does reflect the ideas I'd had before setting out, some of them years beforehand. The indented ones were stretch goals - things I hoped to see or do, but wouldn't consider the trip a failure if they didn't quite work out:
Visit New York
Climb the Empire State Building
Go to a live theatre performance
Visit Washington DC
See the NASA Museum 🚀
See a giant panda 🐼
See a sunrise †
Experience northern hemisphere stars
Visit Niagara Falls †
See glaciers, glacial lakes, and the mountains †
Meet a bear in the wild
In a place where I could take lovely photos of it
(preferably without having to use bear spray)
Play disc golf overseas †
Visit a course on the world top 10 list
Visit Los Angeles
Return to the Getty
See an active volcano
Visit Greater Detroit
Visit the Henry Ford Museum
Go snorkeling / scuba diving somewhere tropical
Try some of the food I remembered enjoying in previous trips
† Done in both the USA and Canada.
And I think what that shows is that I had a few very specific ideas, and those certainly contributed to making the overall schedule what it was. But there were also a lot of gaps which would need filling, and which I knew I'd be able to fill. For example, New York is of course a lot more than just the Empire State Building, but that was one of the clear things that represented the Big Apple for me.
Pandas, on the other hand, are an animal I've wanted to see for years. There was nothing specific about the pandas in Washington DC that meant I had to see them - but I knew DC had pandas, so it seemed like a good opportunity: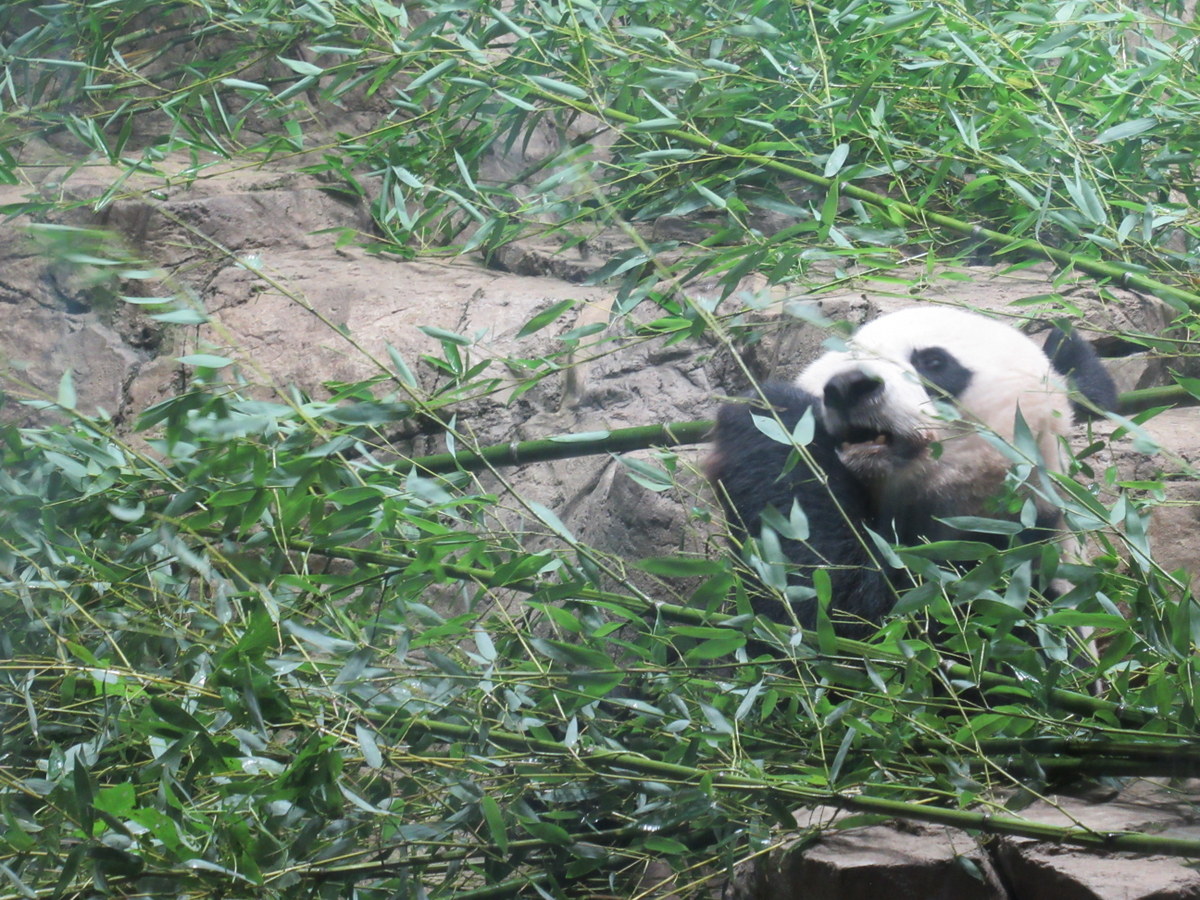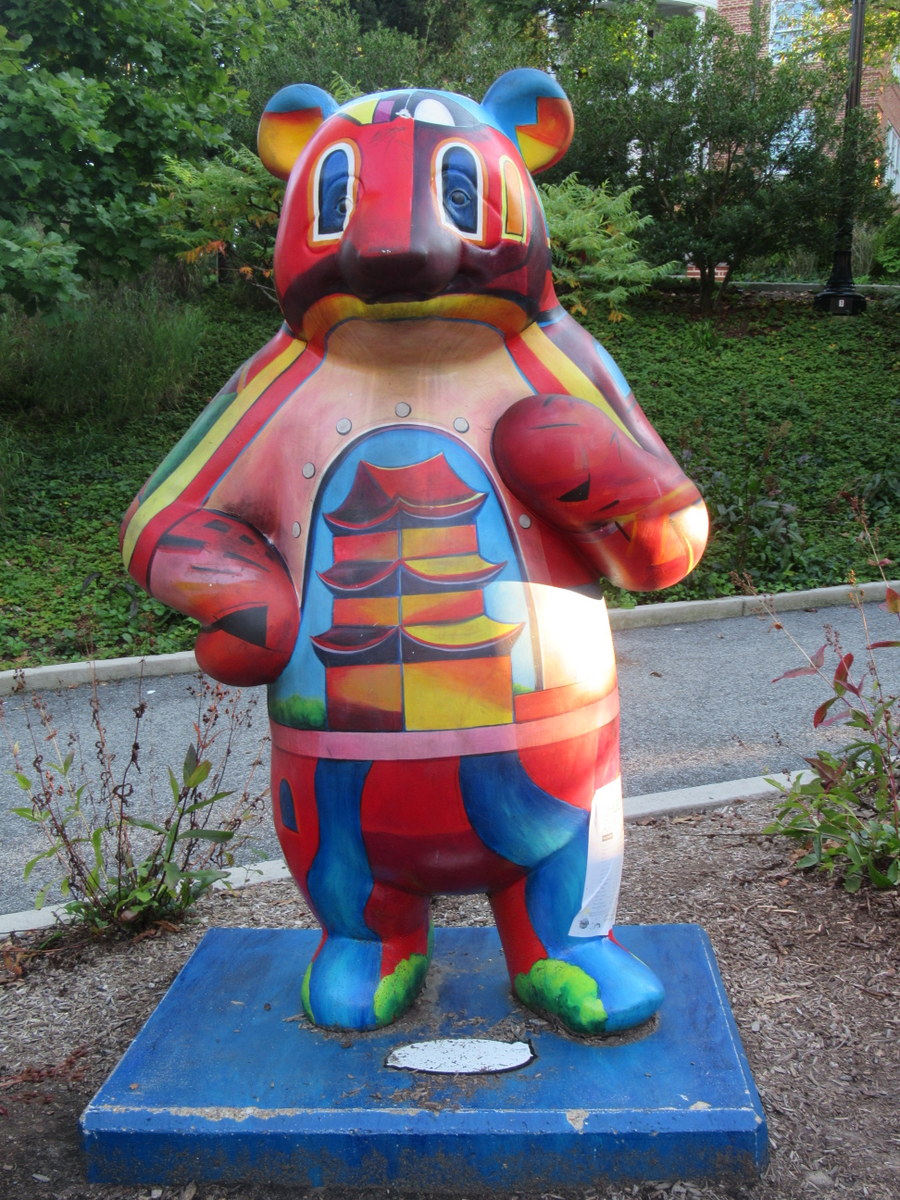 I didn't want to lay out a prescriptive schedule while still in Australia, but there were certain things I wanted to be sure I saw and did. As it turned out, I achieved pretty much everything on the list, and those things I didn't achieve were out of my control (for example, the NASA Museum was closed for most of the year - though I did go to other Smithsonian Museums). If things were important enough to me, I would do what I could to increase the odds they would happen.
In my experience, there's somewhere to walk almost anywhere (though yes, it won't necessarily be somewhere I'd go to the other side of the world to walk), and just about any city will have some interesting places to visit. So I'm happy to pick a few cities to visit, have a couple of big picture things I'd like to see in each city, then work out the details when I'm actually there.
Some unexpected moments of joy
To me travel (and life generally) isn't just about carefully planned special moments. There are many things that are unplanned, unexpected, and sometimes seemingly small. And yet, they can also be the things that make a day wonderful. The things that put a smile on my face which nothing will wipe off. And the things that I'll remember for years to come.
So here are some of them (with photos!). I didn't plan most of these, but even the ones I had thought about in advance I didn't know how special they could be. What I could (and can) do is to put myself in situations where it's more likely that interesting things will happen.
Seeing a polar bear eating lettuce: The first time I walked through the Arctic area of Toledo Zoo, I saw a polar bear sleeping. It's a good start, but perhaps not the most interesting animal encounter I've ever experienced.

Then an hour later I happened to be going past and decided to drop in again, and found an active polar bear and a red ball floating in the water. It turned out to be an enrichment exercise - it was stuffed with lettuce, and the bear needed to first get the ball out of the water, then get the lettuce out. Perhaps not the challenge of walrus hunting, but still a lot of fun to watch. With complementary reflections, too 😉.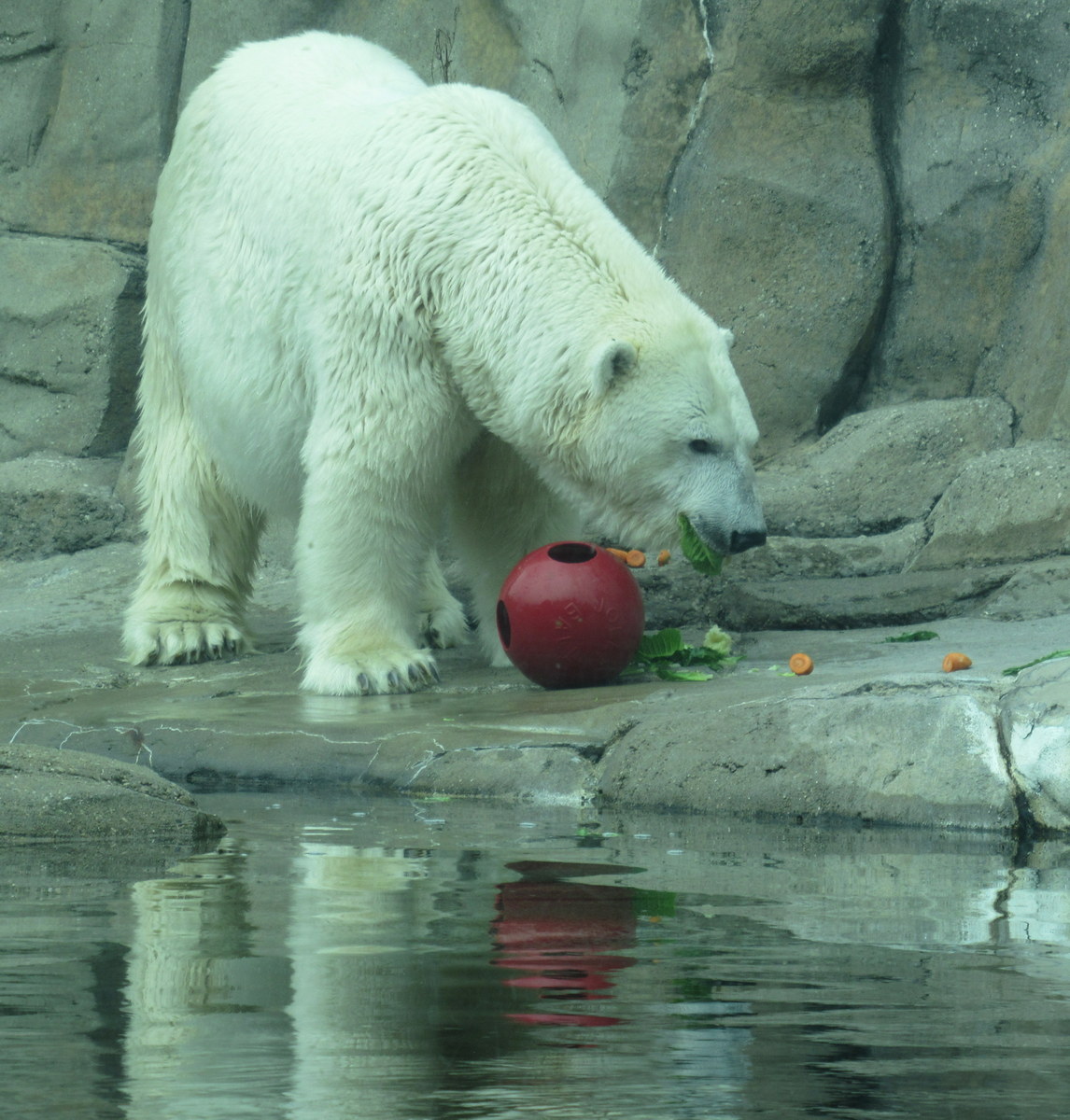 Throwing tea into the Boston Harbor: The Boston Tea Party Museum allows you to re-enact the Boston Tea Party. Given how famous that event is, it seemed worth trying when I was in Boston.

We all got given roles, and apparently I was a bookseller: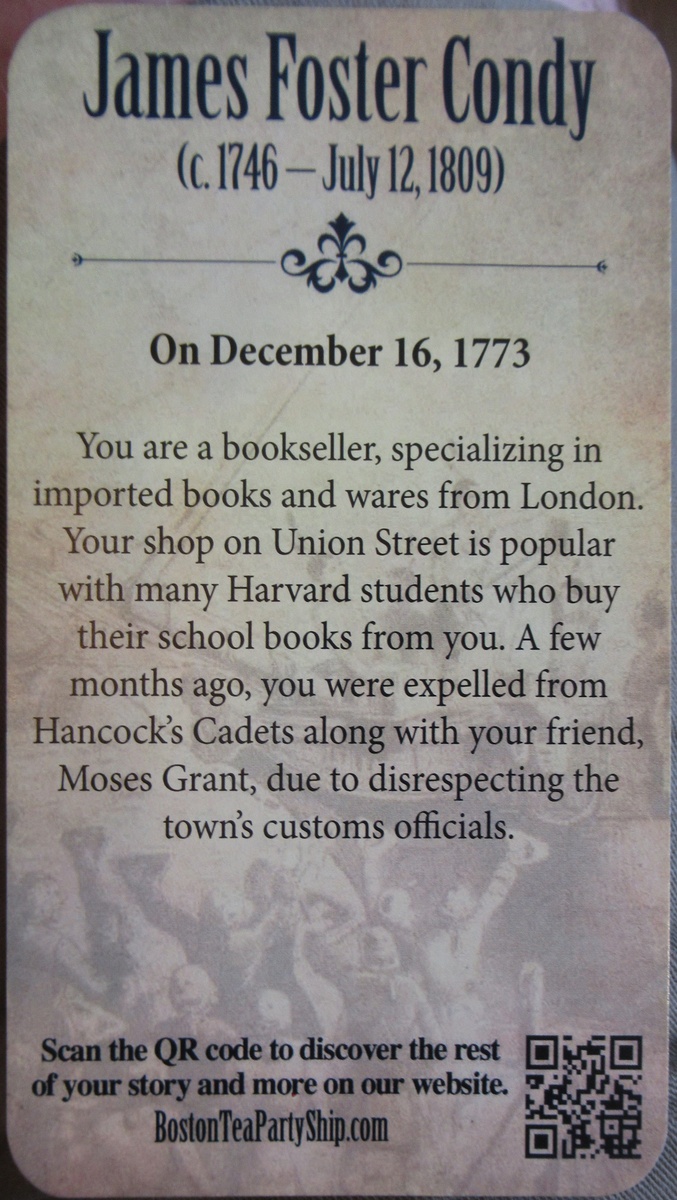 Somewhat appropriate, I guess.
Perhaps the line attached to bring the chest up again was a bit of a spoiler, but still: I got to throw the tea into the Boston Harbor with a big splash, and it was a lot of fun!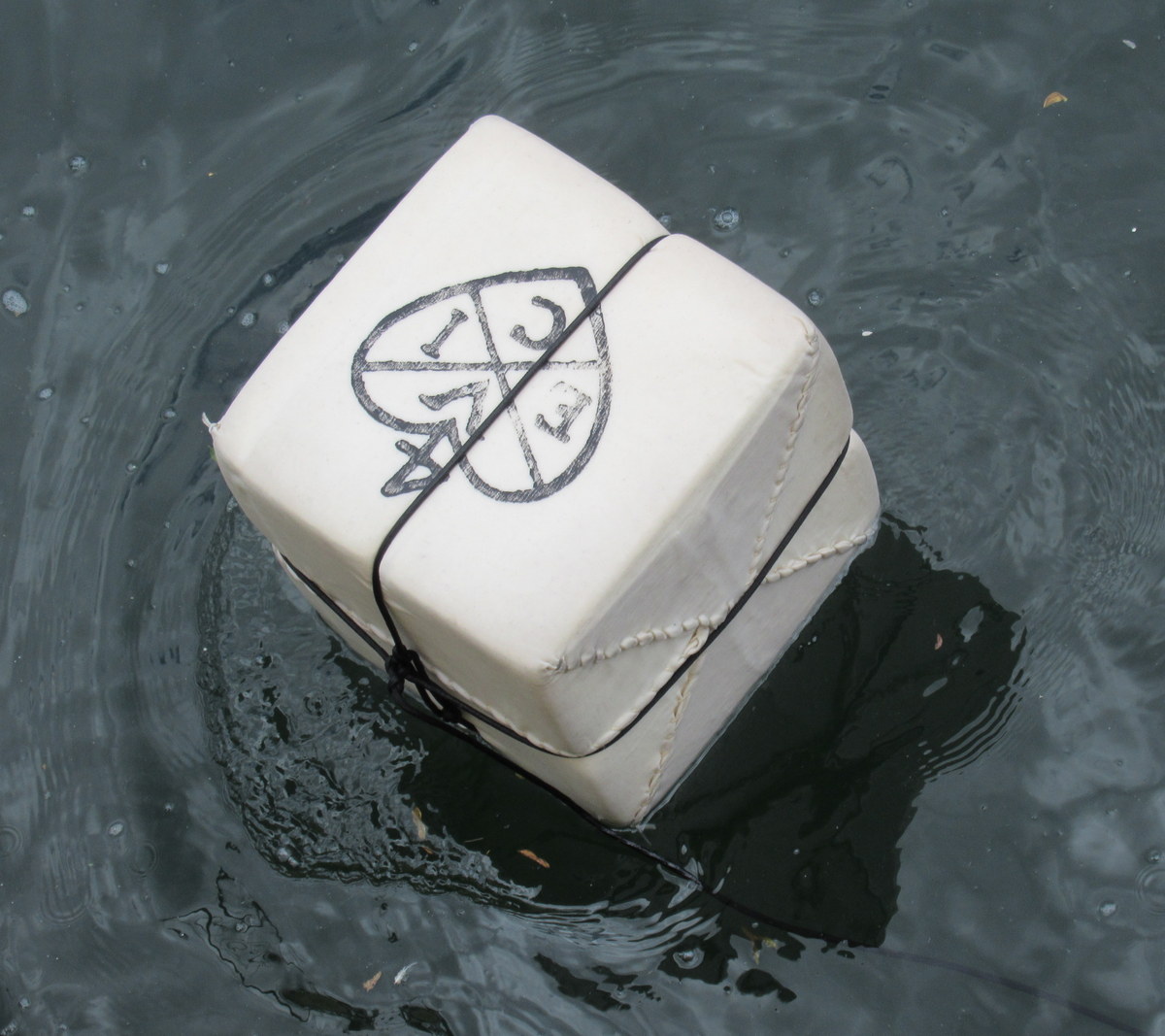 Seeing a 360 degree rainbow: I was at Niagara Falls on the New York side, and decided to go down to the Cave of the Winds. Earlier that day I'd seen ordinary, bow-shaped rainbows from up top, and they were even more spectacular from below: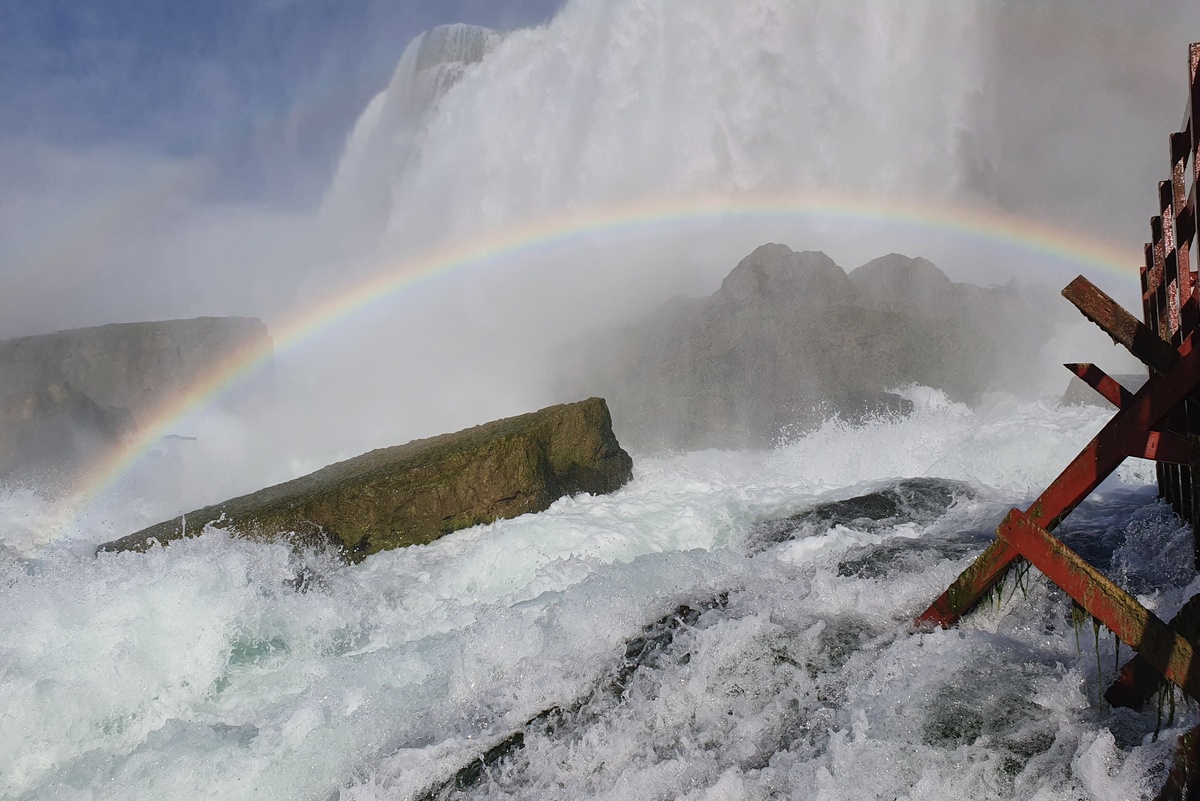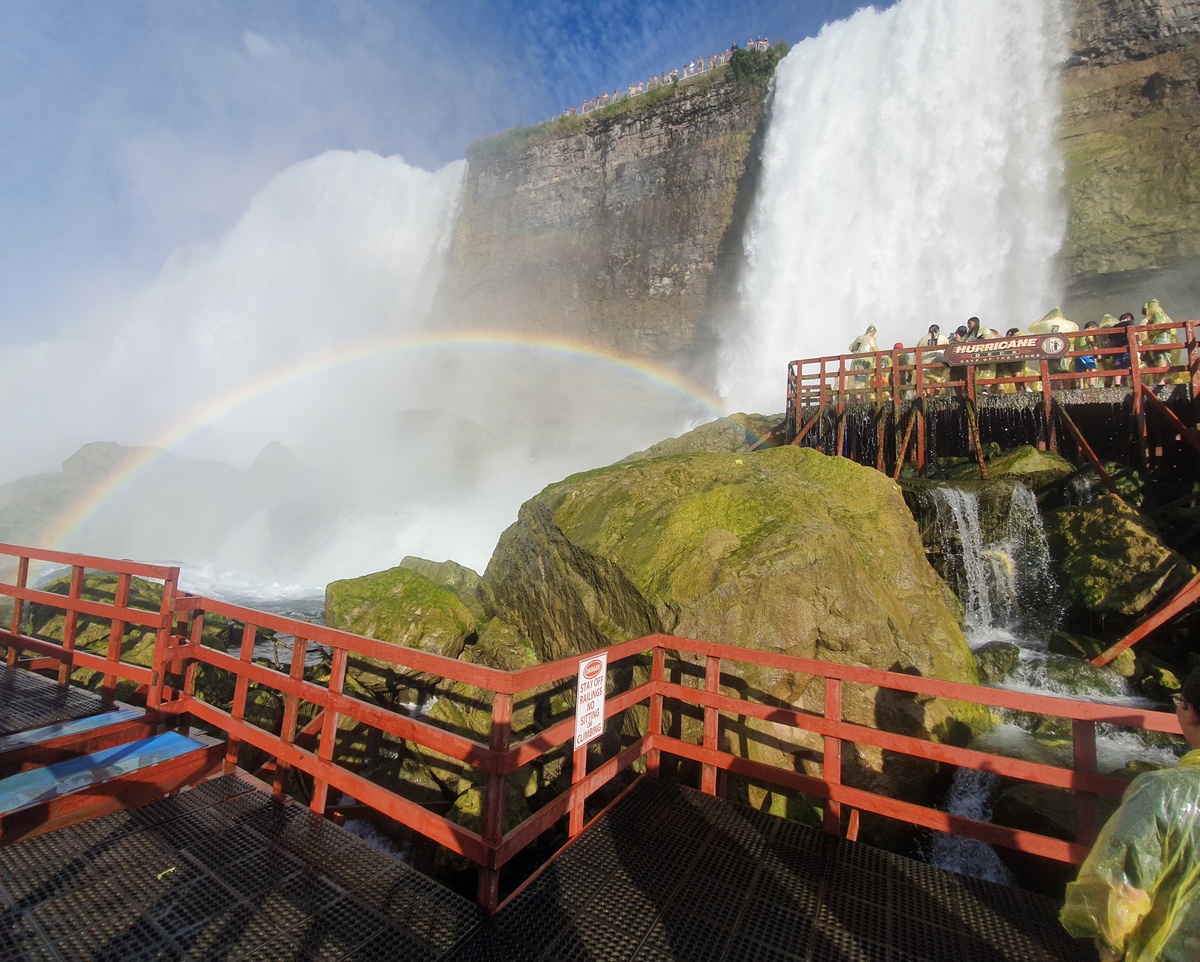 I knew the Hurricane Deck (nearly directly below the Bridal Veil Falls) was where you went to get properly soaked. Well, OK, the plastic ponchos were fairly good, but your shoes were going to get soaked, your head would be beaten down with the force of the water, your eyes could get filled with water, and it would be a lot of fun.
What I didn't expect was seeing completely circular, 360° rainbows while there. Way too wet to try and take pictures of those rainbows (though I was tempted), but it made an already cool experience cooler. Literally.
Visiting Ghostbusters headquarters: After visiting the Statue of Liberty 🗽, I was walking uptown from Battery Park towards the theatre district (I know, stereotypical tourist!) I had a little spare time, so was looking at the map on my phone to see if there was anything else I might want to see. Suddenly, there it was - Ghostbusters headquarters. It was a bit of a detour, and I had to run to make it work, but it was well worth seeing: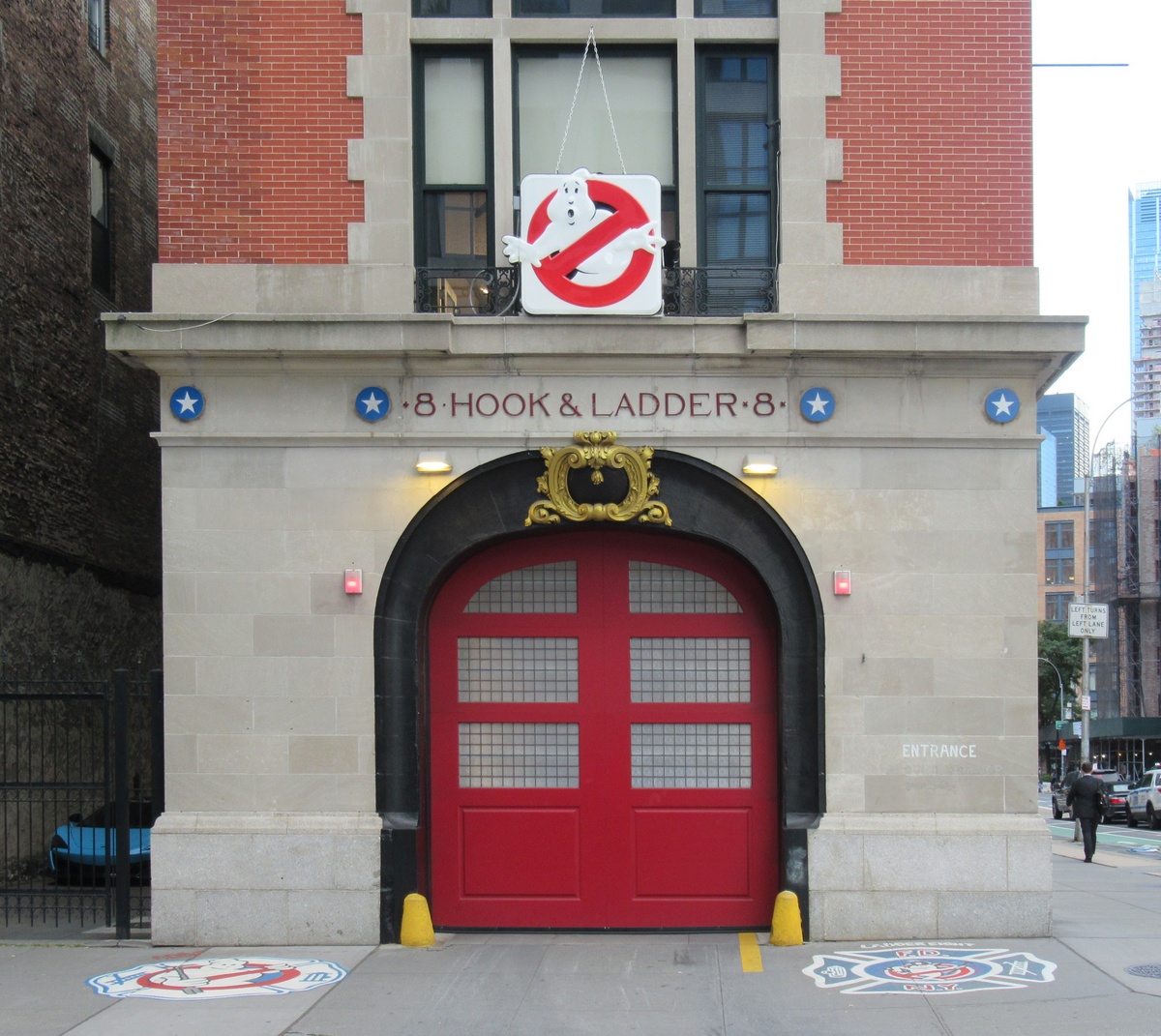 For the record, in case you haven't seen it, the Statue of Liberty actually features in Ghostbusters II:
Meeting Captain Morgan: I was visiting South Bass Island with a friend, and as we were waiting for lunch I suddenly saw Captain Morgan there. Not only are we doubtless closely related, but it also happens to be my favourite rum. So why not take the photo opportunity?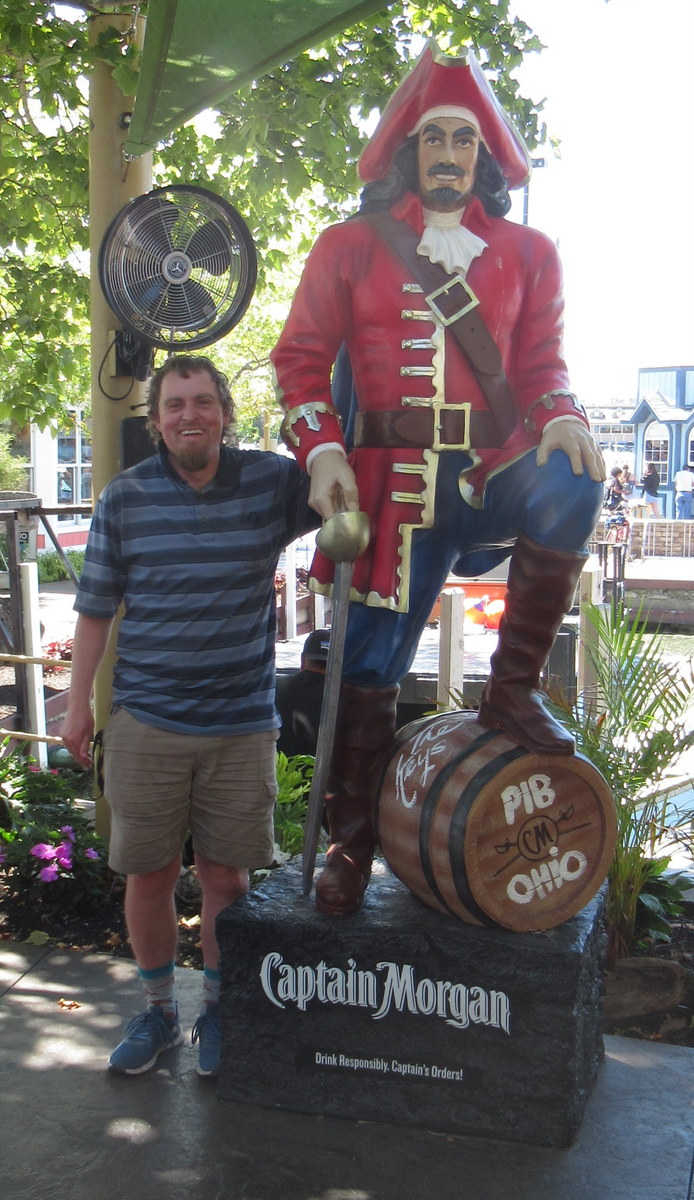 Watching volcanic activity under the stars: One of my main reasons for visiting Hawaii (and certainly my reason for choosing the Island of Hawai'i) was the volcanic activity. I turned up at the Volcanoes National Park in the middle of the day expecting it to be visibly red or orange and bubbling away (spoiler: The viewing point I was at was over a mile away, and it was black and not really visibly active). Not to worry: I went walking over old lava flows, visiting a lava tube, admiring the rainforest, etc., and by the time I was back it was dark.

I hoped to see the volcano active, and it was. But I really hadn't thought about the stars, even though I knew the island was a Dark Sky area. They were beautiful, and the flashes of red and orange just added to making it an unforgettable spectacle. The ranger I'd talked to earlier in the day said it was more active than it had been for months, which was good to know - though it went on to be still more active close to Christmas.

Not the best pictures, and you'll have to trust me on the stars being in the background, but it was cool just being there: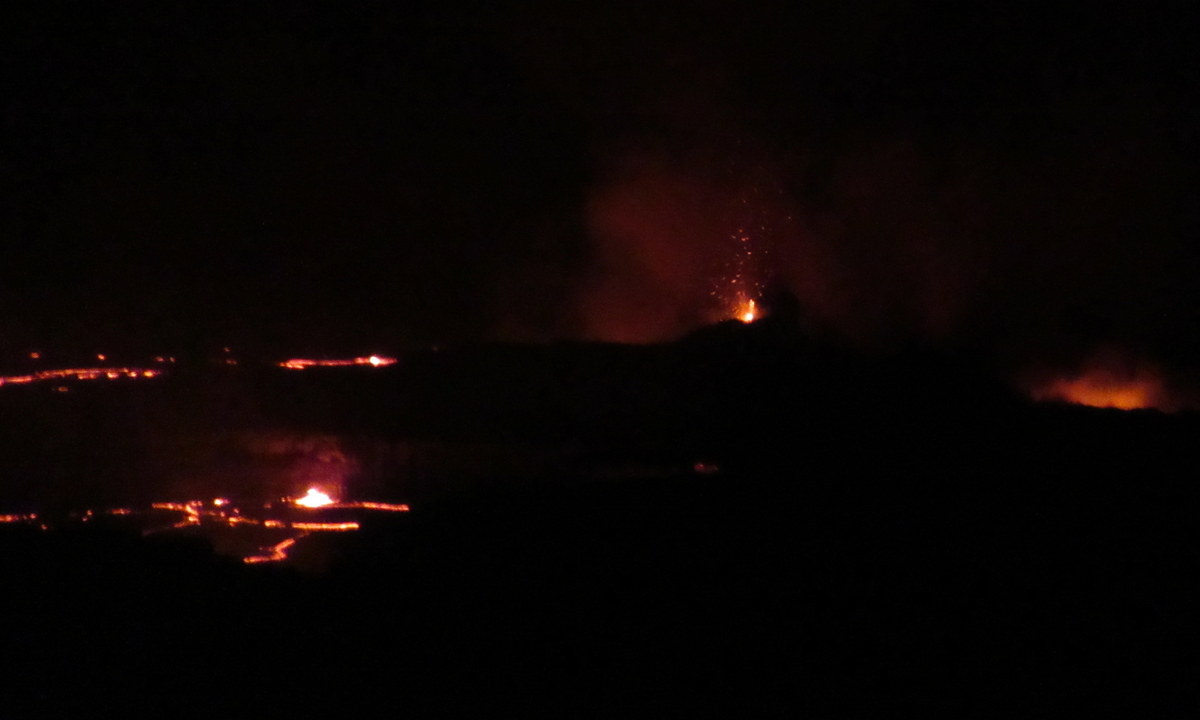 Seeing spinner dolphins spinning: I've seen dolphins in Port Phillip Bay, and saw more near Boston. And they're are always cool to watch.

But it was extra special on the snorkeling trip in Hawaii getting to see the spinner dolphins (which - you guessed it - leap out of the water and spin). Perhaps they do it to get rid of parasites, perhaps to communicate with other dolphins. Probably not to entertain humans, though you never know.

I was entertained, anyway. So long, and thanks for all the fish!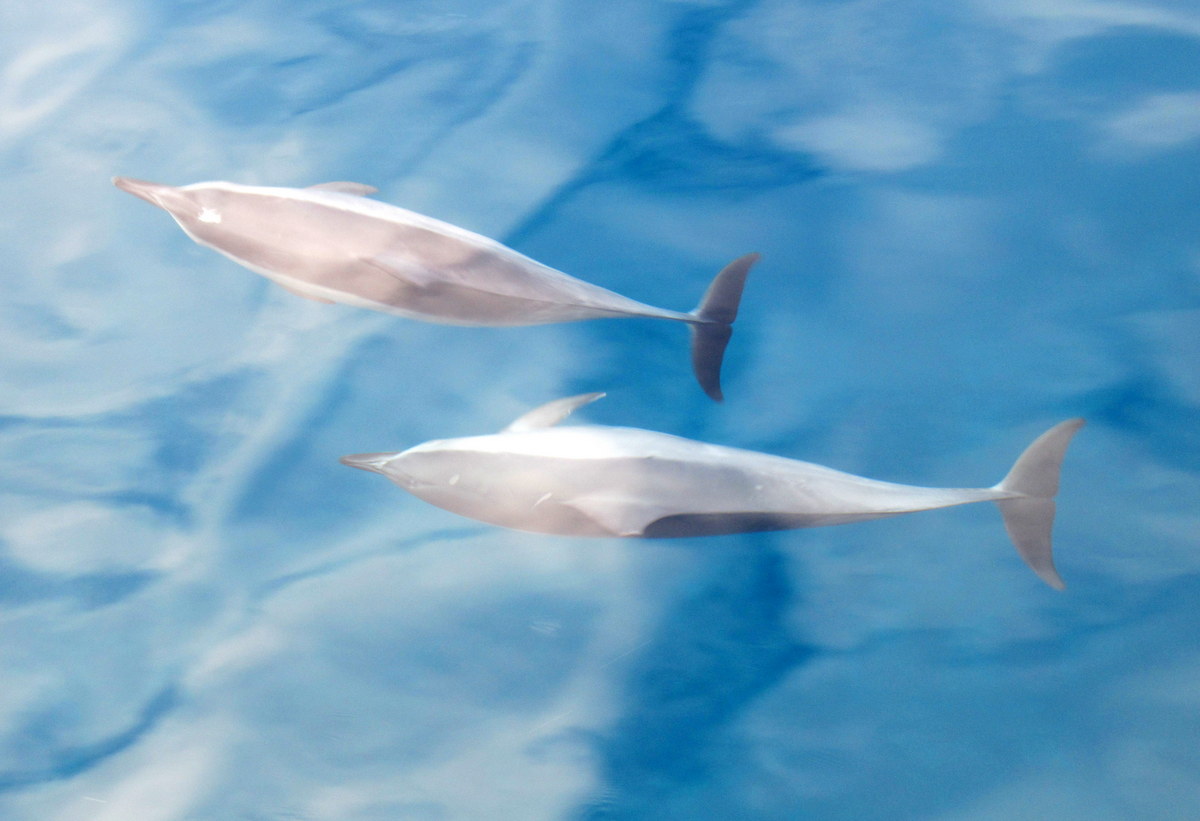 Having papaya for the first time: In Hilo, my hostess put out a fruit bowl for breakfast, including bananas, papaya, and a special guest. I'd had papaya dried, but never fresh, so I thought it worth a try. And it turned out I really liked it.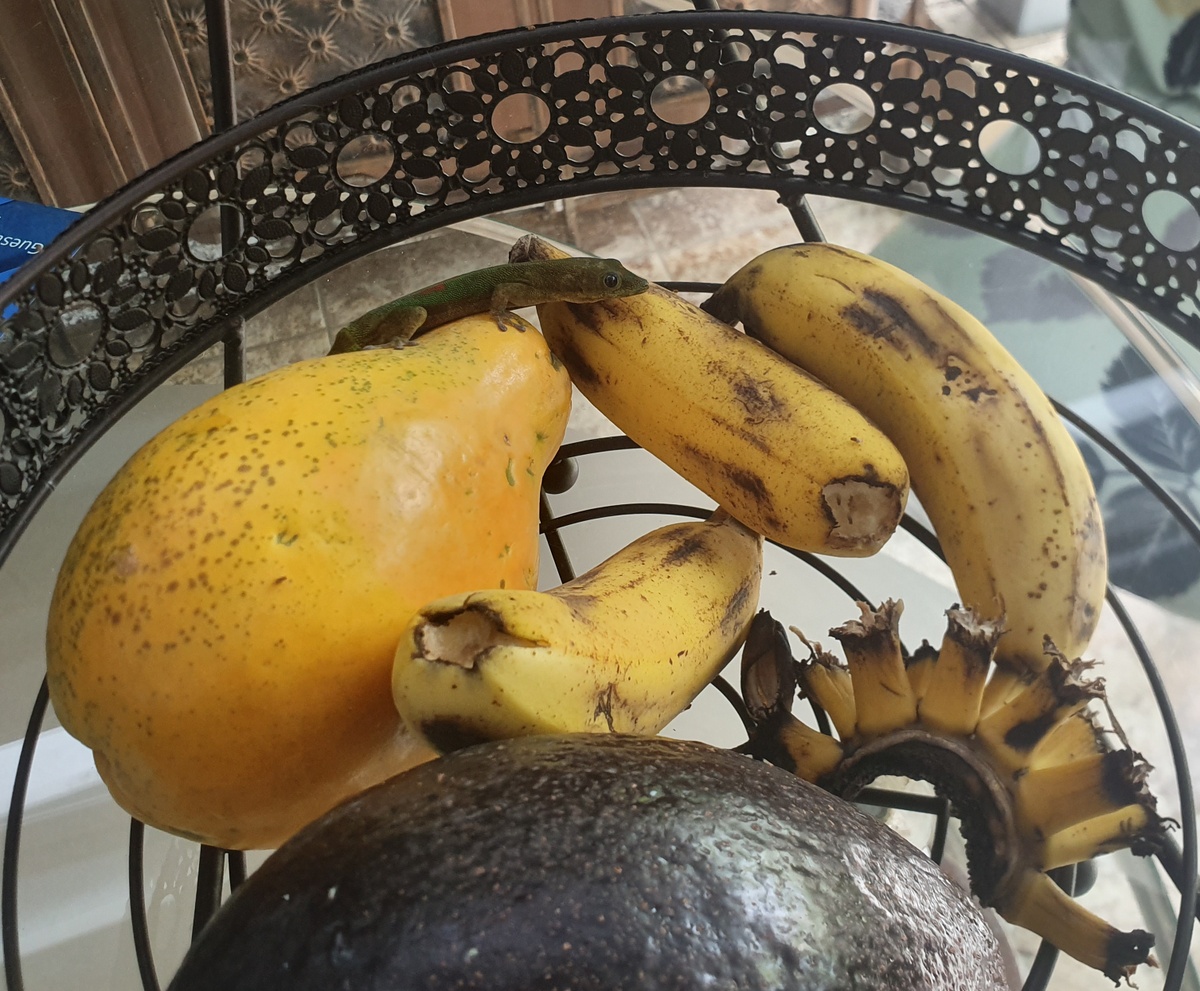 When I mentioned to my hostess that I'd never had it before, she was shocked: "What do you mean, you've never had it before?" Maybe it's not so common in Melbourne as it is in tropical Hawaii? (for the record, I've tried papaya a couple of times after getting back to Australia, and it hasn't been nearly as good).
Some heart-stopping moments
Travel may be great, but that doesn't mean everything goes smoothly. Here were a few heart-stopping moments (though now they just make a good story).
Will I miss the last shuttle?: I'd had a wonderful day among the glaciers near Lake Louise. Now all I needed to do was to make sure that I got the last shuttle (7:30PM). I seemed to have plenty of time, though, so I turned my route into a circuit and took short side-trails that looked interesting. Stopped to watch a pika dragging greenery bigger than it. Basically, I moved with purpose, but still found plenty of time to admire the scenery and take pictures.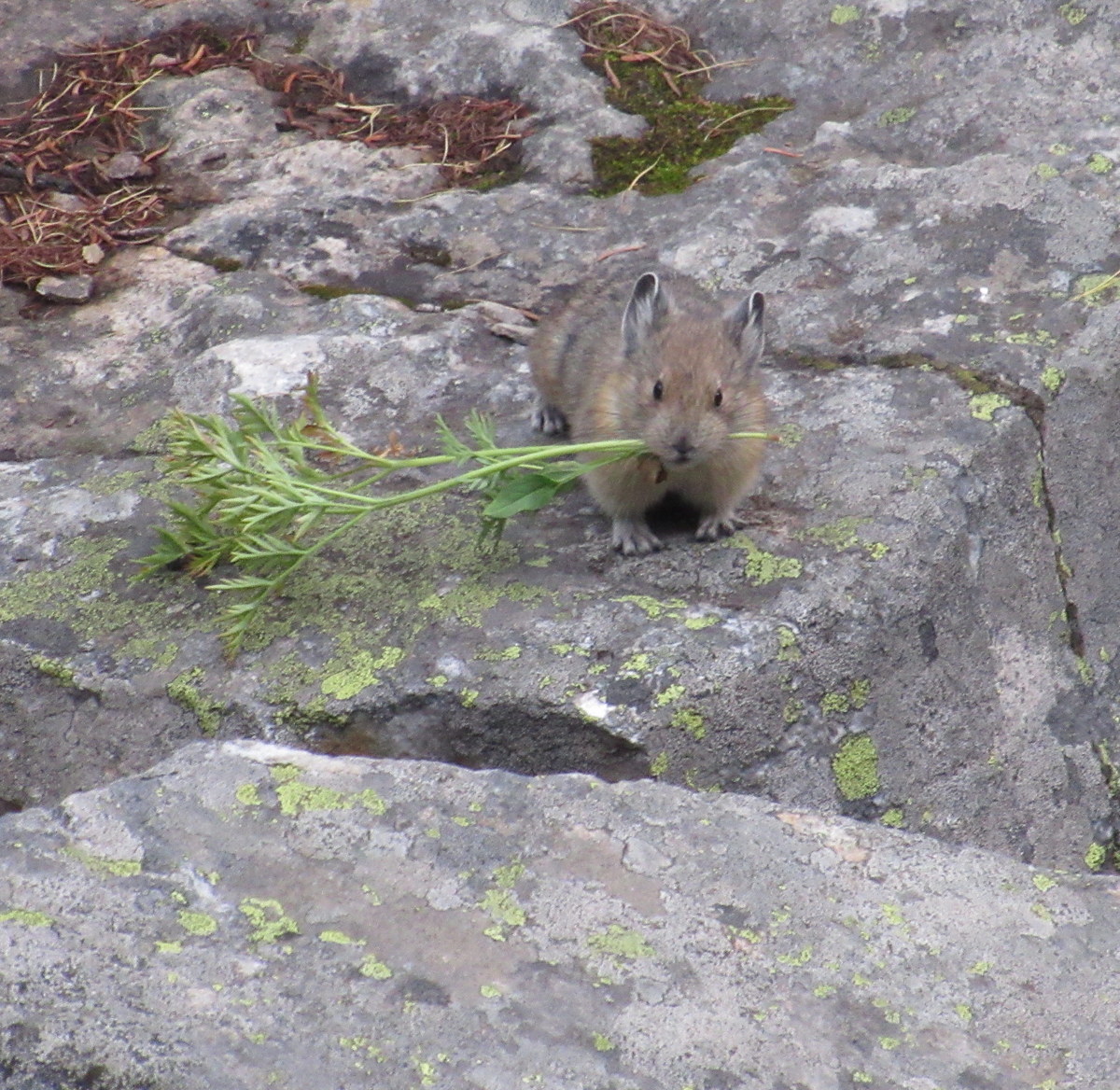 I'd convinced myself I didn't have that far to go. That is, until I got to the Lake Agnes Tea House and saw the sign: 3.5km to Lake Louise. With only half an hour left. Failure was not an option.
For the record, I made it with 2 minutes to spare - even after I stopped for a few photos on the way: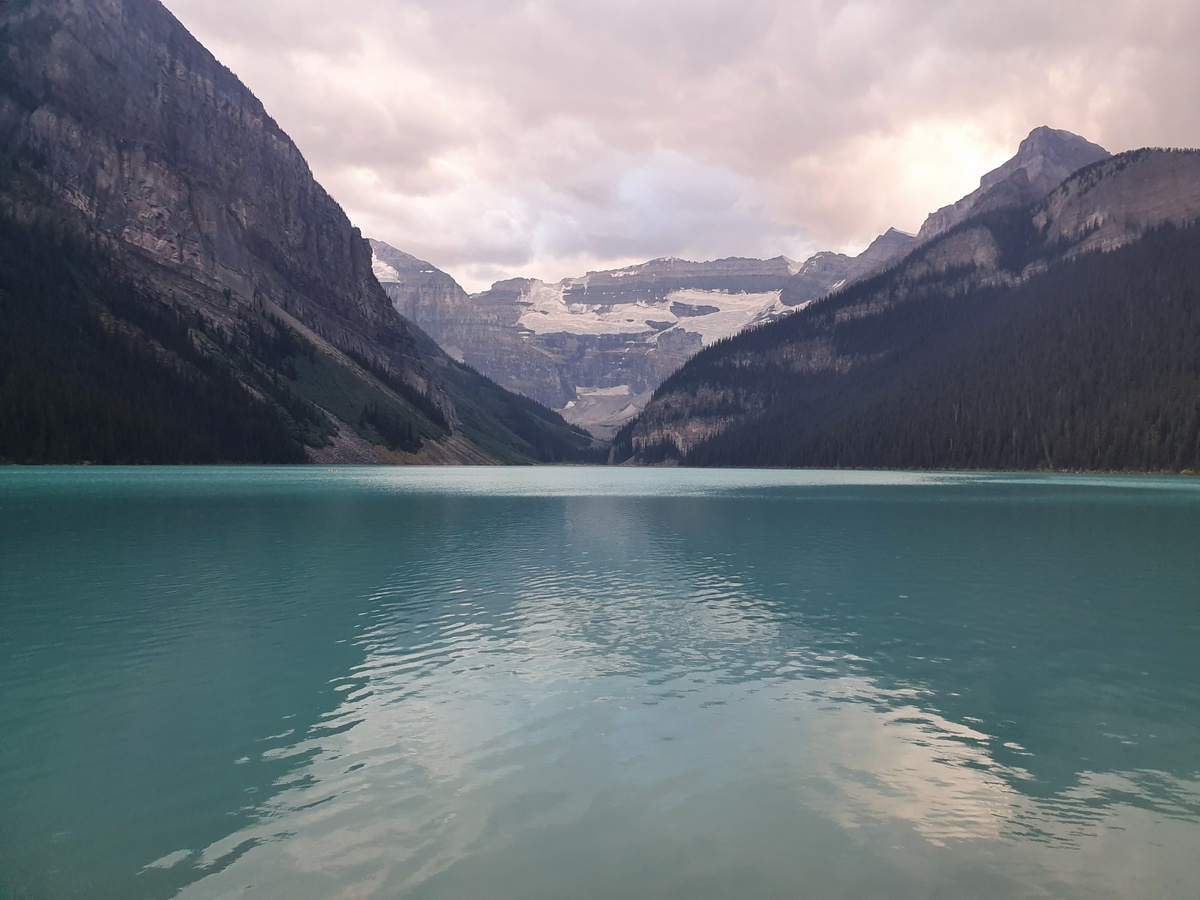 It probably helped that it was all down hill, of course. As it turned out, I was the only person on the shuttle. I expected most people wouldn't cut it as fine as I did - but I'd been on a full shuttle on the way to the lake. Surely someone had to get back late?
Seeing a snake move in the grass next to me: I was walking by the McDonald Creek in Glacier National Park, admiring the reflections. Then out of the corner of my eye I saw a snake move behind me - very close to where I'd just walked. I have no idea if the snake was actually poisonous or had any aggressive intent - but I'm from Australia, so I basically assume all snakes are poisonous.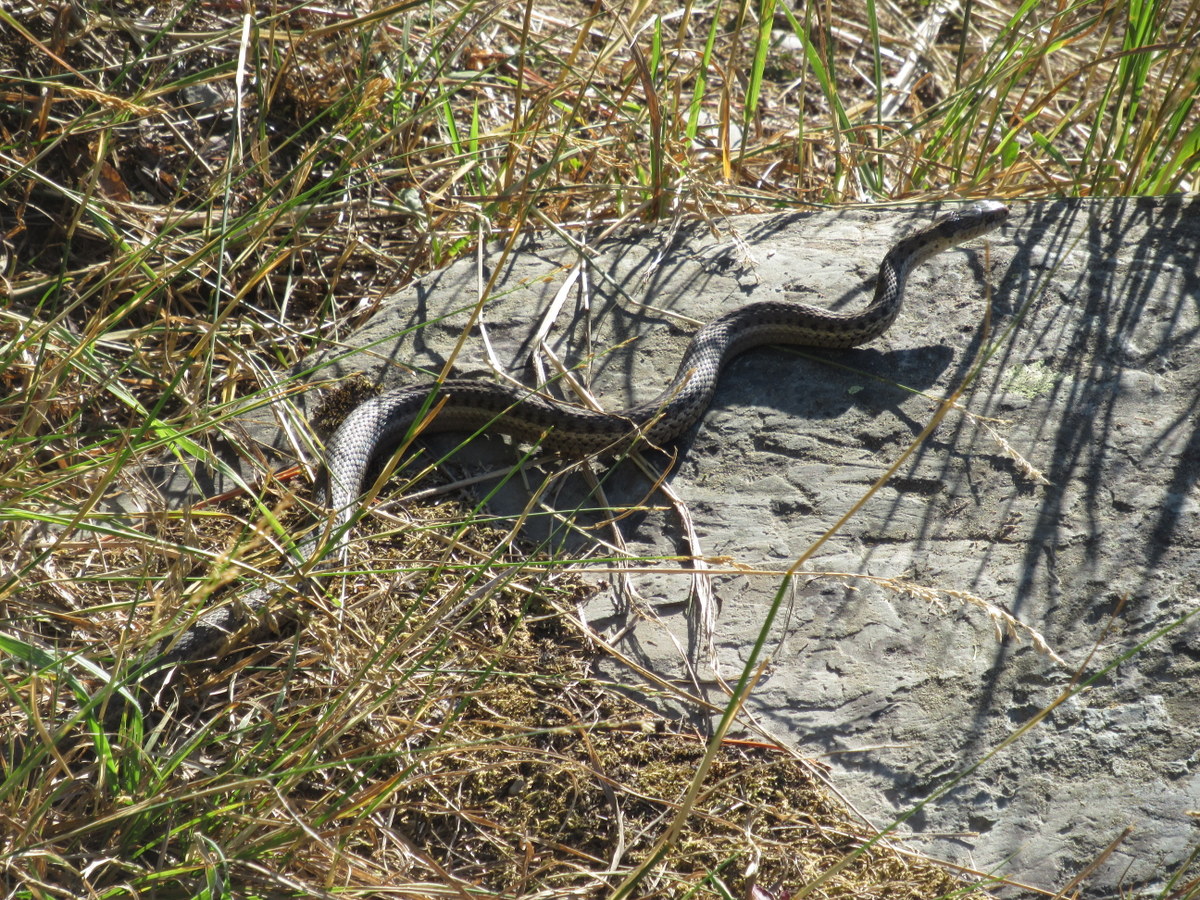 Falling into a lake and drowning my camera: Lake McDonald is a beautiful lake: Not only are there mountain views, but the water is crystal clear, and it has some very colourful rocks in the water. I had lots of pictures of those rocks from the shoreline, but when I found a log stretching out into the lake, it made sense to go along a little way to get pictures from a different angle. I'd tested the log, and it seemed fairly stable. So far, so good.

Then something possessed me to see how far I could get along the log. That turned out to be a big mistake. I was most of the way out to where the log entered the water when I realised that the log had become much narrower and was rocking a lot. So much so that I was struggling to keep my balance. I didn't know how deep the water was out there, but it wasn't looking good.

I actually managed to keep my balance, turn round, and start getting back to shore, but I didn't think I was going to make it. That was when I made my second mistake: I tried to speed up to get into shallower water before I lost my balance. I was trying to protect my camera and my pockets.

I did actually get to knee height, which was what I wanted - but then slipped and landed on my back in the water. I was unhurt and scrambled up quickly, saying to myself "So long as I haven't damaged anything I'll probably laugh about it". But my camera really didn't like the brief immersion. At least my phone and my car keys still worked…

My camera did work again after a few days spent in a bag of rice, but I definitely missed it during those few days.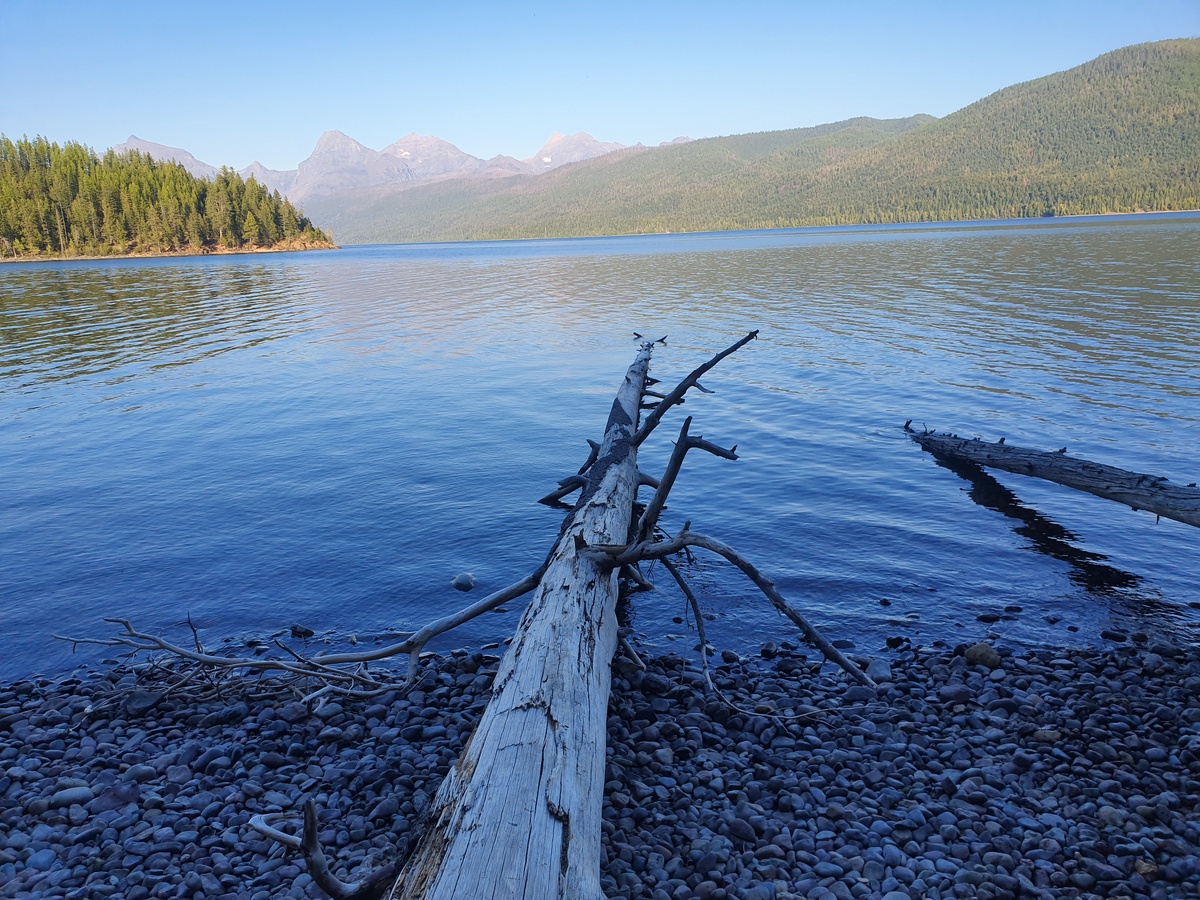 Being stung repeatedly: It was my final day in Canada. I was in Golden, walking along by the Kicking Horse River. I went down to the banks of the river, and there was one bee or wasp buzzing around me.

Going back up to the path, there was a curious rock with a painted animal face. Perhaps it was meant to be a warning - it did have fangs for teeth. Or perhaps it was just decorative. Anyway, I took one step towards it to get a better picture and suddenly the world exploded in pain.

I can only assume that the one I'd seen was a sentinel, and that I then got too close to the nest and the colony mobilised to drive me off. I didn't know what the right response was then. Still don't, to be honest. What I did do was to set off running to try and get away from them, waving my arms wildly and screaming. Probably looked ridiculous, but hey, no-one else was around. They chased me for well over a hundred metres before I finally turned a corner and felt relatively safe.

I picked multiple dead bees off my jacket, and five stings off my face, arms, and legs. It was days before those areas were back to normal, and thinking about it now I can still feel a phantom sting and a swollen place under my right eyebrow.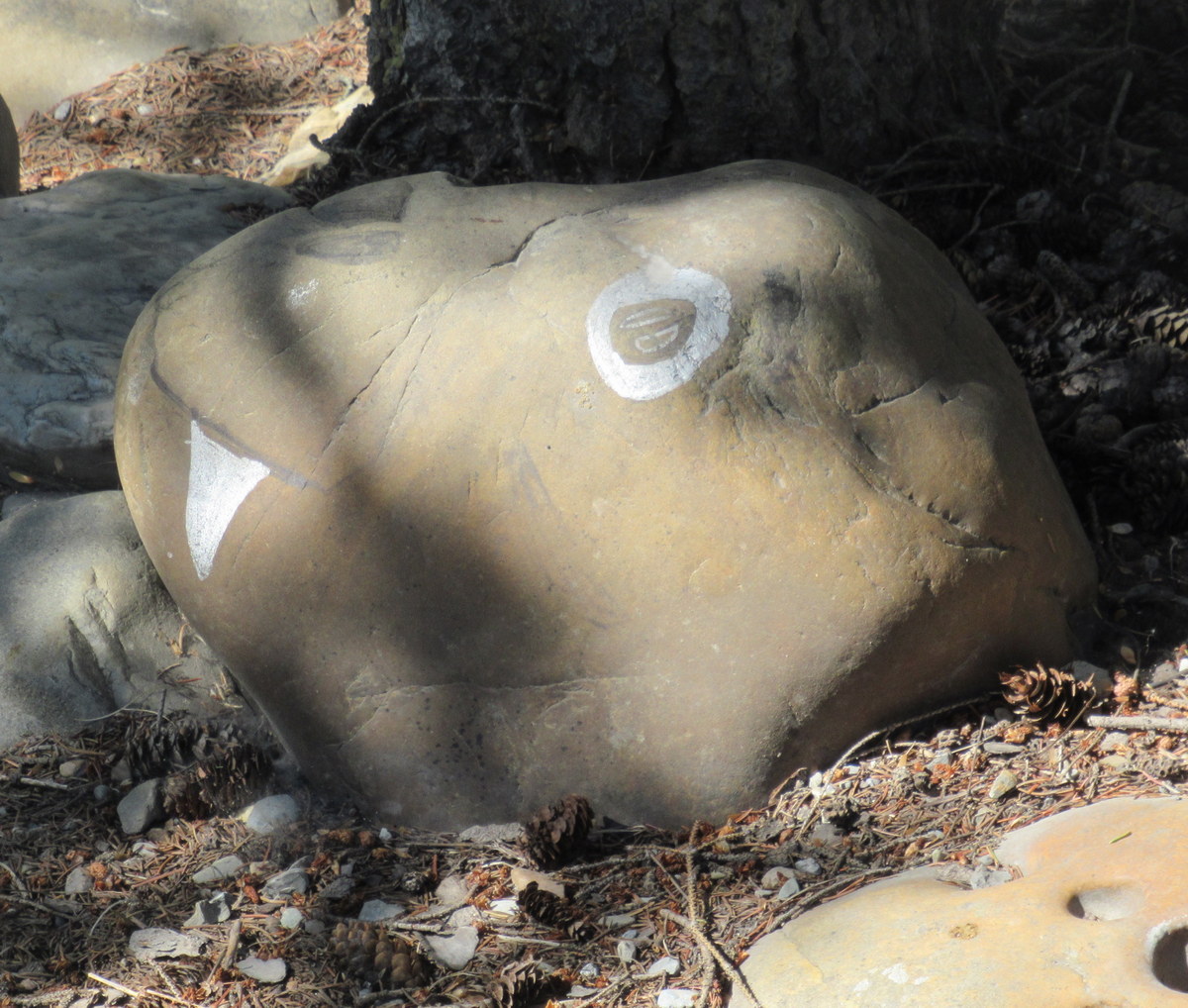 Will I miss my plane?: I was in San Francisco Airport, and had checked in with plenty of time (I mostly stuck fairly close to the recommended two hours for domestic flights in the Covid era, and had found that was heaps of time to get through security). Then I dawdled a little, and while heading for security walked past a line that kept going and going and going. How long would it take to get through? Fortunately, it turned out my flight had changed terminal (perhaps because of those lines?), so I actually got through security fairly quickly.

Falling (again!) at Kealakekua Bay: I'd got down to ocean-level at Kealakekua Bay (considered one of the best snorkeling spots in Hawaii). I could see beautiful fish swimming in the shallows, so stepped down to try and get better pictures of them. The ground I was stepping onto looked completely solid, so I didn't take any precautions - in fact, I had my camera in one hand with the lens open. But it turned out to be incredibly slippery.

I fell immediately, on a jutting out bit of rock surrounded on three sides by water. Somehow (rather incredibly, actually), I didn't end up in the water, and neither did my camera. The screen didn't break, the lens didn't shatter, and it didn't drown. Yes, the lava sliced one finger pretty badly, and it took ages before I could stop it bleeding. But I'm sure I would have been more upset if I'd drowned my camera again only a couple of weeks after the first time.
Incidentally, two of those heart-stopping moments were on the same day as I did whitewater rafting in the morning. And that activity didn't make it on the list, though I was glad to have tried it. It was a beautiful day - that happened to include a new experience and a snake encounter, and to finish without a camera.
Some foods
When I think of US foods, probably what I think most of is burgers 🍔, peanut butter 🥜, and Hershey's chocolate 🍫. A completely balanced diet, right? 😛 And I certainly had all of those during my trip, though I'm not sure I had as many burgers as I expected. I even went to a full Hershey's Store at Niagara Falls!
Early on in Los Angeles I found multiple good Mexican food trucks near my hotel (and also cough open late, so they allowed me to explore through to sundown and long after). I also discovered how much I loved bagels with cream cheese. And both of those are things I've had more of since getting back to Australia.
I love maple as a flavour, and had some really good maple flavoured foods in both Montana and Canada (in Canada some of those foods were even maple-leaf shaped, for some strange reason).
I felt like I had to try poutine while I was in Canada (I enjoyed it), and also tried some Coca-Cola with Coffee (which worked much better than expected - I wouldn't want it to be an everyday thing, but I wished we had it here). While I was in Hawaii I tried papaya as well as a variety of other Hawaiian foods.
And there may also have been a fair amount of pizza 🍕 in my diet during the trip.
What was the best day?
It's hard to pick, but I'd say it has to be the day I climbed up to Grinnell Glacier (the third glacier walks I did after two in Canada). And it was a day I didn't even have my camera with me (see above). I still took nearly 2,000 photos that day, though I'm sure some of it was just trying to figure out better ways to use my phone camera. It was a little frustrating when things I could see were out of range, and even more so now looking at high-zoom photos with an impressionistic feel and thinking how much better those photos could have been. But they still remind me of a great day.
It was smoky, like previous days had been. That meant that sunrise came late, and sunset early - but both were worth seeing.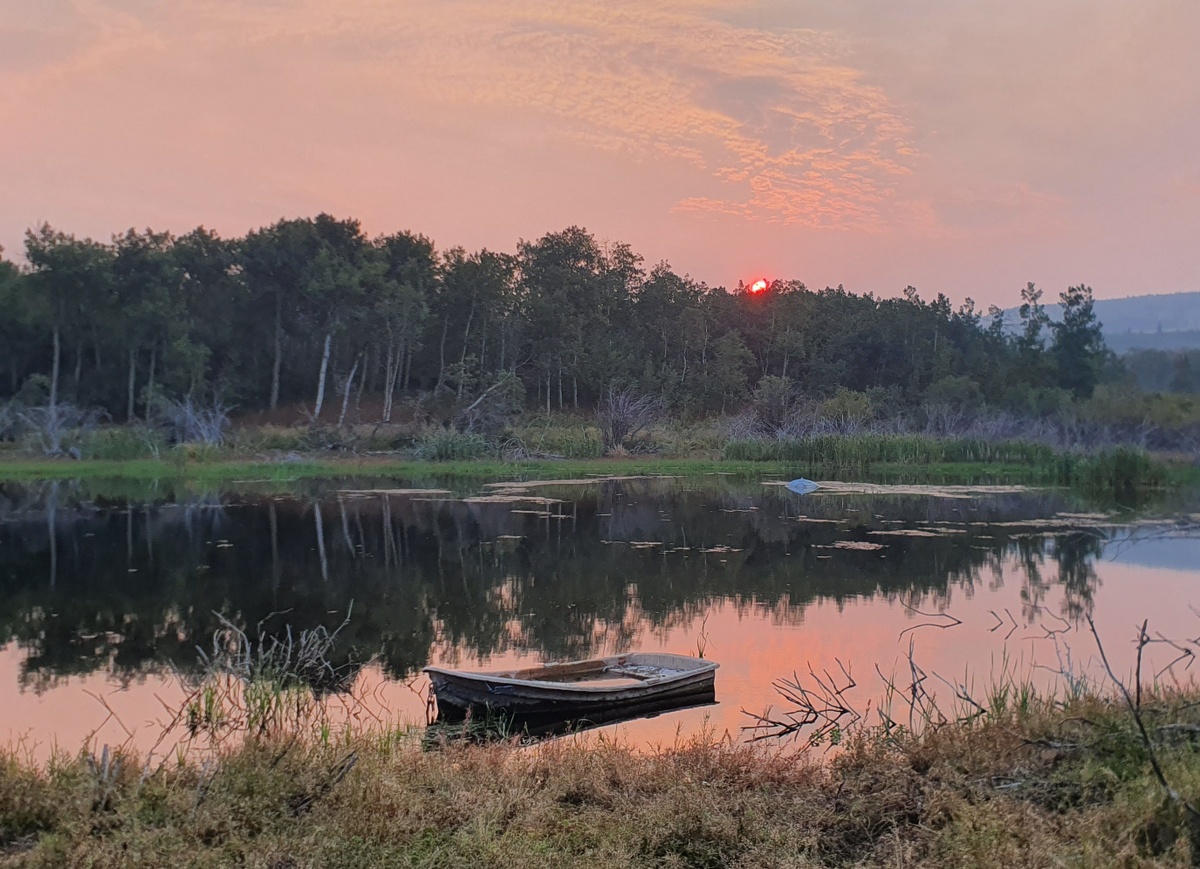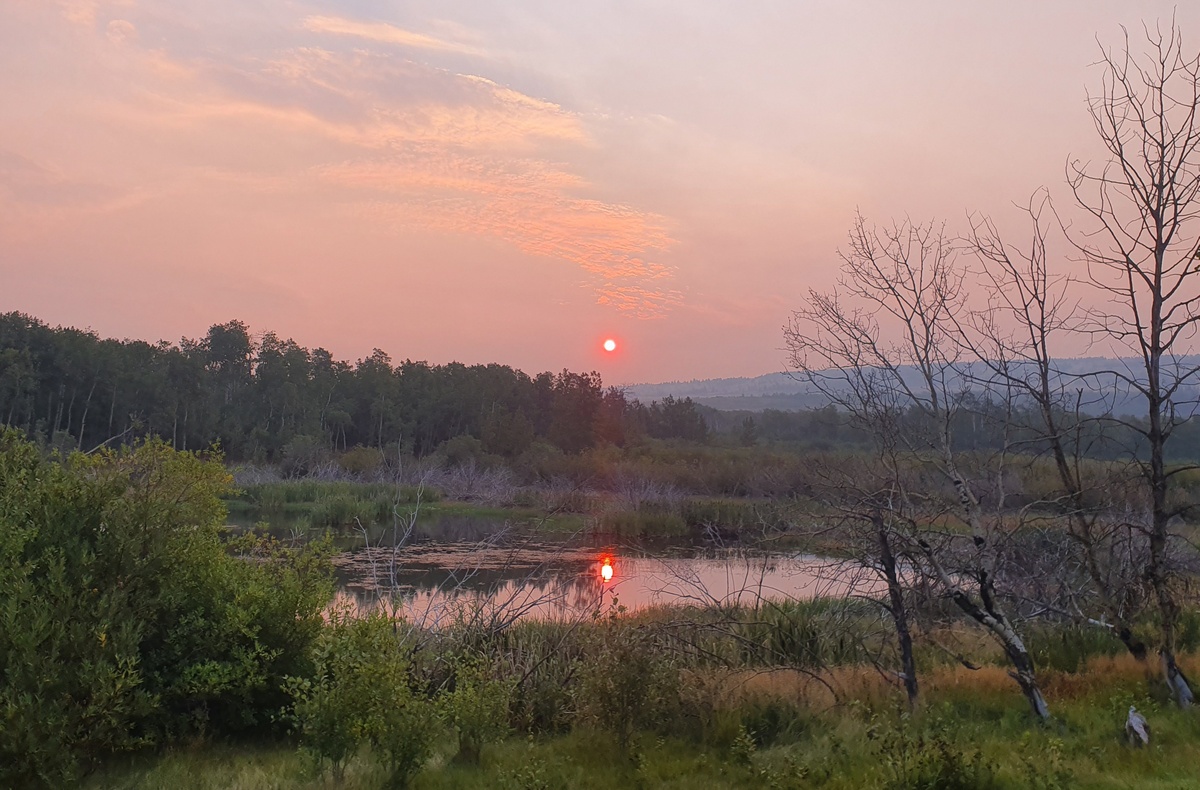 Seeing a bear in the wild has been something I've wanted for years. As it happens, both times I've been in Yosemite (in 2010 and 2014) I've got on the shuttle in Yosemite Valley and found people talking about the bear they'd just seen and how cool it was. But I never saw a bear there myself. This day was my last day in Glacier Country, and I still hadn't seen a bear yet. It was still possible that I'd see one in Yellowstone (I didn't), but this day was likely the last good opportunity. It was also where my brother had seen a bear on the same walk in 2019.
And it wasn't far from the parking lot (and right next to the road) that I heard rustlings in the bushes. I was almost certainly too close, but I wouldn't even have known it was a bear if I hadn't been that close. And it was completely uninterested in anything other than the berries it was eating (I guess being September it wasn't too long till hibernation). No chance to take photos, and a phone's probably not the right tool for taking photos of a bear anyway, but it was lovely to finally see one.
The climb up to the glacier included views of the Grinnell Lake far below: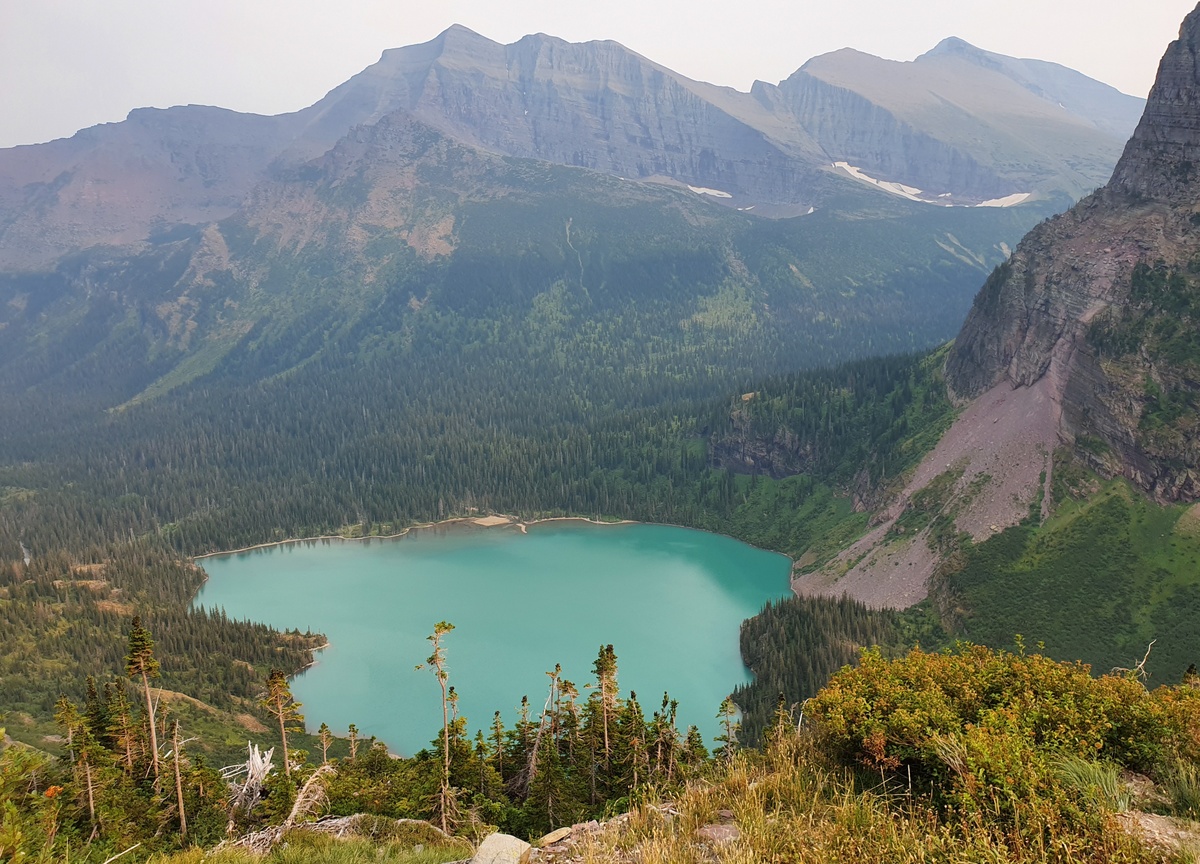 And a variety of animals: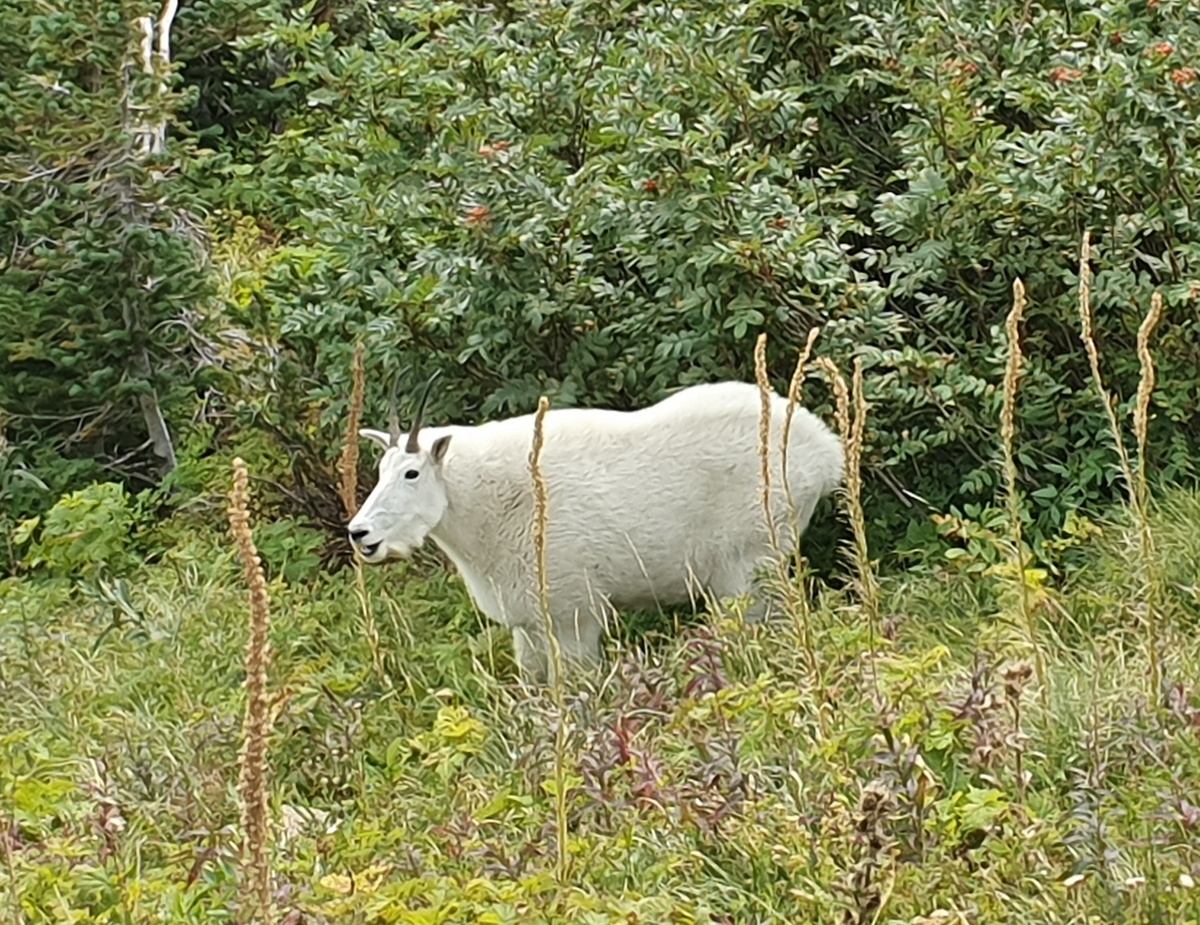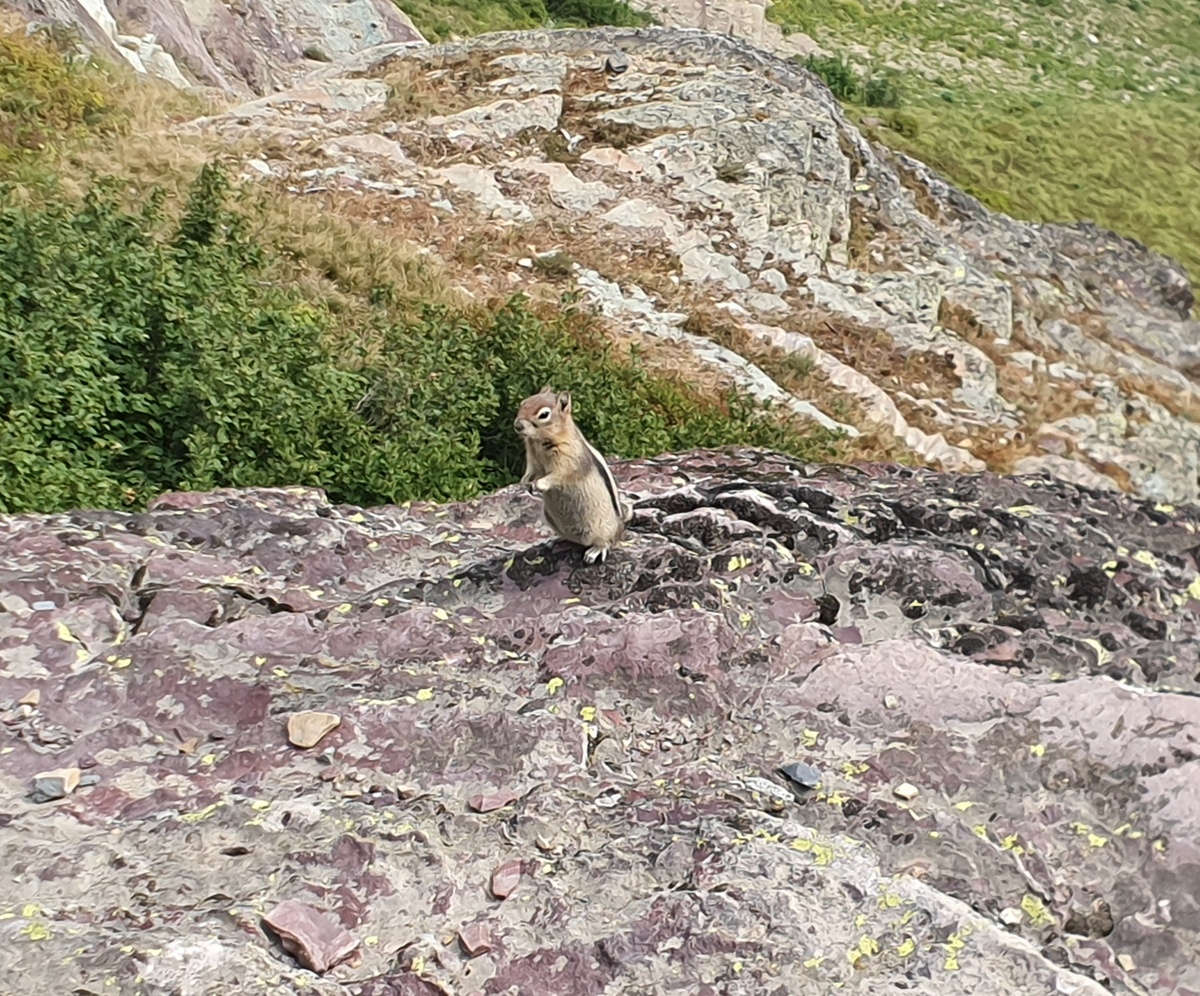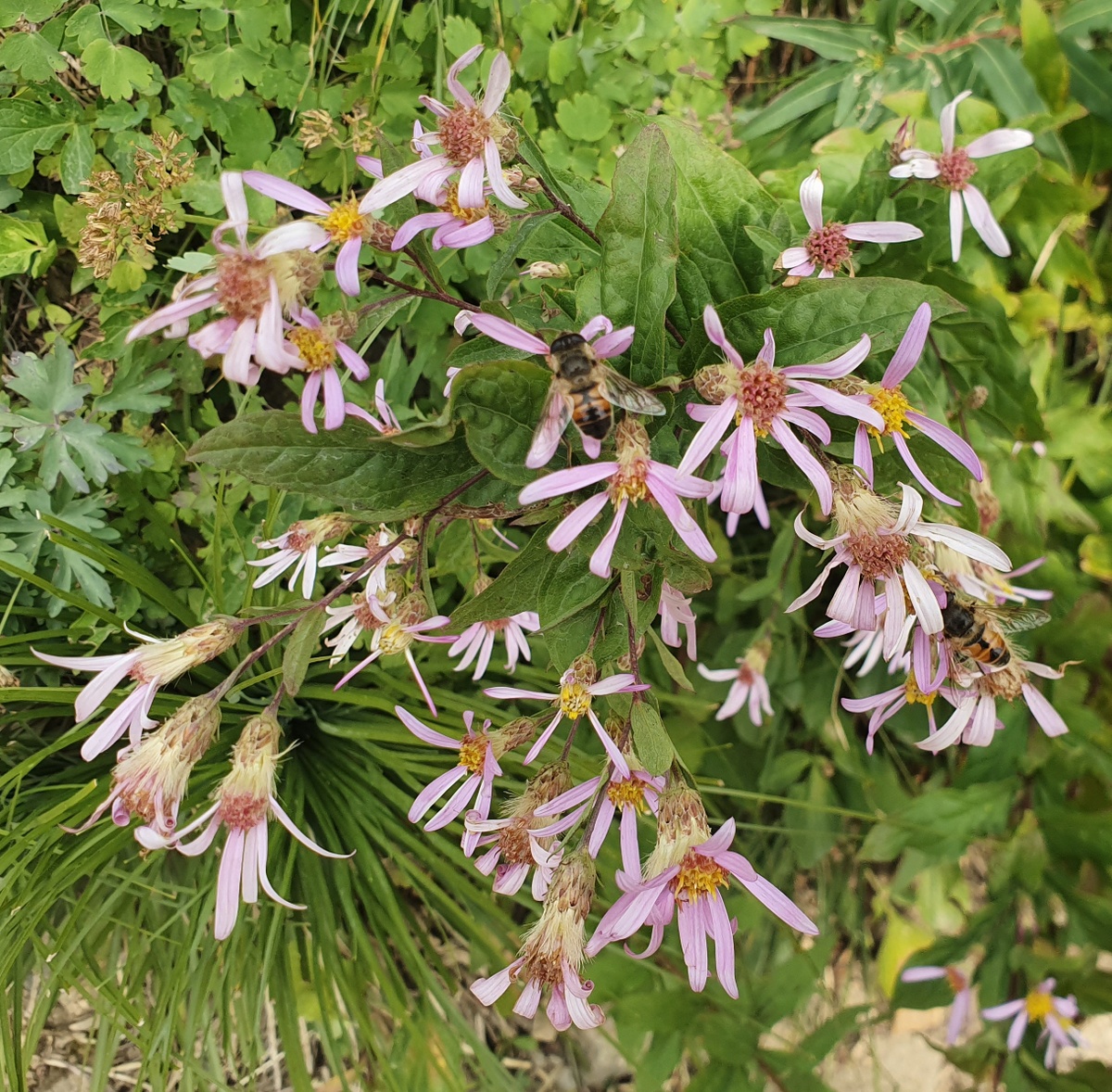 Then up the top was a large lake with lots of icebergs floating on it: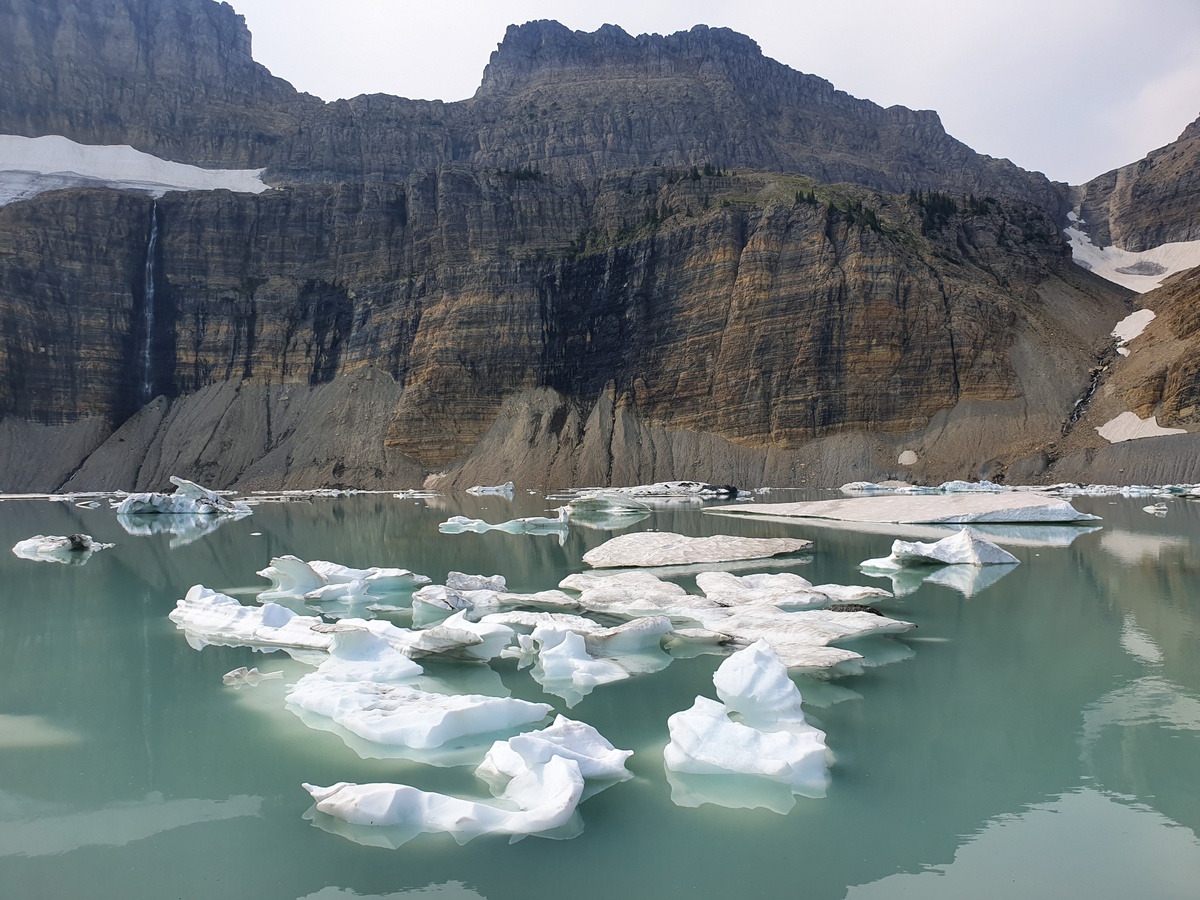 It was also possible to get to the glacier itself. It was heavily crevassed, and probably unwise to walk on it (I kept to the bedrock at the edge of the glacier). But it did give me the chance to go in an ice cavern (again, with feet firmly on rock…):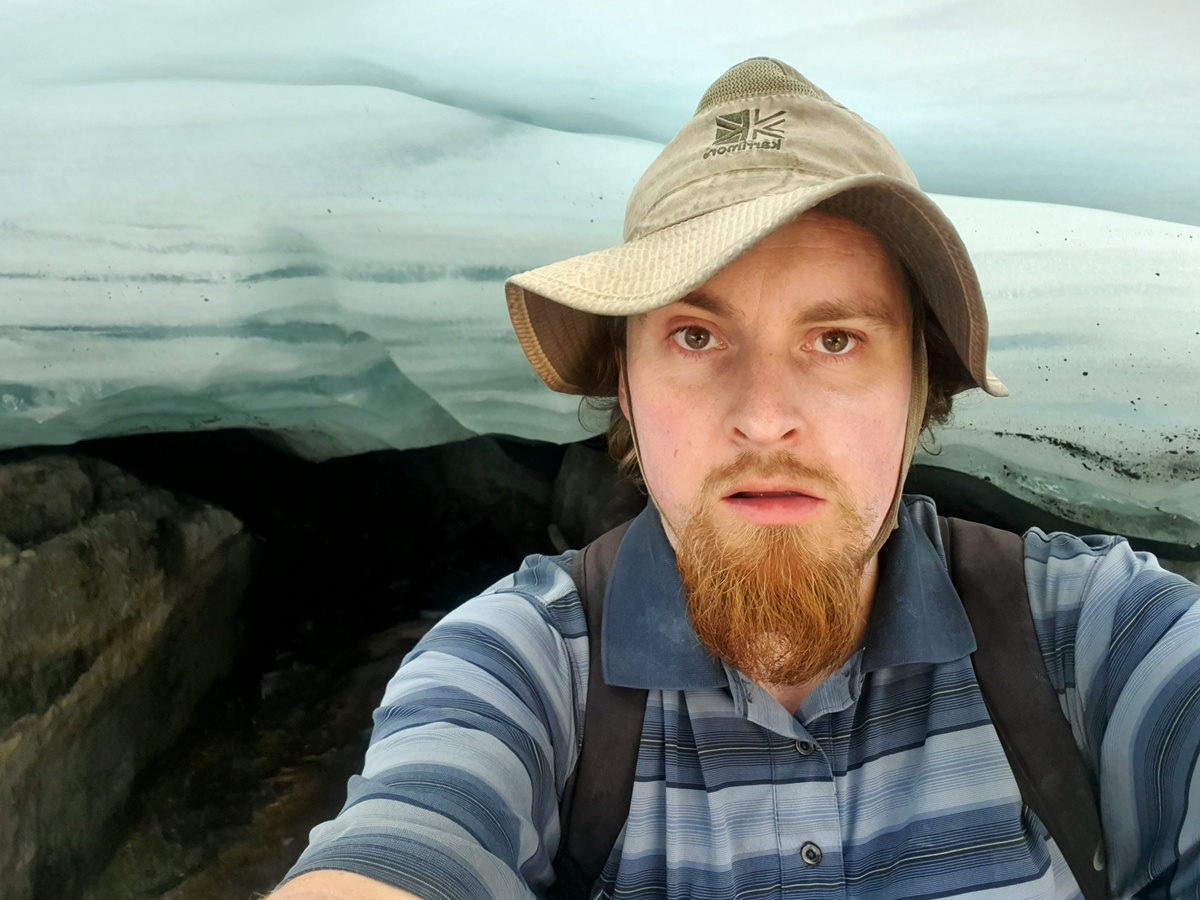 The walk back was pleasant, including more mountain goat encounters, but I wasn't expecting anything more than a pleasant walk with nice views. Well, until I got to Swiftcurrent Lake, decided to go along the opposite side to make a circuit, and found a bunch of people watching a moose in the lake.
Spot it?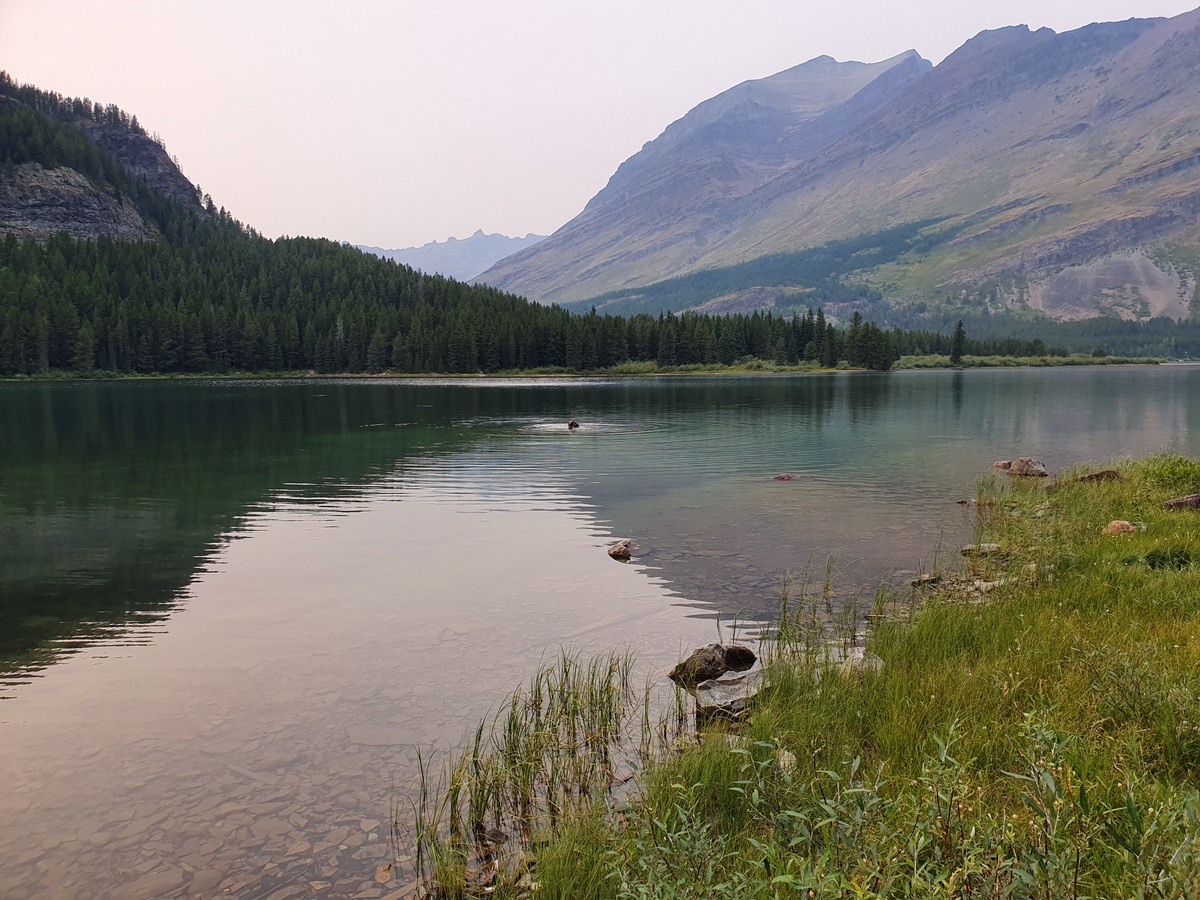 OK, here you are: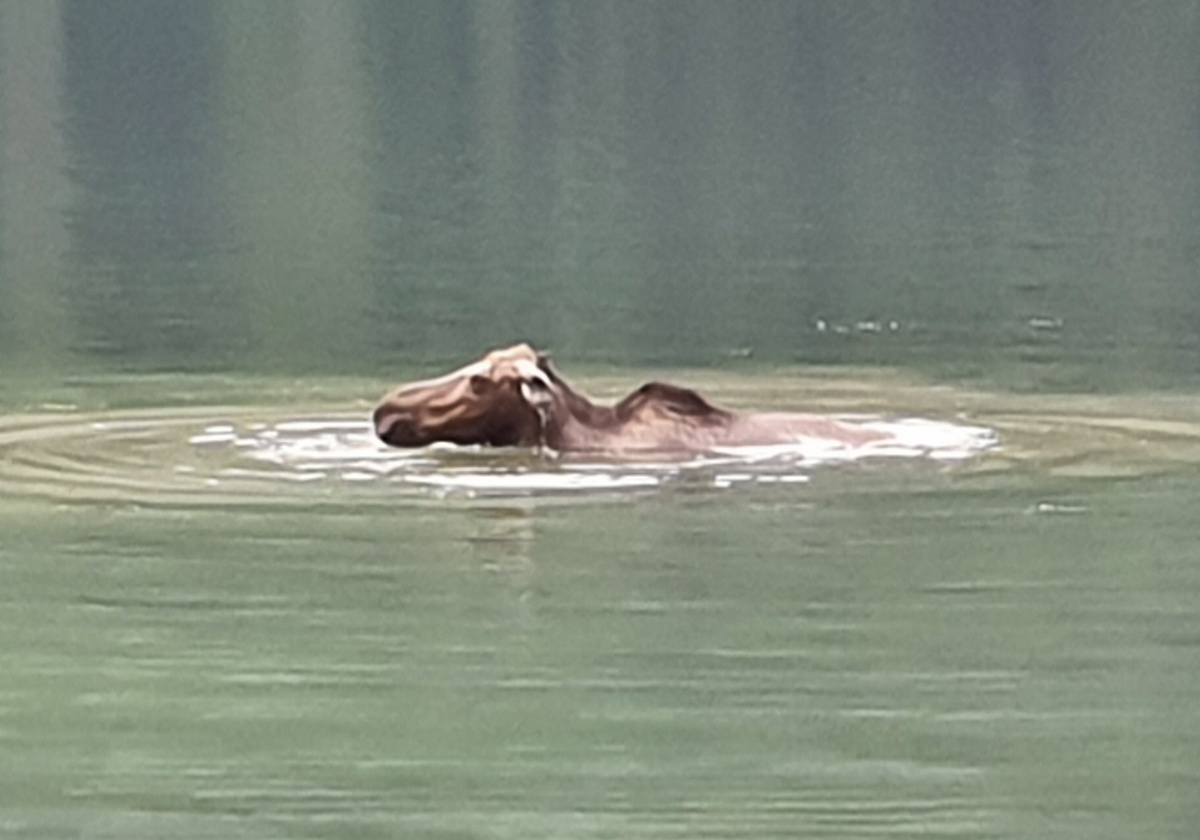 I stuck round for ten minutes watching it, but the people there said they'd been watching for half an hour as it entered next to the bridge and then worked its way down the lake. It seemed to be grazing on greenery at the bottom of the lake. It would plunge its head in, stay under for a bit, then come up with a rush and chew unconcernedly with mouth open. And the noise it made while chewing - well, you really had to be there. It was both special and hilarious.
This moose encounter was on my "unexpected moments of joy" list above, till I realised it made more sense putting it in this section instead. It was unexpected, and it was amazing, and I haven't forgotten it.
Then, shortly after leaving the moose, I saw that the sun was about to shut up shop early due to the smoke. More reflections. More beauty: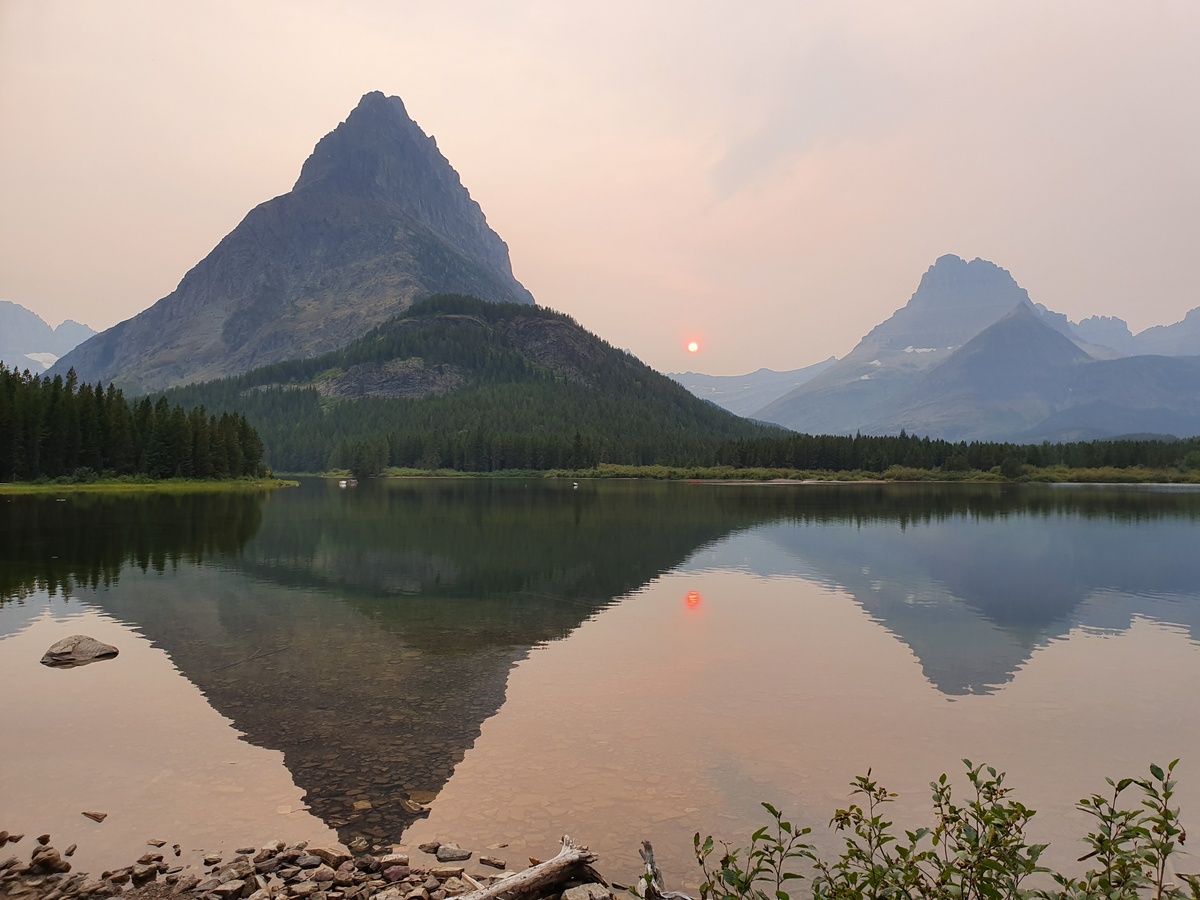 And sure, it was frustrating trying to capture that sunset and knowing it would have been so much better with a real camera. But after such a wonderful day, I have to acknowledge that if I'd had a real camera I'd have probably been out of battery before this point 😛.
Later that evening I ended up having to sleep in my car after the hotel, in their wisdom, decided to cancel my booking at the last minute. But that didn't change how good a day it had been.
Weirdest place visited
I'm pretty sure the Ten Commandment Park was the oddest place I visited. This gives a flavour of the place: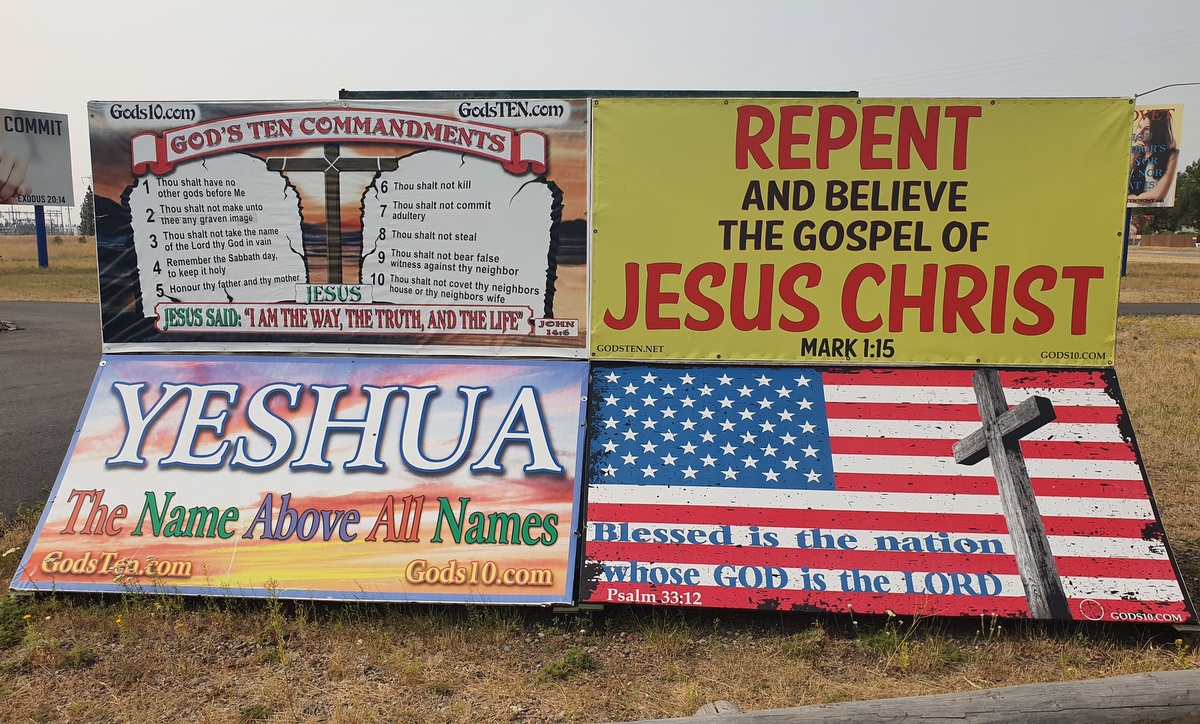 It's in Montana between Kalispell and West Glacier. I first noticed it while driving back from Glacier National Park one evening soaking wet (see above…), and somehow didn't feel like stopping. But I tucked it away in my mind to visit the next day.
It has an abundance of billboards with each of the Ten Commandments and other random verses, as well as quotes from past US presidents and founding fathers about how great the Bible is and how important it is to the US as a nation. Plus a little bit of "God bless America" for good measure.
It also had three crosses (though when I was there one of them was fallen). And that is actually a Christian symbol. Weirdly, though, it also had an Ark of the Covenant. Because nothing says "The New Covenant is the one true way to God" better than focusing on commandments and artefacts appropriated from the Old Covenant (for the record: growing up, we had plaster casts to make a model of the ark of the covenant, which we then sprayed gold and kept on the mantlepiece).
Not just an east coast trip
In three previous trips to the US, I'd never been further east than Denver, though I'd always had in mind that I wanted to visit the east coast one day. This then became my east coast trip - I spent 7 of my eventual 12.5 weeks east of Denver, including literally going out on the Atlantic. Though only a couple of those weeks were really in the cities I'd think of as "East Coast".
As it turned out, I was in Washington DC, the capital of the country, at the trip's halfway point. I hadn't planned it that way, but it felt fitting. But it wasn't too long after leaving DC that I flew west, more than a month before I made it back to Melbourne.
It made sense: I wanted to spend a couple of weeks in the Rockies, then time on two different Hawaiian islands on my way home. But it wasn't until I was walking across a lava flow in Hawaii that I suddenly realised that I was spending more time in Hawaii than in any other state except Michigan. And also that I'd end up having spent more time near the Pacific (Los Angeles, San Francisco, Hawaii) than either near the Atlantic (Boston, New York, Washington DC) or exploring the Great Lakes (Michigan, Ontario, Ohio). It was a surprise.
I'm glad to have seen Niagara Falls and some of the East Coast cities I'd wanted to visit for years, and also to discover how unexpectedly beautiful the Great Lakes area is. And I'm also glad to have discovered Glacier Country, seen an active volcano at night, gone snorkeling, and returned to San Francisco for the first time in 12.5 years.
Talking about San Francisco reminds me of a conversation I overheard in Golden Gate Park:
A: What happened to X?
B: They moved out to the East Coast - Cincinnati or some such place.
And I understand where they're coming from: Cincinnati is definitely in the eastern half of the US mainland, a long way from California. And I'd certainly viewed Ohio as part of my "East Coast" trip. But it was only a few weeks since I'd been in New York, and I doubt too many people on the streets of Manhattan would consider Cincinnati "East Coast".
East Coast or not, though, all these places and so many more combined to make a wonderful and memorable trip.
Keeping the blog running
One thing I was proud of was continuing to make monthly posts despite a hectic travel schedule. In 5.5 years, I'd never written a post overseas, let alone having then finalised and published a post from abroad. The closest I'd come to needing to do it was February 2019, when I spent most of the month in New Zealand - but that time I just wrote a hurried end-of-the-month post when I got back.
There was a Christmas in July. There was a discussion of Shakespearean Star Wars that felt like it was mostly written in long distance buses, and was finally published around 1:30AM from New York's JFK Airport.
Then on my final day in Canada, Elizabeth II, queen of both Canada and Australia, died, so I wanted to write about some of my memories. That one I finalised from my hotel in Waikiki after an early morning snorkeling trip and evening sunset and fireworks. And if that meant that the final post looked closer to 2 October than 30 September to some of my Australian readers, well, Hawaii time is a long way behind Melbourne time.
But how could you possibly travel during Covid?
Right now, perhaps this doesn't seem such a big deal. There are still a few naysayers, but it's fairly clear that the emergency responses of the past are in the past, and most have returned to a fairly "normal" life. It wasn't so clear last year, and even less so when I was planning the trip than when actually doing it.
Travel had been demonised, probably even more so here in Australia than in the US. We'd heard a lot about whether things were "essential" or not, and while I'd been critical of that language, it continued to affect the public discourse and perceptions of what the mythical "doing the right thing" looked like. Some doubtless thought that any travel was irresponsible.
Here in Australia, the first Omicron wave had disrupted the Australian summer and taken away much of the optimism from lockdowns ending and borders re-opening. And that was less than six months before I wanted to travel.
North America had faced the same Omicron wave in winter, and I suspected their summer would be better, but with continually changing conditions and new variants emerging it was impossible to be sure. I had to consider the possibility of border closures, travel restrictions, and other restrictions that made it more difficult to do the things I wanted to do.
In particular, it was possible that Canada would keep its borders closed to the US. I didn't think it was that likely, but if it happened, I'd just change my plans to avoid Canada. I didn't expect significant difficulties moving in the US unless I actually caught Covid there - but if difficulties did come up, I'd deal with them. And I certainly didn't expect Australia to close our borders to returning Australians again.
My Covid story is simple: I caught Covid from family members after having watched other co-workers getting it from their family members. It was unpleasant, but it was also perhaps the perfect time for preparing for travel: Long enough before I travelled that I'd recovered from it, but short enough that I was likely to have a fair degree of hybrid immunity.
So, even before I caught Covid myself, I'd seen far too many non-travelling Australians catching Covid to believe that if I just stayed safely home and avoided "non-essential" events I'd also be able to avoid Covid.
And after having caught it it was even more clear cut: I'd been vaccinated in September / October, boosted in February before returning to the office and to a more "normal" life, and then caught Covid the month before I travelled. If none of that protected me from an early repeat, I didn't expect "Stay home, stay safe" to do so. To the best of my knowledge I didn't catch Covid while in the northern hemisphere, and haven't caught it in the year since.
Travelling meant I was likely to be around crowds more - but it also meant I was going to be out and about in summer rather than in winter. We could probably expect lower case loads in North America, and higher case loads in my "safe" home-town. Would all those things balance out? I had no idea - but I didn't think there was anything obviously irresponsible about travel. I freely acknowledged my travel was "non-essential" - but it was permitted, it was important to me, I was able to do it, and I was going to do it. And if anything went badly wrong as a result, I'd do my best to take it in my stride. Exactly as I would have if something had gone badly wrong in wintry Melbourne.
Like with re-opening Australia's borders in late 2021, to me this was also an "if not now, then when?" moment. I couldn't guarantee that Covid wouldn't disrupt travel in mid-2022. But nor could I guarantee it wouldn't disrupt travel in mid-2023, or for that matter in mid-2024. At some point I needed to bite the bullet and say that it might not be a perfect decision, but it was a reasonable decision.
So how did it go?
The main concession I made to Covid was trying to avoid staying in hostels or other shared sleeping areas (like I did a lot in 2016).
I probably wore a mask more than I would have in Australia, and also more than most around me were wearing them. But there were still weeks when my mask got hardly any use, particularly as I settled in to travelling.
I had to prove my vaccination status a few times: Most notably to get into both countries, but also to get to the top of the Los Angeles Town Hall, for admission to a couple of concerts, and probably other places. I had a hard copy of the official international vaccination certificate somewhere about, though after using it at Los Angeles airport I don't know I could have found it again, but each time the much less official electronic record was accepted without question.
As far as mask usage went, my observation was fairly consistent across different parts of the country and across both red and blue states: Where masks weren't required, if there was a large enough group it was rare for there to be no-one wearing a mask - but even rarer for it to be more than 20% - 30% wearing masks. So many places had signs saying masks were recommended (or even required) without any of the staff were wearing them. And that hardly filled me with confidence in the signs. Even where it was mandated, unless it was actively policed many would ignore it. And so much of the signage was either out of date or conflicting that I wasn't always sure where it was actually mandatory anyway.
All of that was also fairly consistent with my experience in Victoria before I left. It seems to be an article of faith among some liberals that the US handled Covid uniquely badly, while countries like Australia and NZ simultaneously handled it in a way that was the gold standard but also just applied common sense. Certainly at times our response was very different from theirs, with its own strengths and weaknesses, and I'm not sorry to have spent the emergency phase in my hometown of Melbourne. But in my experience there wasn't that much difference between the two by 2022.
Covid was still a big deal, both here and there, but more because it had been a massive issue for a couple of years than because it was still having a significant impact on people's day to day activities. Some places had free testing sites on every corner and Covid signs (possibly outdated…) everywhere. Others you'd hardly even know that the Covid emergency had come through town. Life had got back to a "new normal" that was looking a lot like the old normal.
But at least I got to see a larger-than-average mask at work: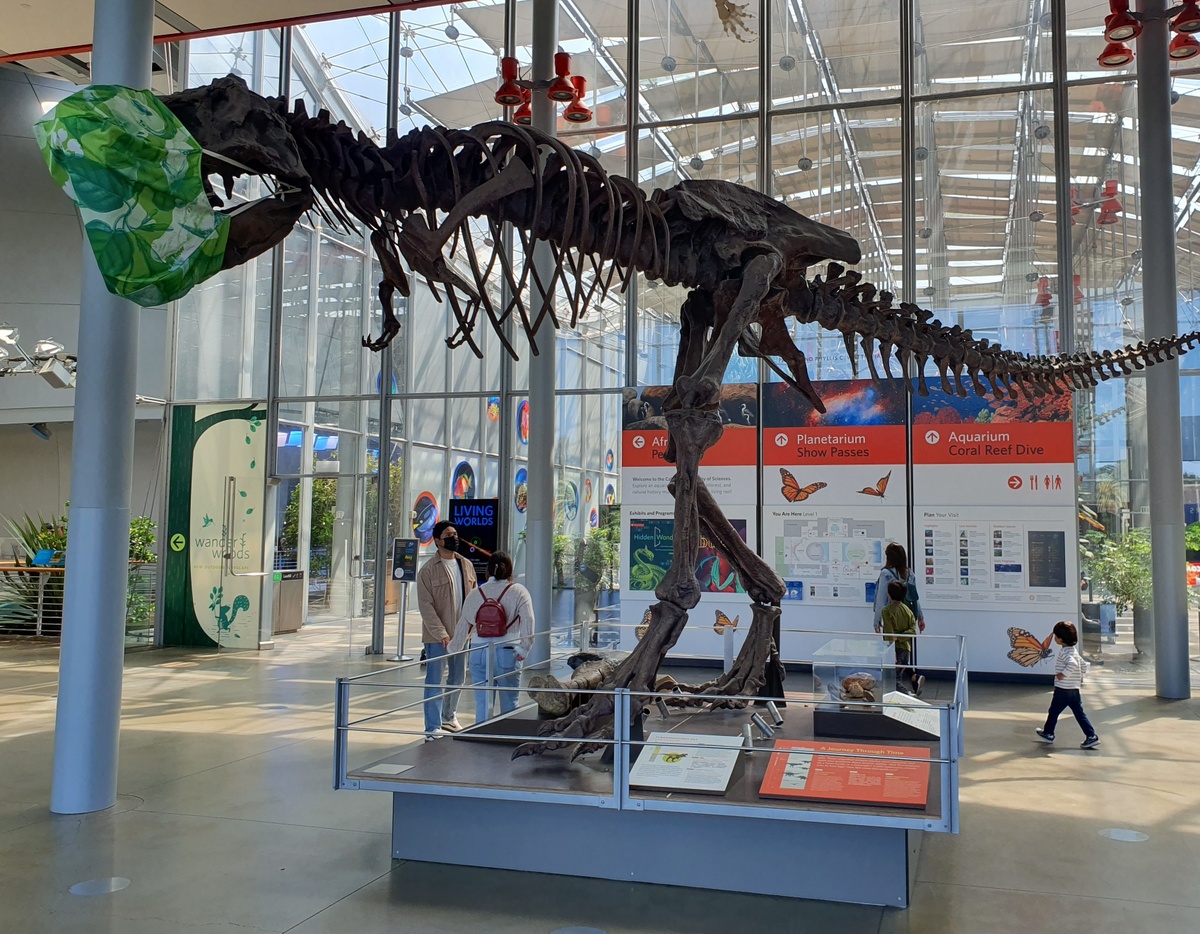 There was also a new disease in town - monkeypox. I'd been hearing about it in the months before travelling, and early in August I heard on the radio that the Biden administration were declaring the ongoing spread of monkeypox a Public Health Emergency. But outside of that radio interview I didn't see many references to it. There were occasional signs about it when I was in New York, the seeming epicentre of the disease in the US, but not much even there.
Since I got back just about all Covid regulations have been removed here, and mask usage has dropped even further. And I assume the same is true of the places I travelled in the US. While I was there President Biden said that Covid was over, and it was a controversial statement (though I thought in context his comments made a lot of sense). Now I think it's abundantly clear that, while Covid isn't going to leave us, in practice the emergency response is over and has been over for quite a while. I haven't heard much about monkeypox since I got back, either.
An unexpected flashback
It was mid-August, I'd been in the US for over a month, and I'd just spent the day at the Museum of American Innovation. Then this came up in my Facebook memories: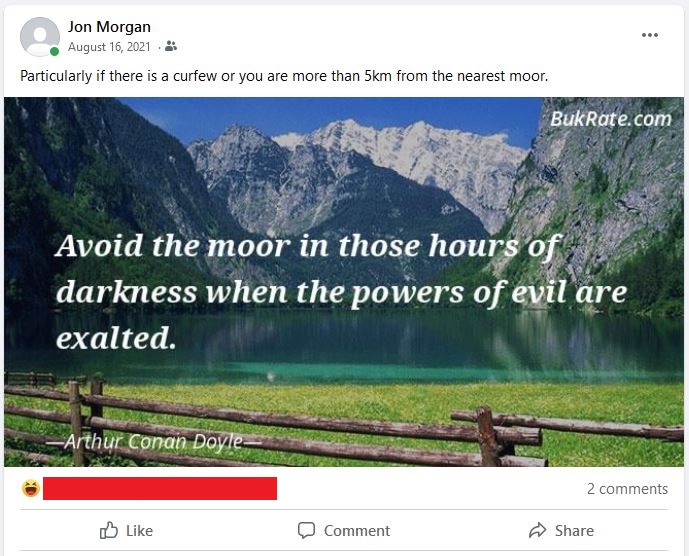 It was only a year since that post - and only ten months since lockdown had officially ended with freedom at midnight - but it felt so much longer. I tell you, it's weird thinking about curfews and a 5 km radius from the other side of the world. And lockdown feels even longer ago now than it was then.
How can you even take that much time off?
I'm now in my fifteenth year with my current employer, and this trip was the third time I've taken three months off, so the first answer has to be a permissive employer. The previous two times included significant unpaid leave, but this time round, between accrued leave and long service leave it was actually fully paid, which certainly helps.
It's a privilege being able to do it, and I recognise that for various reasons many, perhaps most, don't have that opportunity. But it also requires planning a long time in advance, in the workplace, with my finances, and in my personal life. I can't just decide that I want to have a few months off on the drop of a hat. Even if in practice a lot of the detailed planning ends up Just About In Time (or even Hopefully Not Too Late 😛).
And yes, I know - people are worrying about rising cost of living and just making ends meet, and there am I jetting off to the other side of the world for three months. My life circumstances make it easier for me than for many others, and sometimes I feel insanely privileged. But still - for it to actually happen I need to prioritise it and plan it and make sacrifices to achieve it.
An unexpected extension
October had just ticked round and everything was going well. I'd had a great time in Hawaii, but I had an early morning flight home, and I was ready to be back home. And then a cracked windshield and a cancelled flight changed everything. We were heading towards the off season, so Jetstar had switched to two flights a week. I was going to be on the next flight, but it wouldn't be for another three days.
That felt like a big deal at the time: It was early morning, I'd heard about the cancellation around 4AM so hadn't had a lot of sleep, and I was also talking with other similarly distressed passengers. It wasn't at all what I wanted.
Looking back it on it now, though, it's a story to tell. Fortunately (and unlike some of my fellow passengers), I had no urgent need to be in Melbourne the day I'd planned to be there. I had to leave the US within 90 days of my arrival, and the extension would take it from 85 to 88. Still fine, so long as nothing else went wrong - I'd left some leeway precisely to deal with situations like this.
In that extra three days, I saw things I wouldn't otherwise have seen, and had experiences I wouldn't otherwise have had. Perhaps most notably seeing a beautiful rainbow over Diamond Head while swimming in Magic Island Lagoon. And where else will I get the chance to prove that WFH stands for "Work from Hawaii"? The situation had its stressful moments while it lasted, but now it's nothing but fond memories.
One year on
It's been weird in the last couple of weeks thinking about that time a year ago when I was making final preparations for travel. It seems so long ago, and at times like I don't identify at all with the person I was then - though in practice I can see a lot of similarities with the person I am now. It's weird to think that it's a year since I left, and nine months since I got back (and also weird that I haven't been able to publish this post in that time!)
Like 2016, the trip seems to have made a very clear "before" and "after" in my mind, even though in practice the "after" is much closer to the "before" than it was for my first post-religion trip (which is as it should be, I think). Most of this trip I was in areas I'd never been in my life, but I was able to go to the kind of places I already knew I would like, and do the kind of activities I already knew to seek out. Yes, I tried some new things, some of which I've carried through into everyday life here in Victoria - but trying new things is also part of who I was long before leaving religion, part of who I am now, and hopefully part of who I'll continue to be.
So why does it feel so foreign? Perhaps the fact that back then I had a big overarching goal to work towards and now I don't? Or perhaps that I've seen and experienced so much since then? Or perhaps it just reflects the passing of time? I don't really know.
What I do know is that I like the person I am. I like the things that I achieved on that trip, and the things that I continue to achieve a little closer to home. I'm not perfect, and I don't make perfect choices. But I'm enough as I am. Enough for whatever life throws at me.
More posts to come (maybe!)
This post was just intended to be the summary post, though it's certainly grown. I have a long list of other posts I wanted to write. Of experiences I wanted to share. Of photos, and of memories. From glaciers to volcanoes, ancient creatures to unusual sunsets - and even reflections on Australia's colonial history.
Obviously I haven't got to them so far, and past history shows that might not change, but if I do publish more I'll try to keep this list updated:
I'm home! (published 15/October/2022)
A spring, a marsh, a dune, and many, many birds (published 5/August/2023)
What comes next? Are you going back again?
On my fourth flight of the trip I said to myself "When I get back home, I wouldn't be sorry if I don't see another airport for a year". It was an early morning flight, and I hadn't got a lot of sleep, so perhaps it wasn't the best time to be making life decisions like that. But now I've been back for nine months, and haven't seen the inside of an airport since - and I certainly haven't regretted it.
In 2017, after getting back from a three month UK trip, I didn't leave Victoria. And so far in 2023 I haven't left Victoria either - and we're more than halfway through the year. If it stays that way for the rest of the year, I'll be completely fine with it. It's a chance to catch my breath after international travel - and it's not like I do nothing interesting in Victoria…
When I left Hawaii they asked me to do a traveller survey. And one of the questions was "Do you plan to return in the next five years?" And it was very easy to answer "No". I'll probably travel internationally some time in the next five years. But I'm not sure it will be to either Canada or the USA, let alone specifically to the state of Hawaii.
There are places I'd love to return to in both countries, as well as places that would be completely new to me. One of my souvenirs this trip was a collection of "Retro National Park Poster" playing cards, and looking through them I go "Yeah, I've heard of that one, I want to visit that one, I've been to that one and would love to go back, …" But I have to realistically acknowledge that it may never happen. And that that's OK.
It would probably surprise me if I didn't find myself visiting one or both countries at some point in, say, the next thirty years. And yet, with no concrete plans and with many other places in the world to see, it also seems completely plausible that I never return. And if so, that will be completely fine. I'll take away good memories from this trip (and from three previous trips to the US), and I'll remember it as one of the many wonderful places I've been privileged to travel in our wonderful world.
I definitely don't see myself with another long trip like this one. So if I did return to places I visited this trip, I'd likely focus on one section. If returning to the US I could see myself going back to Boston, New York, and Washington DC, perhaps also including other cities on the East Coast or visiting the Appalachians. Or perhaps I could see myself trying something completely new and heading north from San Francisco to the Pacific North West. If returning to Canada I could see myself returning to Banff and then heading north to Jasper, or perhaps even as far as Alaska. Hawaii, though? I had a great time there, but if I do decide to visit another tropical island, I'm not sure it will be in Hawaii (I've also heard Australia has some kind of famous reef - maybe I should visit that one day 😉).
It's seven years since my 2016 trip, and I haven't yet returned to the UK. Or to Switzerland, for that matter, though I did at least plan to visit it in 2020. But the memories still burn bright, and I'm still glad I did it. The same will probably be true of this trip in another six years.
For now, though - The other side of the world contains many beautiful places and the opportunity for exciting adventures, but Melbourne is home. And it might just contain its own adventures too. Since returning, I've been to art galleries and museums, visited gardens and waterfalls, captured sunrises and sunsets - and I might even have gone snorkeling.