A spring, a marsh, a dune, and many, many birds
A year ago today, I was in the Great Lakes area, travelling north beside Lake Michigan.
I wanted to share some experiences and photos from that day.
When I travel internationally, there are some places I visit that would draw me from the other side of the world. For last year, Niagara Falls was a good example: I've been wanting to visit it for many years, and my extended North America trip gave me a good opportunity.
Then there are the places that aren't so well known. That I might not have even heard of till a few days before I visited them. I visit them not because it's a life goal, but because I'm in the area.
That was what this day was about: The places I visited were places that I'd never visited before, and in all likelihood will never visit again. And yet - the reason I chose to write about this day was that it was a wonderful day. There were things that I saw and experiences that I had that I didn't have anywhere else on the trip. And a year later it's a day that I still have fond memories from.
My future travels may never take me back to these places (or even to the Great Lakes region), but I hope they will lead me to more days like this. Days where I break travel from A to B with visits to a few places that sound nice, and where those places turn out better than expected. Days where I have the time and space to appreciate whatever I find without having to check items off an "I have to do this or else the entire holiday is a failure" list.
Old Facefull
My first stop was an artesian spring with a fancy name and very pure water: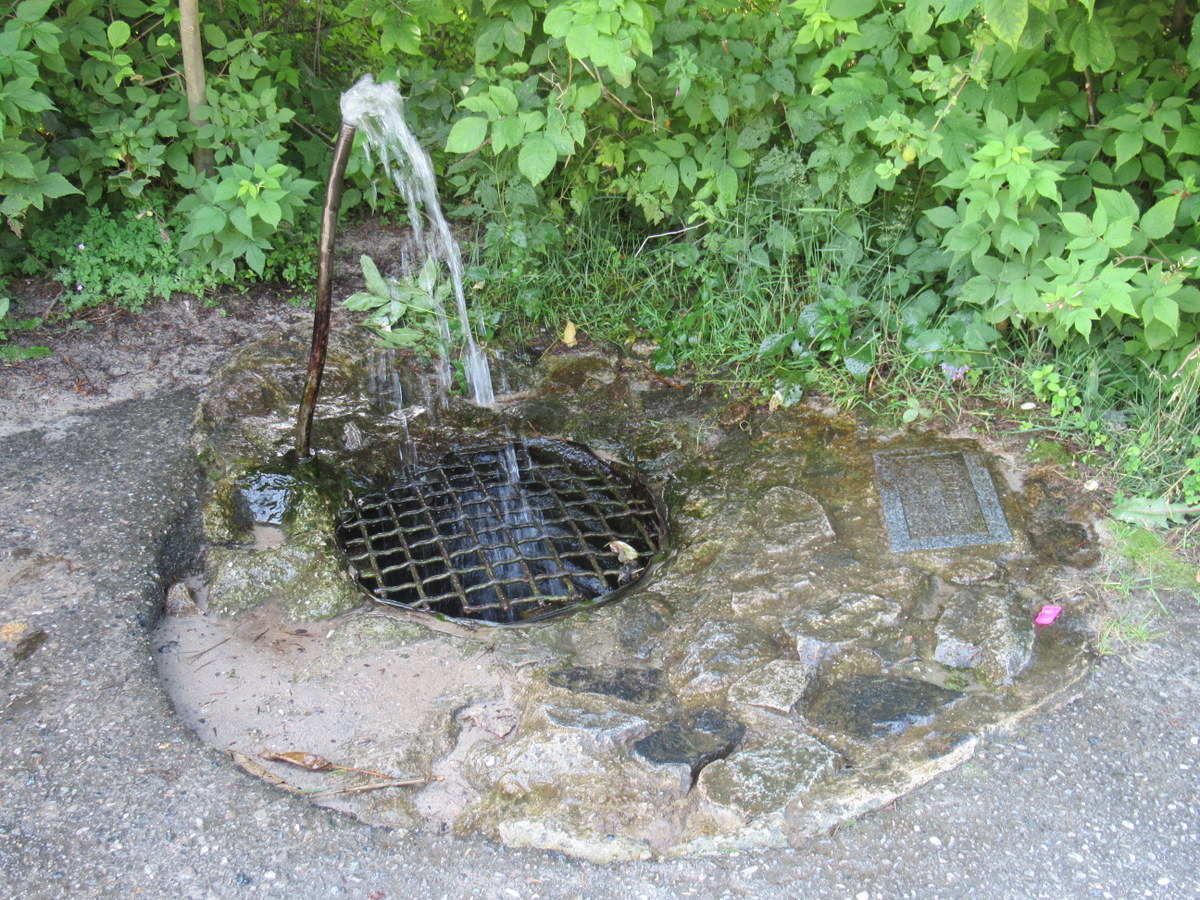 It also had some of the local wildlife there: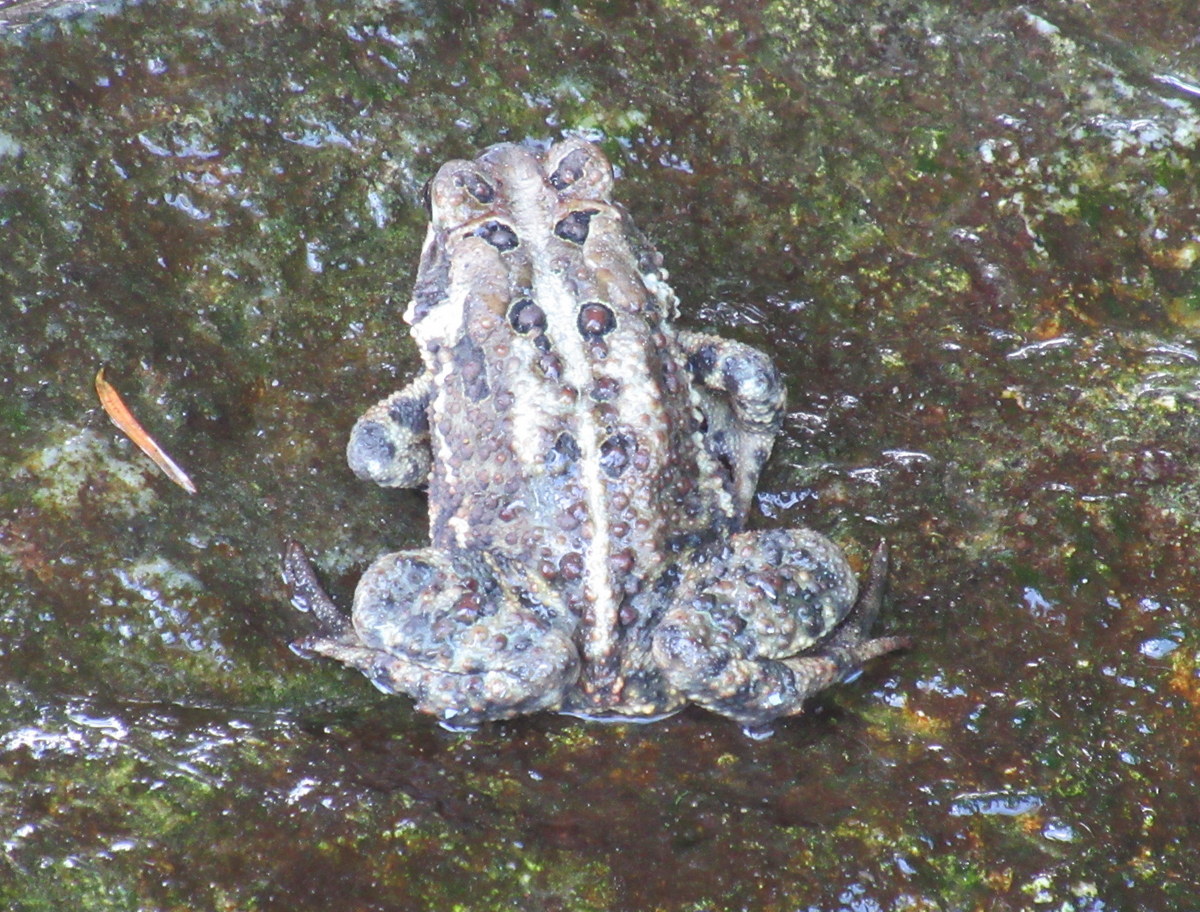 And it was right by Lake Michigan, which was nice: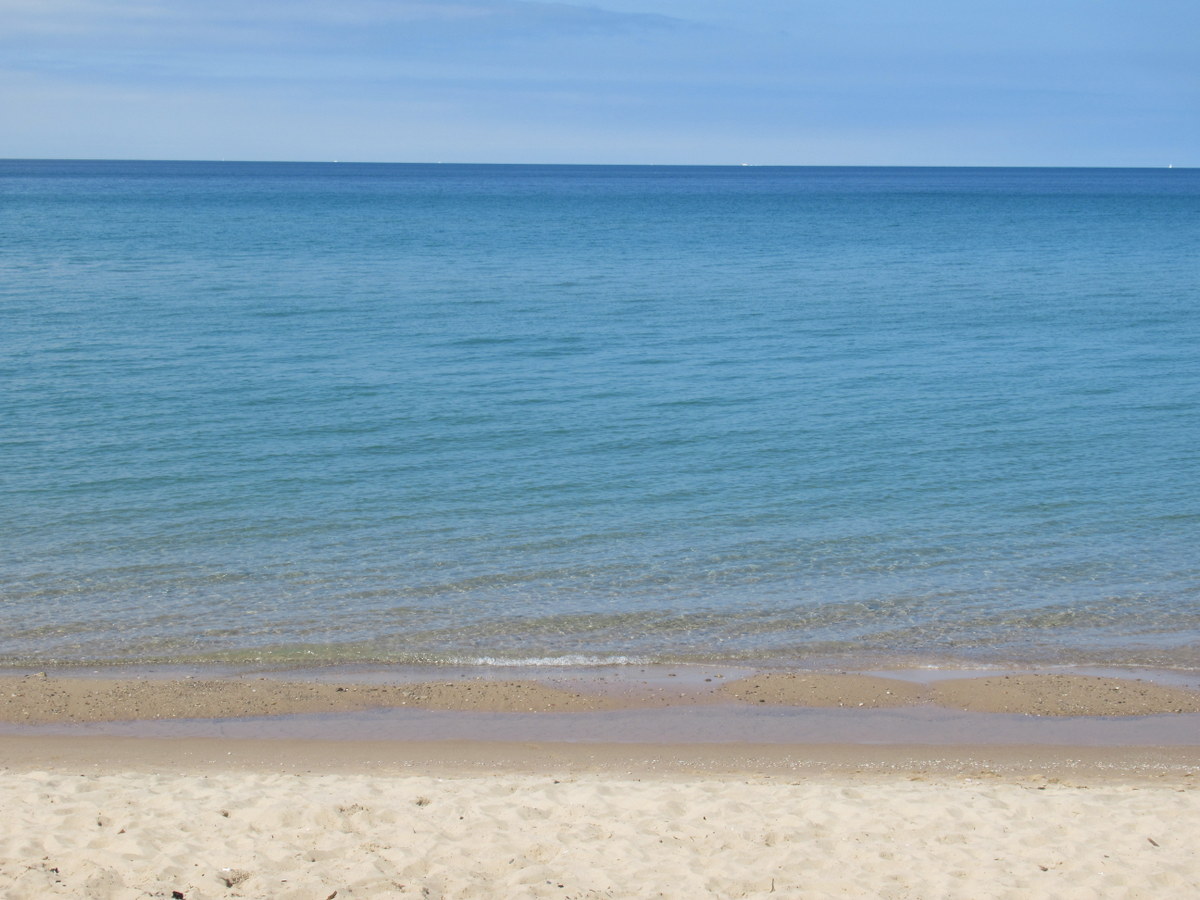 There was a butterfly in the sand: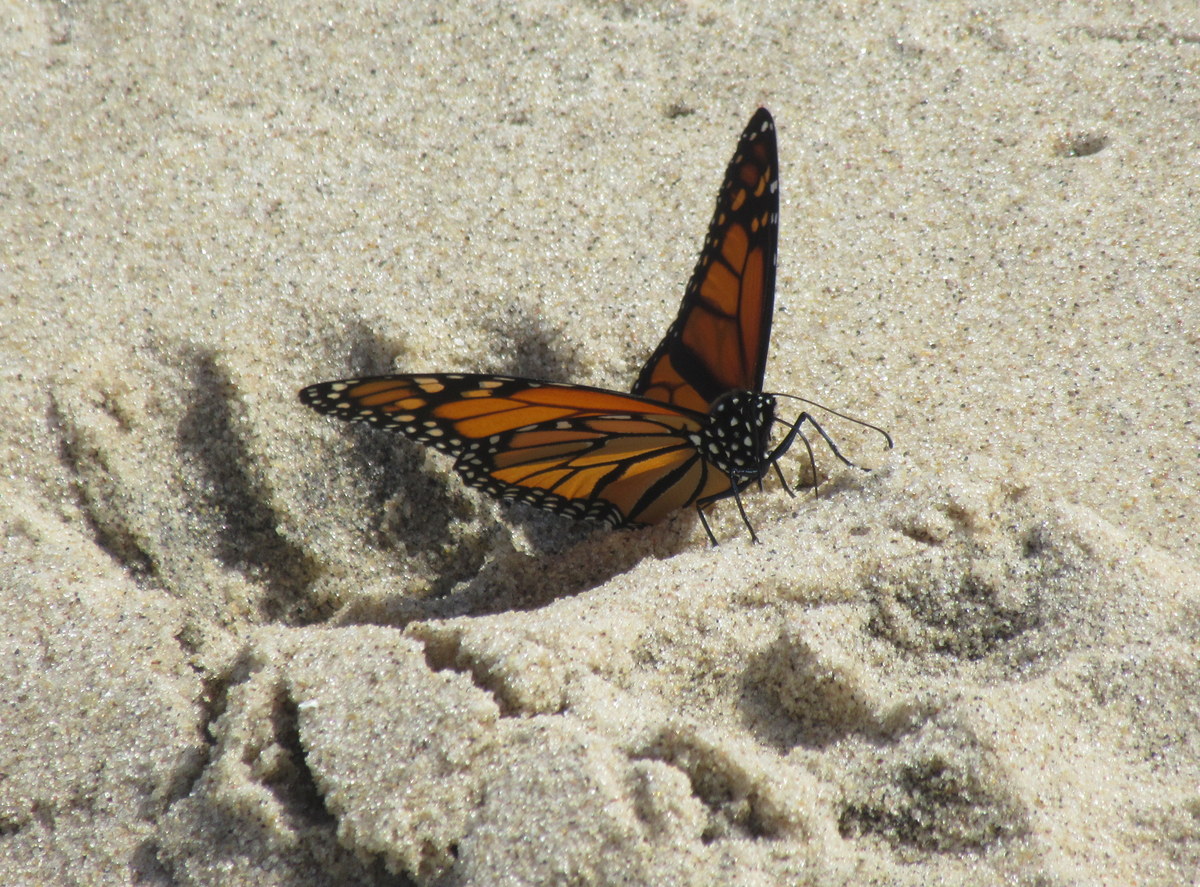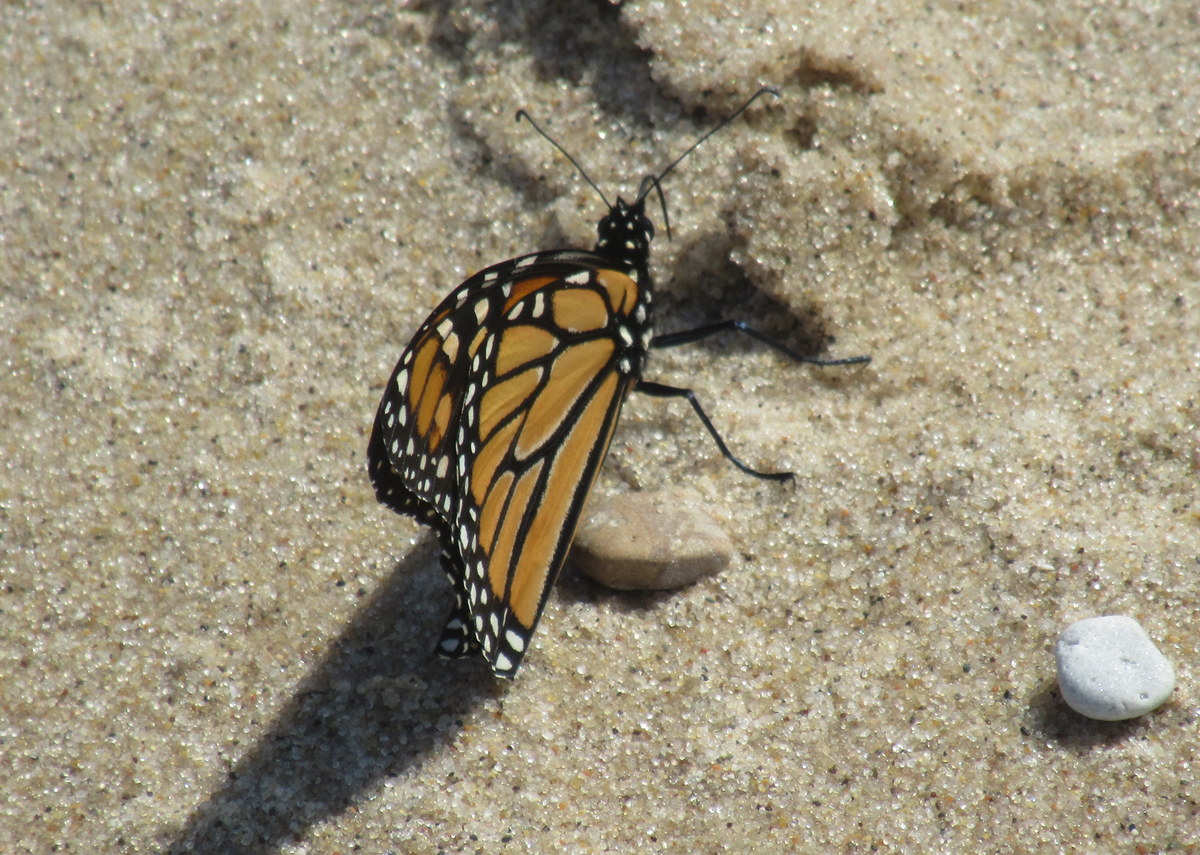 I had the time to paddle in the water and admire the rocks. Without drowning my camera (unlike a certain lake in Montana…).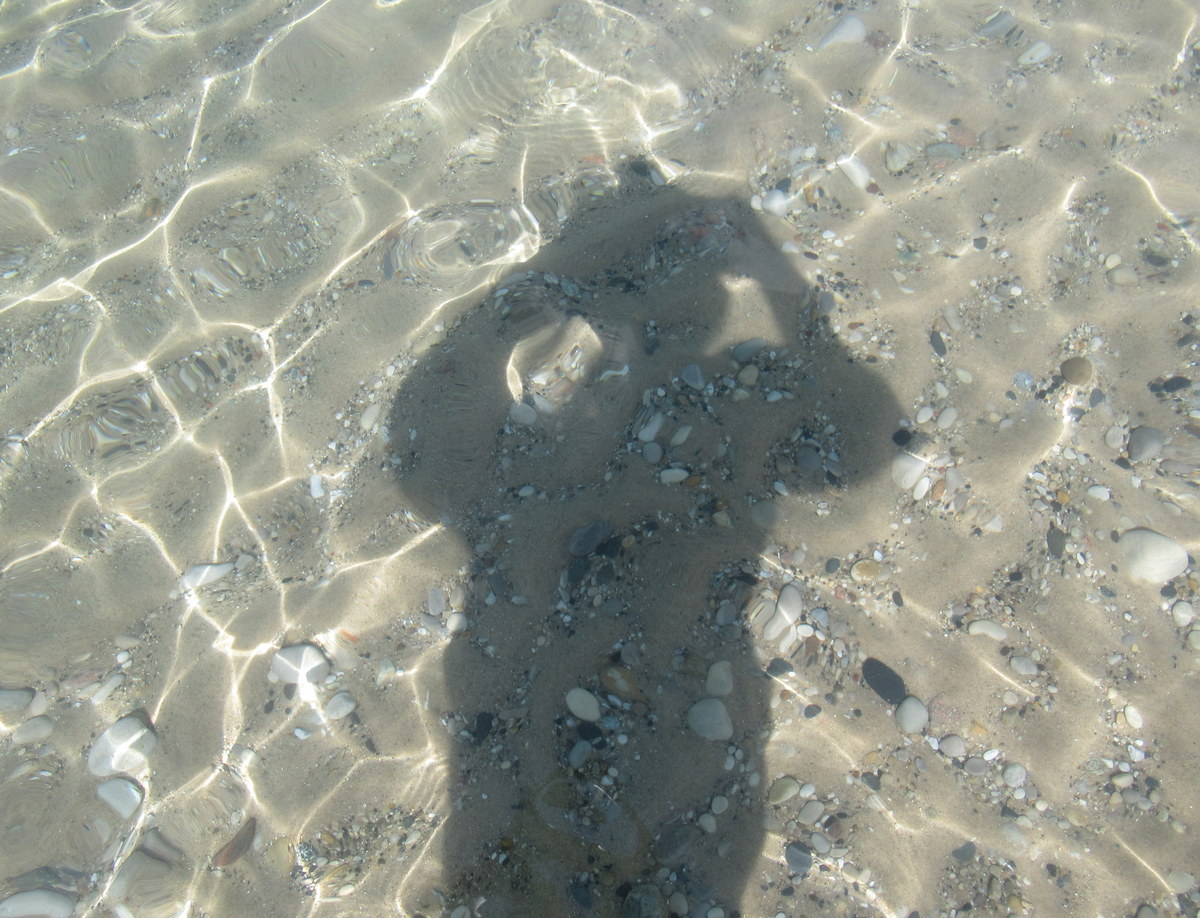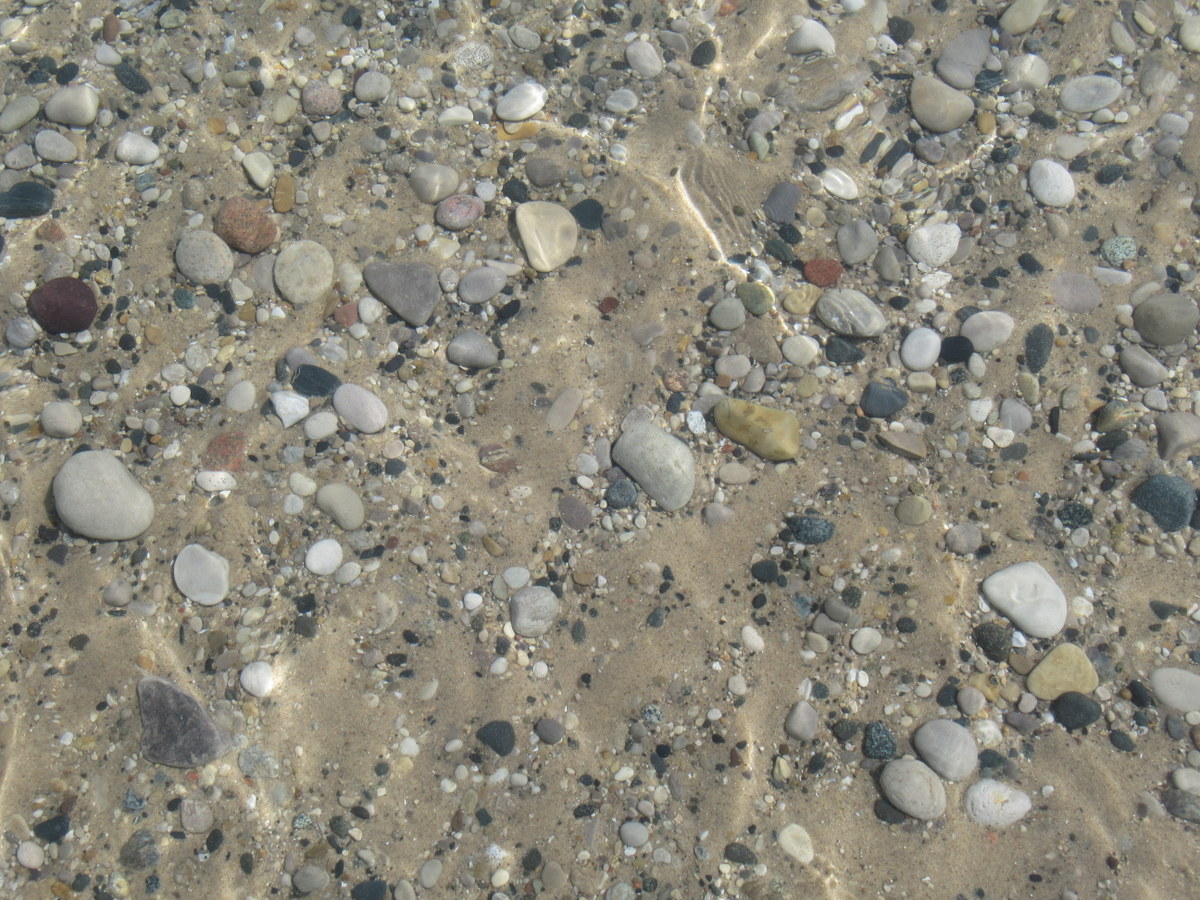 There was also an amusing exchange when I got back to my car. I'd hired it in Michigan, but it had Florida plates. Someone came up to me, excited to see someone else from Florida. I had to break it to them gently that, not only was I not a fellow Floridian, but I'd never actually been to Florida in my life.
Arcadia Marsh Nature Preserve
Next stop, Arcadia Marsh Nature Preserve. And it was this place, above all, that I remember the day for.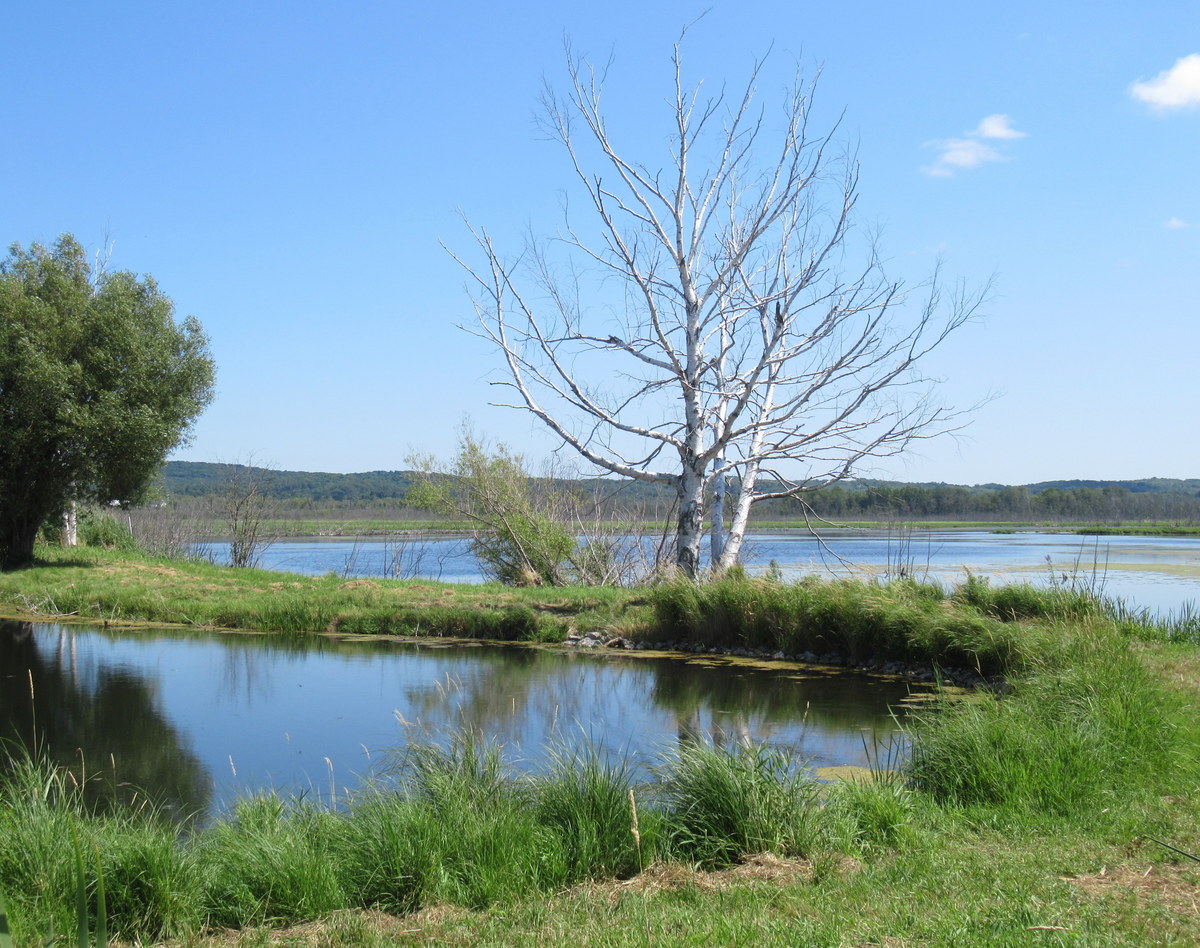 My first impression of it was that it was just very, very blue. It was a sunny day, and the view was mostly open water, with many reflections and plenty of places for birds to perch (and there were lots of birds about…).
The walk was a simple boardwalk, 1.5 miles out and back: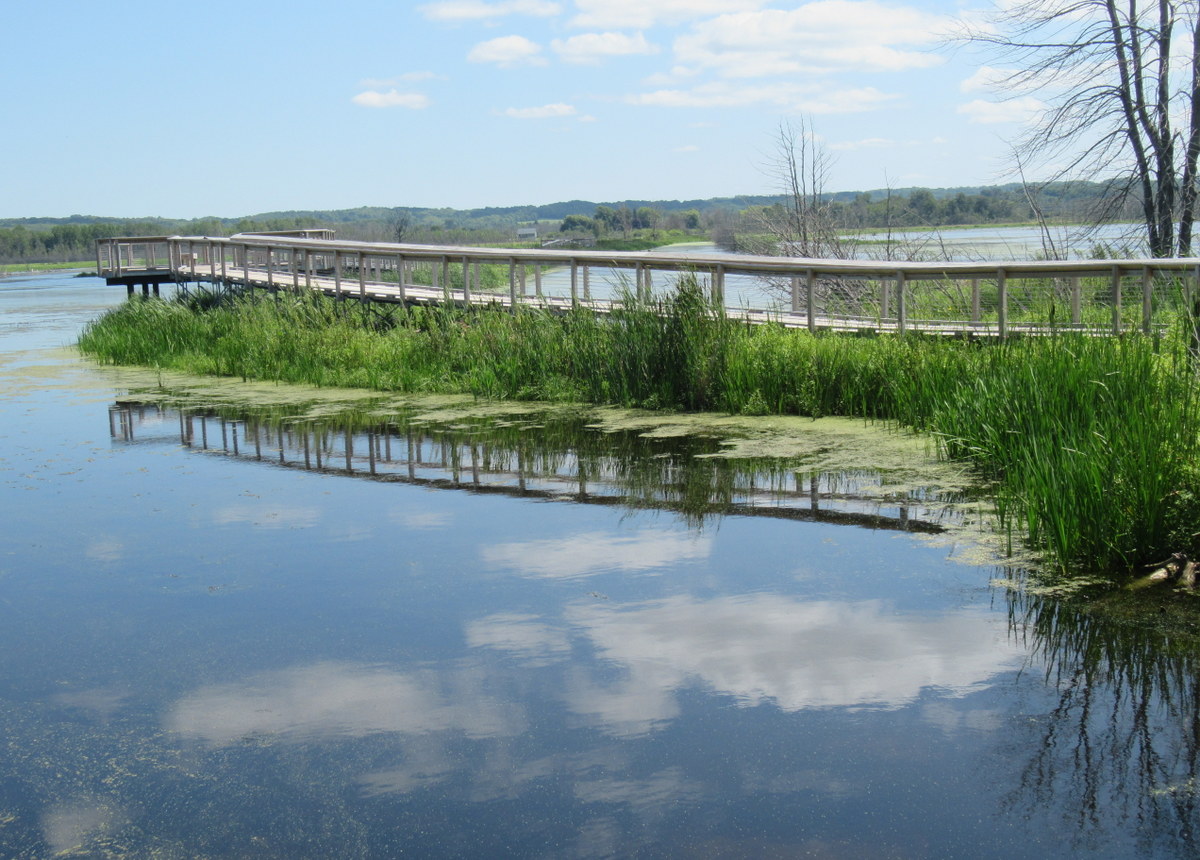 I figured on it taking under an hour. I was wrong. There was far too much to watch and to photograph for that.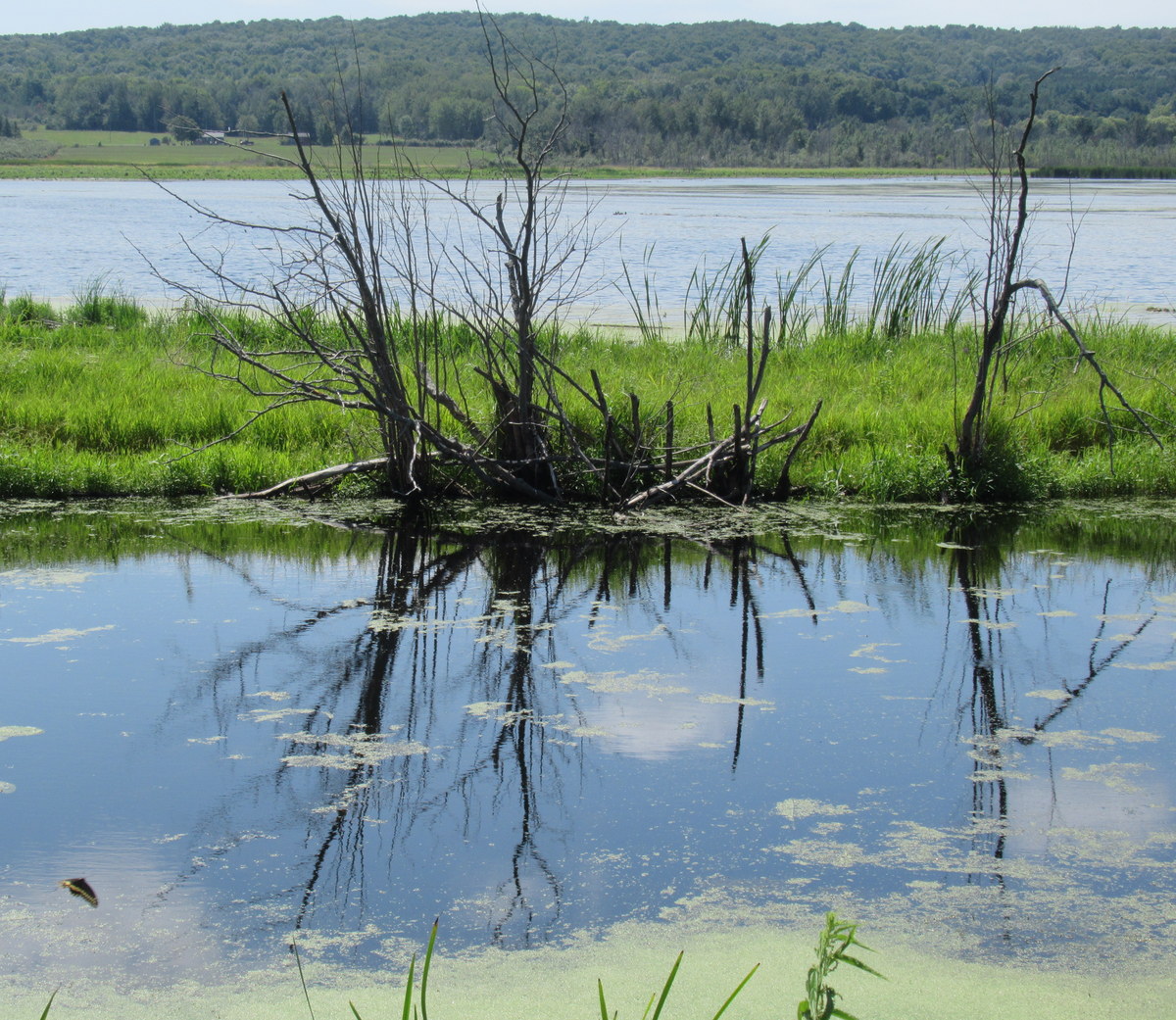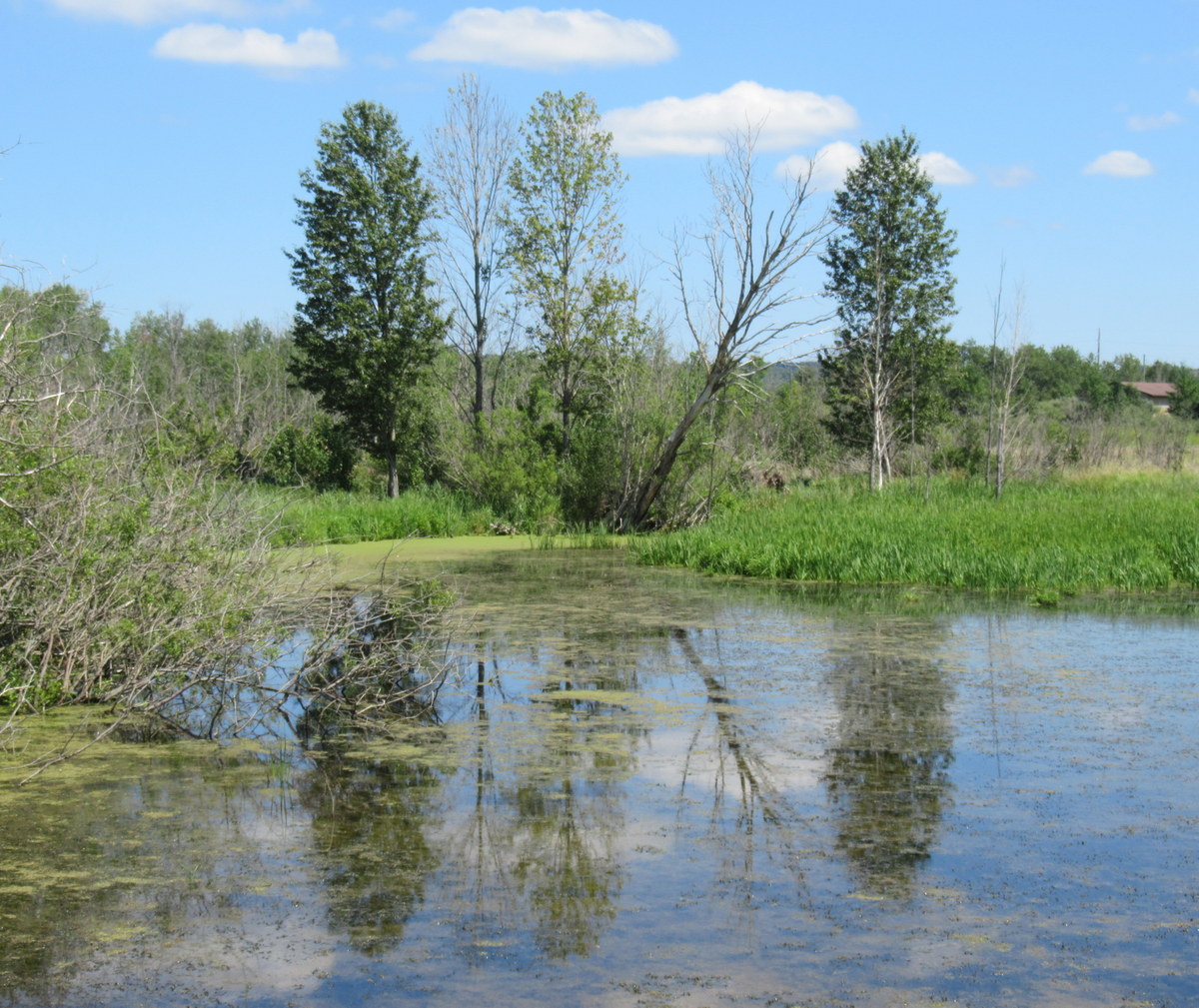 Birds could be seen in flight: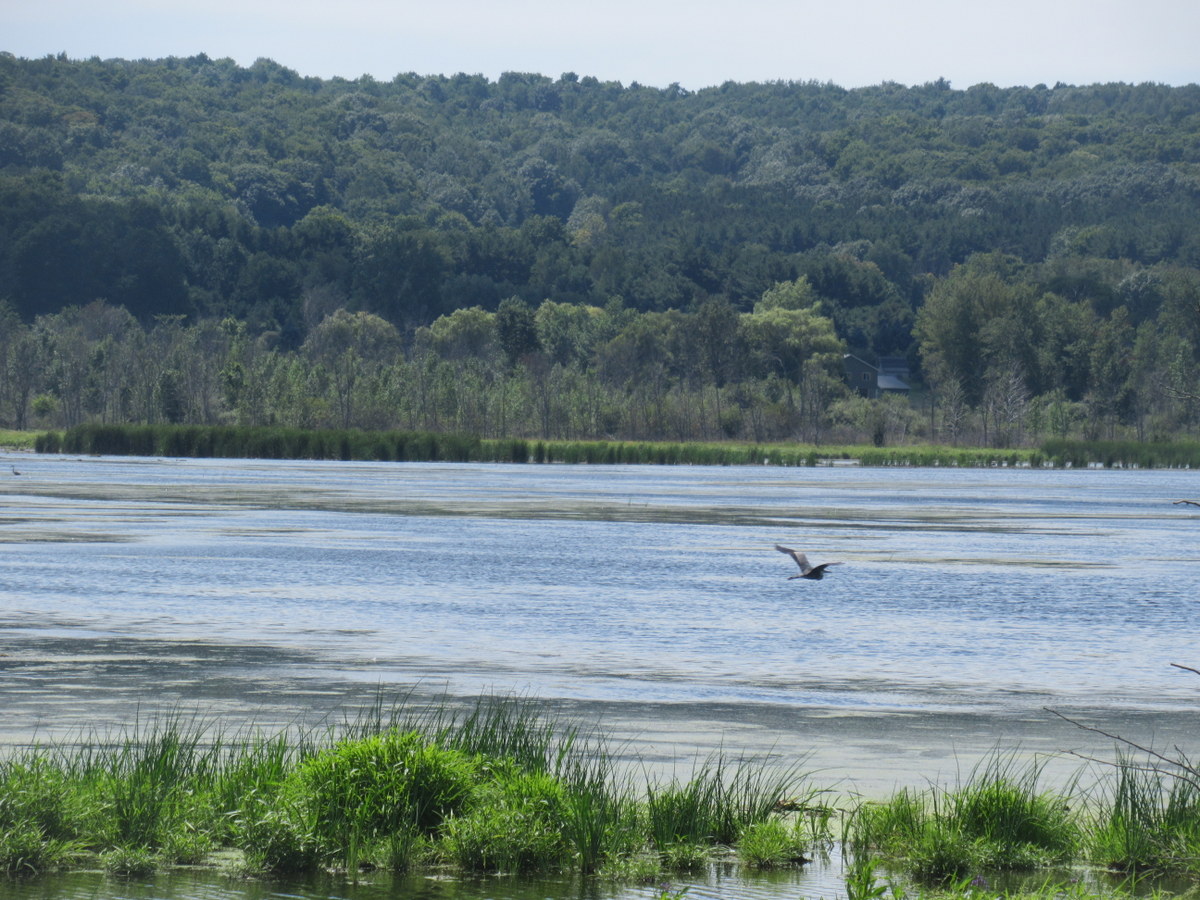 In the marshland: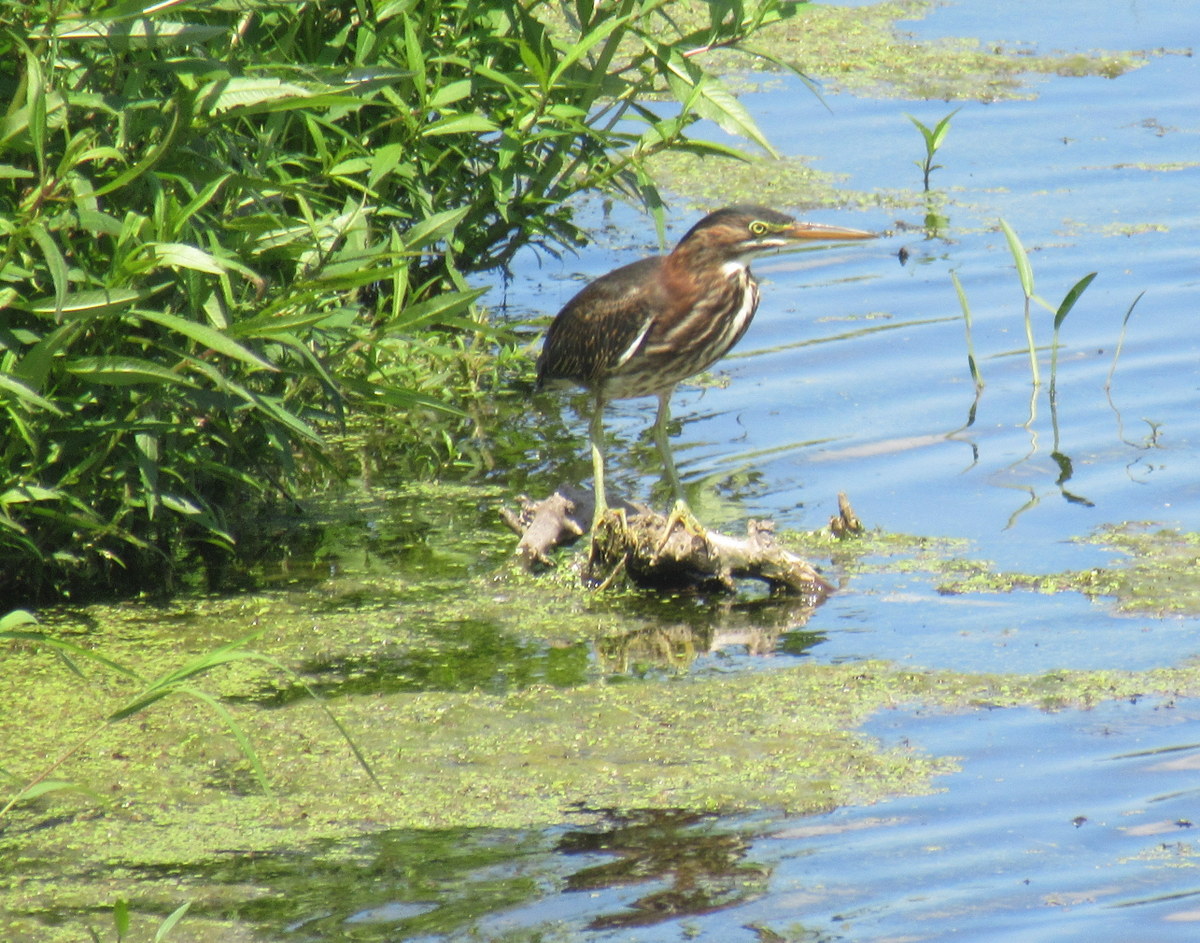 Among the floating greenery: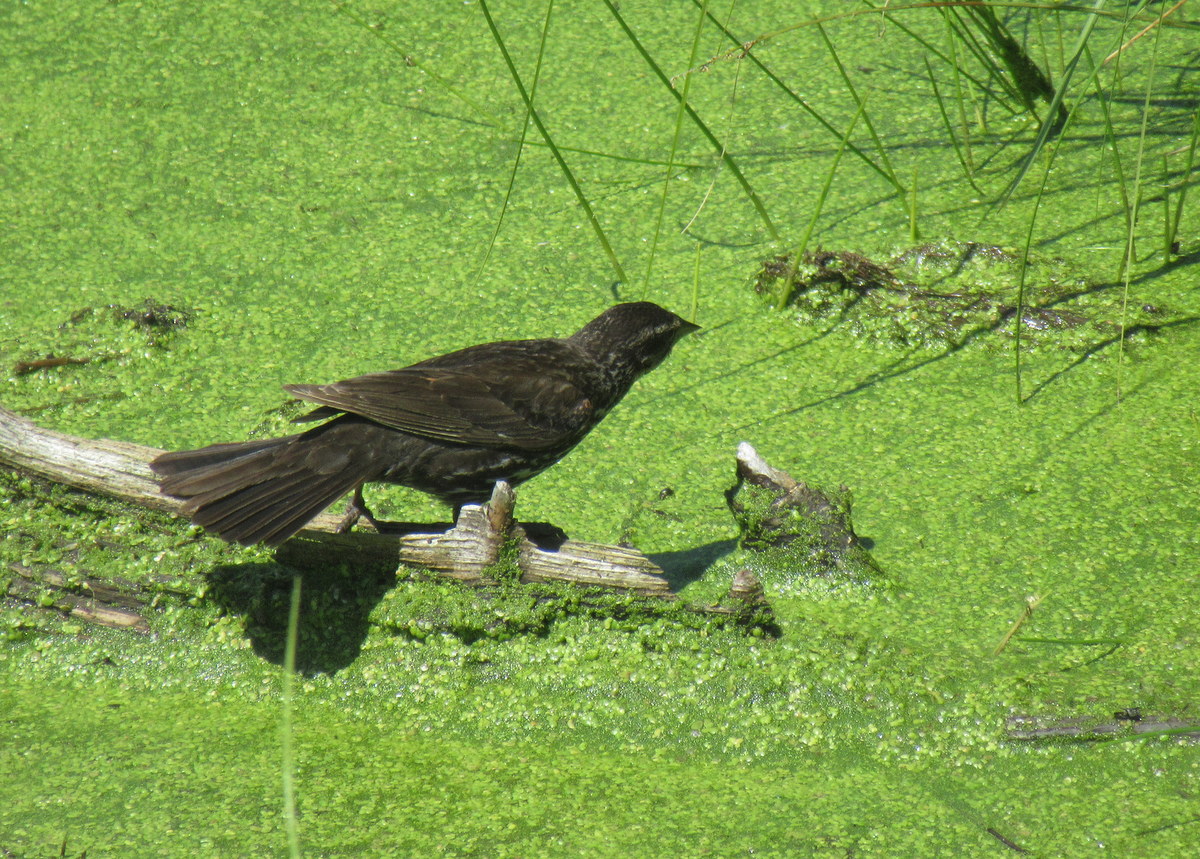 Or on a convenient branch: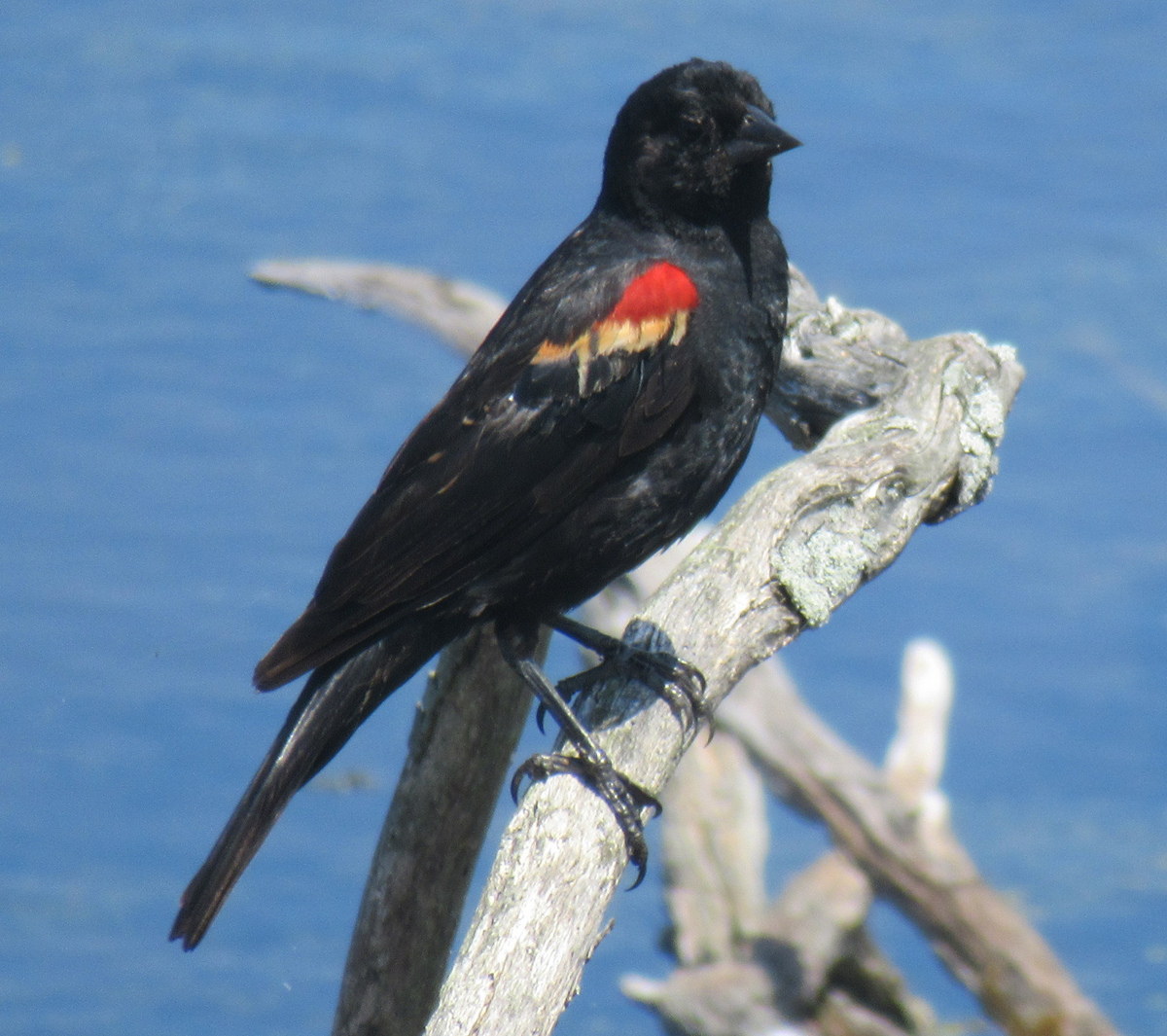 However, there were two bird encounters I particularly remember.
Firstly, there were the swans in a perfect line, parents at the start and the end keeping the cygnets in order: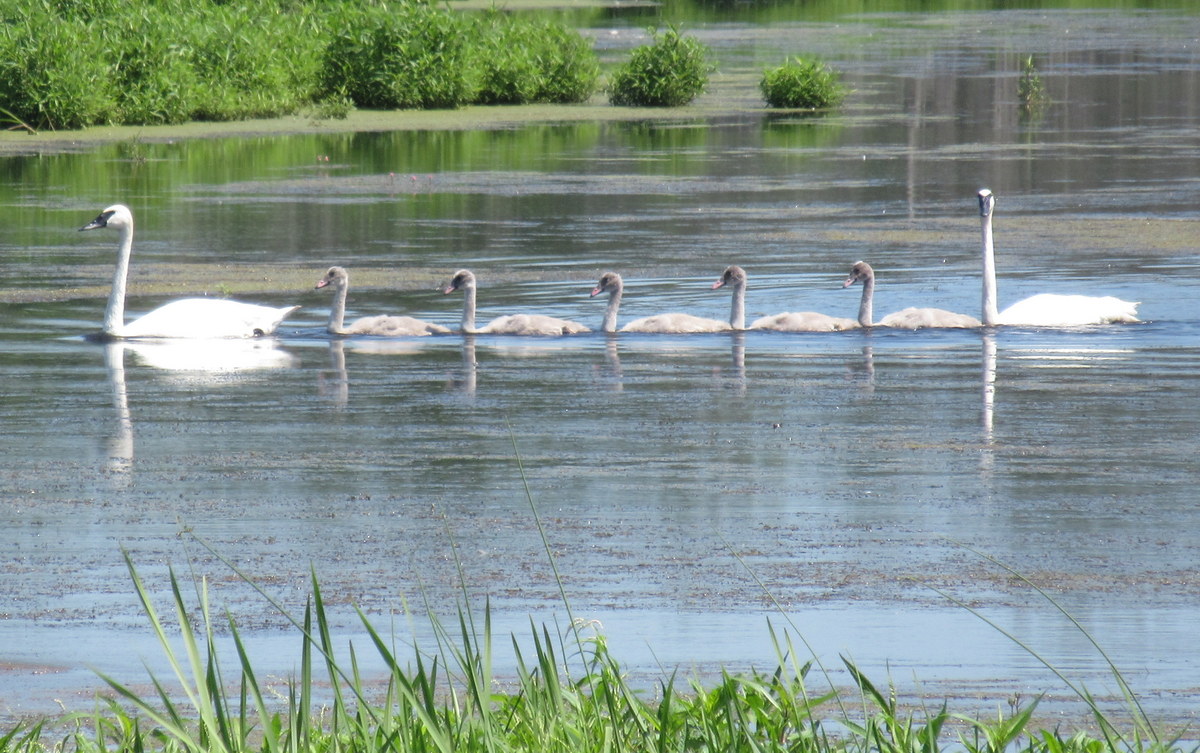 I'd expected them to be the invasive mute swan, like the ones I'd seen in Singapore. However, they looked to be the native trumpeter swan, listed as a "special concern species". So it was good to see them around and caring for the next generation, while only slightly disturbed by other birds flying past: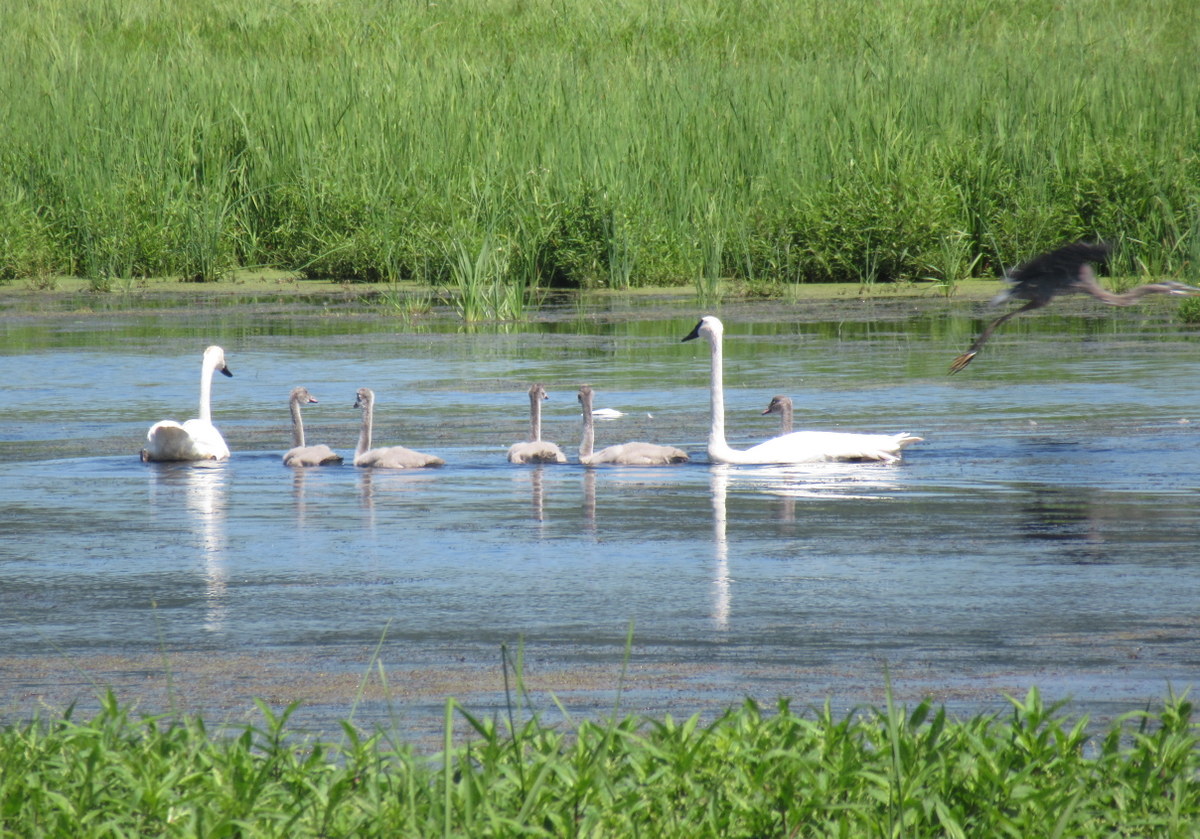 The other one I remember is the hummingbirds. It was the first time I'd seen them, and they had a lovely green and were able to just hover in mid-air and then dart about. I couldn't capture them in the air, but here's one on a branch: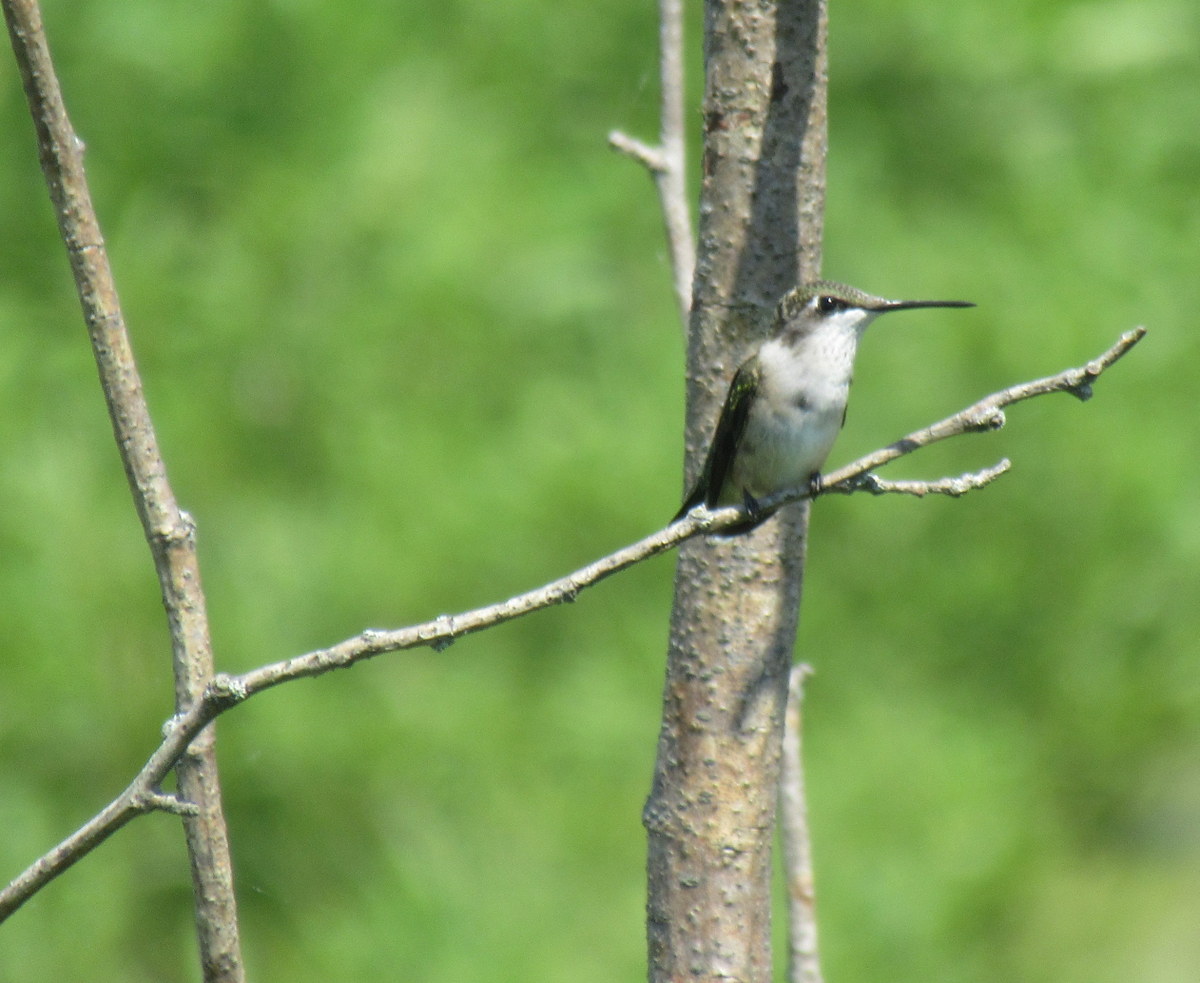 Don't worry too much about the name - it does seem to match, and ruby-throated hummingbirds are also supposed to the most common hummingbird species in Michigan. Only the males are red-throated - females, like I presume my sighting was, are white-throated.
It wasn't just limited to the birds, either. There were dragonflies: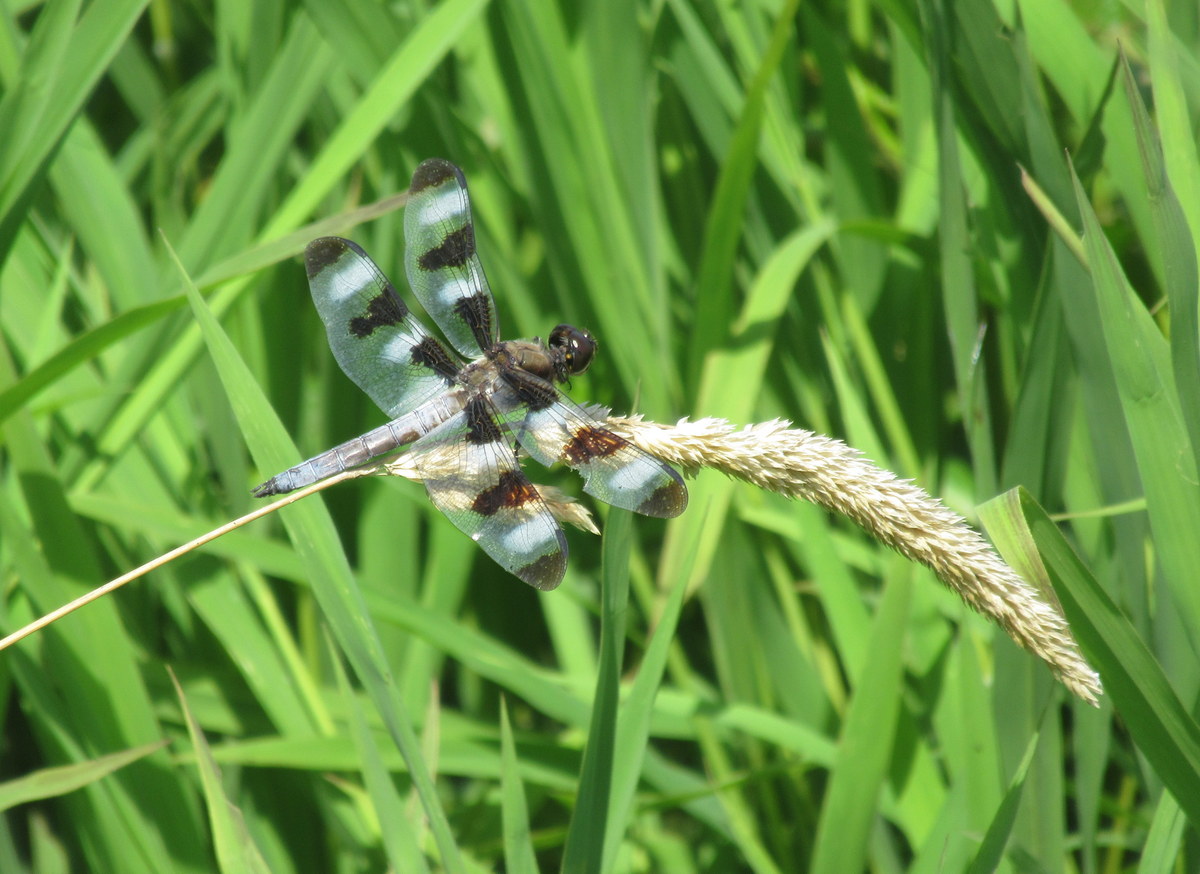 Beetles: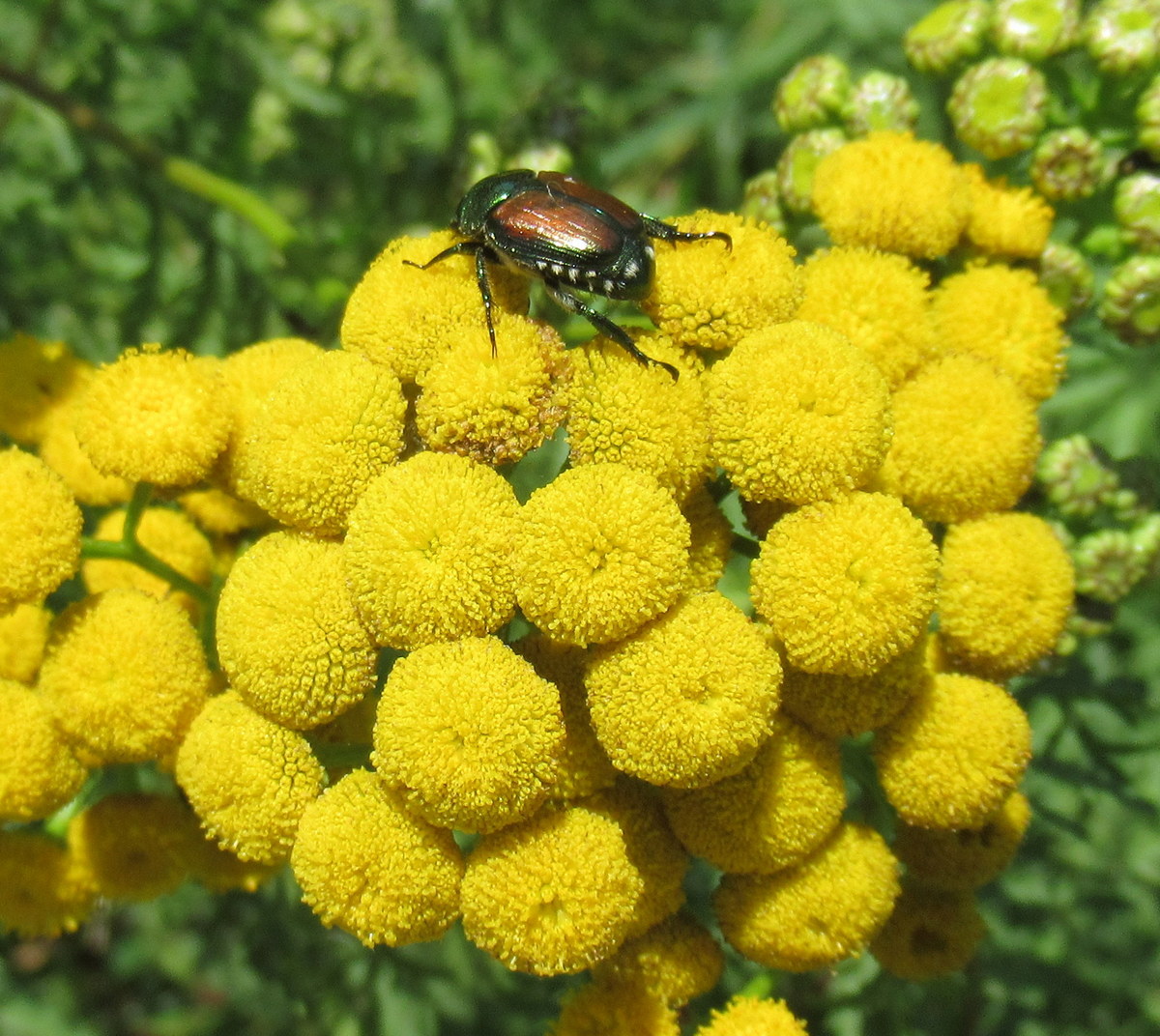 And butterflies: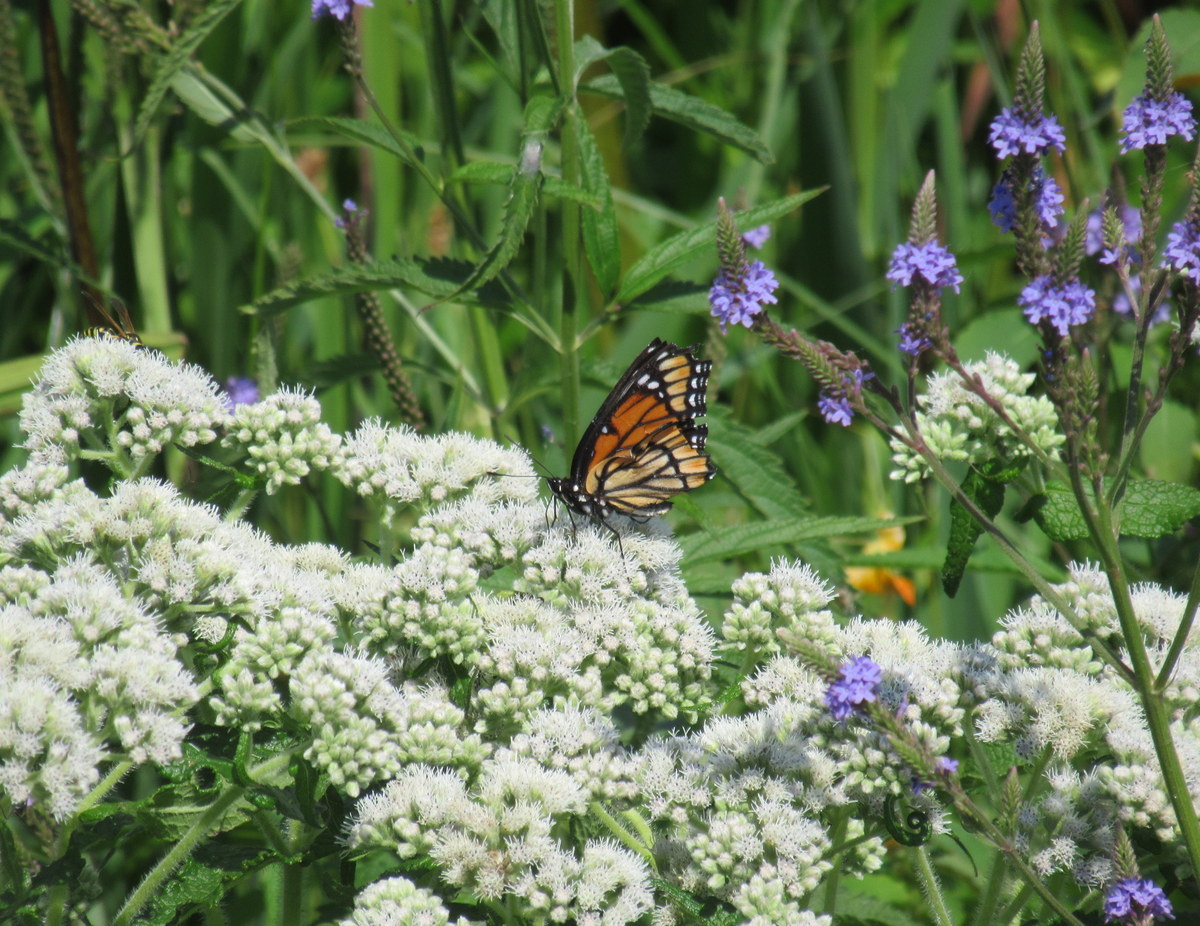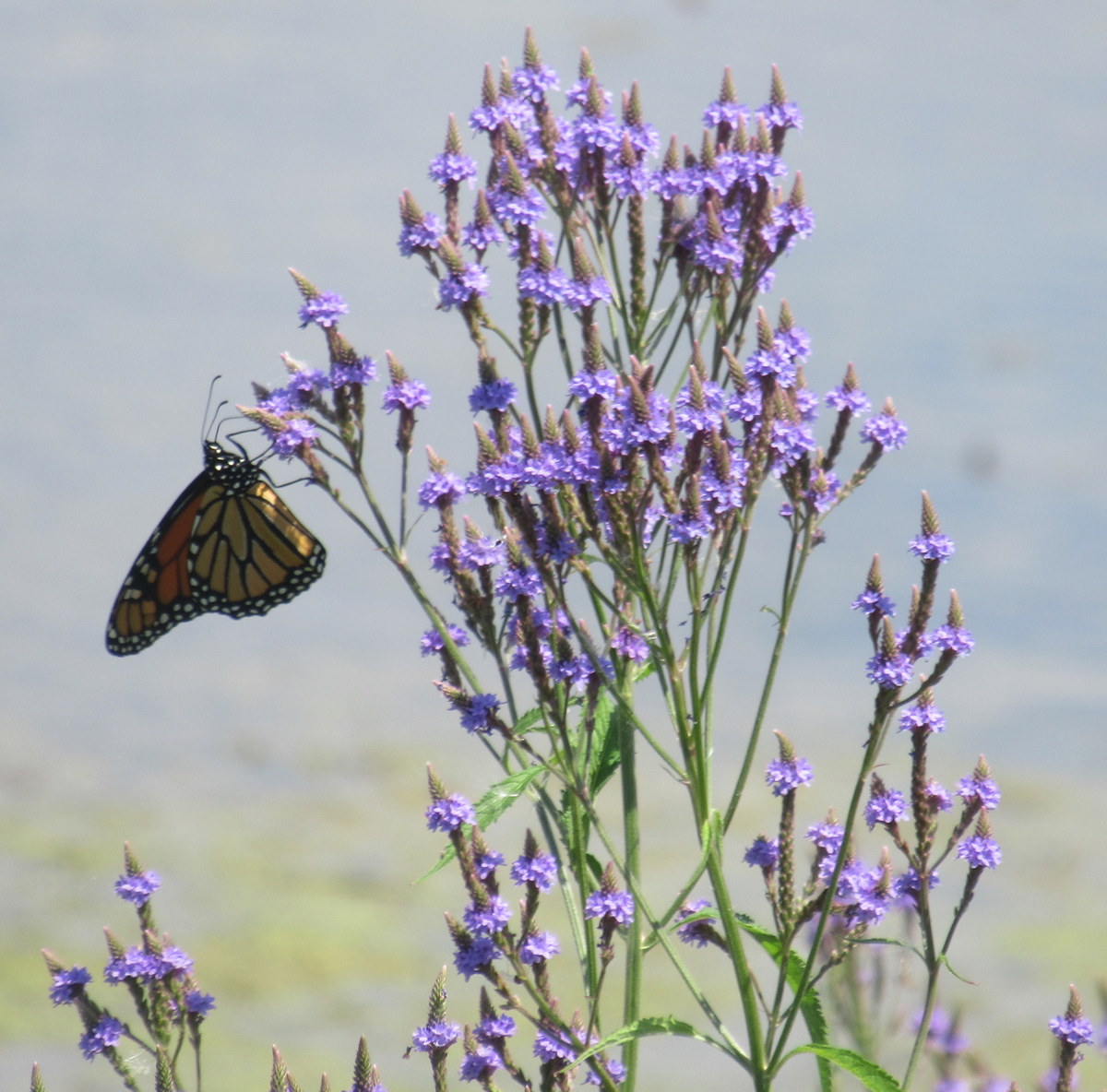 There were also berries: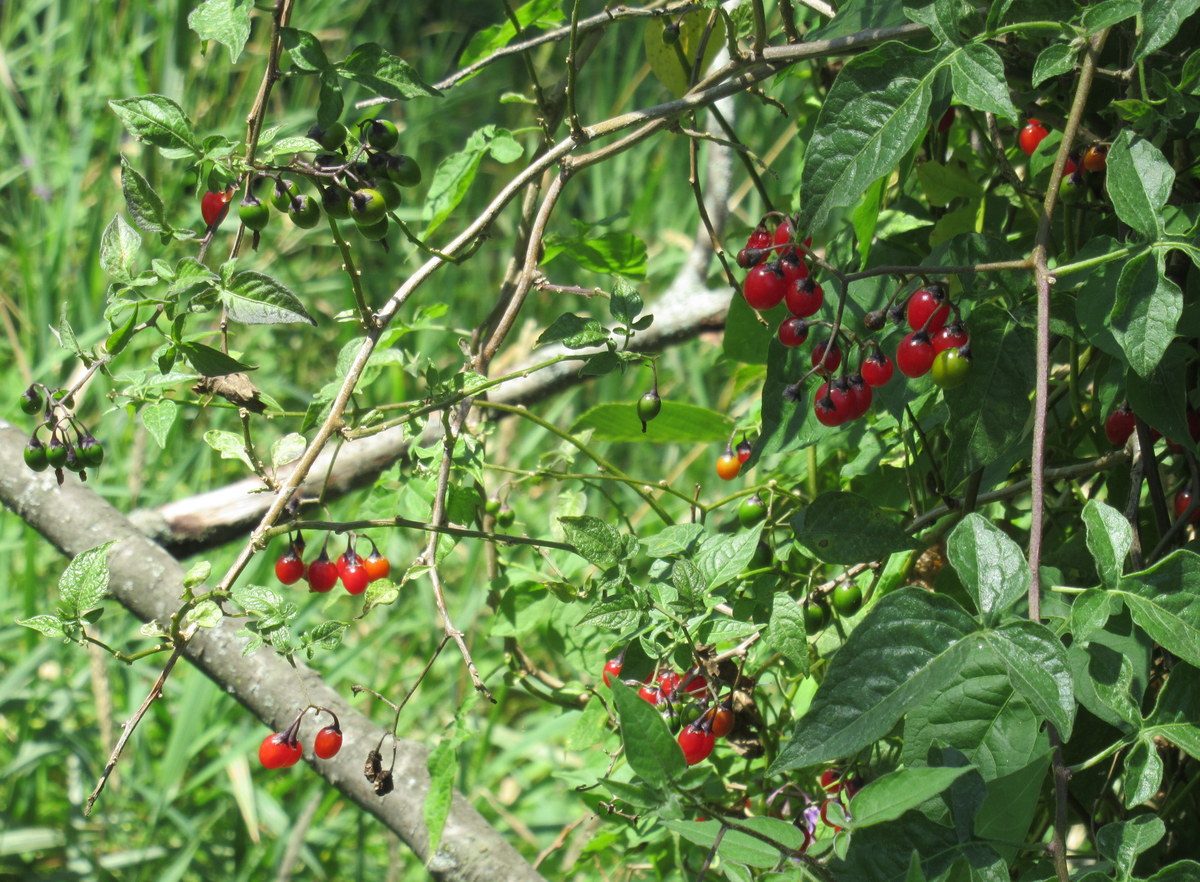 And flowers: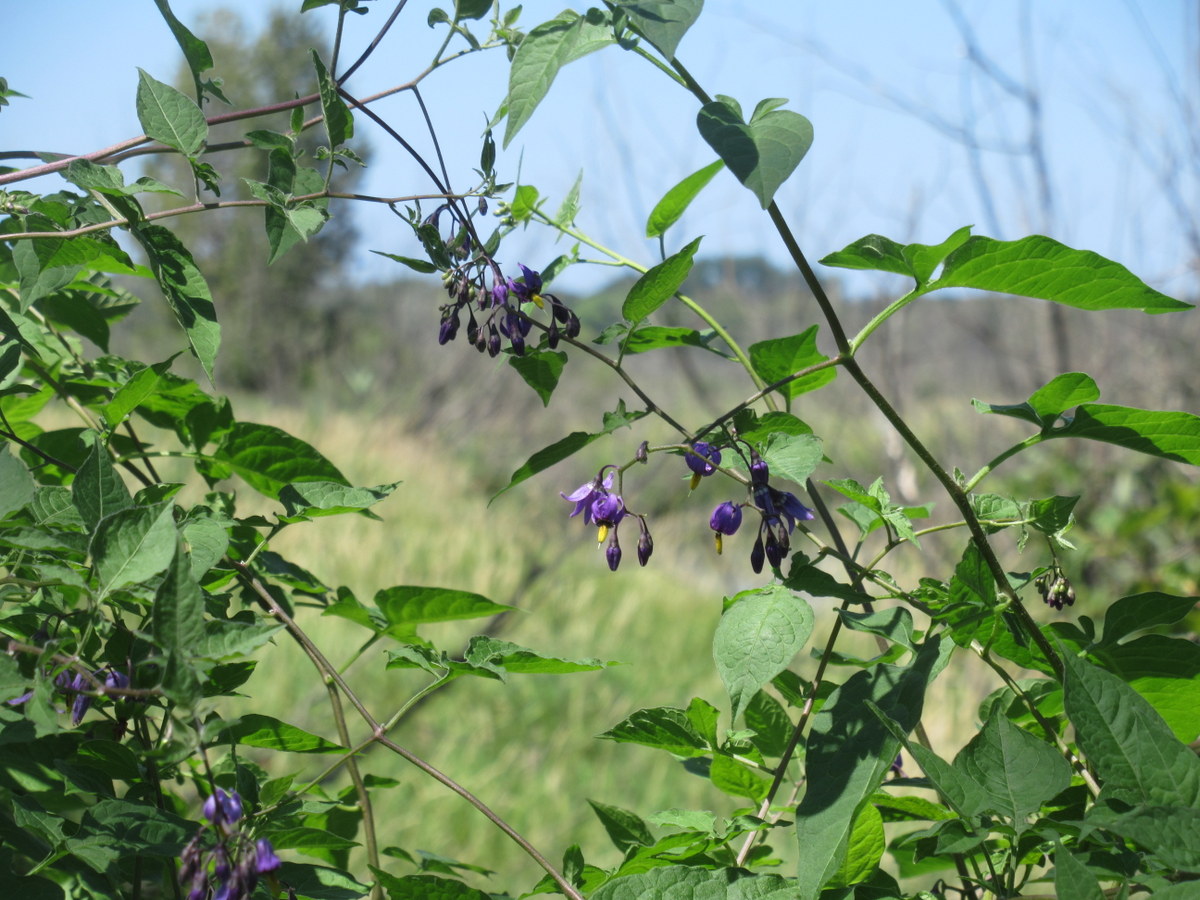 It was just a nice place to be - to wander slowly along and wait to see what you find. To enjoy the bird song, admire the colours, and discover new species - or at least species that were new to me.
At times, the marshes looked completely free of birds, but then when one came in to land and I started watching it I discovered there were actually several more that I hadn't noticed.
A view of the ocean lake
Next stop: A scenic turnout up the hill with views of Lake Michigan.
I'd already spent a few days by Lake Michigan, so I knew it reminded me so much of what I love about the ocean. I'd never seen a lake like it. Which isn't that surprising, given the stats: It's the fourth-largest freshwater lake in the world (and the largest entirely within the United States). I'd never been to the Great Lakes, and they actually make up three of the top four (the other one being Lake Victoria, which - despite its name - is a long way from my Victorian home).
And so this viewpoint didn't feel like it would be too much out of place at a pull-out on the Great Ocean Road. On the wrong side of the road, of course, and perhaps the plants would feel out of place, but the lake stretched without difficulty to the horizon: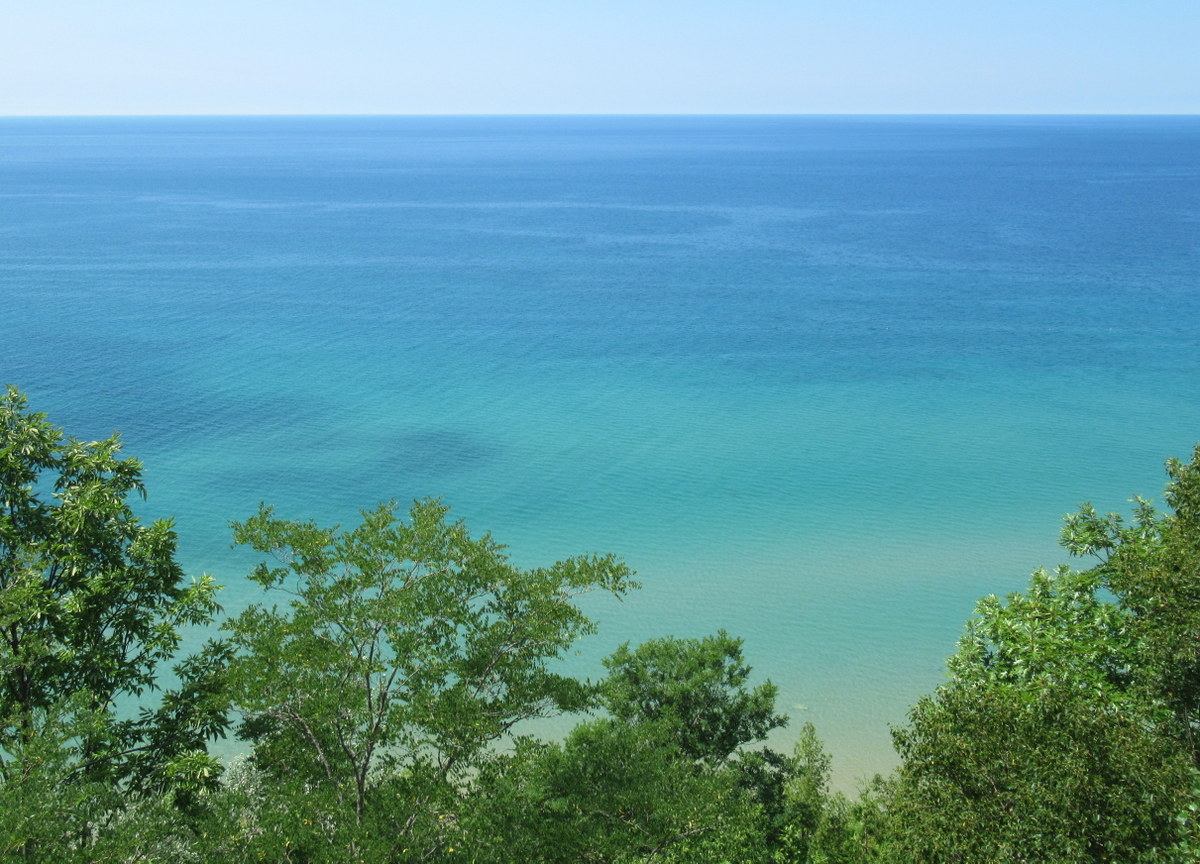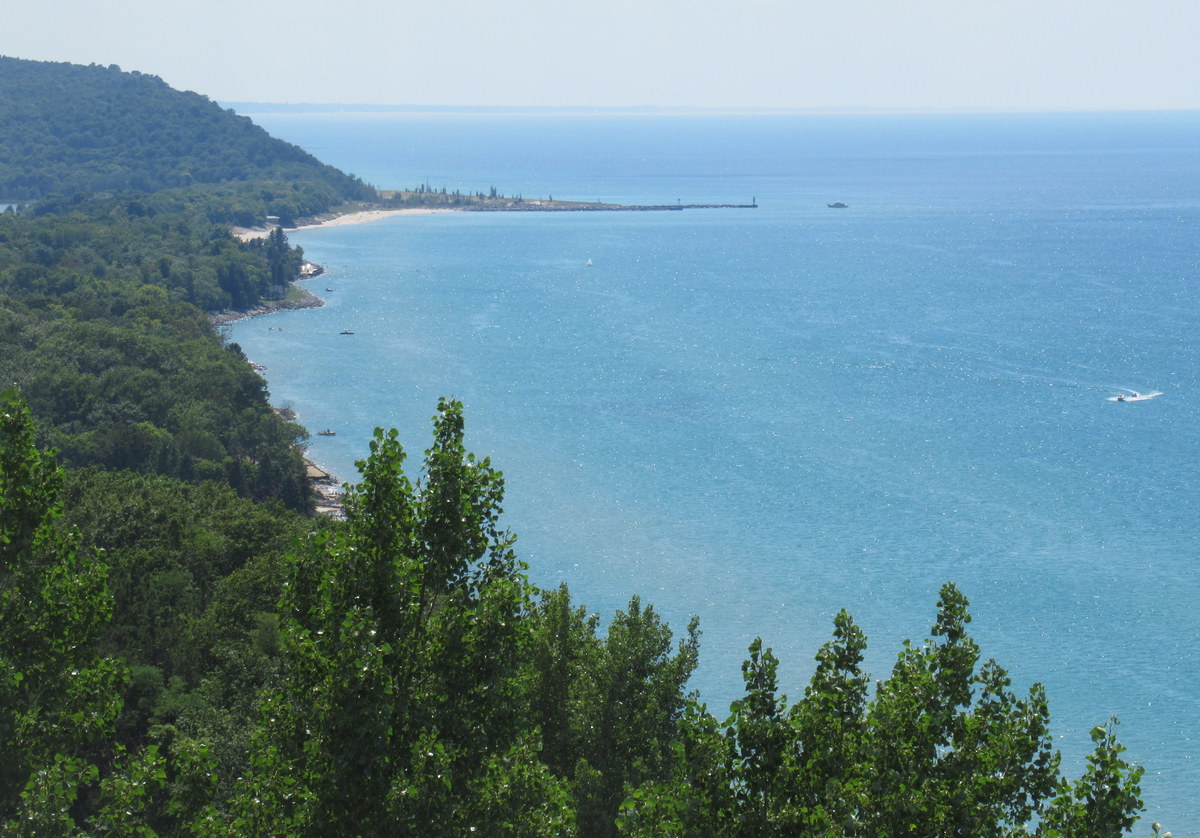 And it was beautiful.
Arcadia Dunes: The C.S. Mott Nature Preserve
Next stop: Arcadia Dunes, with the Old Baldy Dune rising 100m from the lake shore.
Once more there was a beautiful lake view, this time with added sand: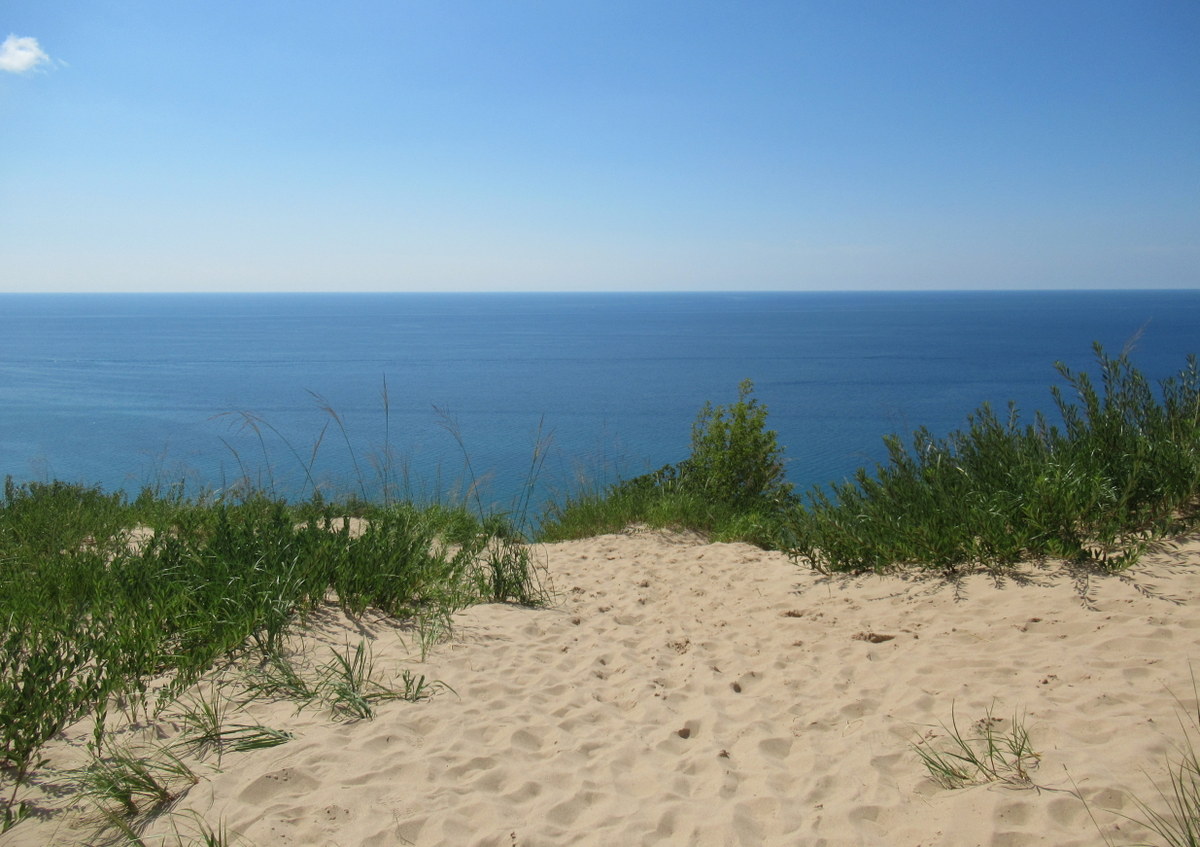 It looked a long way down (and that's with zoom…):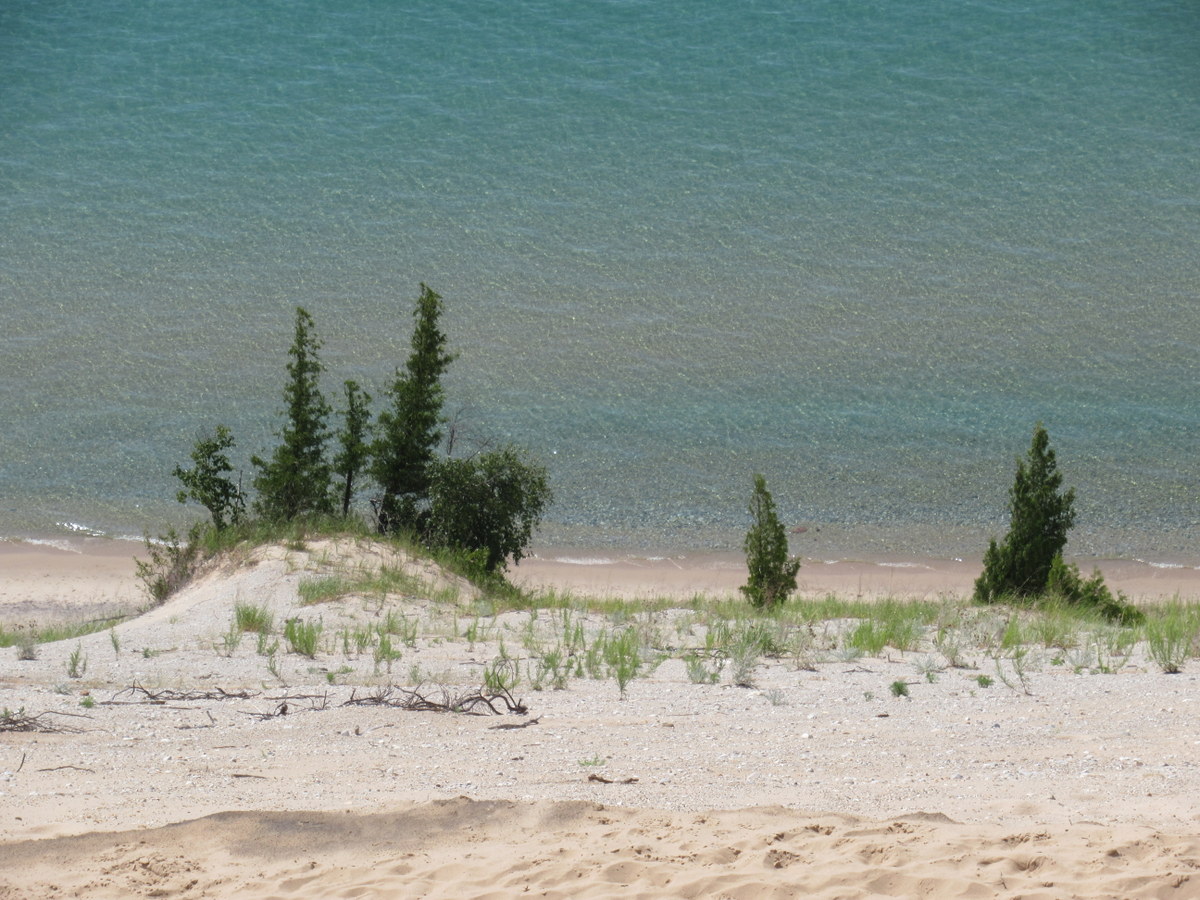 The water bottle and shoes up the top showed that some had gone down, but I wasn't going to join them. Instead, I went the long way down through the forest to the shores of Lake Michigan, where I could admire the dune from a safe distance: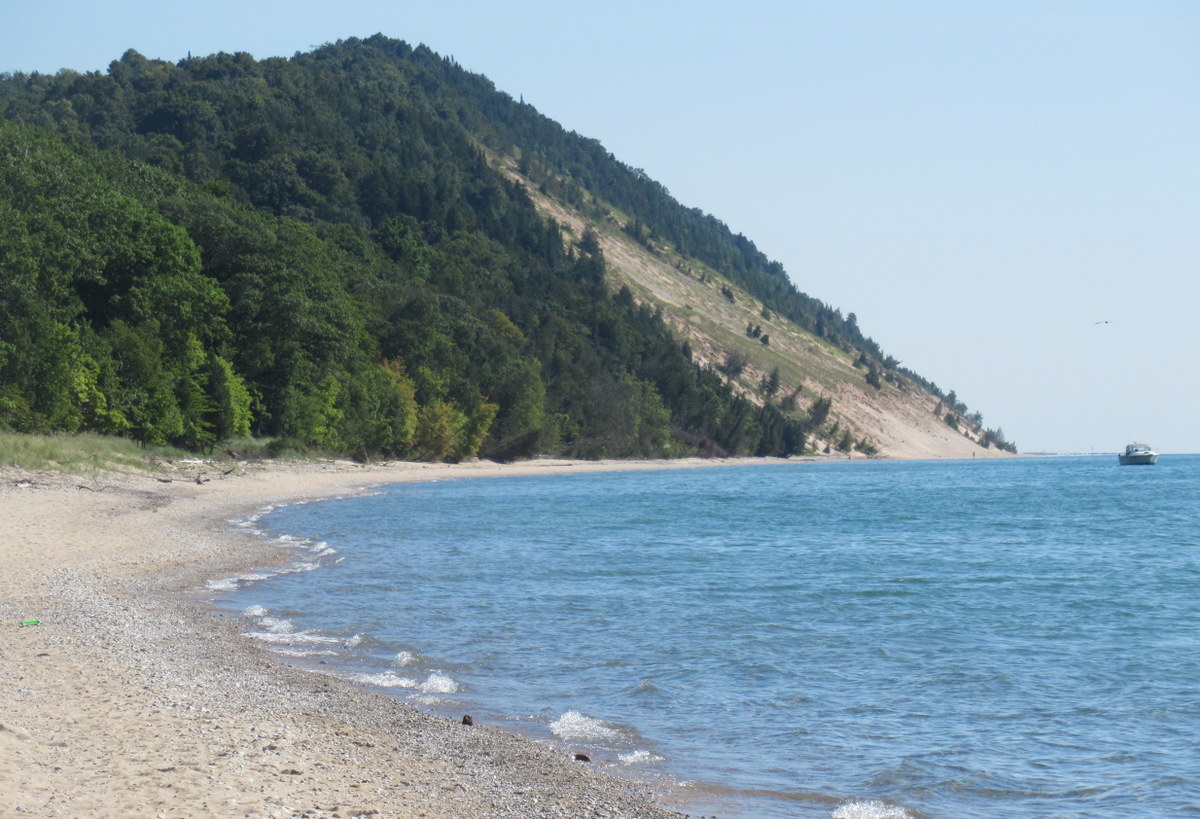 This place brought even more ocean memories, this time from cliff-top walking. It was six months - almost to the day - since I'd completed the final few days of the Great South West Walk in Western Victoria by the coast. And it reminded me so much of that. And yet, it was also different, but different in a way it wasn't easy to put my finger on.
It was the forests, really. I'm used to that particular kind of sandy area being associated with salt water. Places needing stunted, salt-tolerant plants getting a foothold before serious trees can grow. Given Lake Michigan is a (very large) freshwater lake, none of that applies here, so it was able to have lush forests pretty much down to the water-line.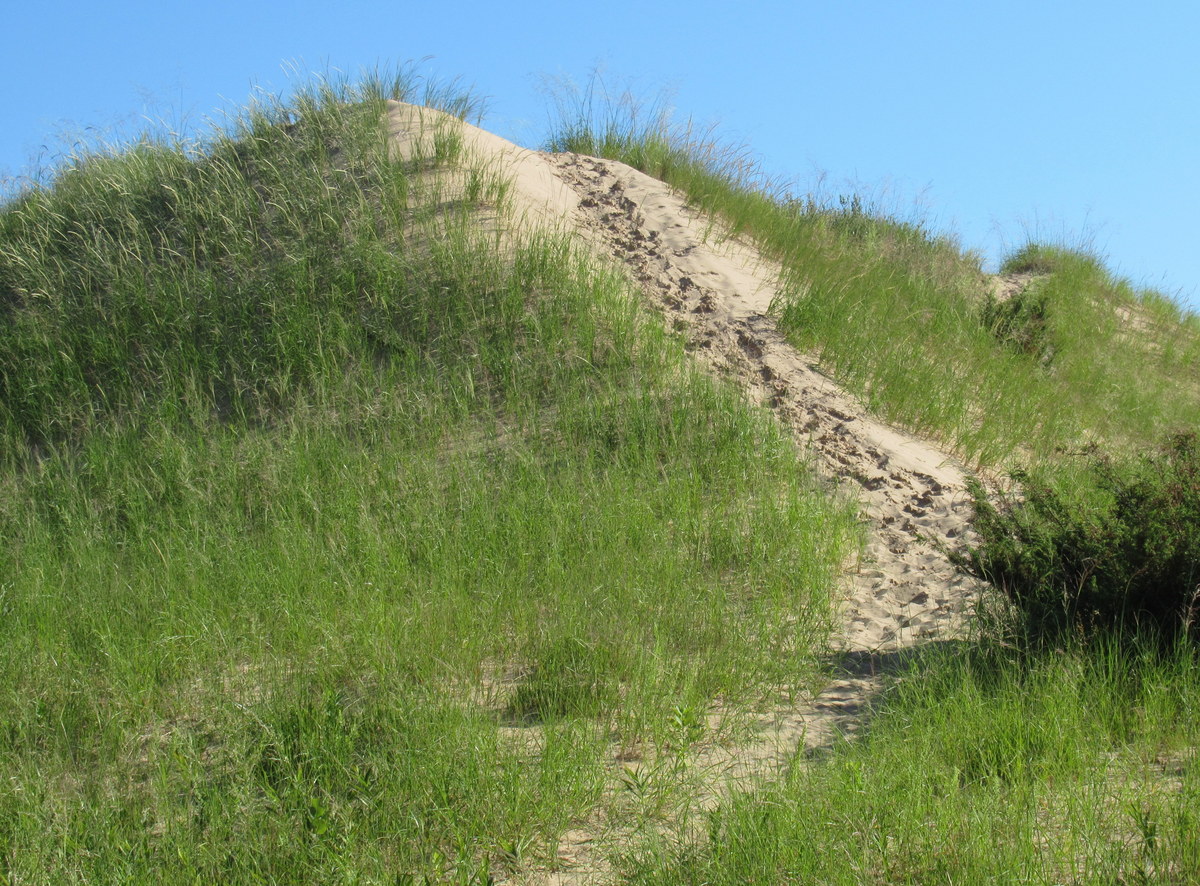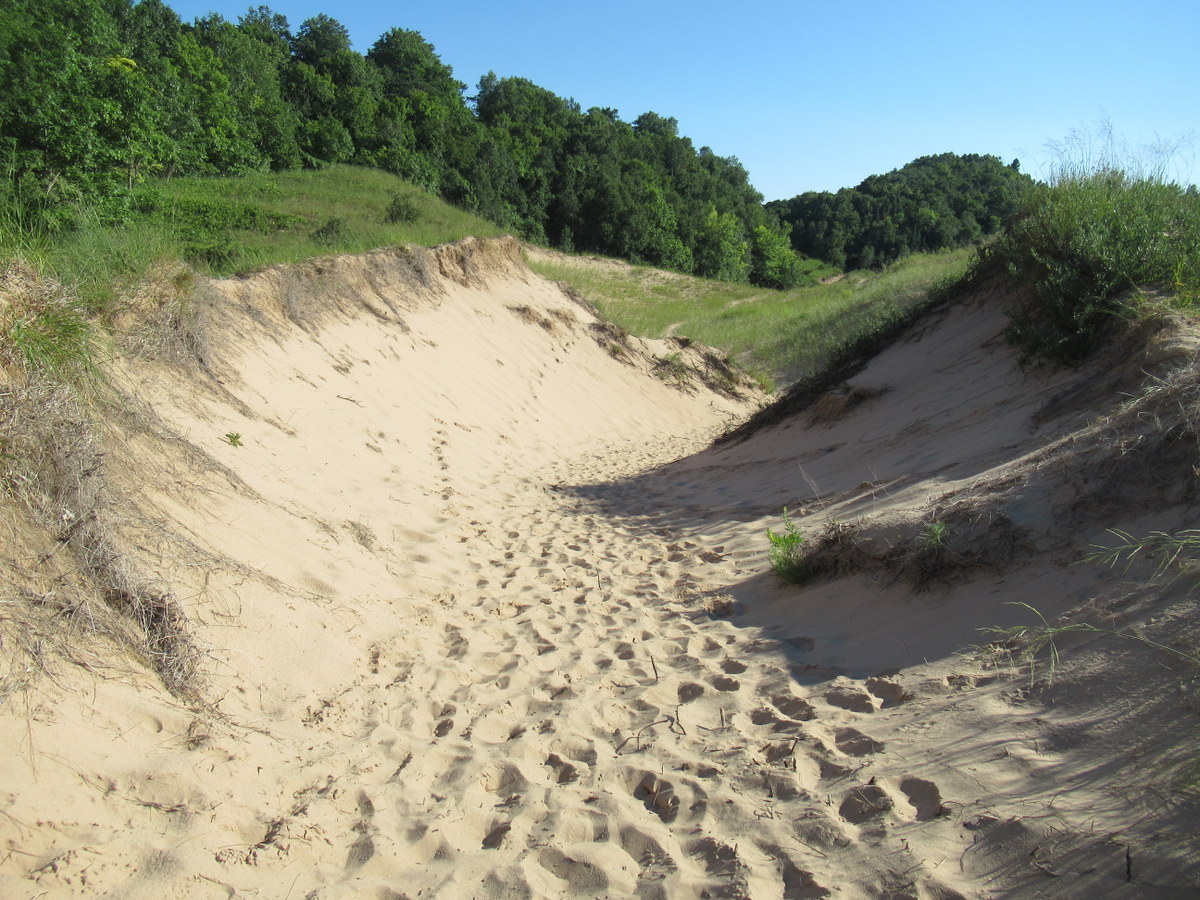 The animals were different from Australia, too. I got to see a chipmunk again, though it wasn't too happy with me walking on its trail: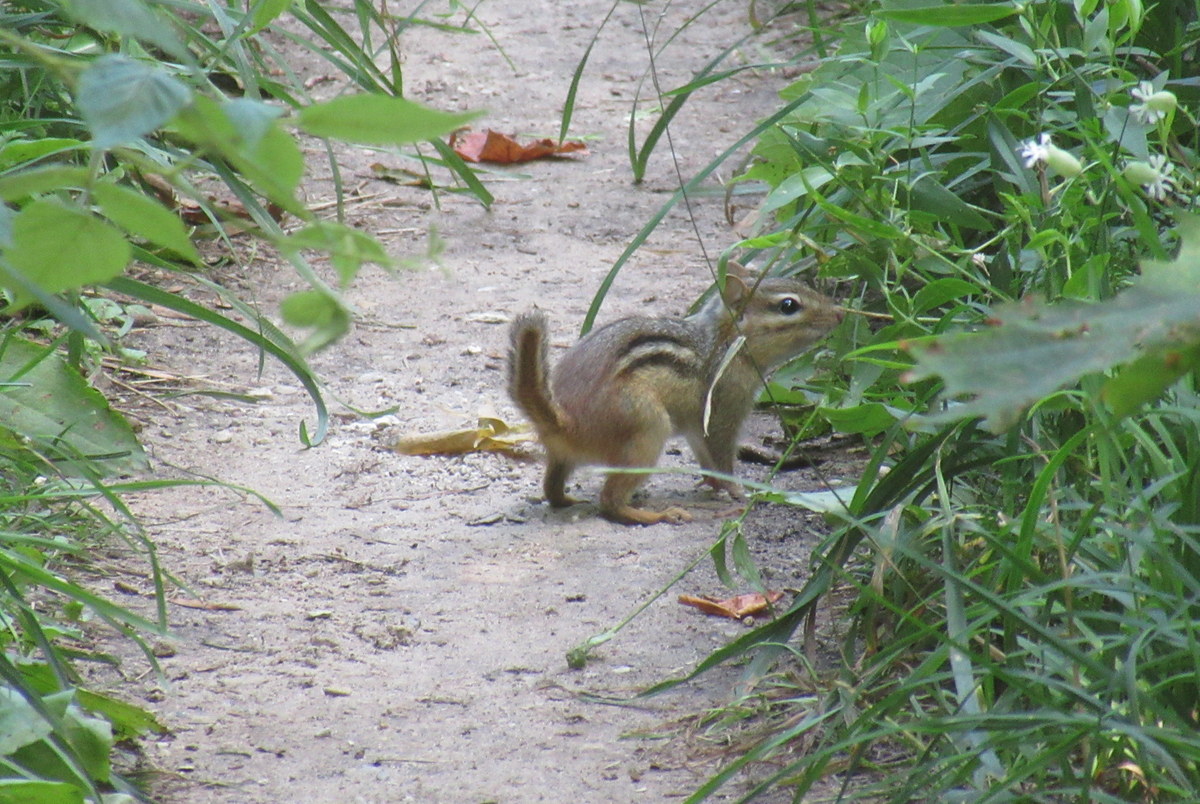 There were insects: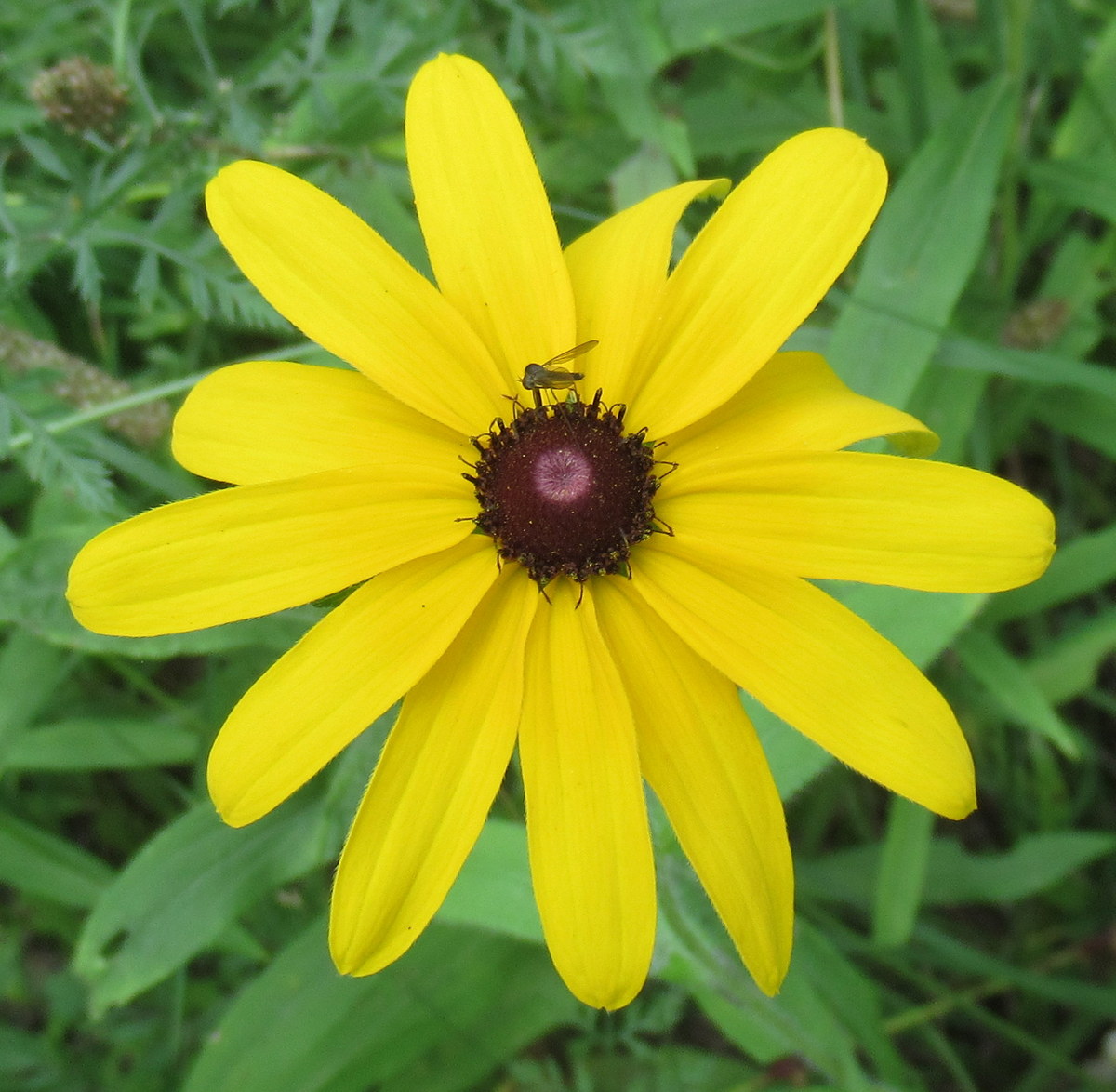 Spiders and spider webs: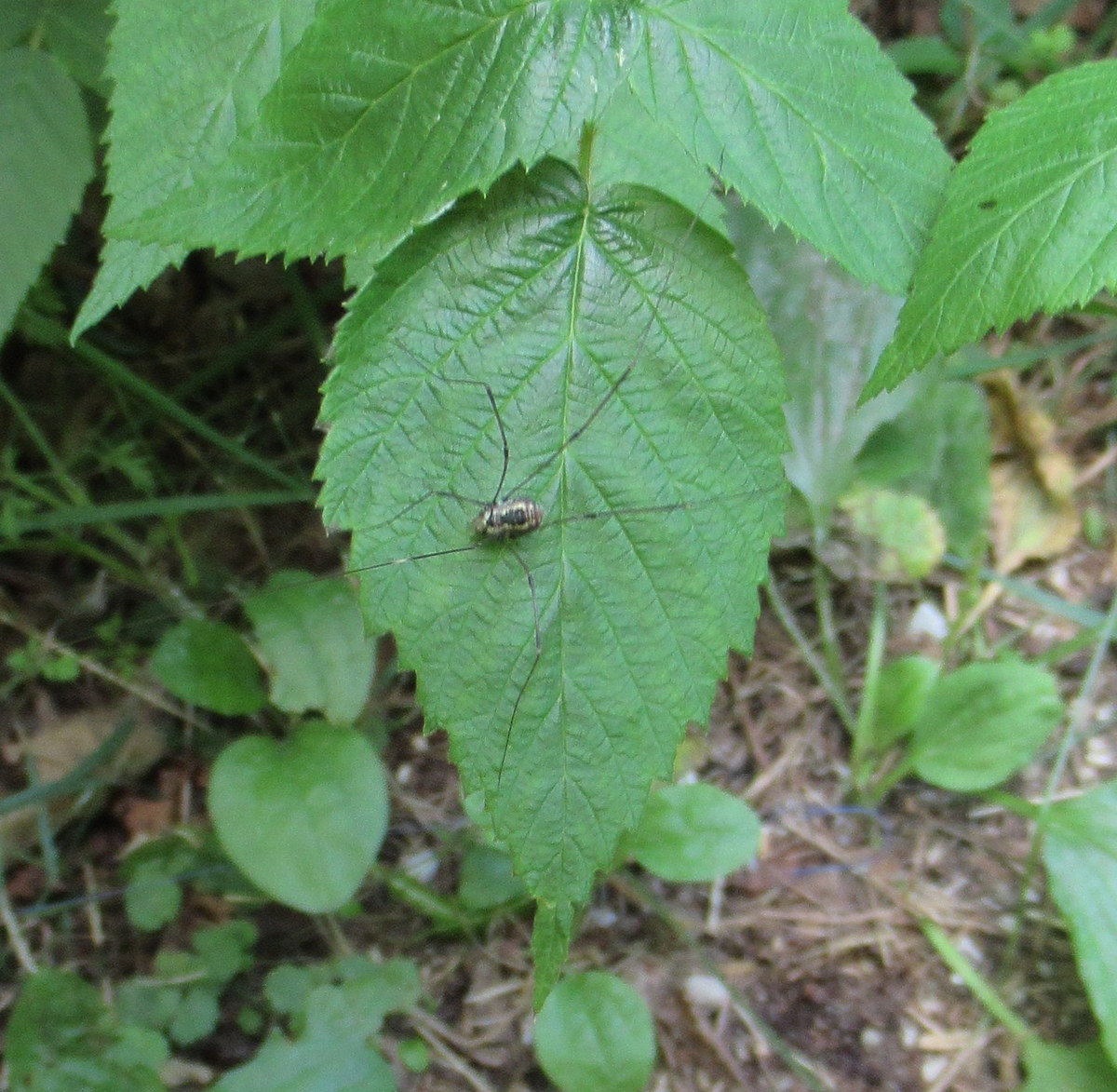 Wasps: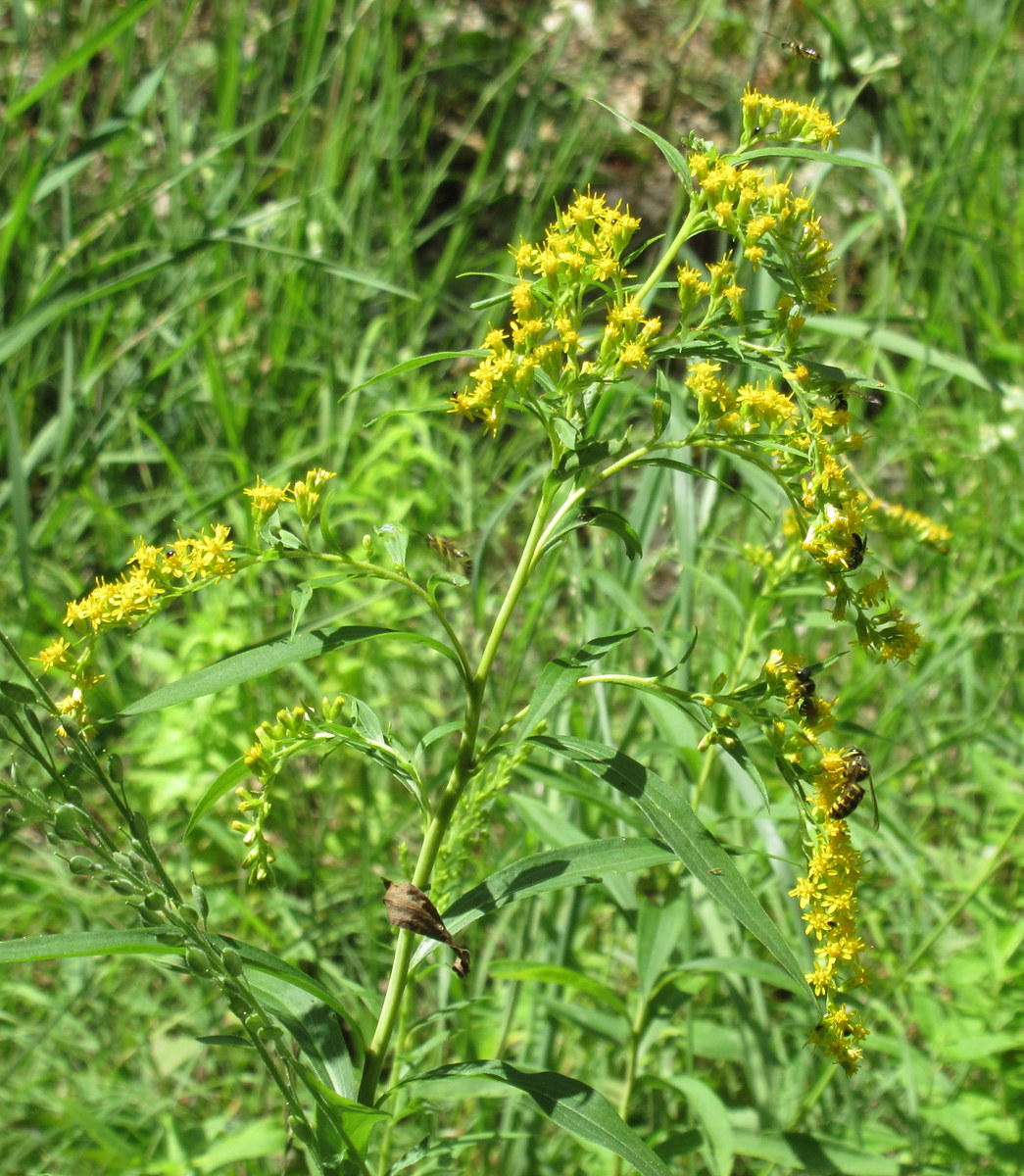 Frankfort
My next stop (by this time heading for evening, even with the long days of northern summer) was Frankfort. There was a river coming into the lake, and each side had a breakwater leading out to a light station: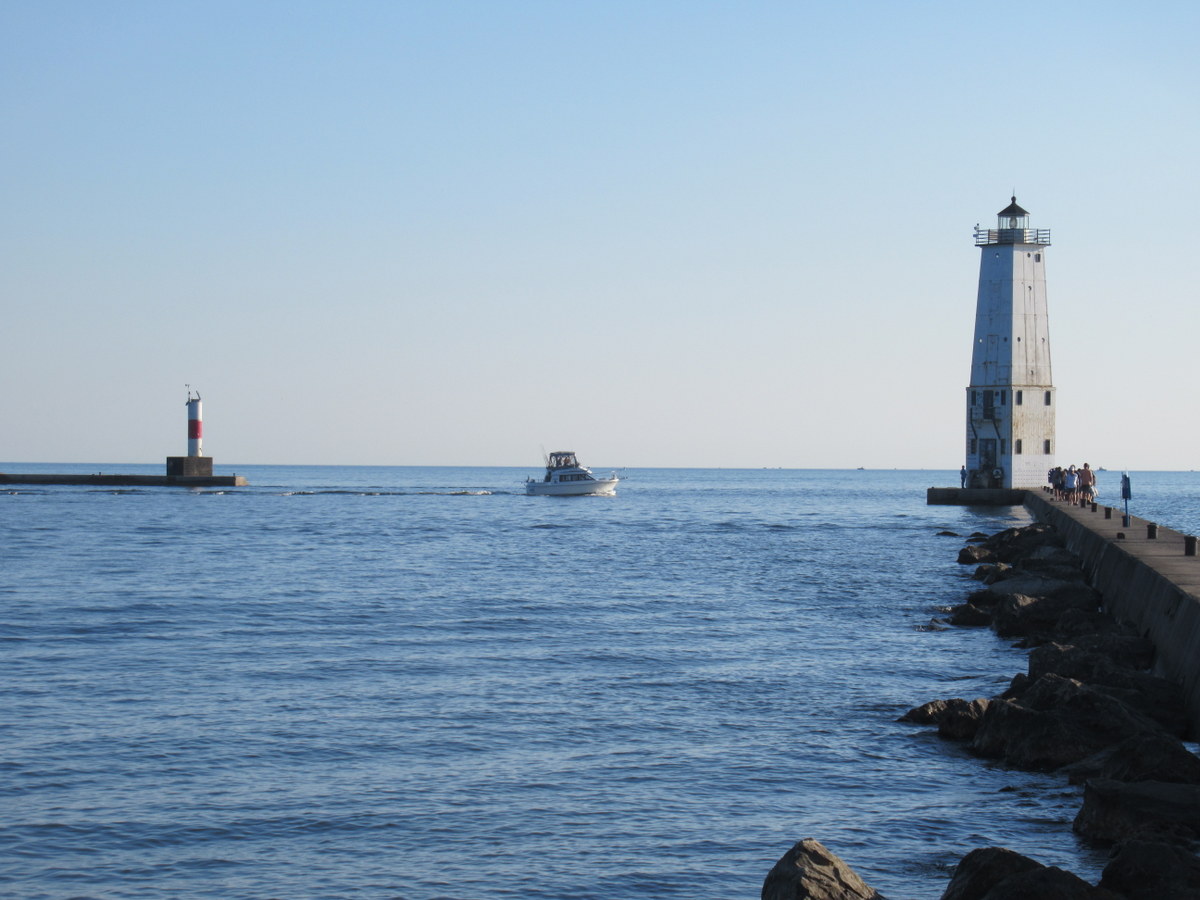 But the light station for the side I was on was more historical, a lot larger - and also more popular:
The rocks by the breakwater were colourful in the sun: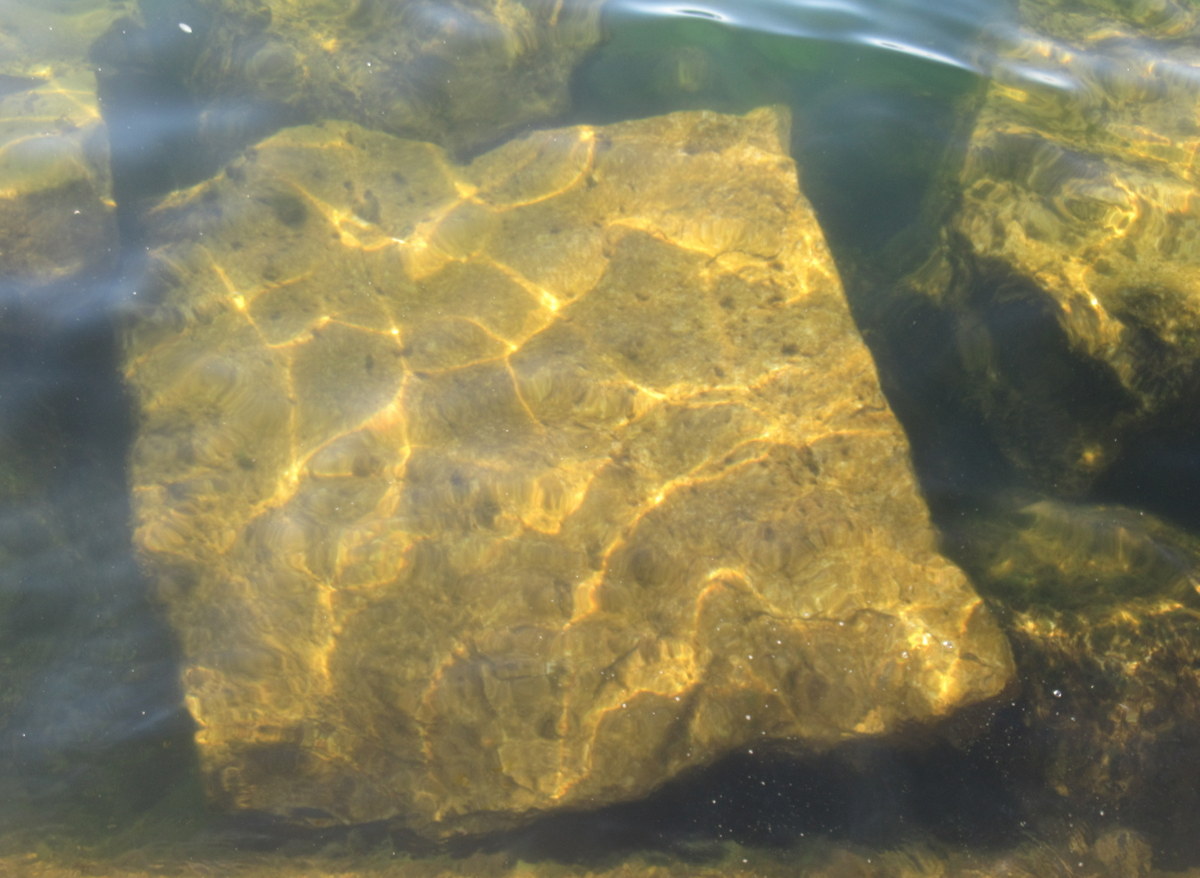 They also provided a base for the birds, who didn't seem to mind the waves washing right over the rocks: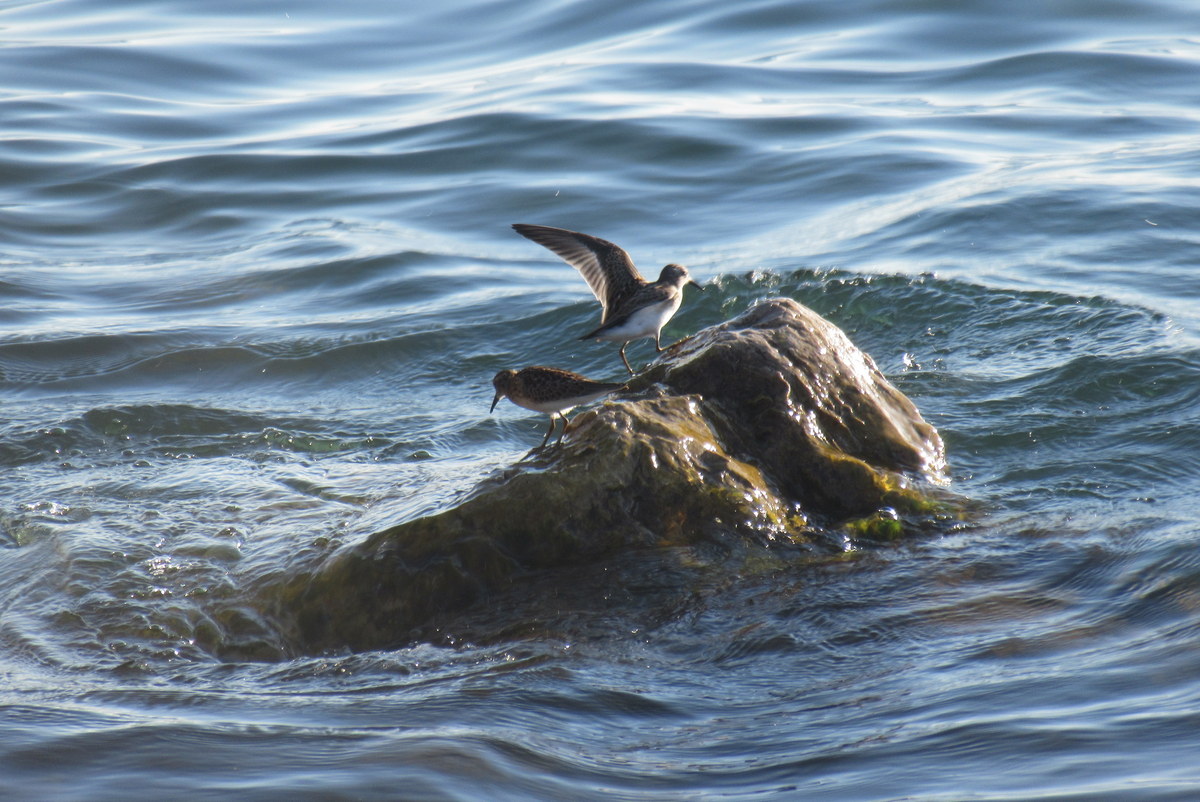 The light station also turned out to be a target for graffiti including one lengthy screed outlining the whole plan of sin and sacrifice and salvation. But my eye was caught by this response (clearly more contentious):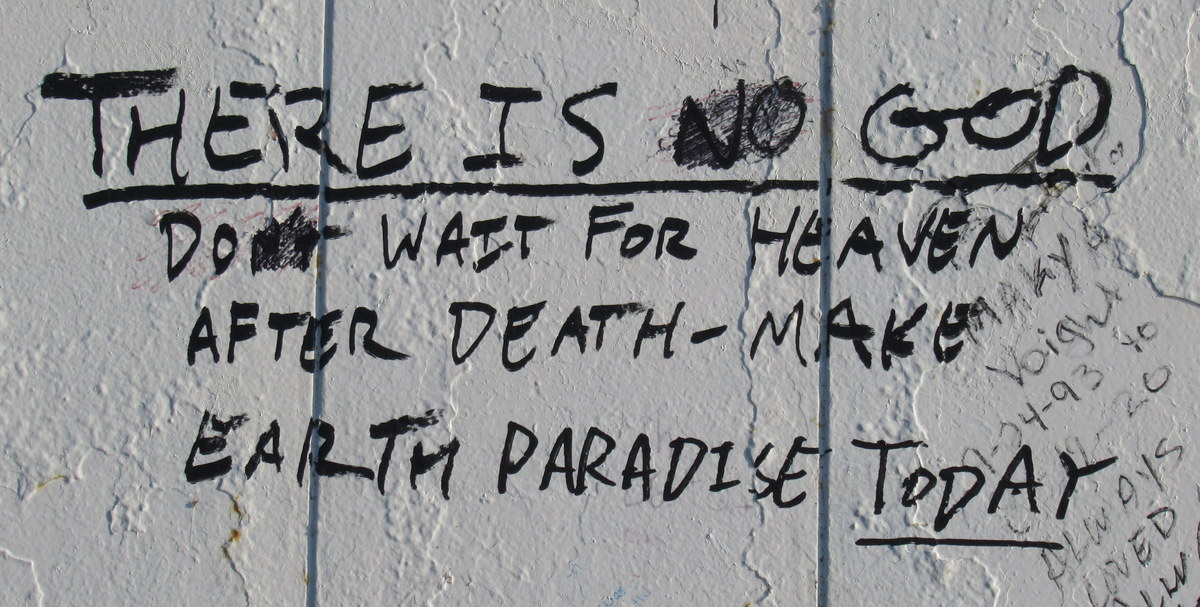 In case you're wondering, I went looking and found this message:
The City of Frankfort would like to remind residents and visitors that writing on a historical structure isn't harmless fun, it's a crime.
That was from four years before I was there, and clearly they haven't found a way to stop it since.
The view never gets old
At that beach in Frankfort, I also saw this message attached to a seat: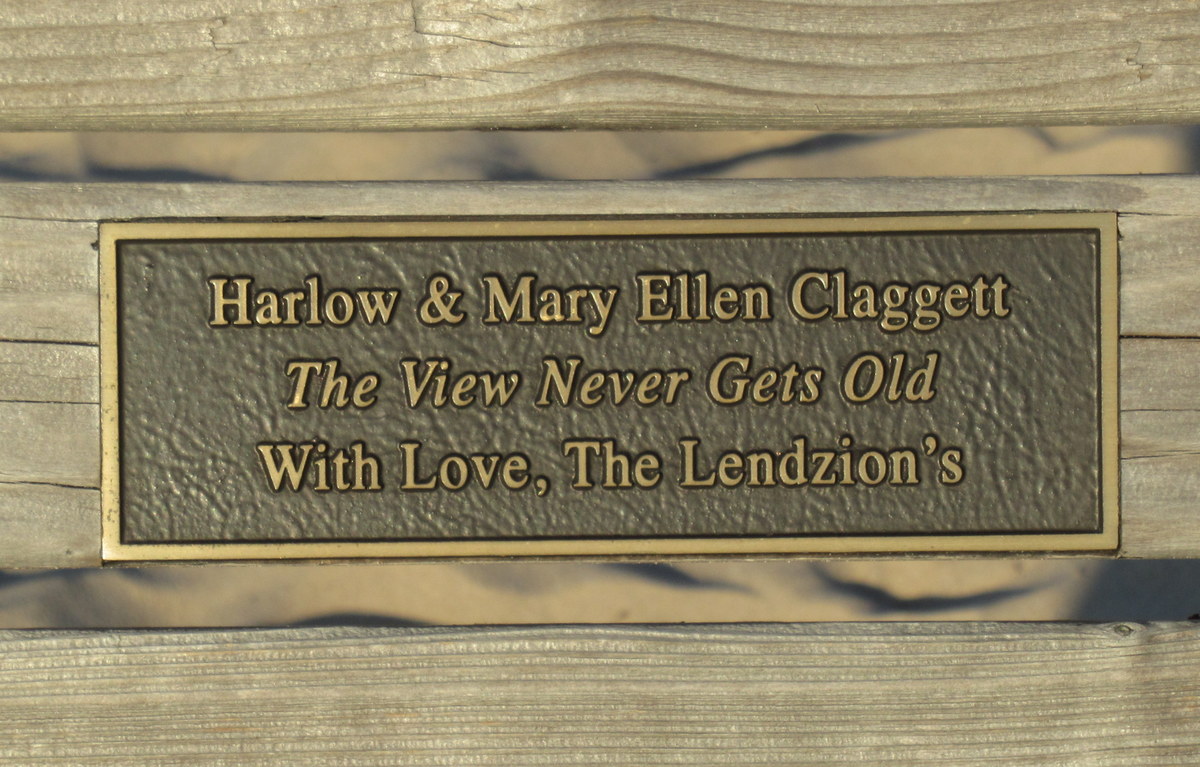 It was indeed a beautiful view, and I can understand the sentiment. As it happens, today I visited a local garden that I've visited frequently since I first went there nine years ago. There's one viewpoint there that it's almost become part of my ritual to take a picture of the view every visit. I've seen it at different times of year and in very different weather conditions, and yes, it doesn't get old. I imagine I'll visit it and appreciate it many more times in the coming years.
Closer to home, there's a circuit walk very near me which I would have walked several times a week while working from home full-time during the pandemic. I'd walked it years before the pandemic struck, and now I continue to walk it when I can. It doesn't get old.
I imagine if I lived near Frankfort Beach, I'd walk there frequently and admire the view. Probably take pictures as well 😉.
The other thing this plaque reminds me of as a traveller: This is someone's home. Like I've said, in all likelihood I'll never visit these places again. They'll be a beautiful memory of a once-in-a-lifetime experience.
Others may visit daily. Once a week. Once a month. Or perhaps as a regular part of their annual vacation.
There will be people with a much deeper connection with those places. As places that are special because they are objectively special places, but also because of the many layers of experience and memory and belonging they have.
I'm never going to see what these places are like at different times of year, or in different weather conditions. I'm never going to see what they're like when the tourists go home, let alone what they mean to someone who's lived there all their life. And that's OK - I still feel privileged to have been able to see a tiny piece of the area's beauty and character. And it just means even more that I don't want to harm it for those whose home it is, whether animals or people.
Closing the day with sunset (and pizza)
I still had a little way to go, but food was in order, so I stopped for pizza in Beulah. Given it was almost sunset and I was right next to Crystal Lake, it seemed like a good idea to go watch the setting sun: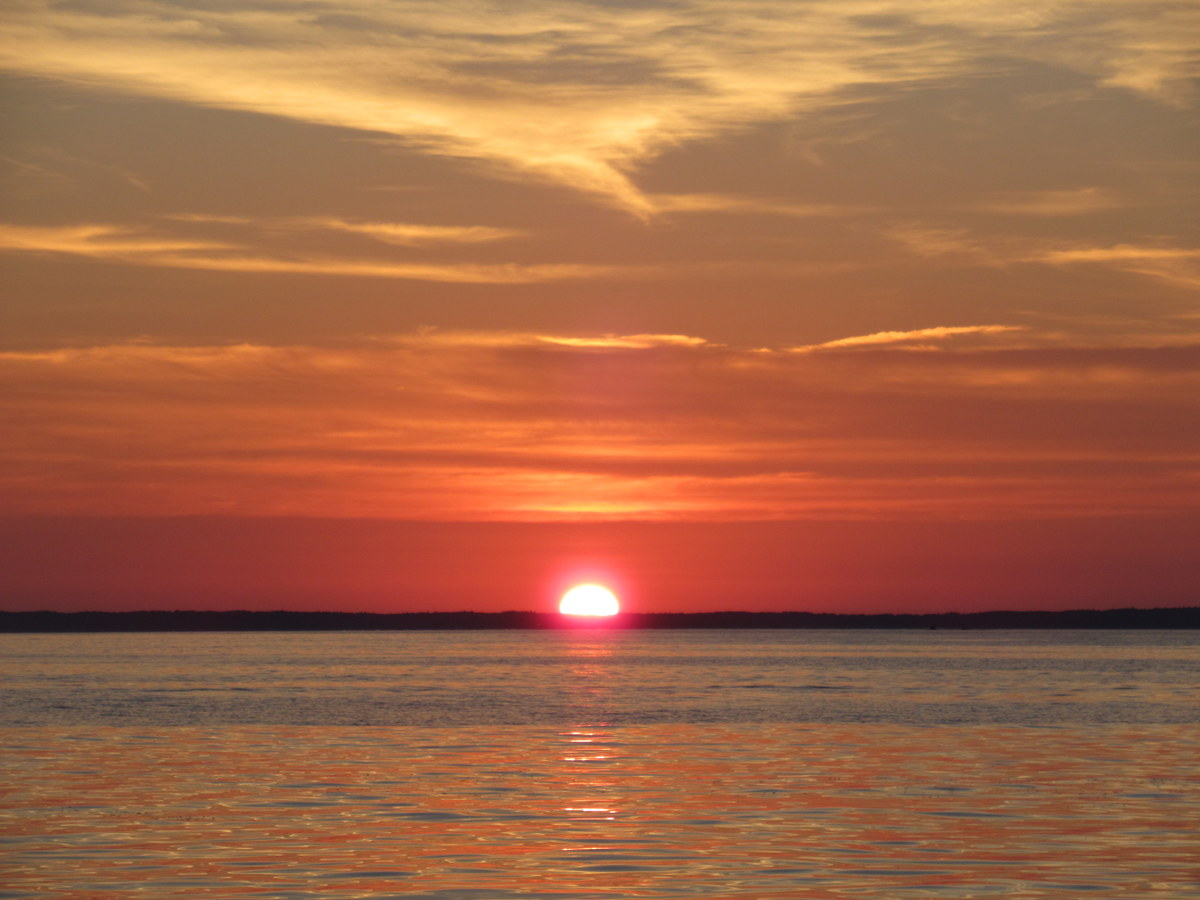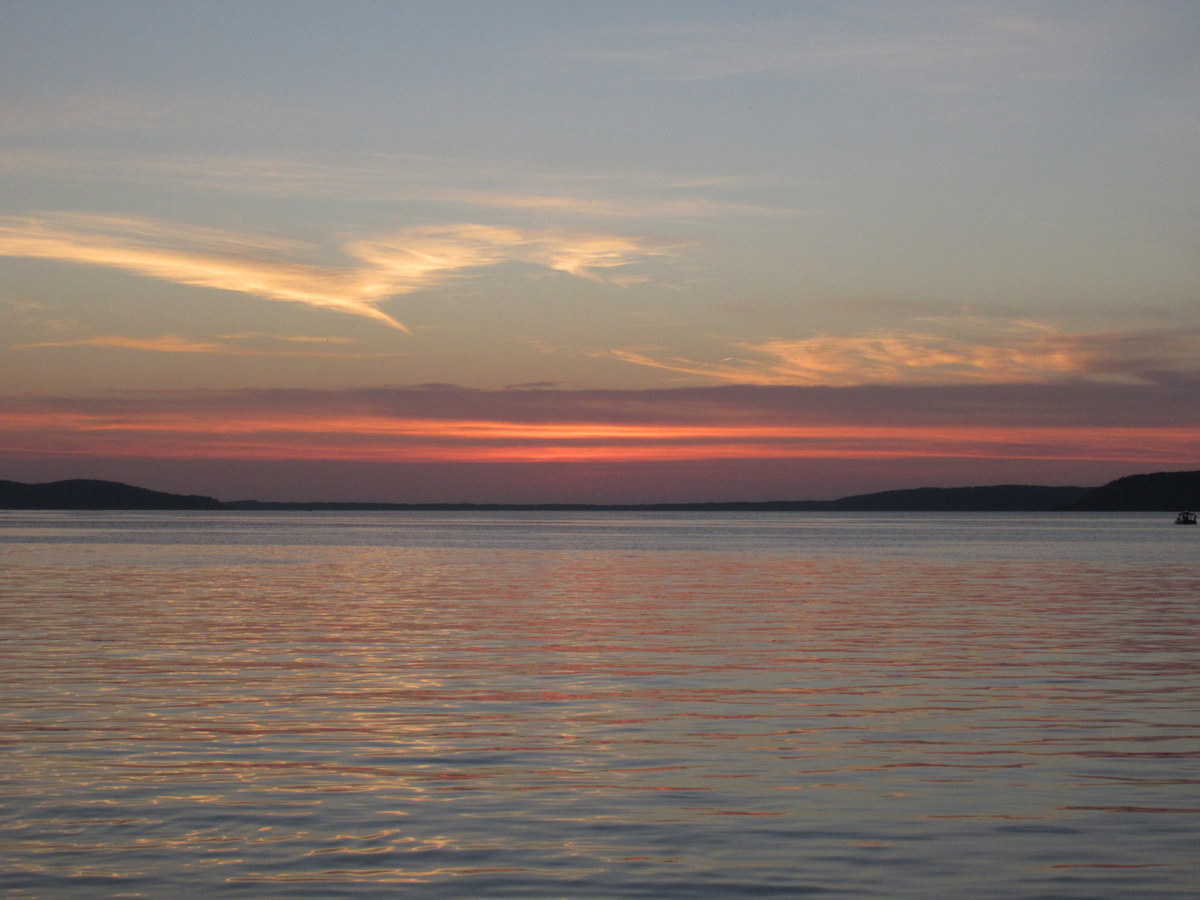 Yes, the day was winding down, but there was still activity. There were boats travelling back and forth across the lake. A water skiier. People paddling stand-up paddleboards.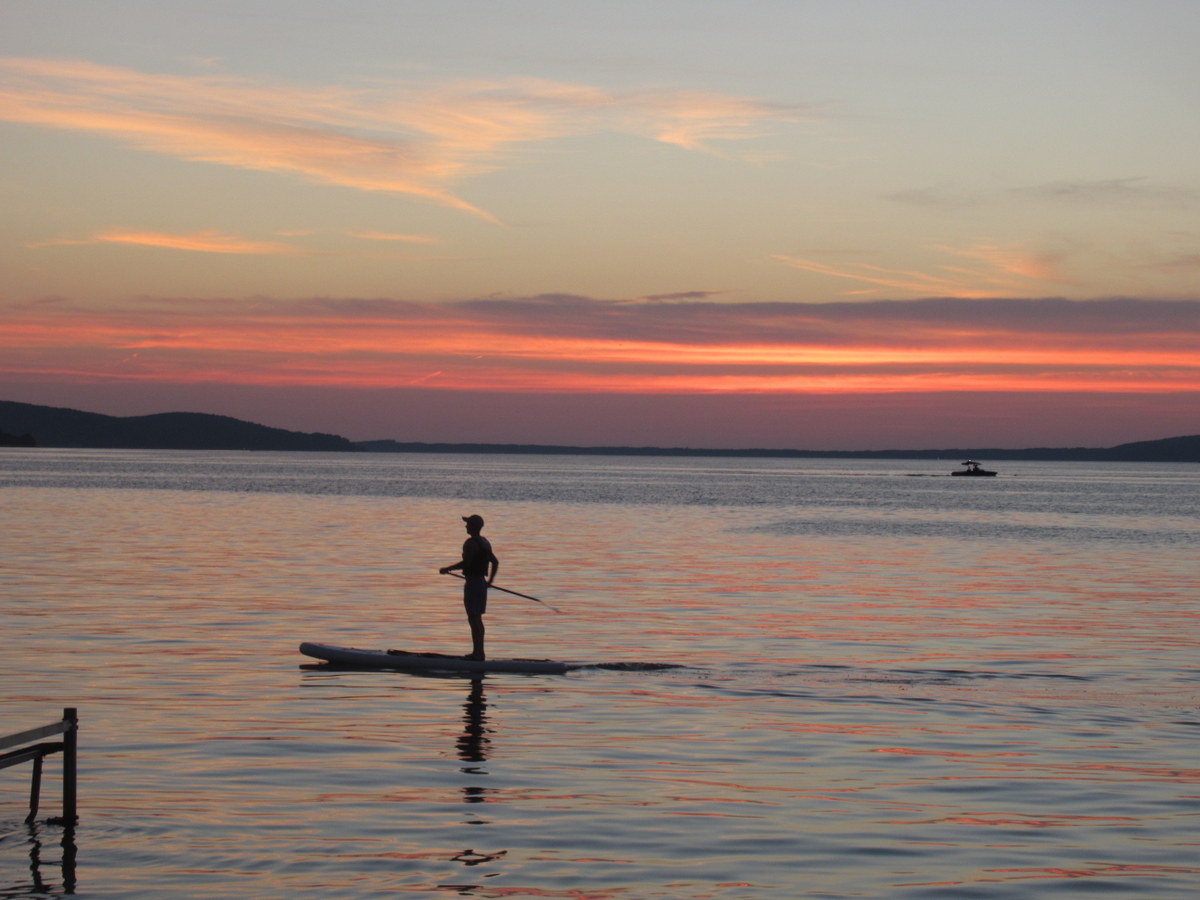 There was even a half-moon for a bit of variety: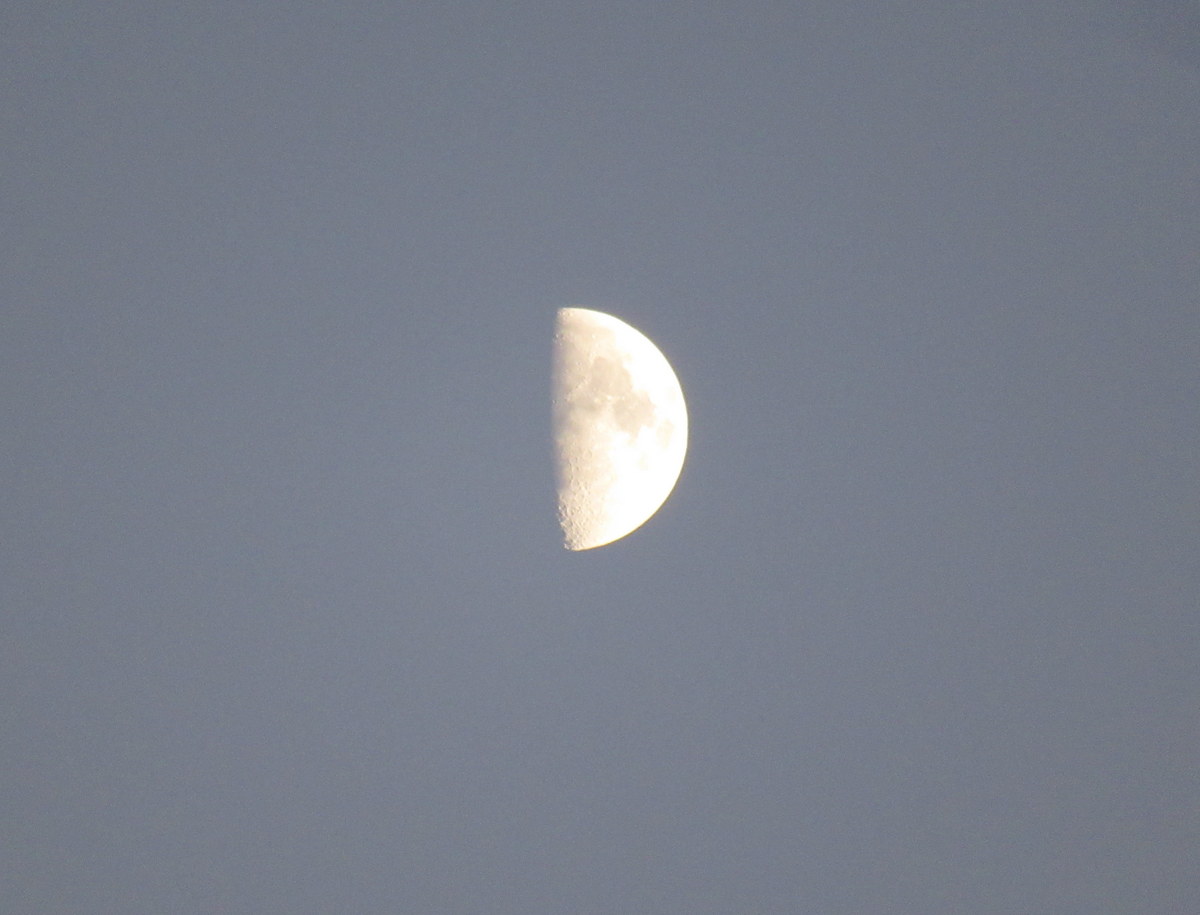 Once the sun disappeared, I'd intended to disappear as well. But it turned out really difficult to tear myself away. Every time I started to walk up from the beach I looked back, saw a new colour change, and started watching again: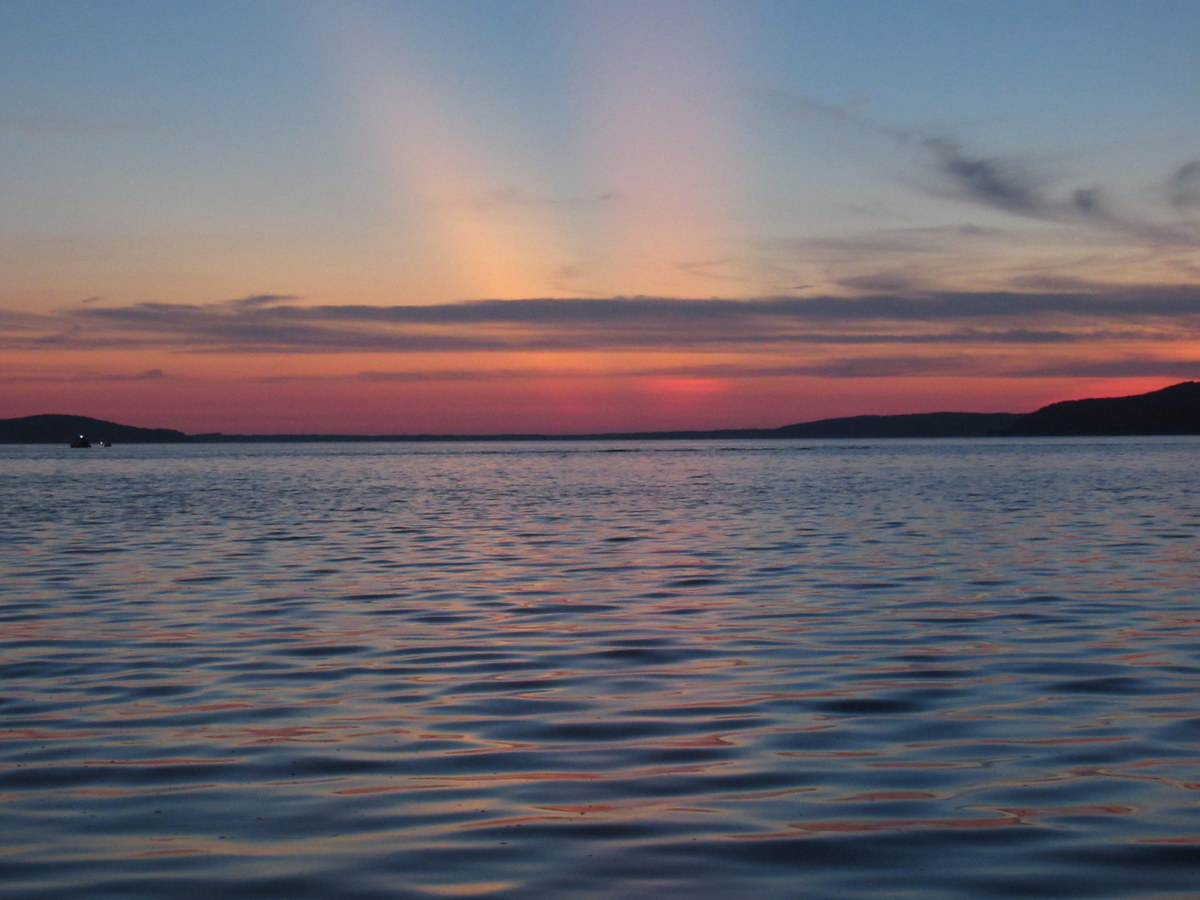 When I finally left I'd been there almost fifty minutes. And so I drove on, through the dark, needing sleep before facing another day.
Conclusion
So there's my summary of a lovely day in North America. It's not what I went to the US to do, and it's not the kind of thing I can tell a co-worker:
Them: What did you do while you were on leave?
Me: Oh, I went to Arcadia Marsh! And there were actual trumpeter swans there, too!
It's also not what I'd recommend if they asked for travel recommendations (though if you are ever in that part of the US, Arcadia Marsh is nice). So perhaps it's not the obvious choice to write about. But that was why I wanted to write about it - because, in my experience, such days can be a special part of travelling.
For me, the following day had Sleeping Bear Dunes National Lakeshore. The following week had Niagara Falls. The following month had the glaciers and snow-capped peaks of the Rockies and the volcanoes of Hawaii. All probably better known than anywhere I went this day.
But in among those grand locations were many small moments of joy. Many places I visited just because I was in the area and they sounded like they might be interesting. Many wonderful experiences, both large and small, both planned and unplanned.
But all that was in the future. Right then and there, all I needed to know was that it had been a good day.
And if I have so many photos to share from one day, it's hard to see how I'm going to be able to handle 88 days…