Beginning 2023 with a bang!
Last year, I marked the turning of the years by seeing the last sunset and the first sunrise. This time round, I was travelling during my Christmas break, and decided to try it again. It didn't quite go to plan, but still made for an enjoyable couple of days. So join me for an epic tale of volcanoes, fireworks, seagulls - and even the odd sunset…
The final day of the year
If you'd asked me at the start of 2022 what I'd be doing on the last day of 2022, I'd probably have guessed watching the last sunset - and writing frantically. As it turned out, the sunset part was correct. But writing took a back seat to exploring and photography (just like it had for much of the year).
I started my day with a koala. A giant koala. 14 metres high, to be precise: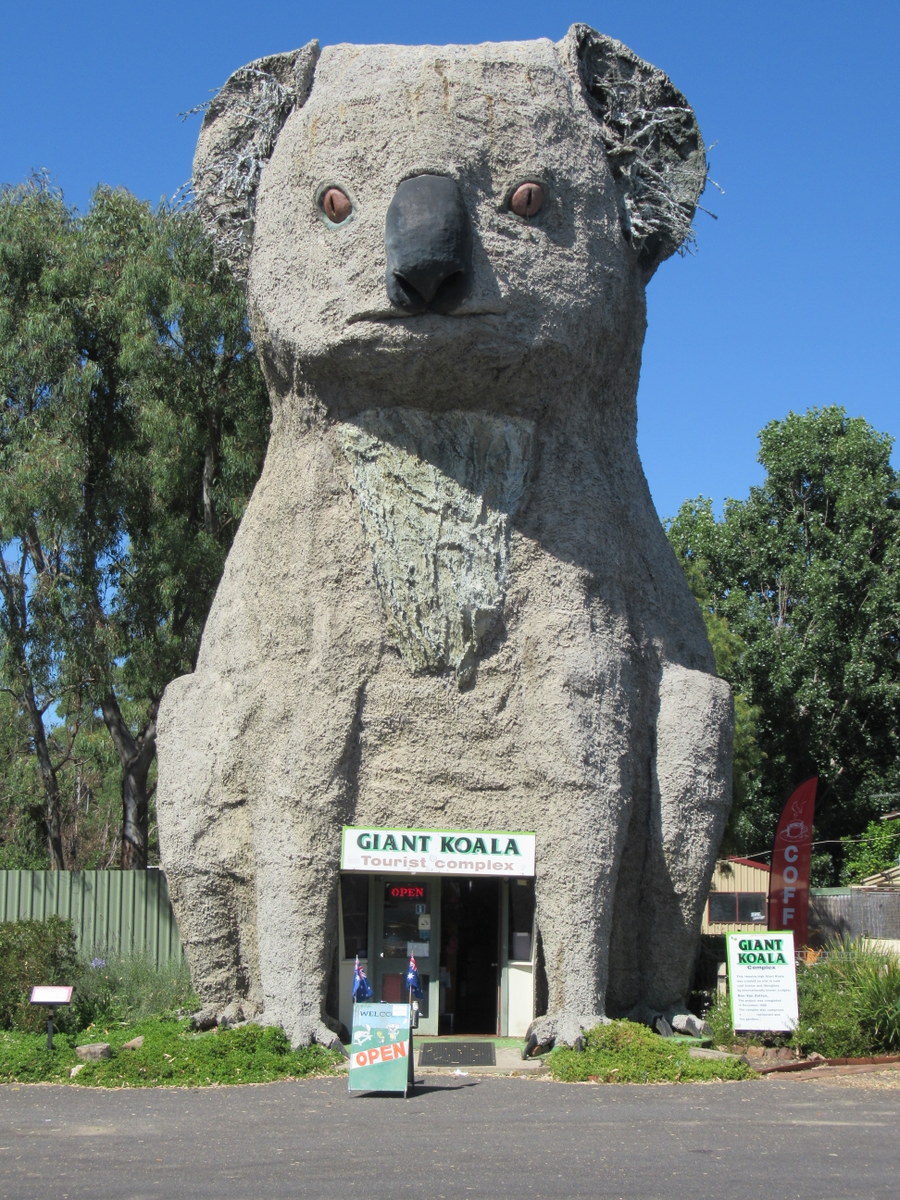 Honestly, it didn't look that pleased to see me. But I was glad to see it. I'd camped there with grandparents nearly 20 years ago, and wanted to see it again.
Since the new year is traditionally a time for reflection, I was pleased to see a lot of them in Halls Gap as I ate an ice cream.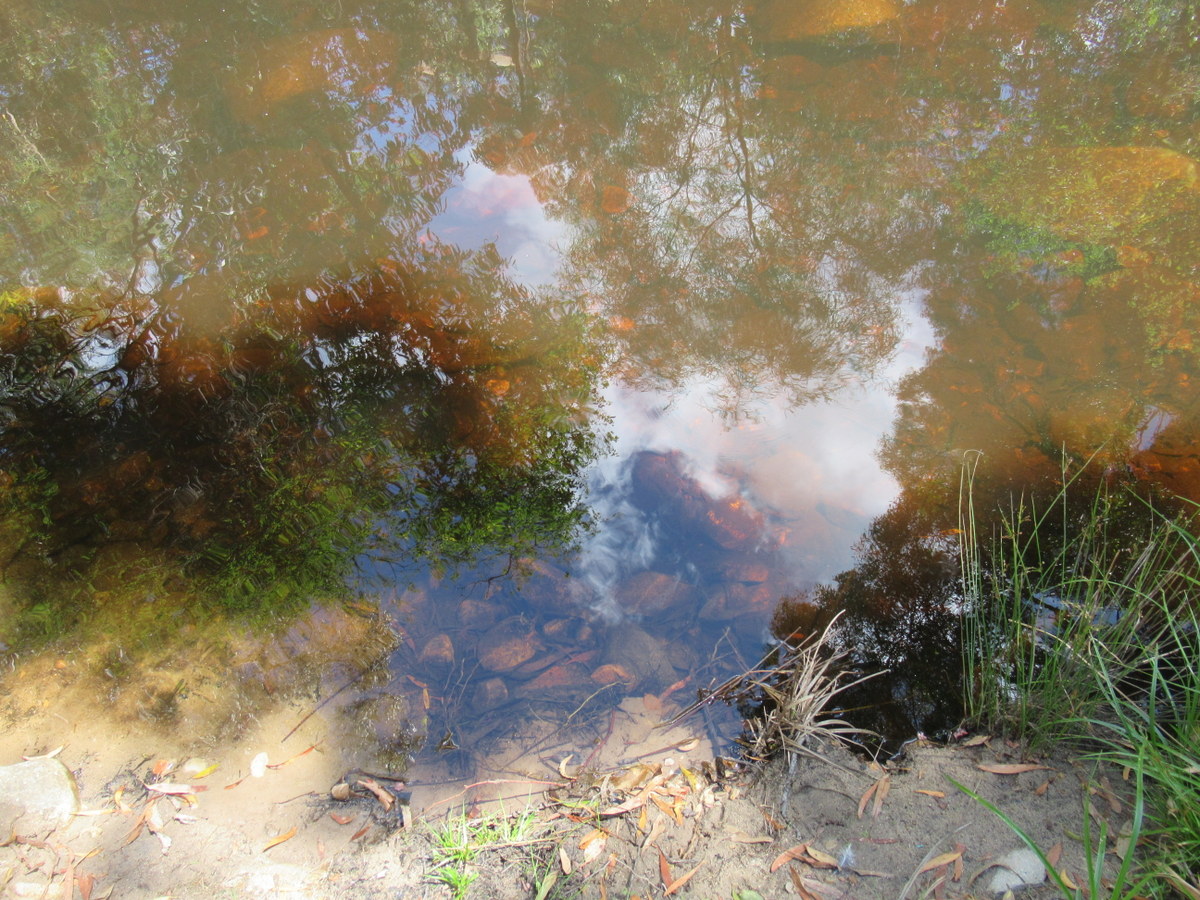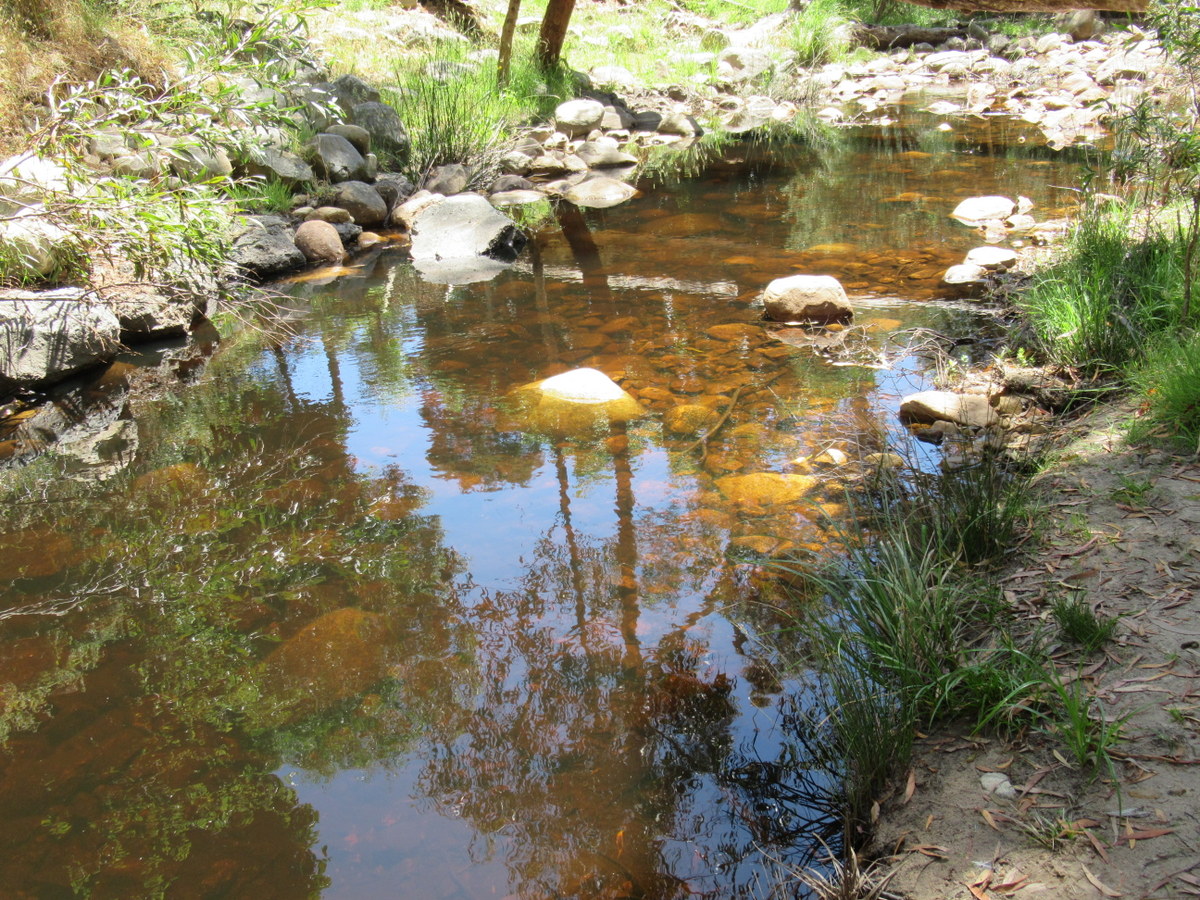 Even some fish: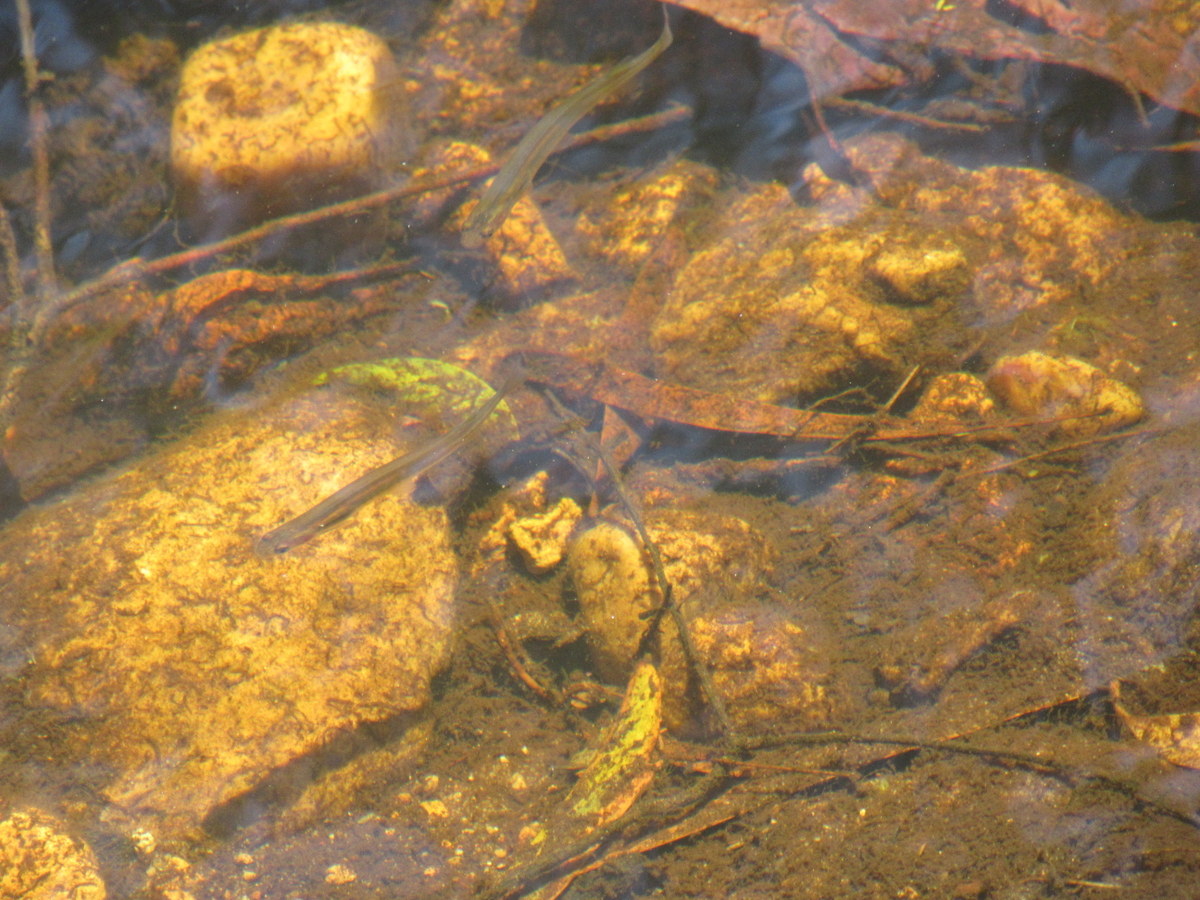 It was very peaceful there in Halls Gap, and lovely to be back, but I couldn't stay too long. Volcanoes 🌋 and the ocean 🌊 beckoned.
Discovering some volcanoes
I'd intended to visit the Volcanoes Discovery Centre since I'd discovered our volcanic heritage in early 2015. This seemed like a good opportunity. It was almost directly on my route south, and would make a good end to a year in which I'd returned to Yellowstone and admired volcanoes in Hawaii.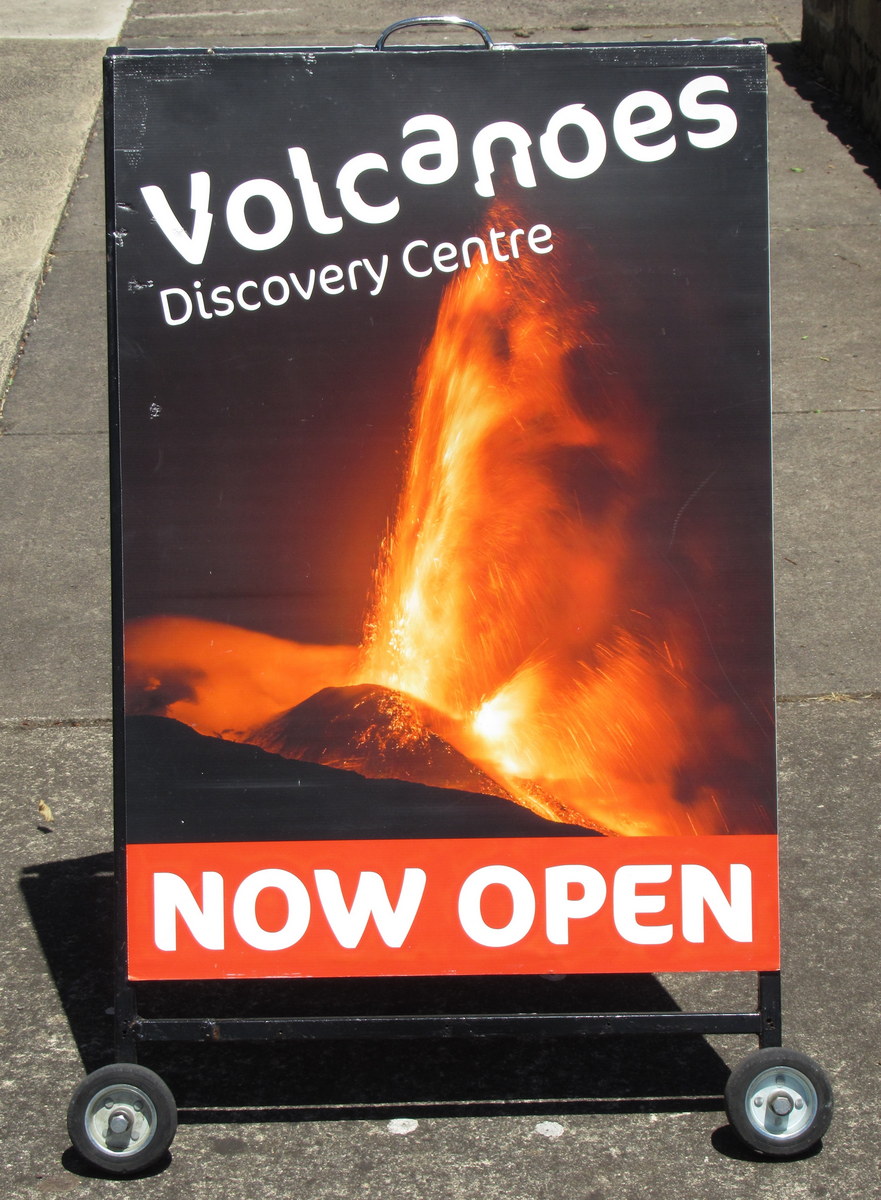 Among other things, the museum had live camera views from various volcanoes around the world - including Kilauea. There was something very special about that, considering I'd actually been there only a few months before.
But the exhibits didn't stop inside the door. The museum is almost in the shadow of their own pet volcano - Mount Rouse: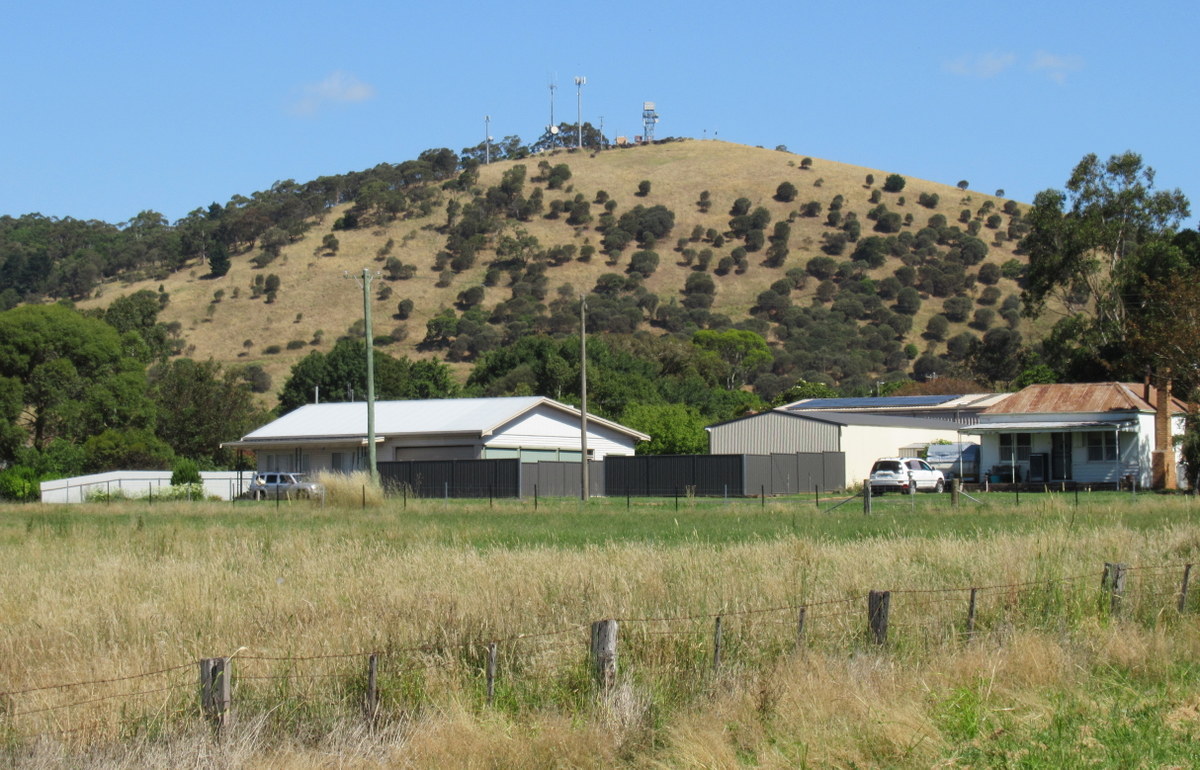 One of the 400+ eruption sites in the Newer Volcanics Province. Not currently active, but when it did erupt, the lava flows reached all the way to Port Fairy.
There was a walk up it, so, being me, I really had to climb it. And, as it turned out, it was an easy walk with some lovely views, particularly north towards the Grampians.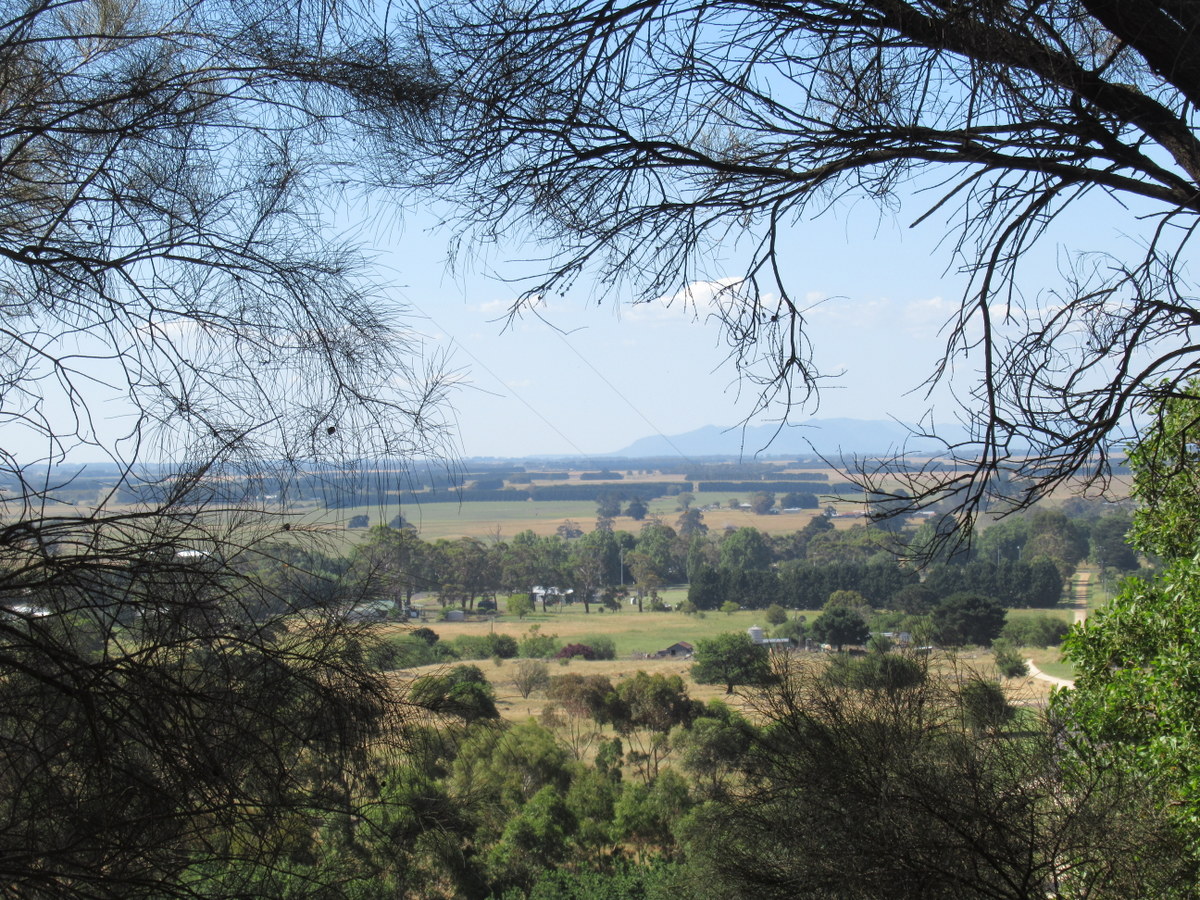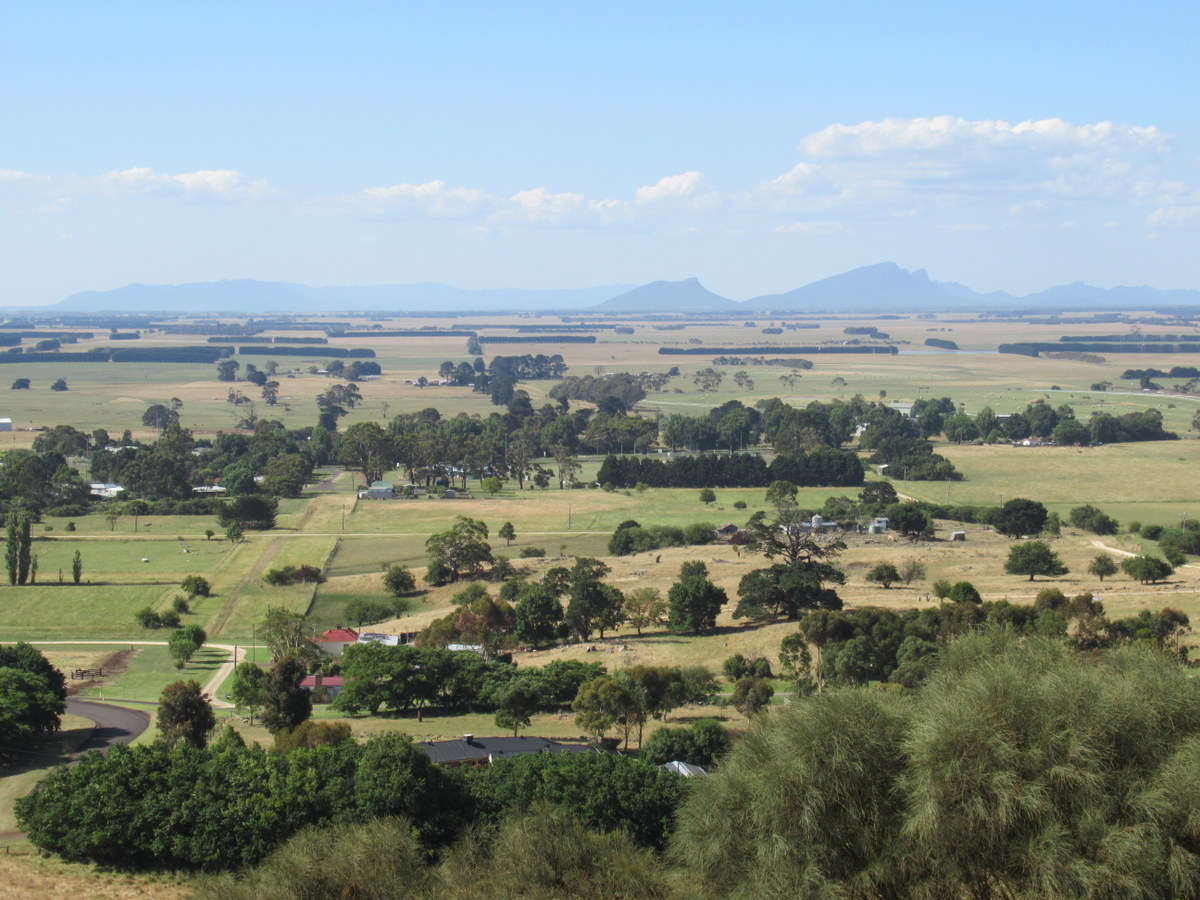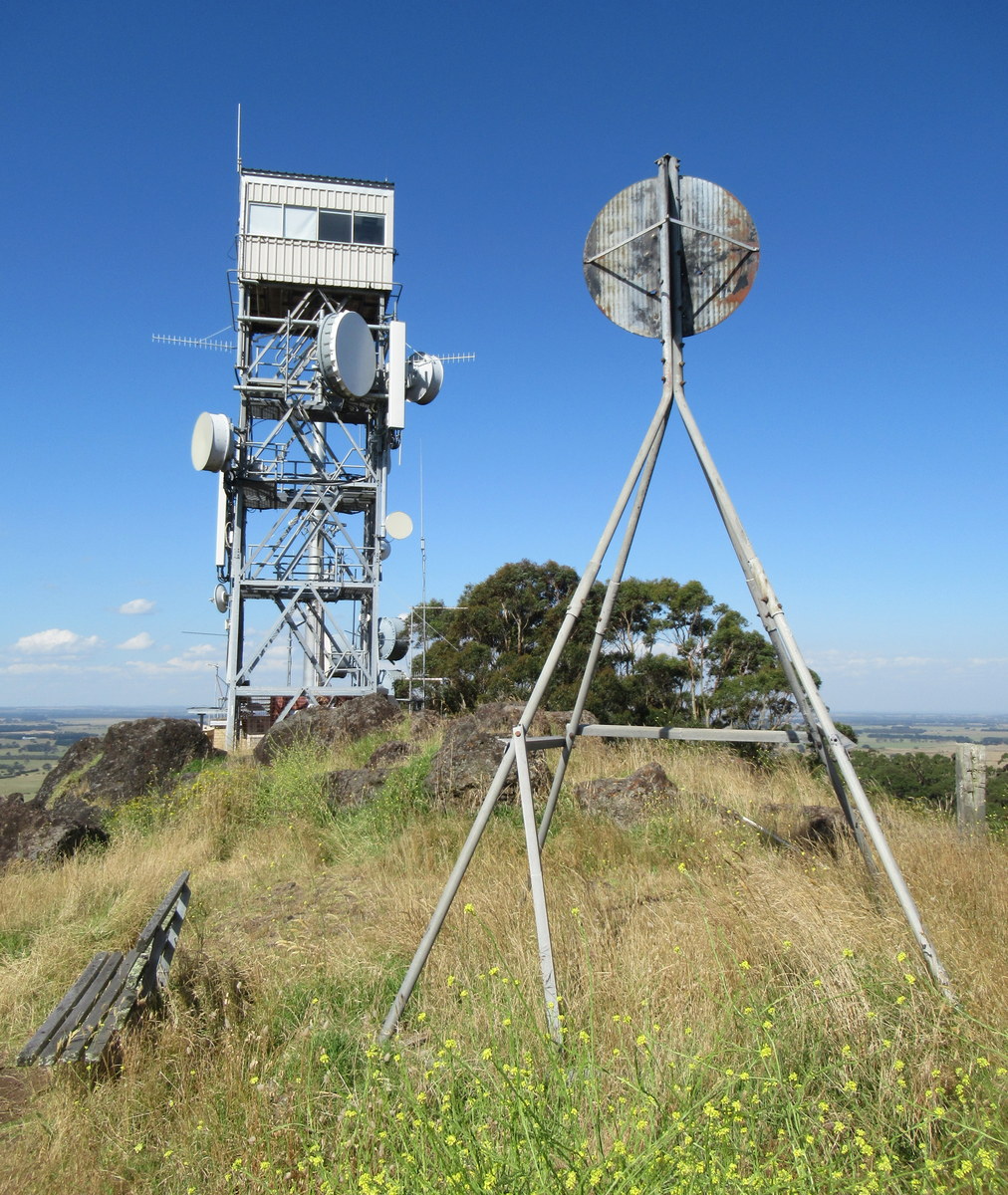 It even had an artist's impression on the picnic shelter: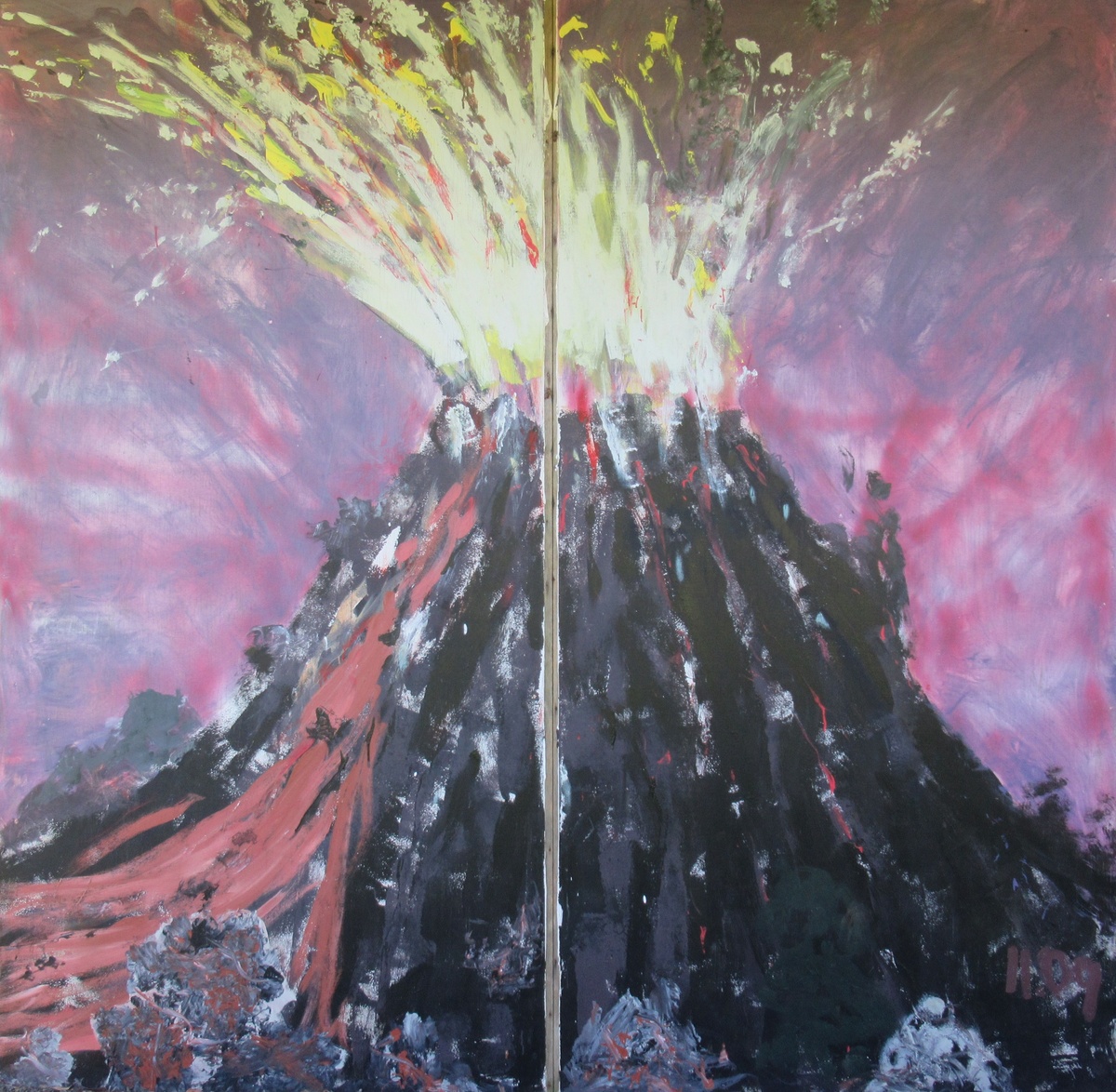 A rather different sunset
Then I moved on to the ocean, in search of a final sunset on 2022.
The sunset that ended 2021 was, like much of the year, a solitary experience. It was on a walk that I'd done many times during the year, and from a well-known viewpoint well and truly within 5km of my house.
So perhaps it was fitting that the sunset that ended 2022 had more of a crowd of onlookers than I expected. In fact, there was a party there on a rocky platform. Mostly fairly secure, though there were a few more daring ones on the rocks near the water.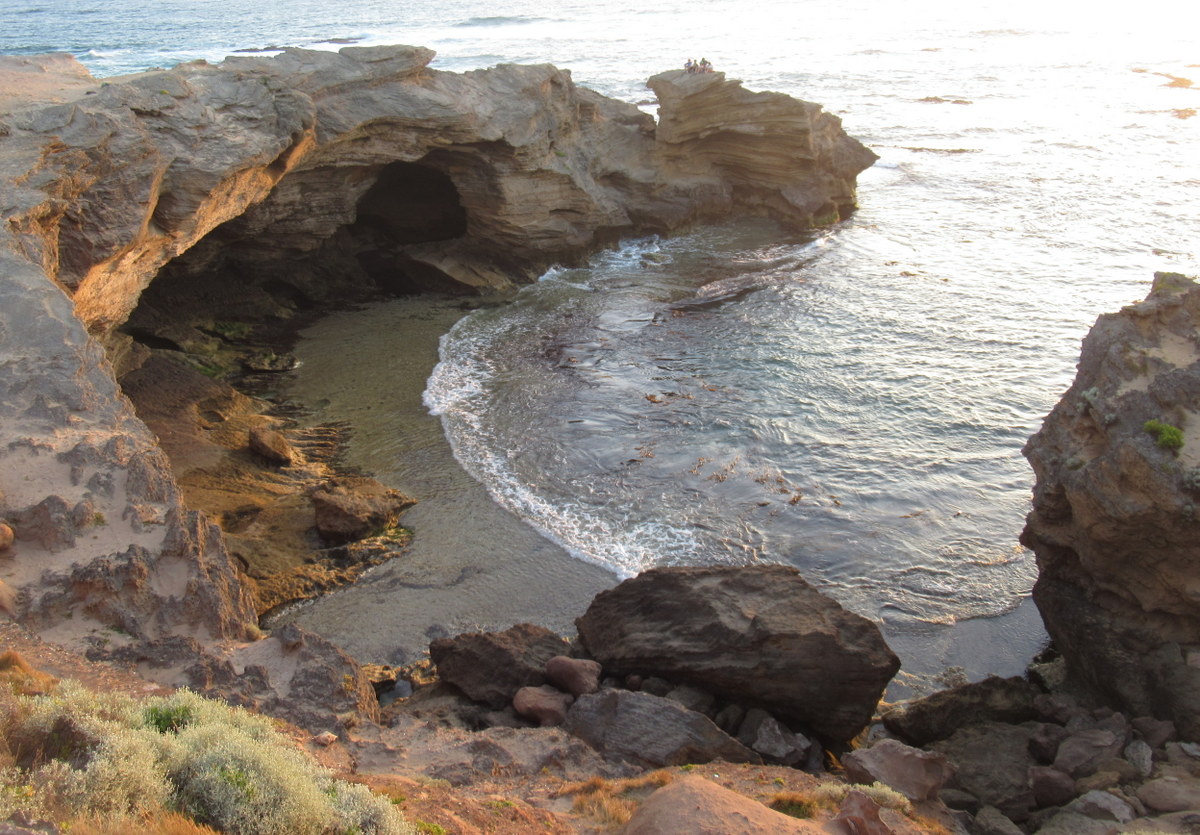 I had eyes for the waves and the horizon, not for the people.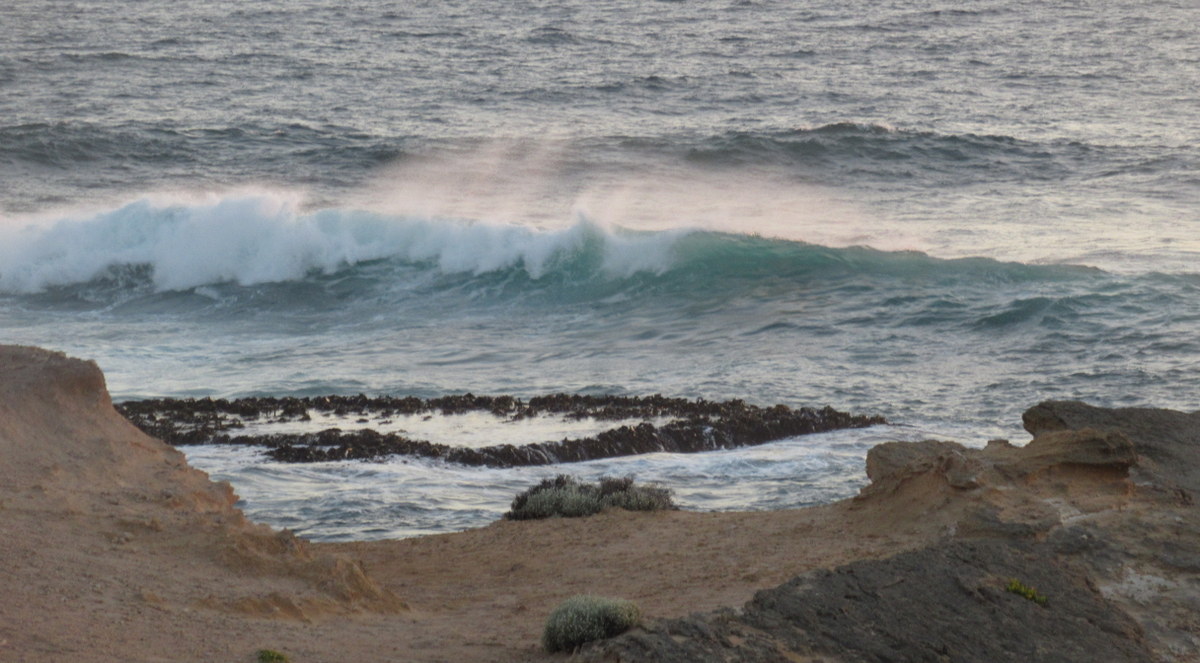 But they certainly seemed to be having fun. They were holding drinks. Talking. Laughing. Even a DJ with headphones on mixing the music. The occasional phone came out to take photos, but the sunset didn't seem to be the main attraction.
"Gimme! Gimme! Gimme!" came on. And I'm still not sure that's a good sunset song - but at least I knew it.
Then the sun entered the clouds. I wasn't sure whether that was it for the day. Around me there were a few cameras out, and the cheering had begun: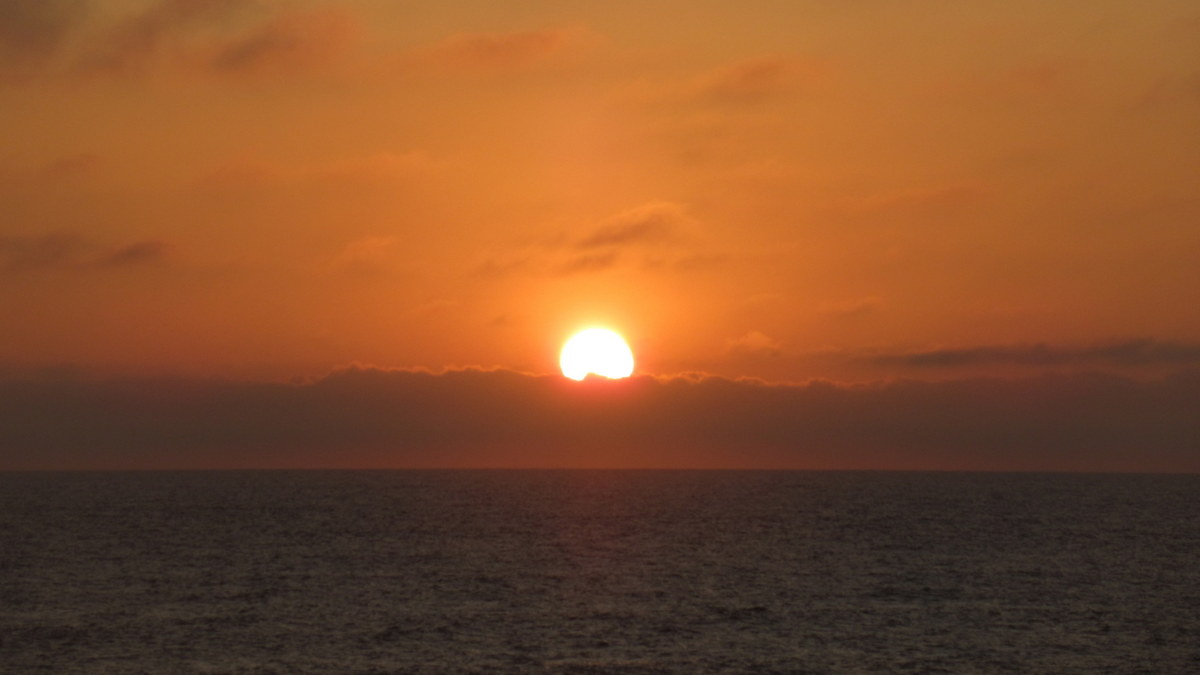 But no, it became clear that we would see it sink below the horizon: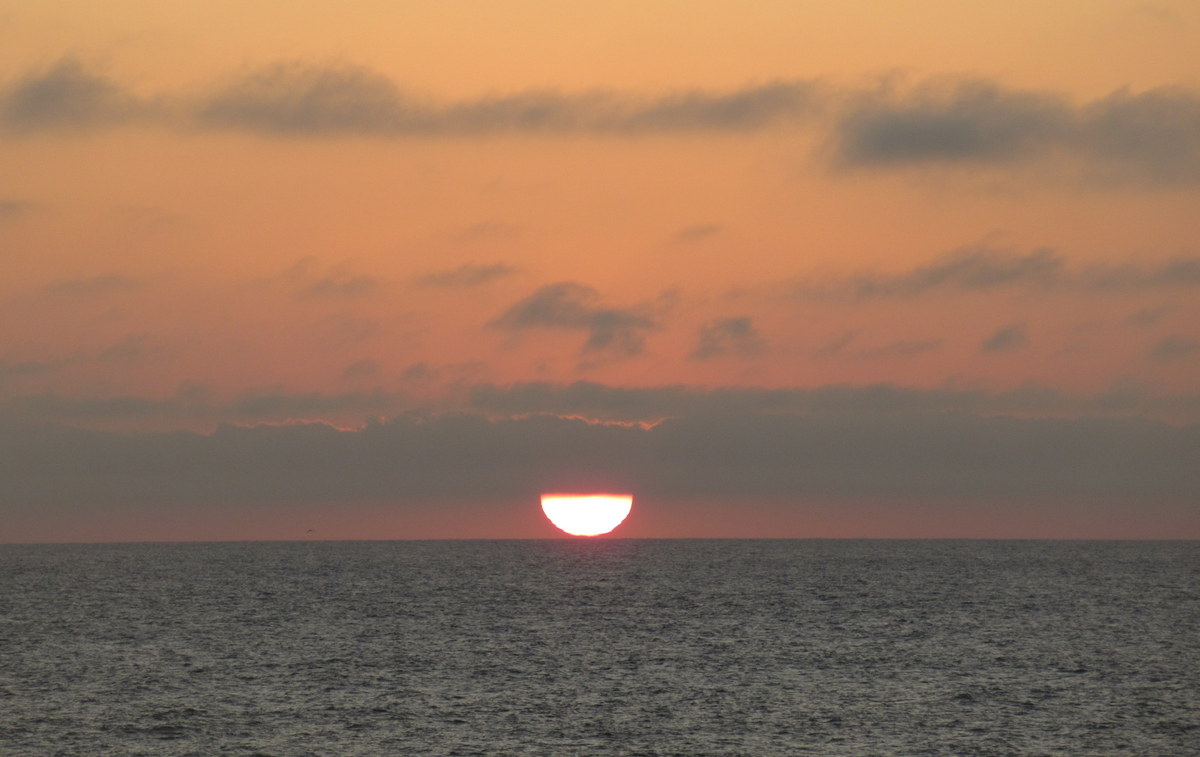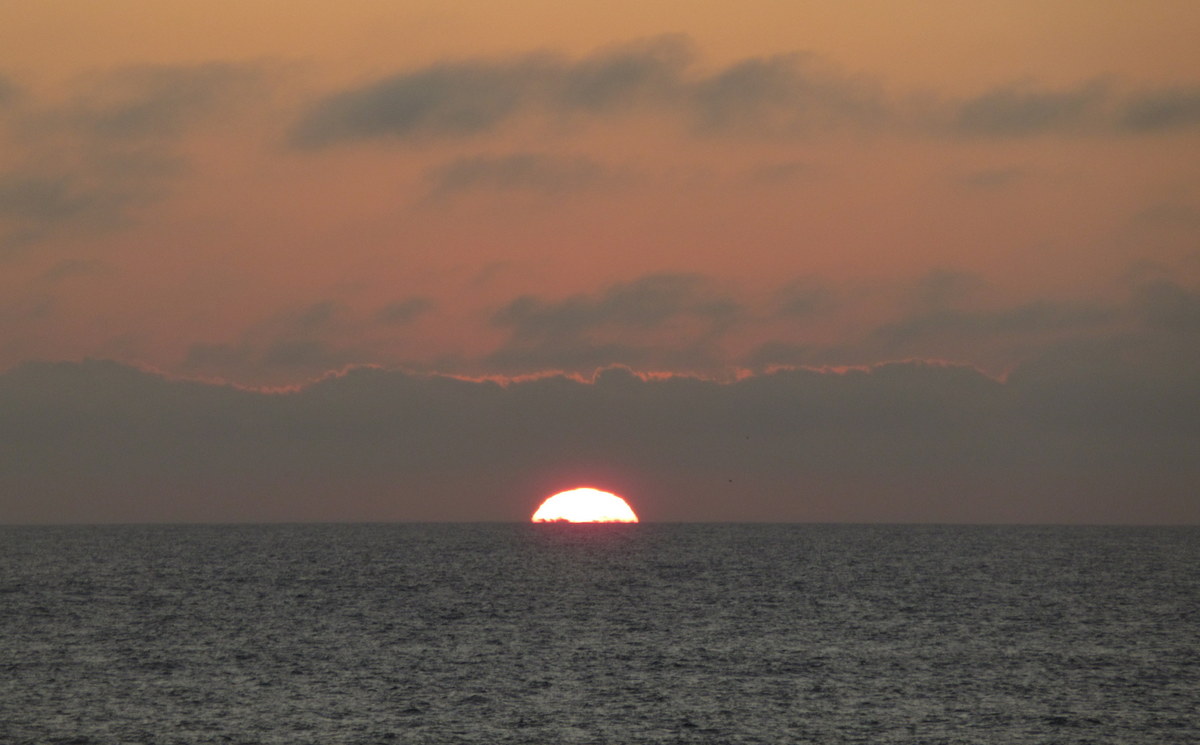 More cheers. More photos. More life.
And there it was. The final sunset of the year. I was glad to be sharing it - without having to be part of it. Solitary, but not really alone. They were having fun in their way, and I was having fun in my way. I got what I came for - and some unexpected experiences into the bargain. As far as I know, I didn't interfere with them, and they sure didn't interfere with me.
It was a good end to a good year. Except that it wasn't really the end. After all, there were still three hours of the day - and a lot may happen in that time.
Fireworks, carnivals, and other lights
When I'd been talking with the person running the volcano museum, they mentioned that Warrnambool had fireworks that night. That was the first I'd heard about it (I should probably have looked up what was on…). Turned out there was a 9:30PM "family friendly" show (not so long after sunset) and a midnight show. All readily visible from the beach.
There had been a lot of talk in the lead-up to New Year's how both the Melbourne and Sydney fireworks were going to be back to large crowds this year. I've never been to Melbourne's New Years fireworks. It's always sounded like too much of a crowd and too much of a hassle.
But this one felt different. I was skeptical of the claim on the website that there would be "ample parking". Justly skeptical, as it turned out. But I still expected it to be small enough to be worth attending.
It started off with the family friendly event. Down on the beach the sky still had some colour left from the sunset, and the clouds were coming in, but it was still an enjoyable show with great reflections across the water: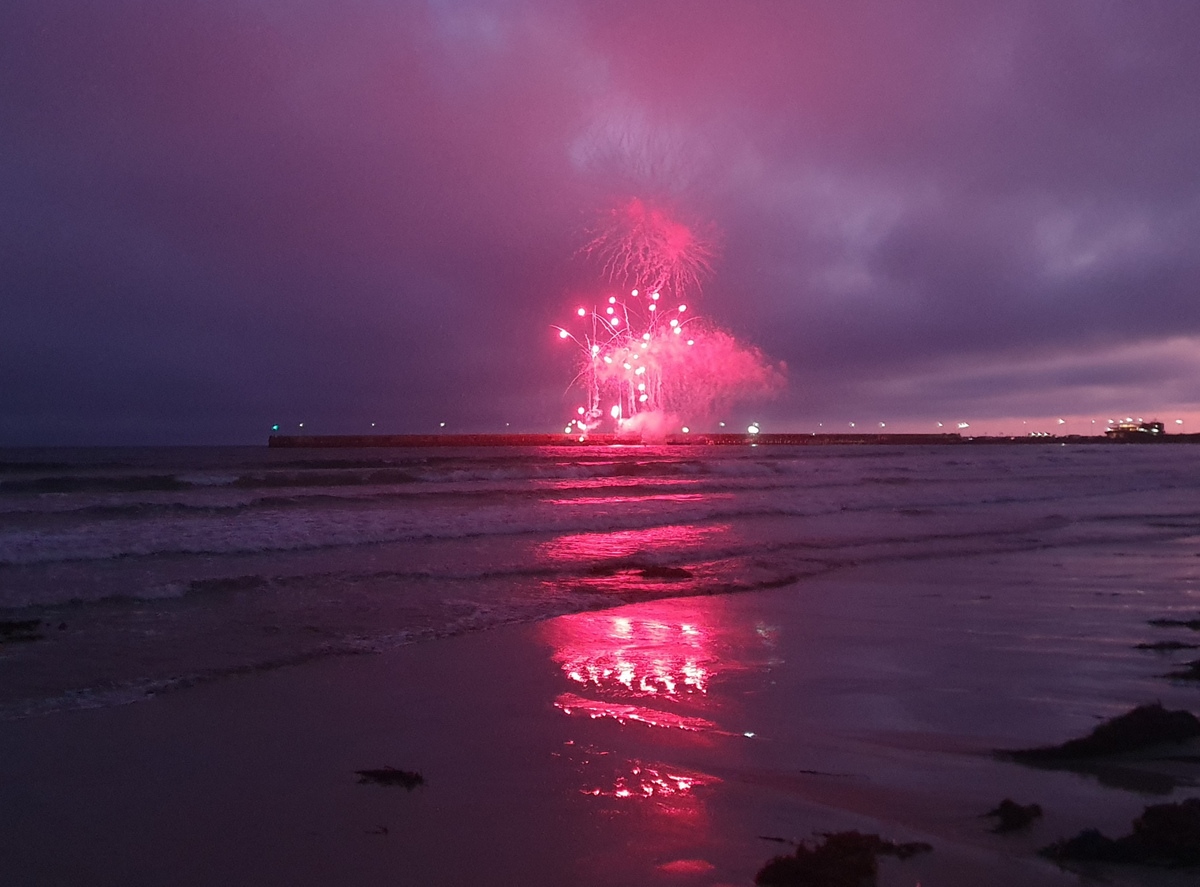 I'd planned on getting some food between the two shows. And immediately after it had finished I could see the red tail lights from a distant car park reflecting on the water. But I knew the traffic would be terrible, so I was in no hurry. And when it was an hour later and the road and car-parks were still choked with cars, I decided I was best just to stay.
Many had gone on to the Warrnambool Family Carnival. I didn't go in, but it made for some nice pictures: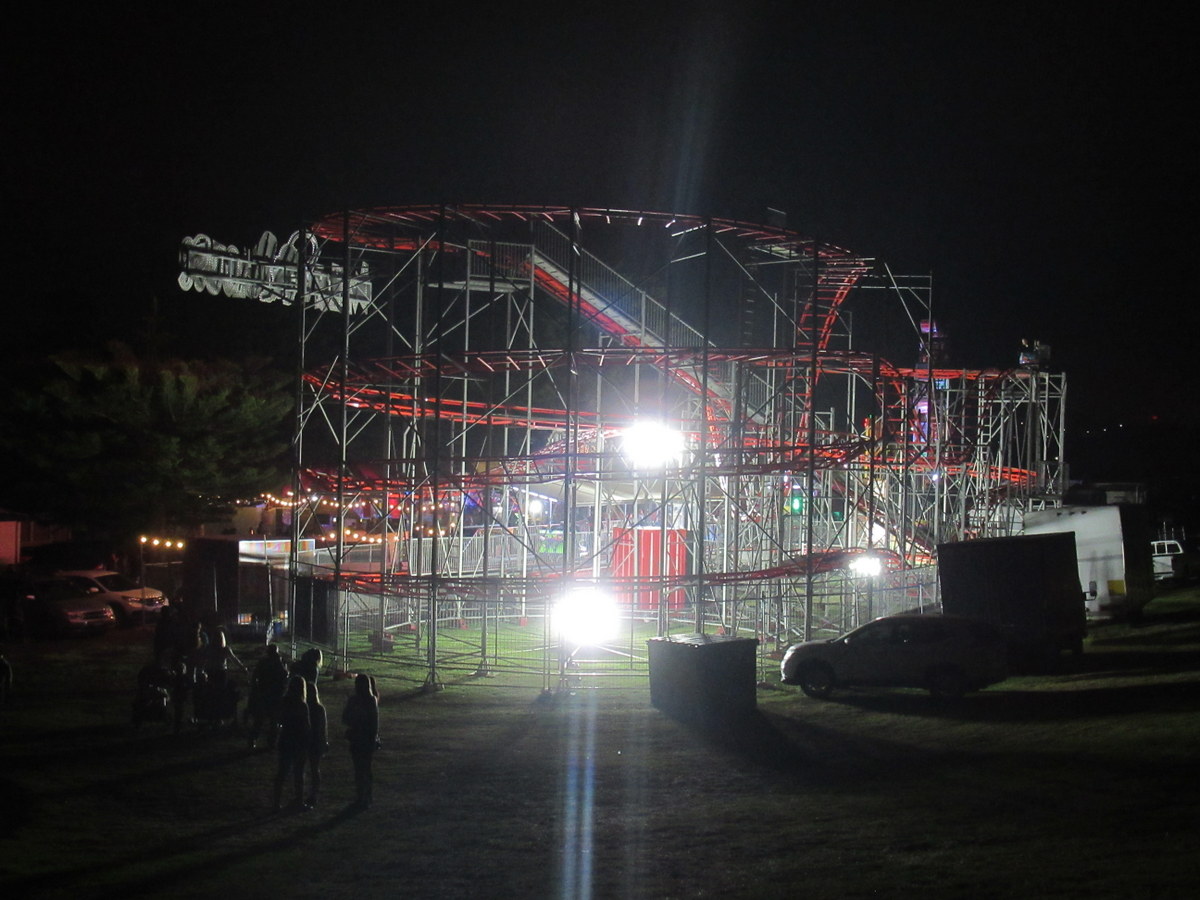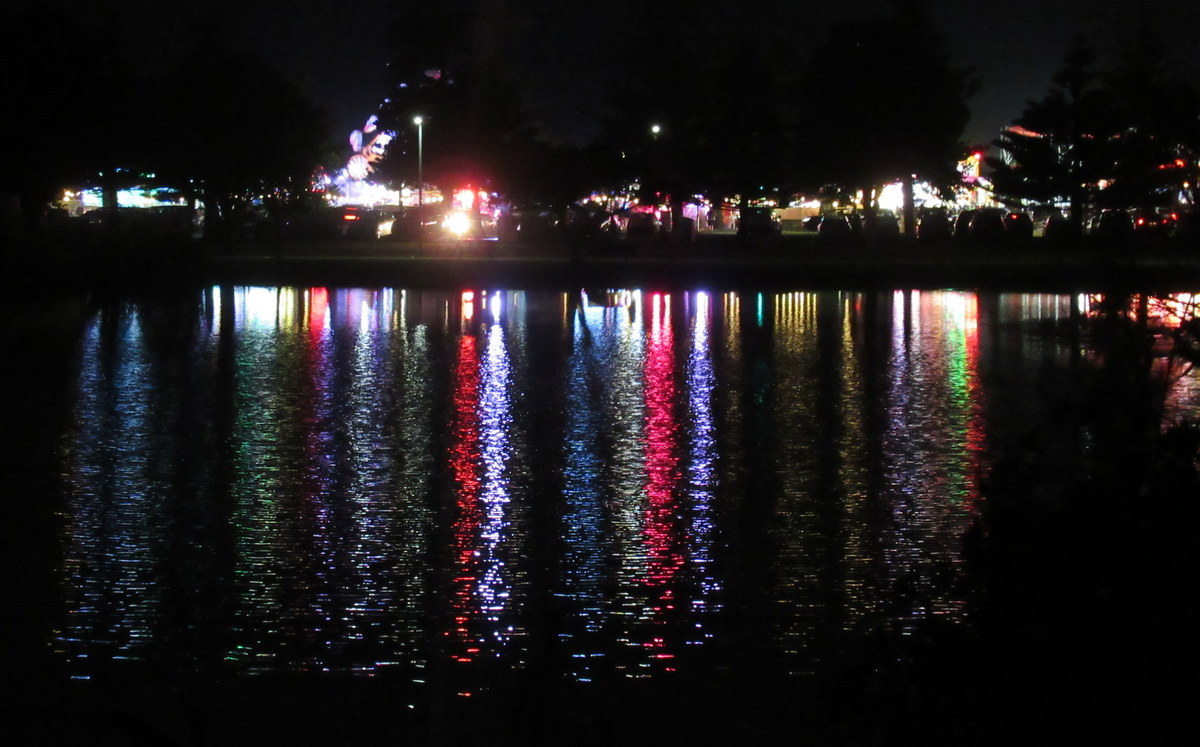 So, midnight approached and I was back on the beach. Like with the sunset, I was still on my own - but with a lot of other people around.
This time, there was a count-down: 30, 29, 28, 27, … And just as zero was reached, off went the fireworks. It was the clearest transition between calendar years that I ever remember.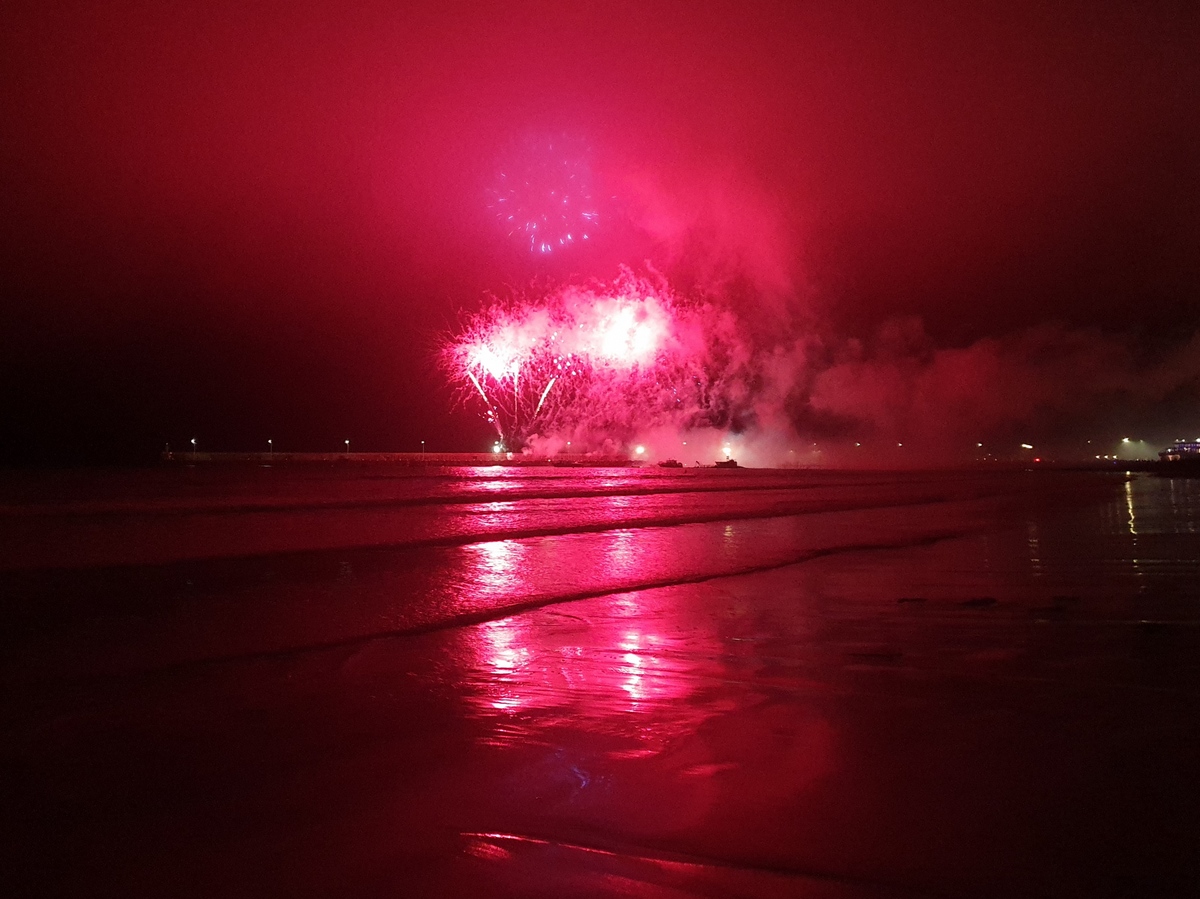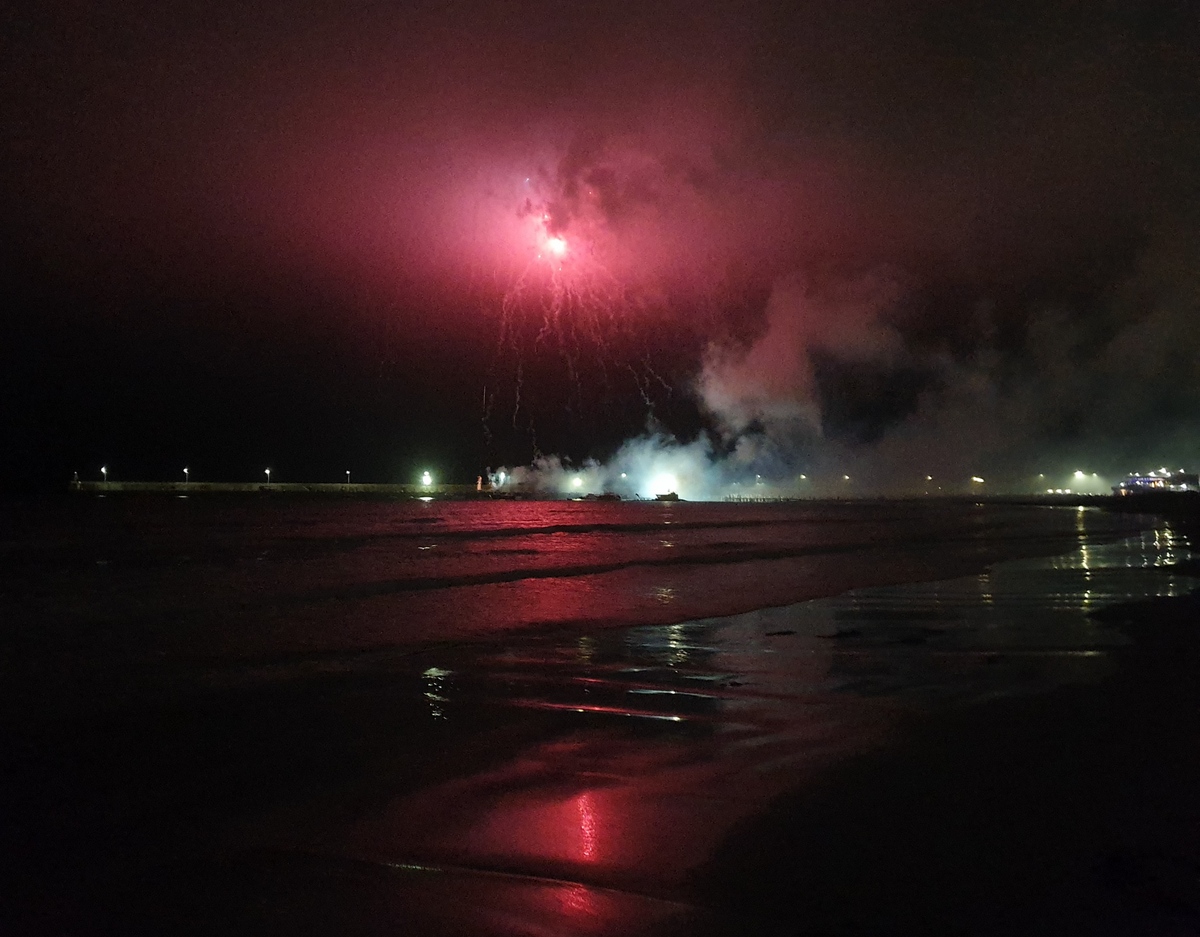 Then came the finale. And as it died to silence, everyone cheered. It was a great moment. A shared new year celebration. And hopefully a great start to a great year for everyone there.
Again, I wasn't in any hurry to leave. So instead, I collected up some of the abandoned glow sticks to make my own New Year's message: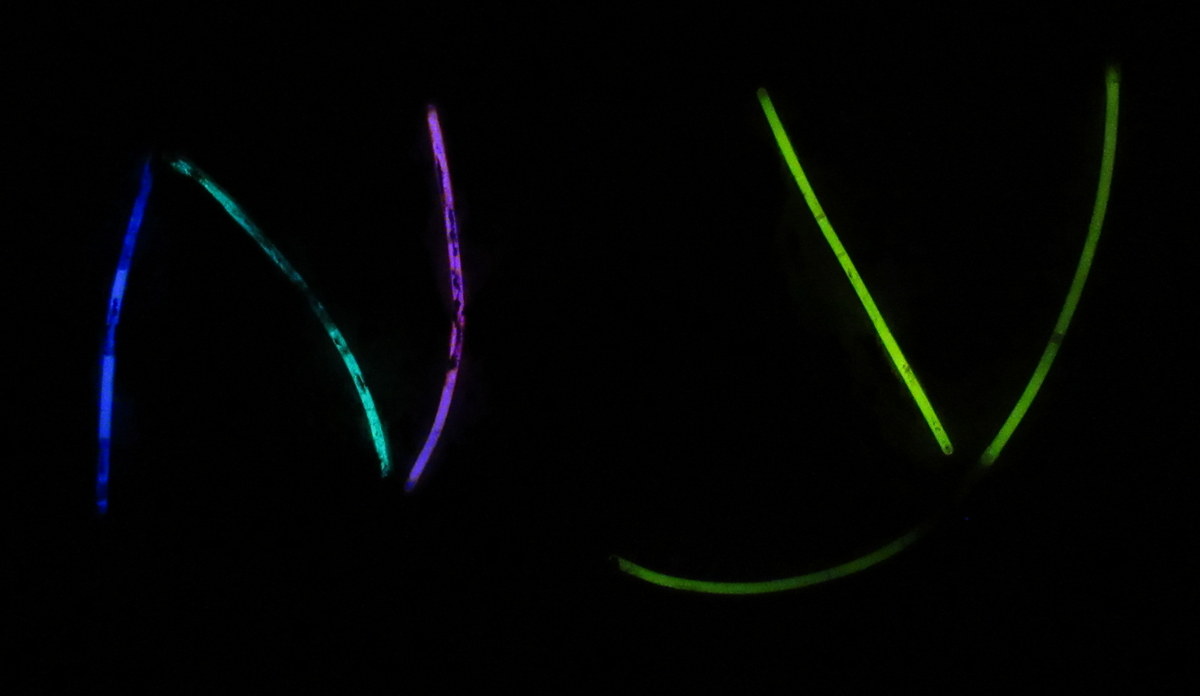 (Not) seeing the sunrise
By the time I got to bed, there were only a few hours to sunrise. Though it was still more sleep than I'd got last year after writing about Covid.
I was tired, but determined to make it. Back on the beach. Starting a new year with a (hopefully) beautiful sunrise.
When I got up, it was very foggy: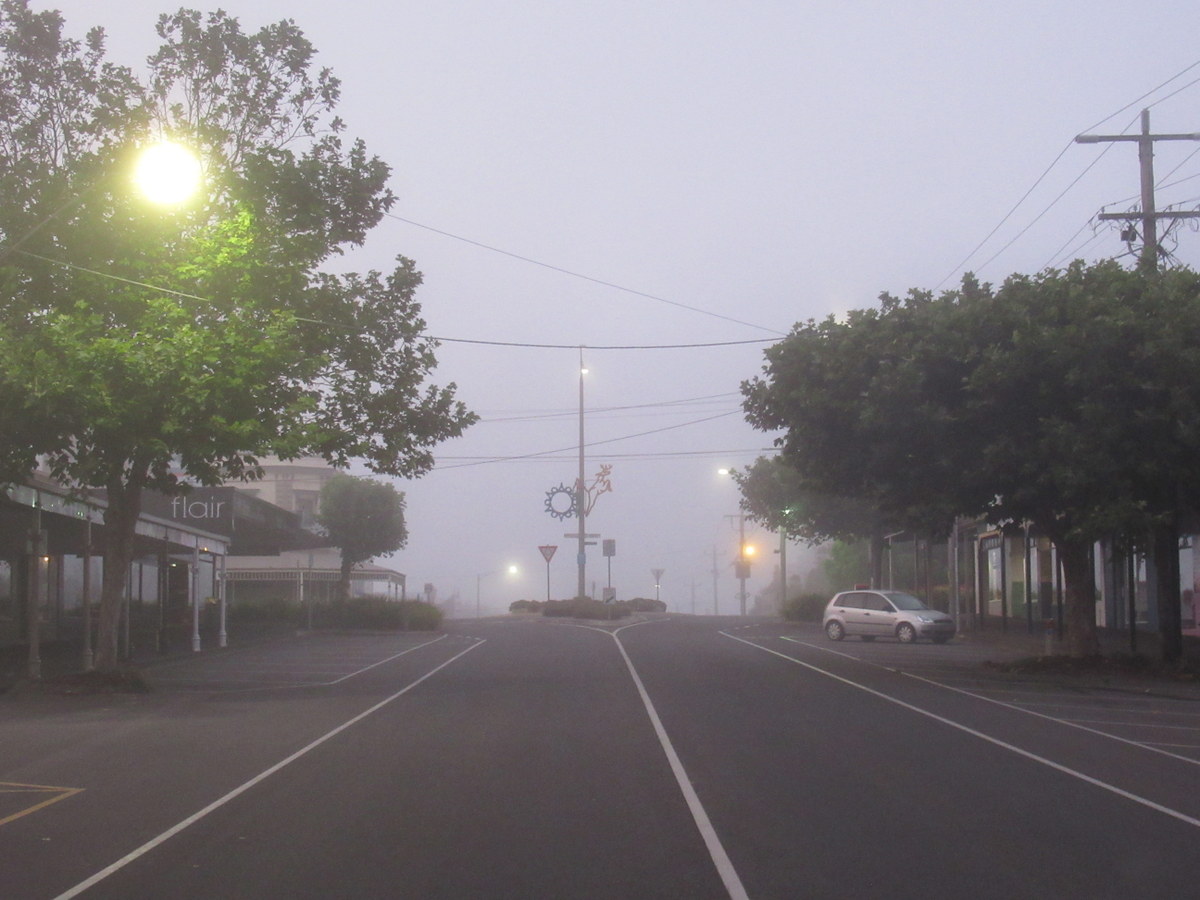 Not exactly an encouraging start. But let it not be said that I didn't try…
I made my way to the beach: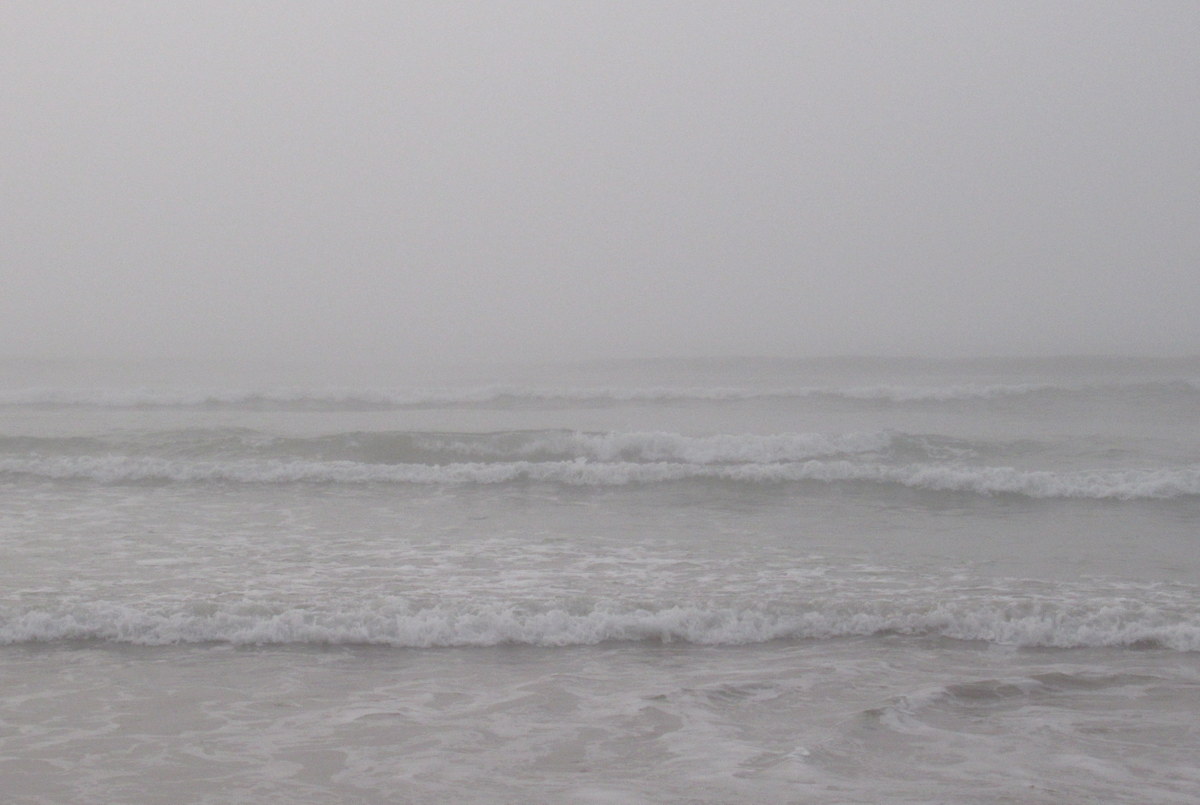 And while there, I saw people going in for an early morning swim. That's one way to start a year, I guess. Not for me.
Instead, I wandered round in the fog for an hour.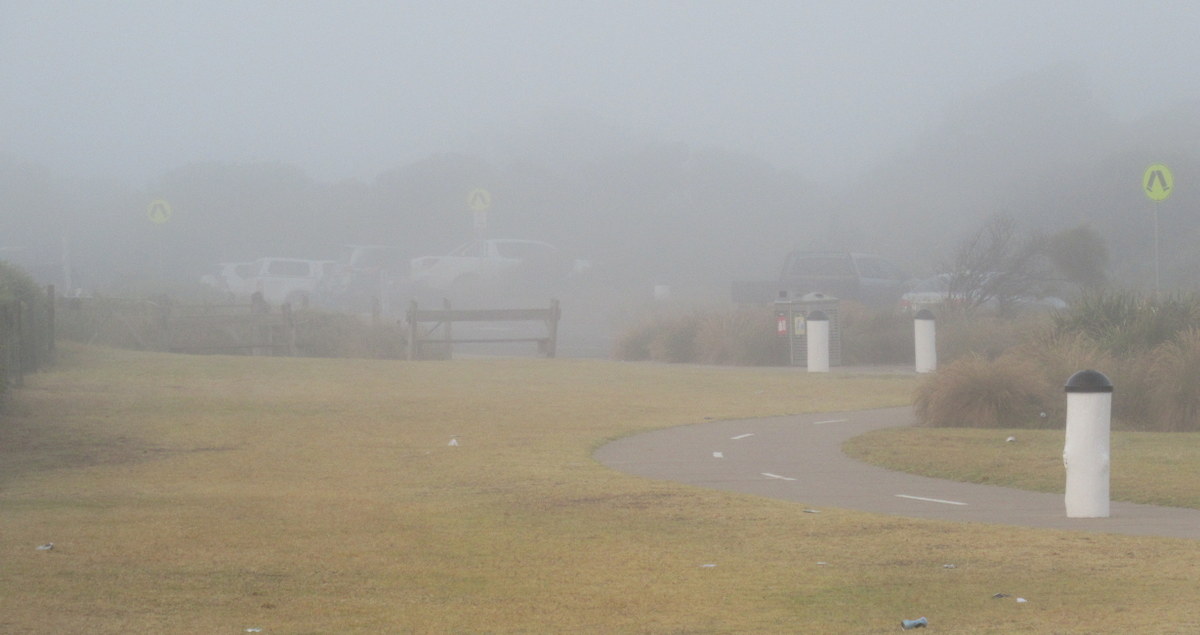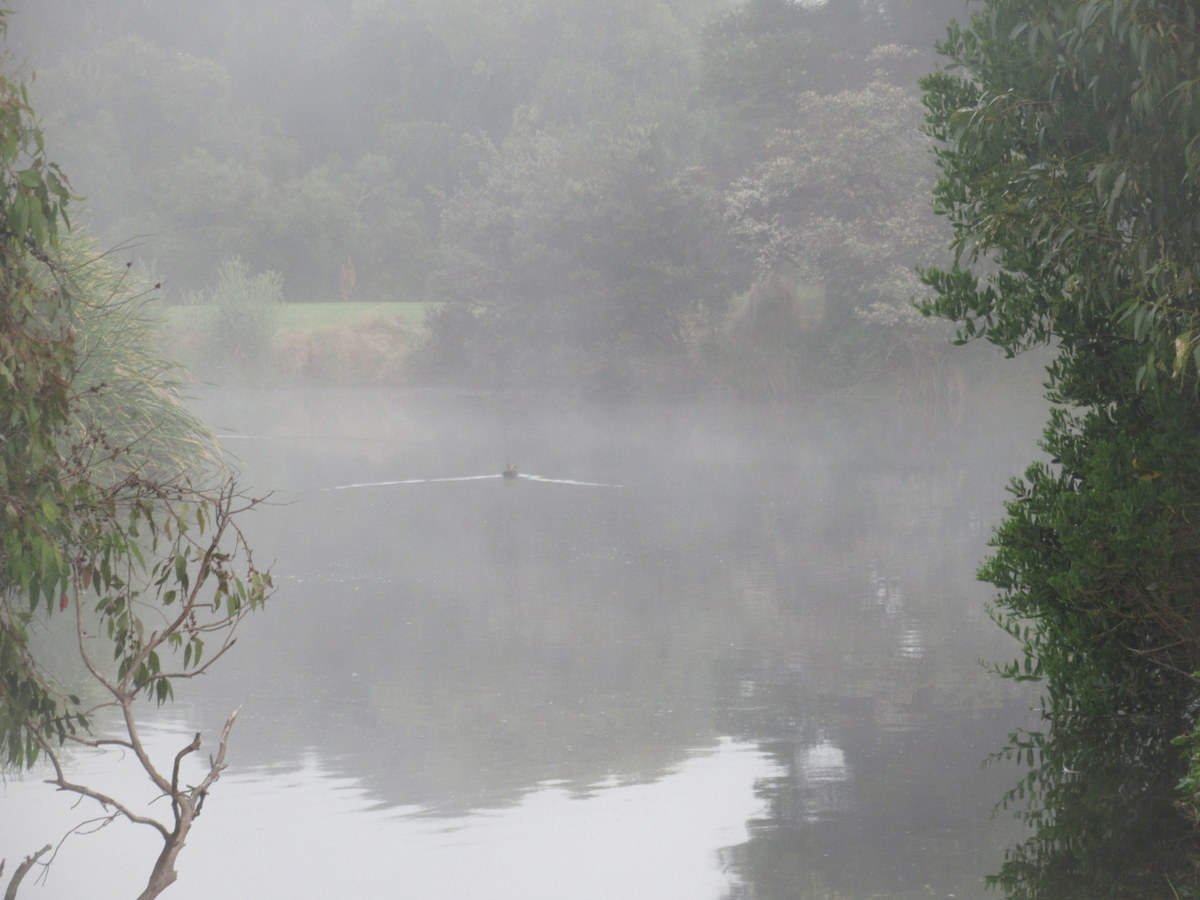 Then, just as I was about to head on, it lifted: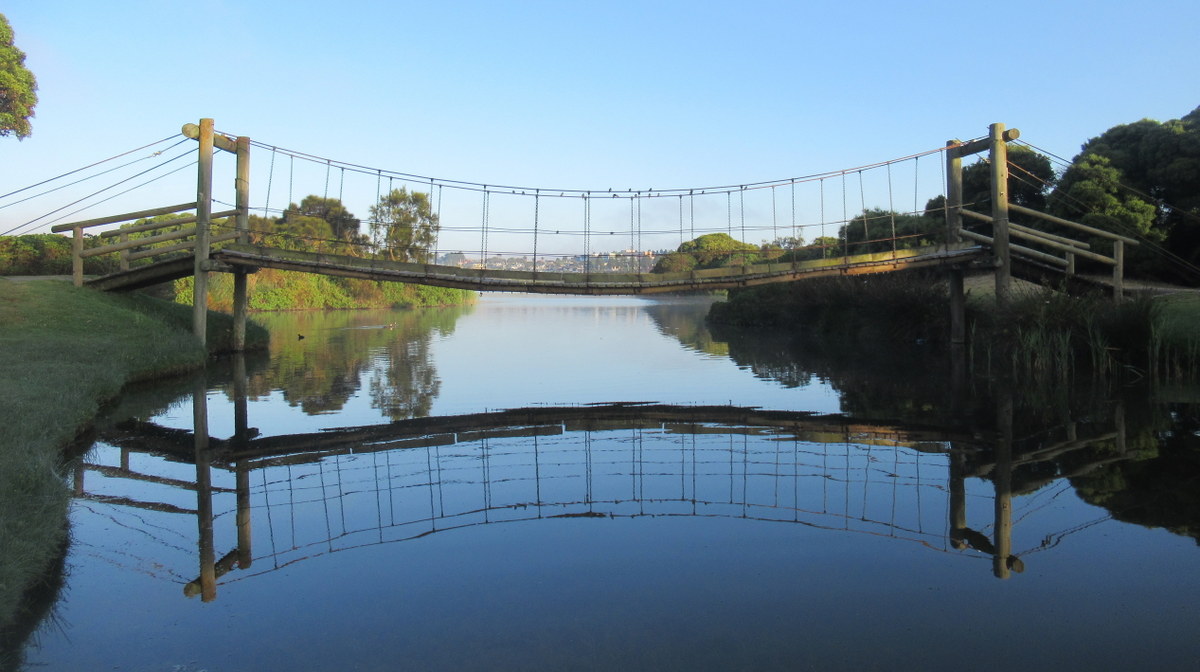 There were swans and ducks on the lake. There were spider-webs clearly visible, with the dew still dripping from them. It might not have been sunrise, but it was beautiful.
Then I went to a cafe for the first breakfast of the year, and saw another nice New Year's message: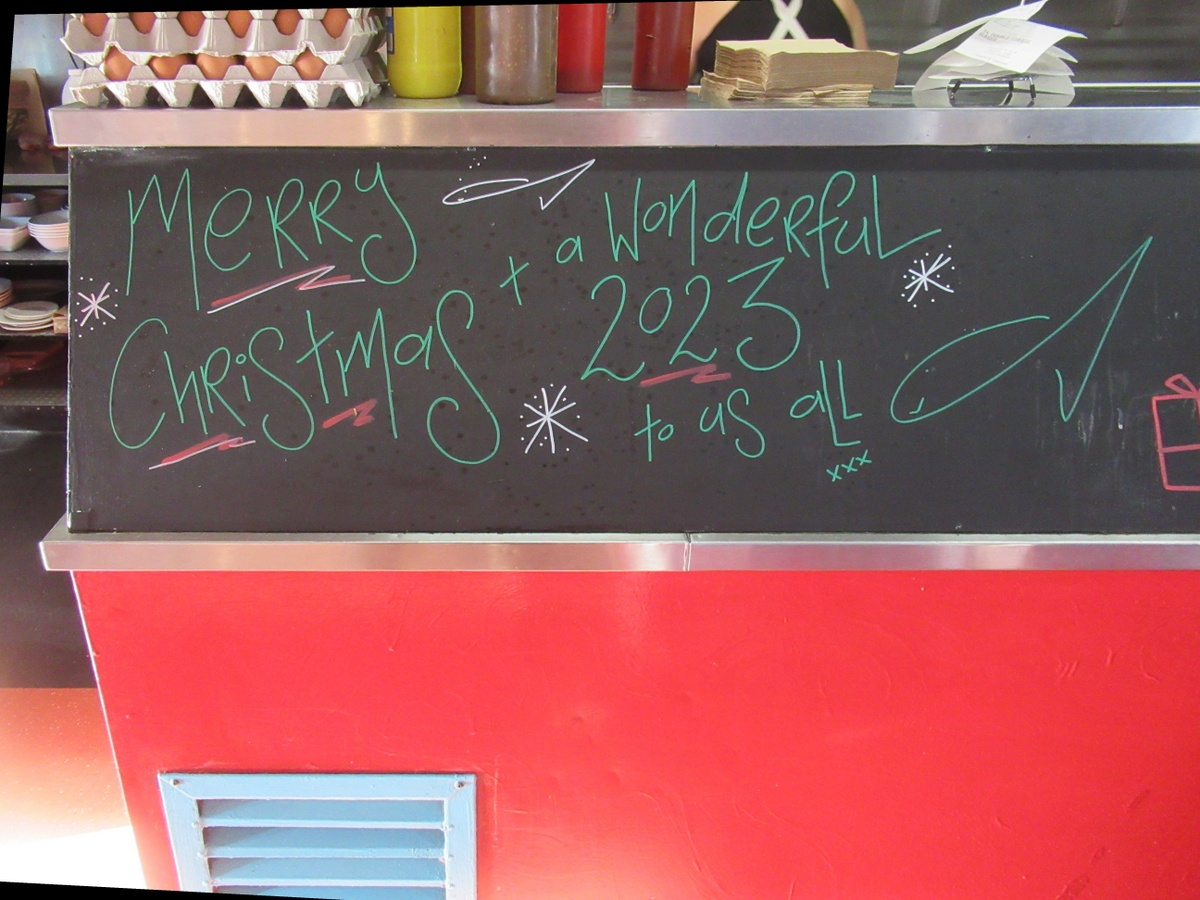 In the sun
That afternoon in the Botanical Gardens it was warm and sunny. Truly a beautiful summer day: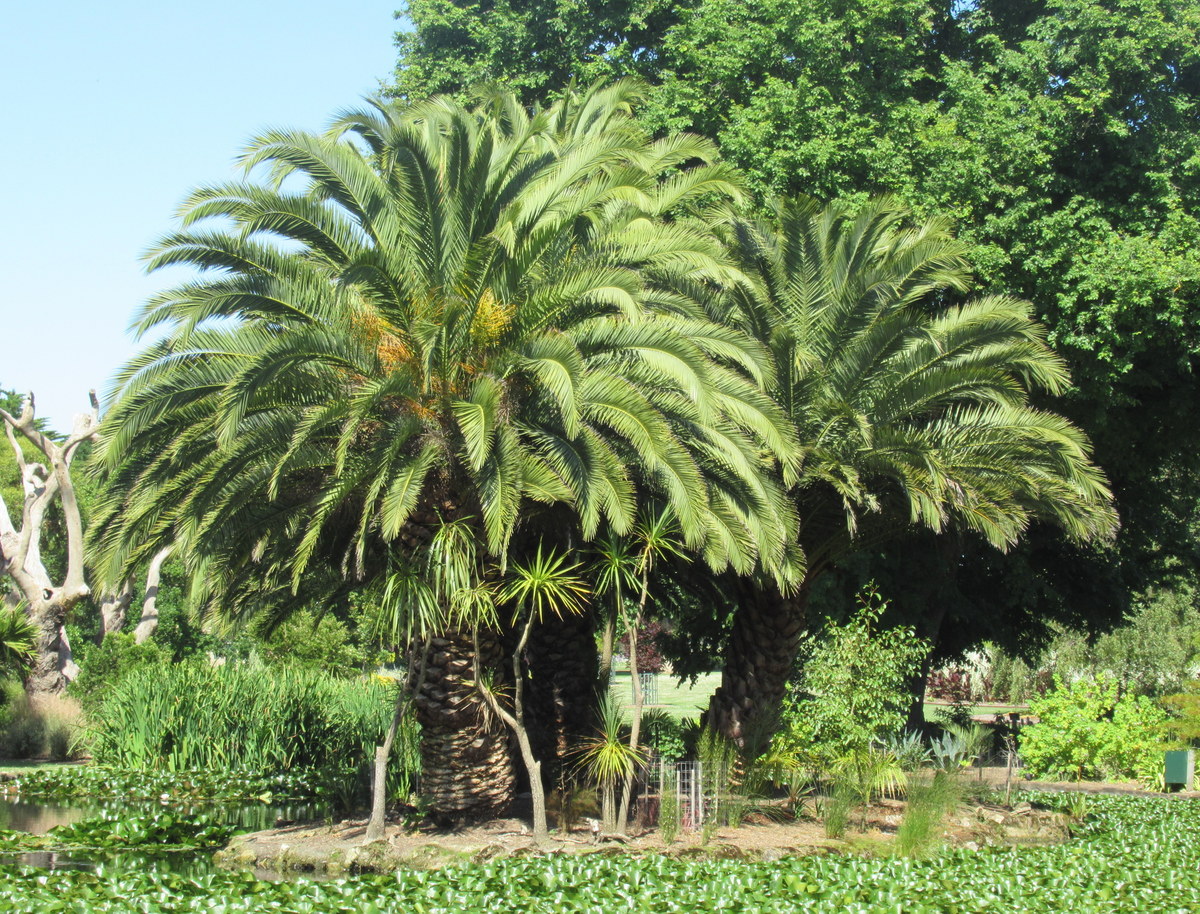 There were flying foxes roosting, squabbling, and stretching their wings: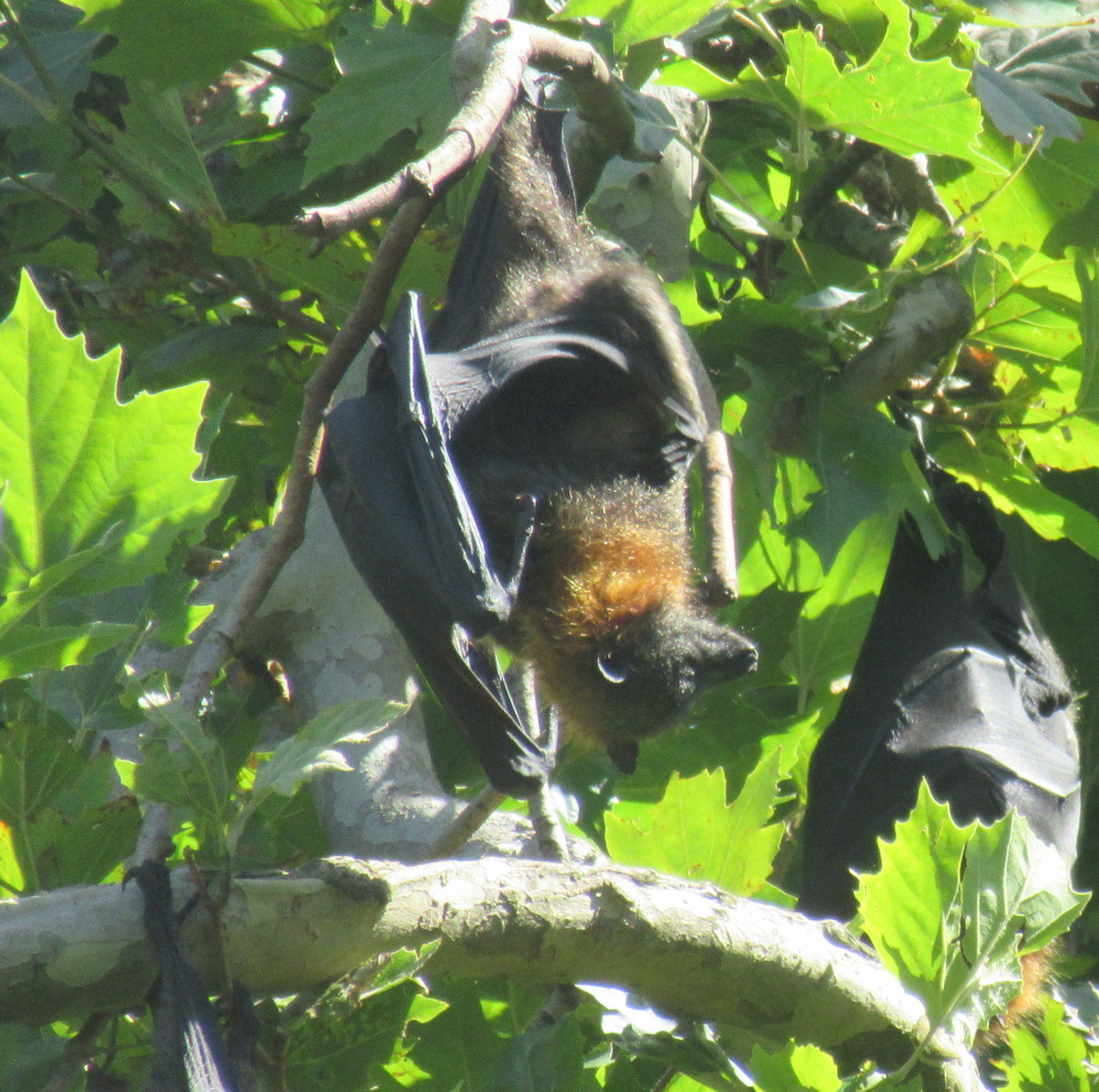 There were honeyeaters catching the blossoms.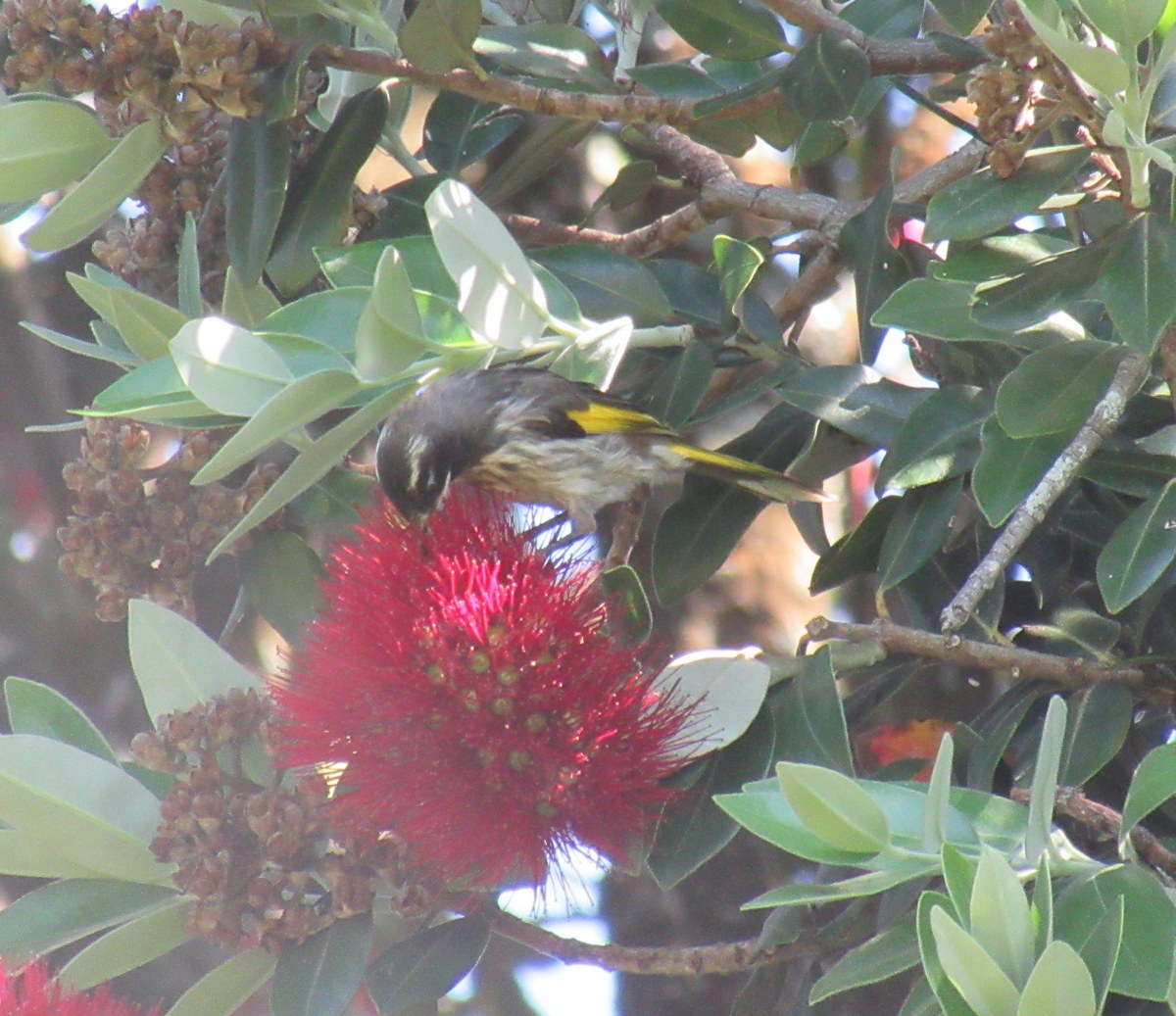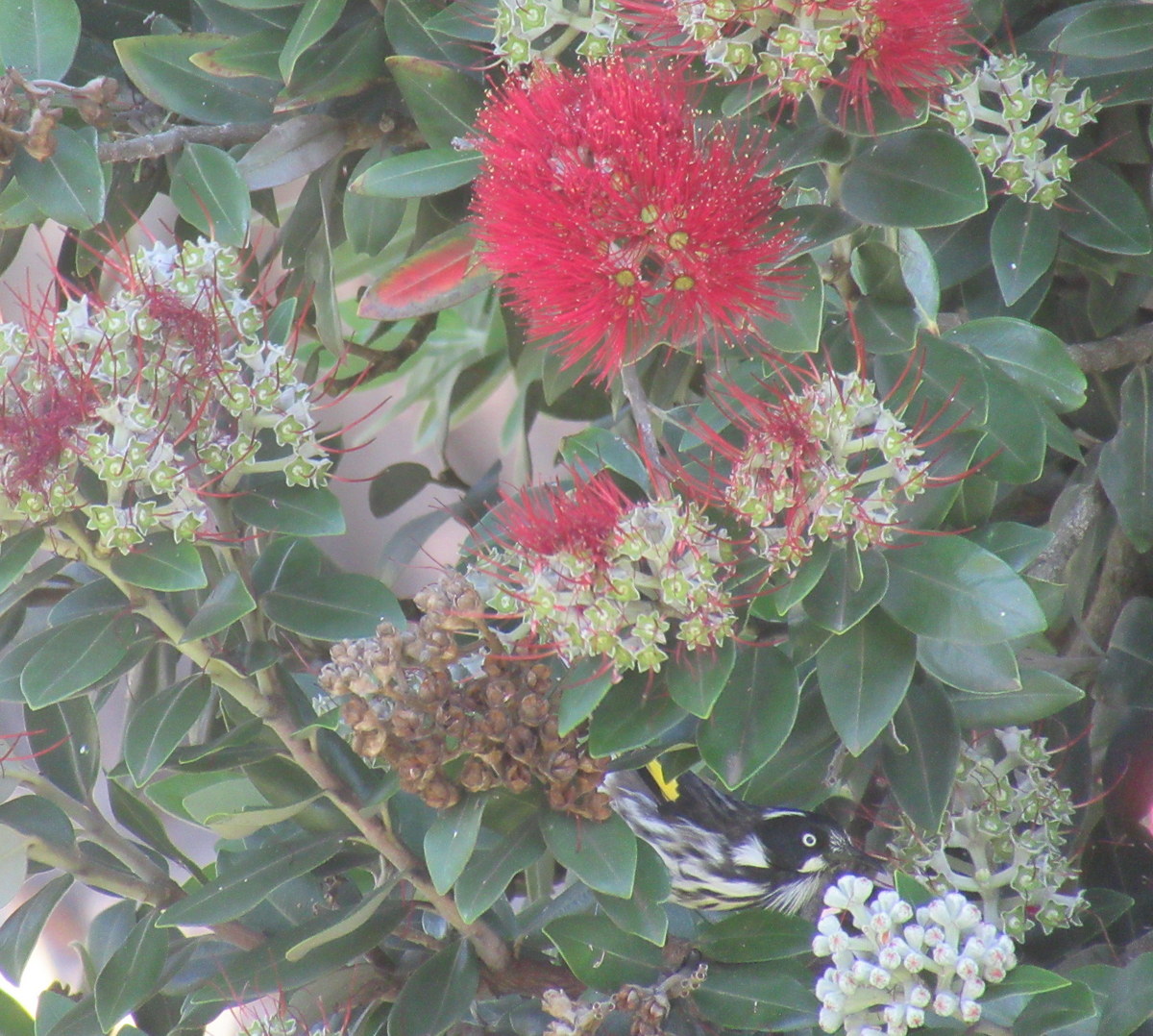 Back to the ocean (and the fog!)
Then it was time to return to the cliffs and the beaches. It was sunny when I got there: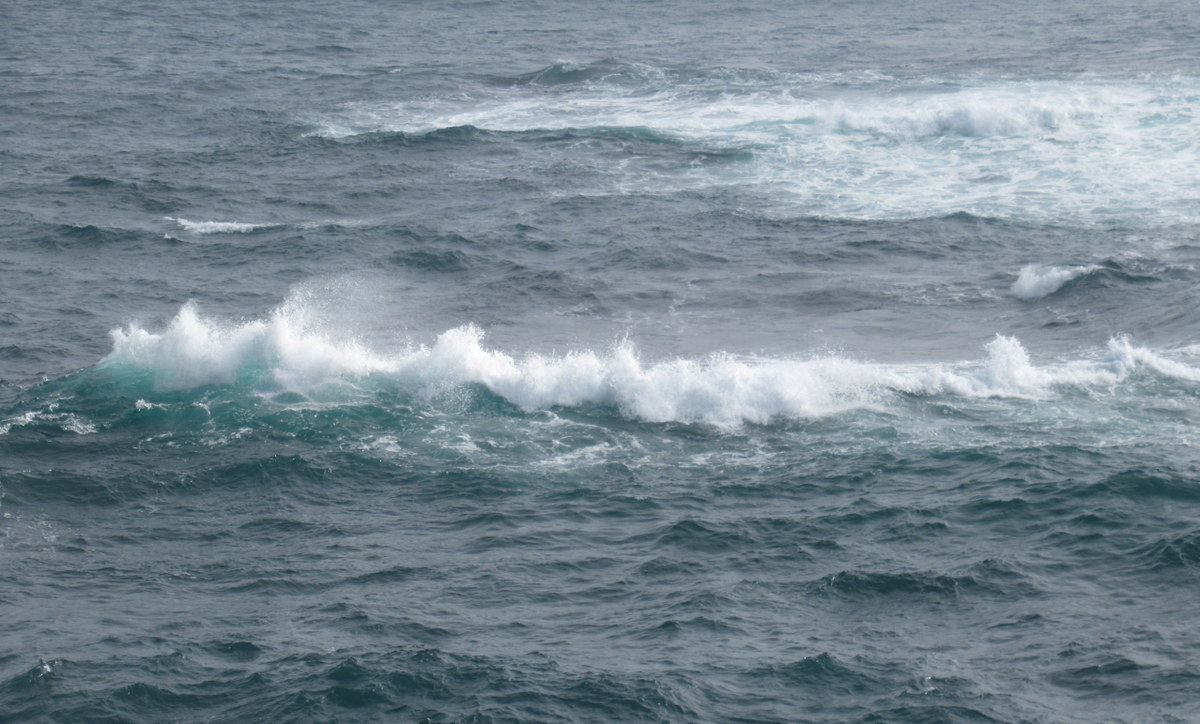 But it didn't last long. Already, the fog was rolling in: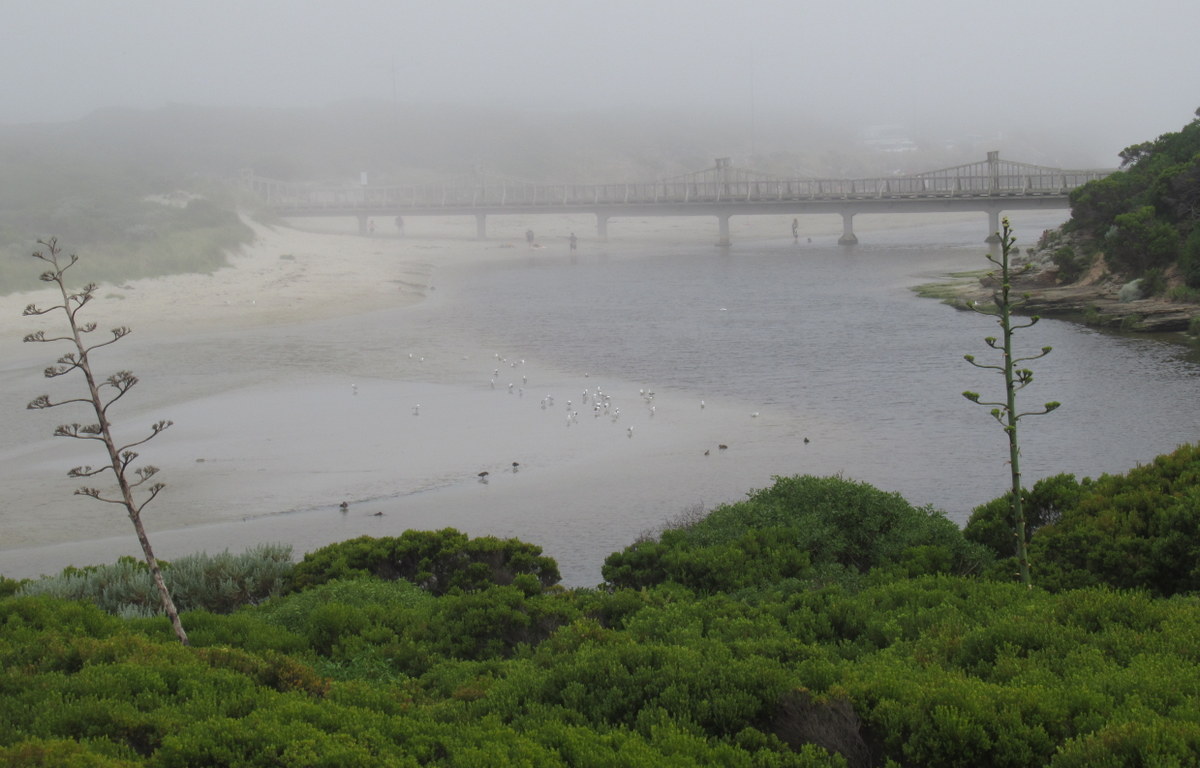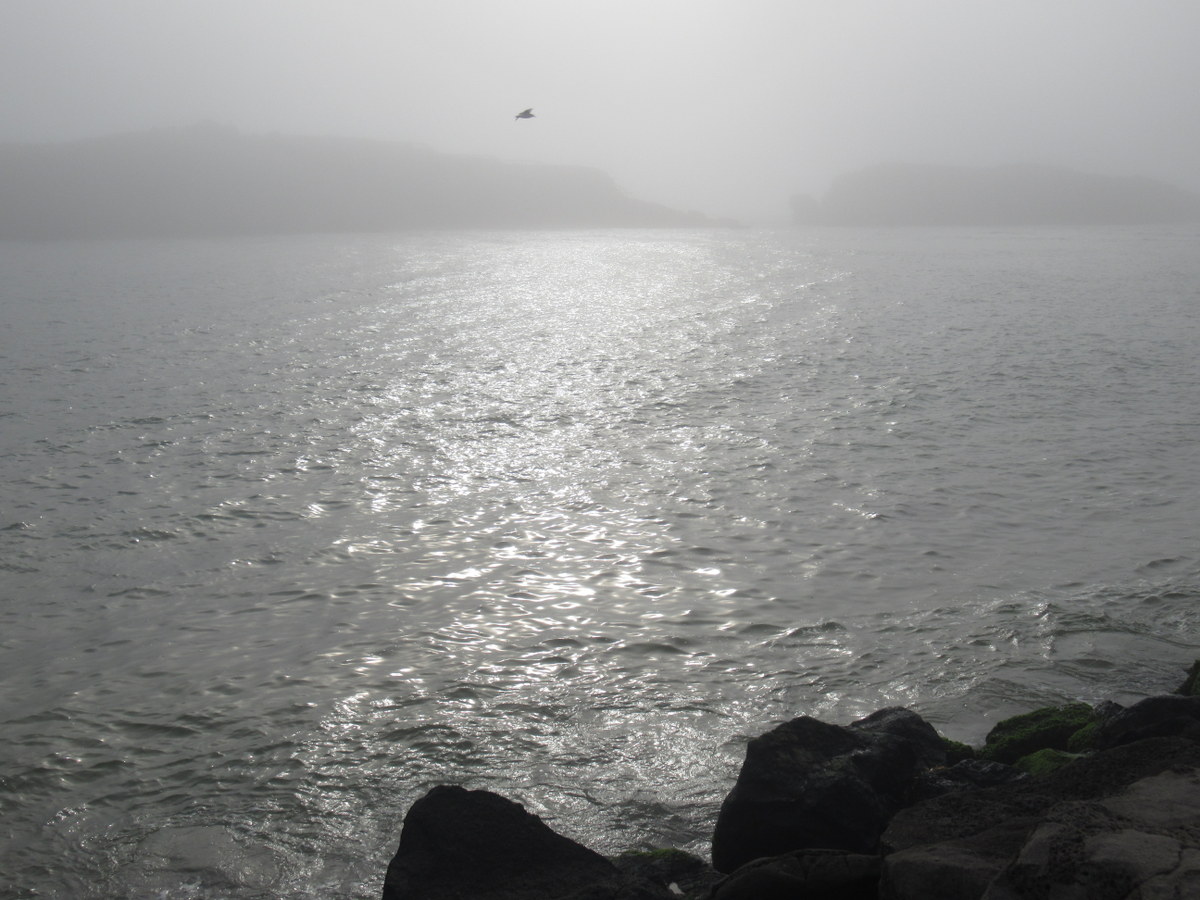 There were people swimming, or playing on the beach. Walking their dogs. Sand castles. A game of cricket.
And then there were the sea gulls. Lots and lots of sea gulls: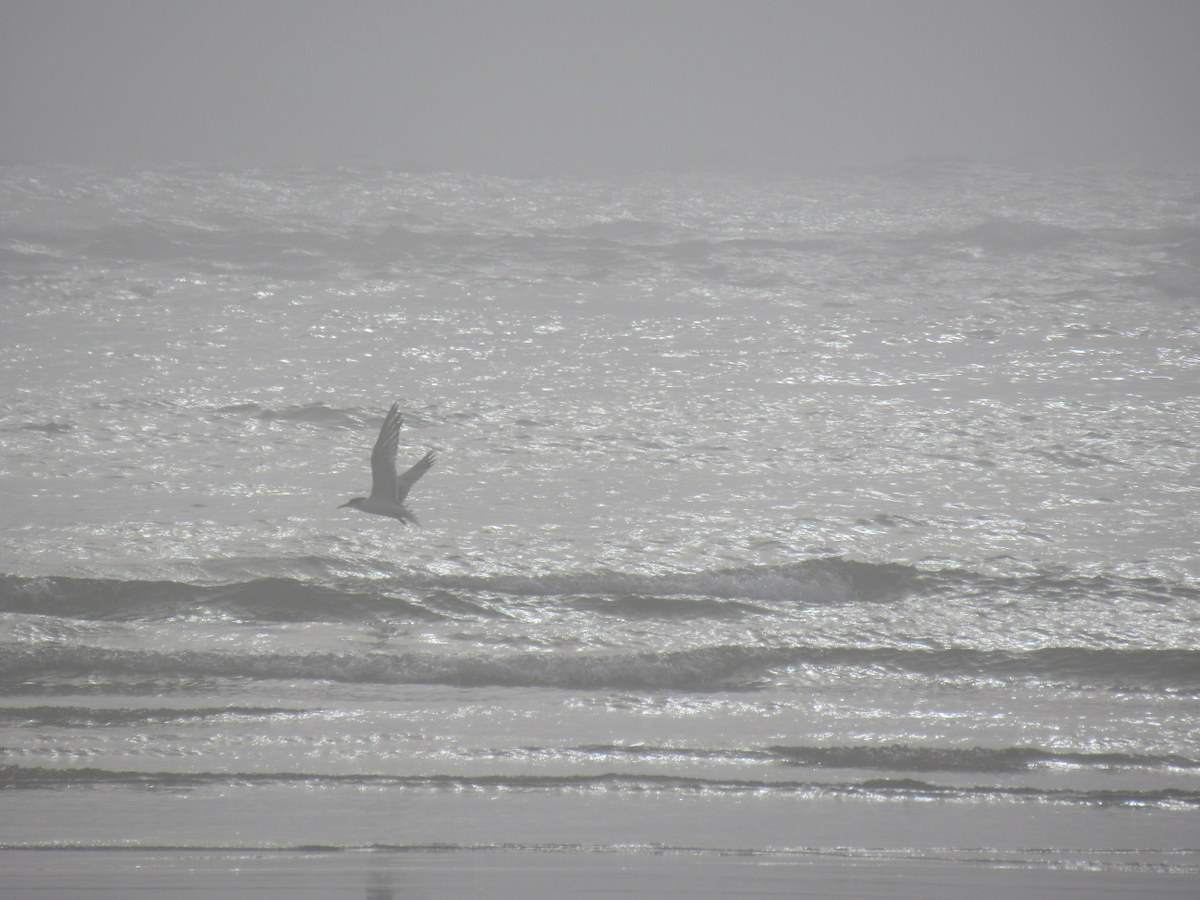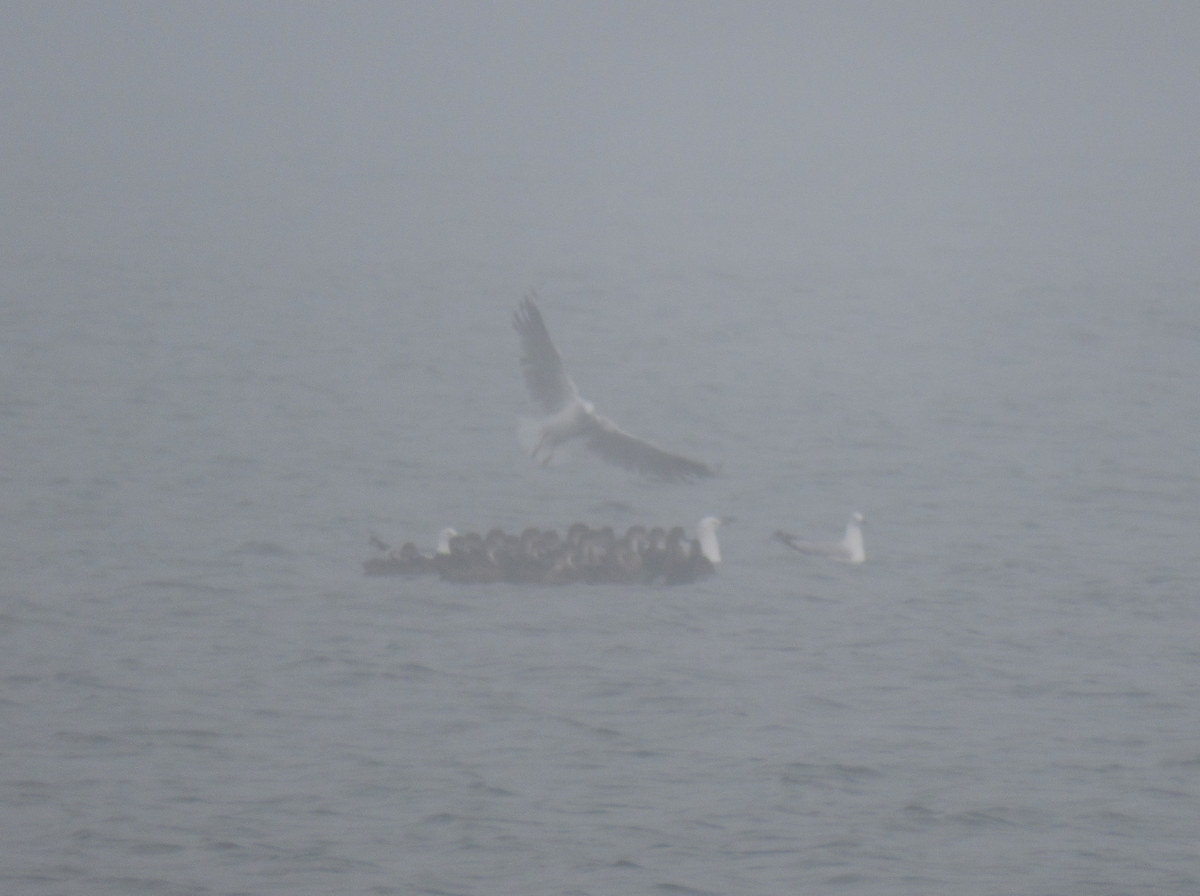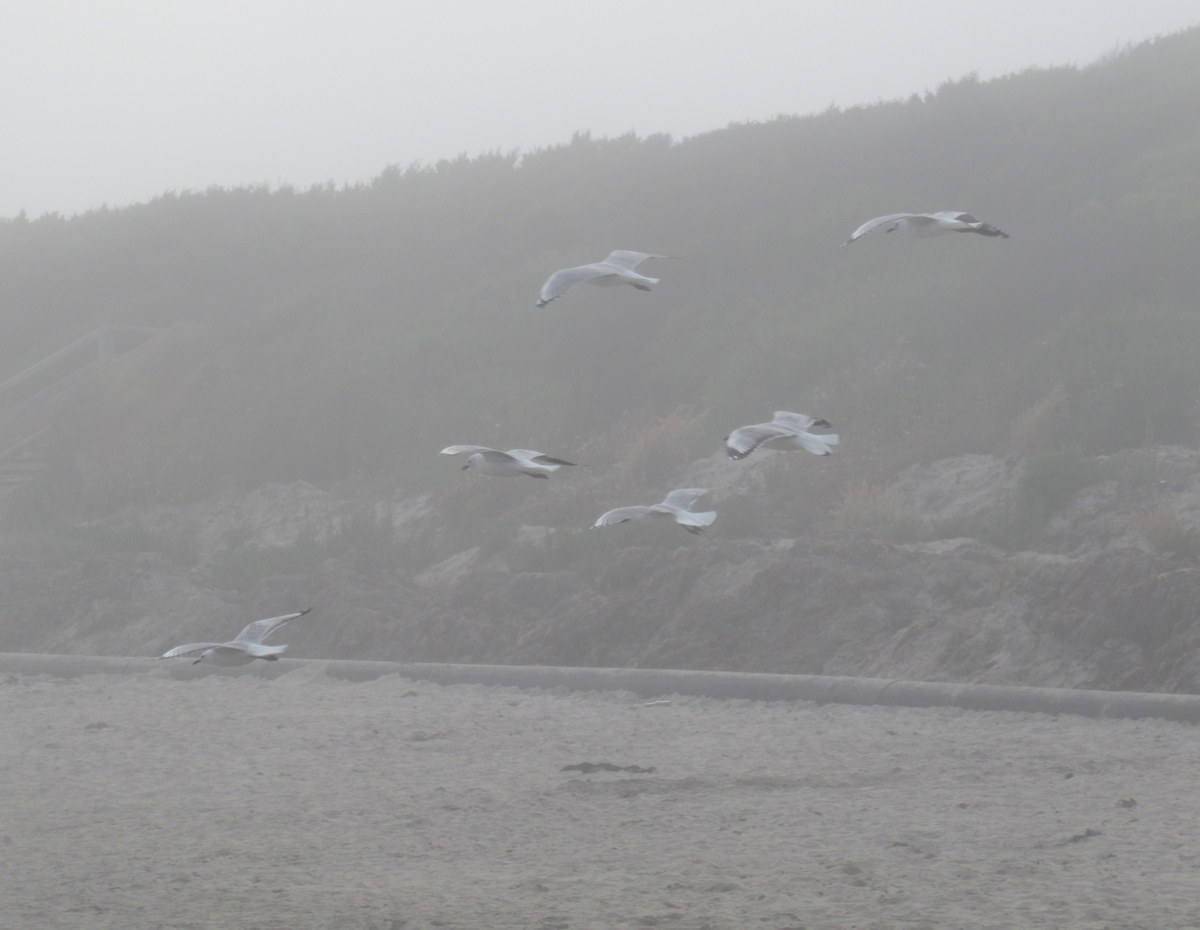 I'd planned to see another sunset, and clearly that wasn't going to happen. But there was still time to head out into the waves: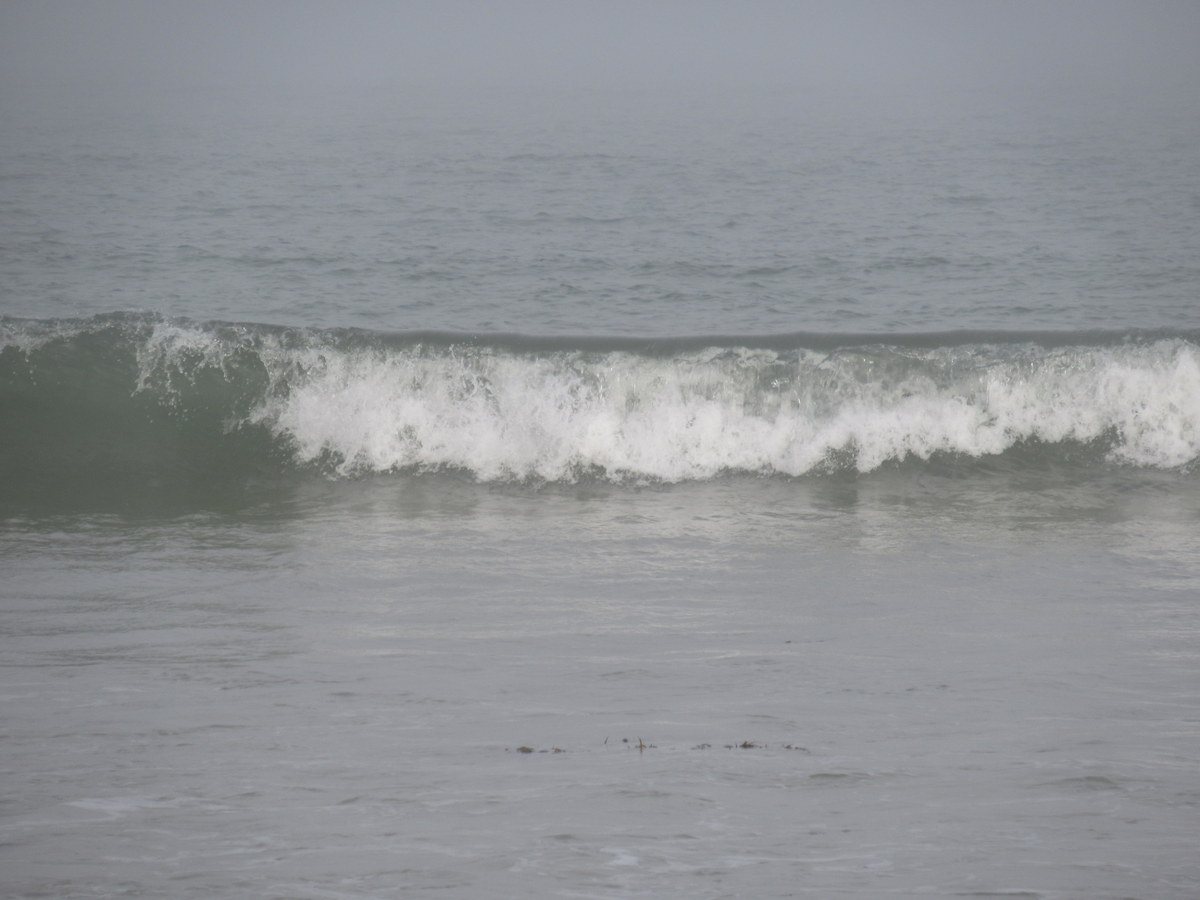 I stayed out there till almost dark, surrounded by fog and green water. No sunset colours, no panoramic views, just the waves constantly breaking and the enclosing fog.
As it got darker, others left the water. The colours of the water faded. The lights on the breakwater became visible through the fog. And looking back to the carnival showed a glow across the water. It was beautiful and powerful and private and special.
The day ends
Eventually, I dragged myself out of the water. Had a shower, then ended the day with a late dinner.
So there it was. The last day of 2022. The first day of 2023. The end of one year, and the start of the next. Two days well spent.
Not celebrated exactly as I'd planned, but a transition to be noted and celebrated. And so I was glad to have the chance to start 2023 with a bang.