Covid Diary: Working from home, one year on
Yesterday at lunch time I was out walking in my local area, and I saw some colourful autumn trees that I'd seen last year. In fact, I'd seen them on the day I first discovered my local bear hunt, shortly after transitioning to working from home for the first time ever. At the time our first lockdown was approaching, there was a lot of uncertainty, and I could never have guessed all the things that would happen over the next year.
Yesterday was also the day when my company announced plans to return to full-time office work within the next few weeks. And so, with that chapter coming to something of a close, I got to reflecting on a year past and all that I'd experienced and discovered and become.
Working from home
So how does one sum up a year of working from home? So many events, so many decisions, so many changes. And most of them only partly related to working from home.
In truth, this post isn't about working from home: It's about the changes that working from home allowed (and sometimes forced) me to make. And that is very much tied into the story of Covid-19: Not only was it the reason I was working from home, but the changing Covid restrictions also governed what I was permitted to do and what I wasn't.
So let's start with this: I never wanted to work from home. I had never sought a job which allowed me to work from home. In fact, I thought there were advantages to having a set routine that required me to get out of the house and interact with others. And yet when the time came, I recognised I was privileged that my job could be done from home, and came to like some of the benefits it gave.
So what's the post really about?
It's about coming to a new appreciation of my local area. It's about establishing new routines, then continuing to change them as restrictions and circumstances and weather dictate. It's about small joys and major disappointments. It's about resilience and hope and stubbornness. It's about climbing mountains, both physical and emotional. It's about memes and banter. It's about social distancing and sunsets and bear hunts and masks and curfews and Spoonvilles.
It's about the memories:
Admiring the full moon rising late afternoon while eating an icecream and trying to take photos at the same time.
Splashing along incredibly muddy trails in winter at lunchtime, knowing I could easily change when I got home.
Dressing up in a suit jacket and tie for one call when our team had an informal "best dressed" competition (this at an organisation with a "business casual" dress code).
Finishing work for the day, then listening over Zoom to talks by Museums Victoria about collecting the pandemic (fascinating, but a somewhat surreal experience).
It's about the small details:
Having a little more flexibility in my schedule.
Being able during lunch-time to easily collect a parcel from the post office or do the occasional household chore.
Listening to music while working (not something I've ever done in the office).
Being able to use some of my favourite photos as background images in video calls.
Eating meals and snacks at unusual hours.
Being better able to see the sun set.
It's about reconfiguring my life while continuing on the same trajectory, and about finding virtual replacements for things that give my life meaning.
It's about trying not just to survive but to thrive - in a world where options were limited but I still had some say in what that meant… It's about accepting I don't have as much control over my life as I thought, but also about taking control when I could and pushing boundaries when I thought it safe to do so.
It's about isolation. About relationships with co-workers and friends and family that were altered, but not broken. About online games played with co-workers, then shared with family members. About finding new ways to relate to people.
Feeling privileged
I've already said it, but I do have to acknowledge it again: I was privileged in many ways to be able to work from home, and I tried to be aware of it.
Yes, the transition to work from home with lockdown looming was hard, and made harder because I was sick and had to deal with it while most of my co-workers were still in the office. And yet in many ways it was the best it could be in a challenging global situation. Many people were experiencing pay cuts or losing jobs. Others who held onto essential jobs were worried about how much they would be required to go out among the general public. That even gave me a kind of "survivor guilt" early on, though I did manage to get past that (I knew no-one would benefit from me losing my job in solidarity).
However, amid the chaos I was able to sit secure in my own home and continue doing a job I was very familiar with. It was a house that I'd lived in for years, and it was in a part of the Dandenong Ranges that was both beautiful and sparsely populated. I was continuing with a project I'd already been working on for a year, with clear goals and well-known co-workers. And I was trusted, not micro-managed.
There were still deadlines and things that needed to be achieved, but the nature of the project meant I was best able to deal with the distractions and worries and lack of motivation that Covid sometimes brought. For example, I was able to take breaks near sunset and catch up in the late evening if that was what I took.
Maybe there was a little too much of this: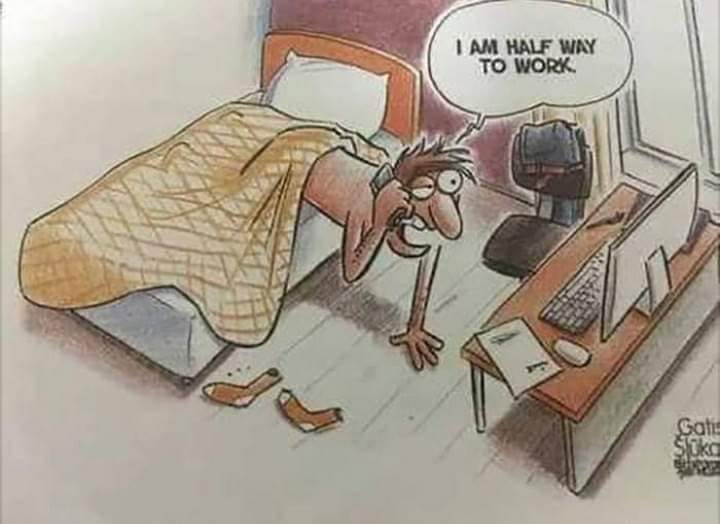 But the truth is that I did fall into routines, and routines that allowed me to cope with the uncertainty and the stress, to get the work done that needed to get done, and even to find moments of joy and connection while physically isolated. Sometimes those routines were suboptimal, to be sure, and sometimes circumstances forced me to change them, but they did seem to give me the mental space many around me didn't have. For me, life assumed a "new normal" that not everyone was privileged enough to get.
Thankful
I mentioned earlier that this entire post began with some trees: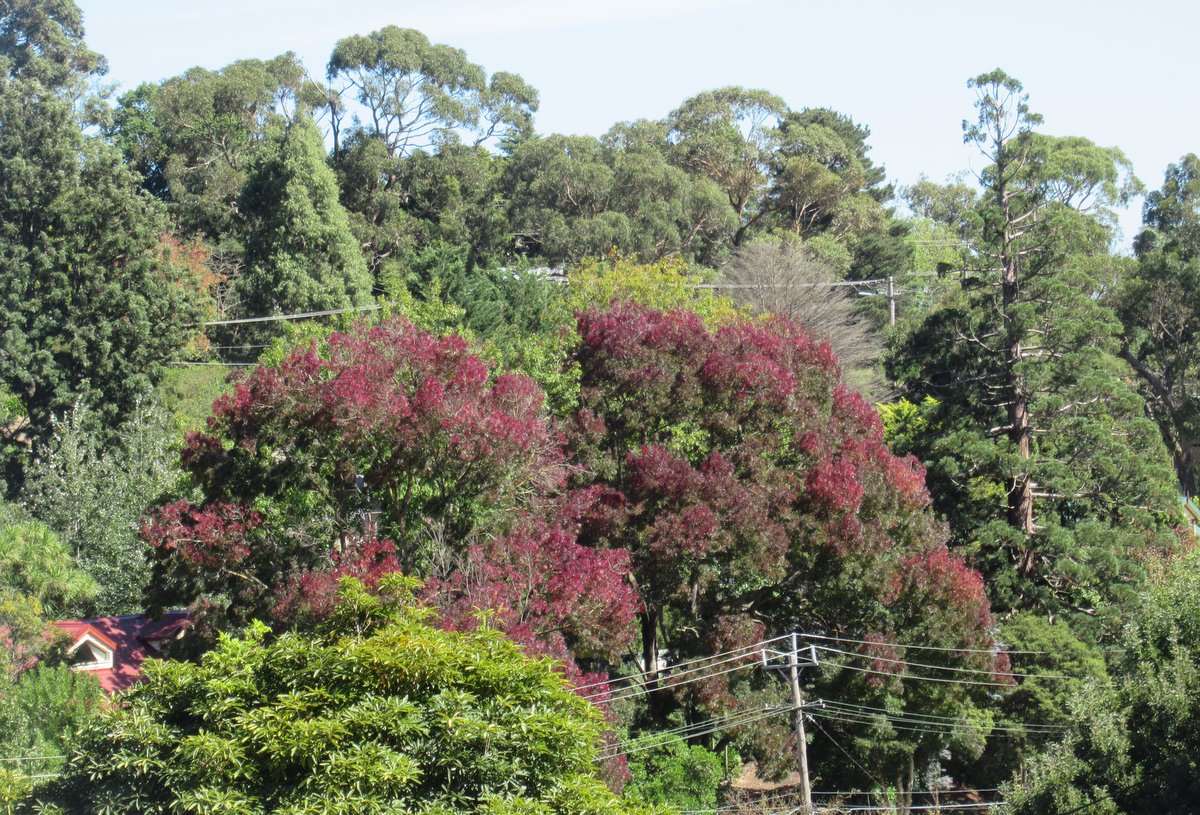 Trees that reminded me a year had passed. Trees that made me think of all the unexpected things that had happened in the past year. And as I reached the top of a hill, I realised to my surprise that my overwhelming feeling was a warm, golden glow of thankfulness - thankfulness that even threatened to bring me to tears.
It brought to mind a favourite quote from Wild:
After he drove away, I leaned my head back and closed my eyes against the sun as the tears I'd expected earlier at the bridge began to seep from my eyes. Thank you, I thought over and over again. Thank you. Not just for the long walk, but for everything I could feel finally gathered up inside of me; for everything the trail had taught me and everything I couldn't yet know, though I felt it somehow already contained within me.
I've never walked the 1,000 miles Cheryl Strayed did, but I can say this: Surviving a year of Covid-induced work from home may not sound exciting, but I'm pretty sure it has changed me more than thru-hiking the Pennine Way did. Though, given solo hiking was my most important coping mechanism, I'm pretty sure I would have walked more than 1,000 miles in that year.
Like Cheryl described, this experience has changed me in ways I couldn't have expected when I saw the first teddy bear and the first autumn leaves last year. And some of those changes I'm not yet able to put in words, while there are others that I'm probably not even aware of. The person I am now is a continuation of who I was at the start of 2020, or for that matter at the start of 2010. And yet it is surely different in some ways from who I would have been if 2020 had gone more to plan.
It's not the year I wanted. It has involved loss and restrictions, and the cost has been high, both for me and the world at large. And I don't want to ignore that. And yet I still find things to be thankful for.
I am thankful for everything I have learned and experienced as a result of Covid and of working from home. I am thankful for the things I have learned about myself and about the world around me. I am thankful to have been able to discover new things, as well as to rediscover things which were second nature in 2019 and now seem new and wonderful in 2021. I am thankful for the co-workers and family and friends, both in person and online, who supported and continue to support me through an unusual time, and hope that I was able to give them the support they needed.
To be fair, it's probably easier feeling thankful on a sunny, early autumn day when things are starting to feel more "normal". It's probably easier to look past the effect of restrictions living in Melbourne where case numbers have been low and restrictions have been easing for most of the last six months. I'm aware there are many people and many parts of the world that have been and are worse affected than me. But I still hope that for those people and places there have been some things in the last year that have been positive, even if they're only small wins.
Not just a year of Covid
To me it's important to remember that the year hasn't just been a year of working from home. Nor has it just been a year of Covid. It's been a year of my life. Those things have certainly changed the year, but they haven't completely dominated it.
Like any year, it's been a year in which I've read a certain number of books, watched a certain number of films and plays and operas, walked a certain number of walks, and done a certain amount of travel (both within my state and outside of it). Those experiences would have changed me no matter what year it was and no matter what else was going on.
From fairly early on my mantra for 2020 was that I didn't want to look back and see it as a wasted year, and I think the same applies here. The year of lockdowns and of working from home was certainly different from what I planned and hoped, but it has changed me, and hopefully for the better.
Discovering my local area
I've heard many people talking about discovering hidden gems in their local area. I didn't expect that to be me, since way back in 2016 I'd already set myself the goal of discovering my local streets. I thought I knew my local area fairly well - and I did - and yet there was still more to discover.
At first, the transition to work from home was stressful, but it also gave me something of a holiday atmosphere. It was early autumn, the weather was good, and it was still daylight savings. I could do some favourite walks after work that in normal times I'd only have been able to do on weekends. And if I timed it right I could see sunsets I wouldn't otherwise have seen. In fact, one of my earliest Covid posts was a defence of that practice.
But I don't know that that by itself would have sustained me for a year. Others talked about gaining extra time from getting rid of the commute, but for me it just meant things that I needed to replace. Using the train gives me both exercise (walking to and from stations) and reading time. And when it's catching a train I don't have a problem walking the same route every day, but if it was voluntary I don't know I would have been able to keep such a routine without variety.
I needed to be systematic - which for me meant walking most days - but I also needed variety. During the first lockdown that meant discovering new places and routes. During the second lockdown I decided I would make sure I visited every street and trail within 1km of my house at least once. By the end I'd extended that to 2km and visited the vast majority.
Some of those streets I may never visit again, but I found places of interest in others that led me to re-visit them more frequently. Setting a goal like that also gave me something to aim for and a sense of accomplishment.
I may not have gone so far afield as I did on weekend walks in previous years, but that year of working from home allowed me to see the Dandenong Ranges more frequently and in more different weathers and moods. One of the best things has been discovering many more places to see and photograph sunsets from. That came in handy tonight when I revisited a few of them and found a curiously banded red sun: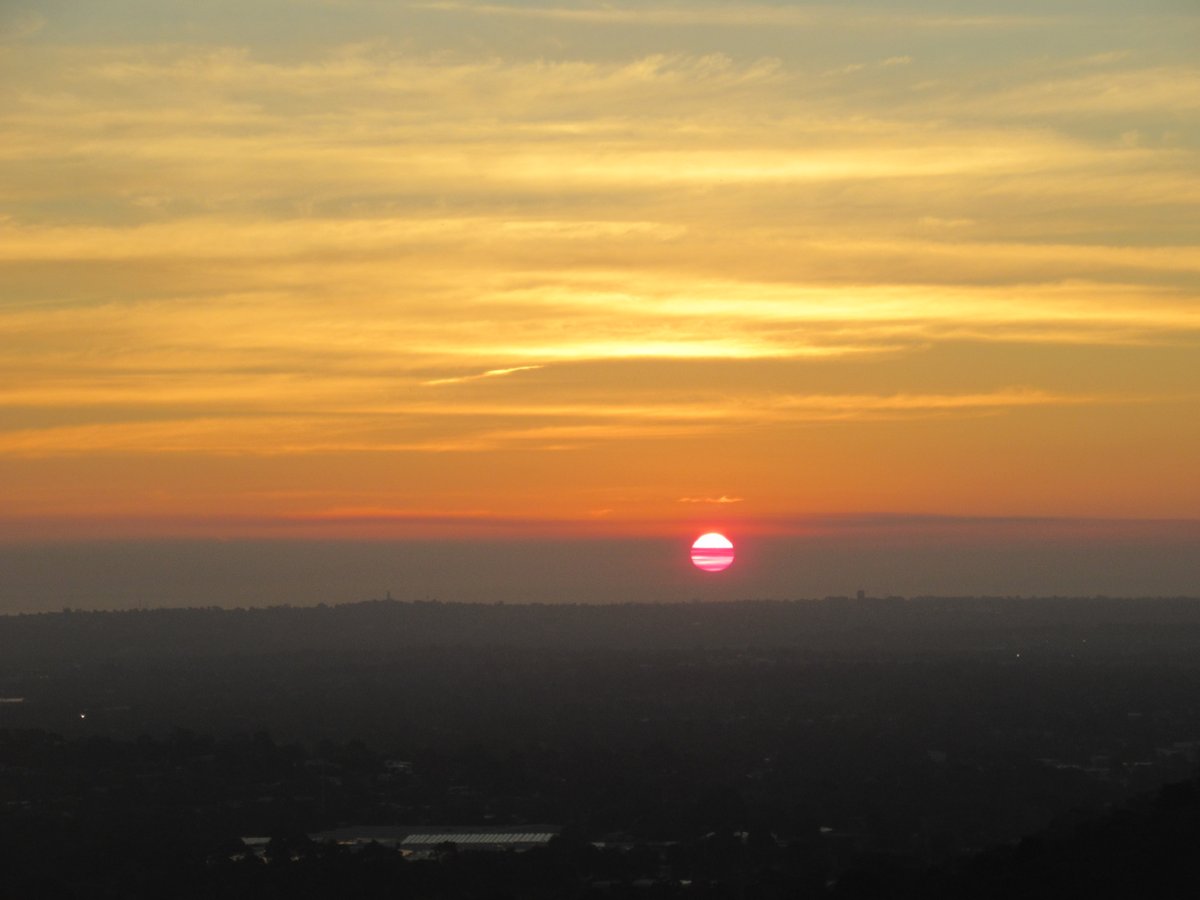 There have also been the places where I got food - the parmas, the pies, the ice creams. Most of them are places I'd already visited on weekends in previous years, but doing it more frequently allowed me to try more varied options and also to become known to the staff (for example, it was noticed on Saturday when I was at one such place but not so hungry and ordered something completely different from normal).
Returning to the office will allow me to return to the places I know and love in that area, but I will miss the time spent in my local area. However, while there is a sense of loss, I also find there's a thankfulness for the opportunities and the experiences that I've had here.
As I get older and experience more of the world I find more places that I come to love. Often they are places that I feel at home in and that bring me peace. I can't revisit all of them every day, every week, or even every year. But I can still value the experiences I've had there and what they've taught me and how they've influenced me.
Yesterday, I was reminded of Frodo's closing words to Sam in The Lord of the Rings:
You will read things out of the Red Book, and keep alive the memory of the age that is gone, so that people will remember the Great Danger, and so love their beloved land all the more.
Years back, I chose to live in the Dandenong Ranges because I liked it, but I didn't realise how much variety I would find in it or how I would come to love it. And I certainly didn't expect that working from home during a pandemic would prove to be a great opportunity to explore it further and value it more. And so I want to convey my love of the Dandenong Ranges, and of Melbourne - and also of travel.
I know that many of the Covid diaries I've promised have ended up stuck in draft, but reading that quote again makes me more determined to try and figure out a way to capture and share my experiences. Somehow.
One of the things Covid has done is to shine a light on things that are important to us, both far away and close to home, and I think we will need the remembrance of how quickly and unexpectedly things can change and how we should value the opportunities we have.
Looking forward to the next chapter
Working from home for a year has been an interesting experience. We adapted. We kept things going. That's a success.
However, as I said at the start, I never wanted to work from home. There are definite advantages to being forced to get out of the house, to talking with others, and to having a better separation between "home" and "work". Returning to the office is also another step on the road to "normal" - a road that I hope in due time will lead to safe inter-state and international travel.
Of course, this is still the world of Covid. Everything is provisional, and there are no guarantees and no time for complacency. I said restrictions here have been mostly easing in the last six months, and it's true - and yet, we were in lockdown last month. Brisbane is in lockdown right now.
Australia still has a moral obligation to allow Australians overseas to return (in my opinion far more than we are currently permitting) and even with hotel quarantine that still introduces risks. We hope that vaccinating key workers makes it harder for the virus to break out of quarantine, but for all I know I might be back working from home in May.
For now, though, I think the planned return to the office is a positive step. There will certainly be things I miss about working from home (as well as things that I won't miss…), but overall I feel more thankful for the positive experiences I've had than sorry I'm now losing them.