The current Covid-19 epidemic is changing the world. Many places, including Victoria, are discouraging non-essential travel and going into increasingly strict lock-downs. Here's my personal perspective on where hiking fits in to this.
A time of unprecedented shutdowns
I can't remember any shut-downs on this scale in my lifetime. Governments the world over are trying to reduce the spread by reducing the number of people who come into close contact with each other: Social distancing, discouraging or outright banning of non-essential travel, closure of non-essential businesses, cancellation of major and minor events, and just encouraging people to stay home as much as possible.
This, we hope, will control the spread of the disease. However, it has many negative side-effects: significant job losses, significant restrictions on what people are able to do, increasing feelings of isolation, and increasing risks associated with a sedentary lifestyle. And many of these restrictions could be in place for months.
In principle, this is where hiking can come in. It gives a break from being stuck in the house, allows people to be out in nature, and provides exercise. I'm not sure it has the same risks as gyms and other fitness places (closed because of the risk of coming into contact with others or with the germs left on gym equipment).
However, given bans on non-essential travel, should we hike at all?
Responsible Covid-19 hiking principles
Thinking about what I have done over the past few weeks, I guess I've considered the following principles:
Walking in nature may not quite be essential, but it is highly important.
It is not essential to walk any specific track.
It is not essential to walk in groups.
The entire healthcare system is under significant stress, so we shouldn't add to its burden.
I'm now working from home. This means less time spent commuting - but it also means I lose the exercise running to and from the train station. I want to be able to exercise and experience nature - but I don't want to increase the risk of spreading Covid-19.
For me, what this has meant is that I have continued to hike, but have tried to stick close to home and choose times and places where I'm less likely to encounter other people.
It helps that the Dandenong Ranges is a beautiful area, and I'm familiar with most of the trails there. There are a few high profile trails and gardens that have been closed because of high expected visitor numbers. However, there are many other trails where I know I'll meet few, if any, people. I also have the option to just walk the streets.
A couple of weeks ago, I was sick with something. I had no reason to believe it was Covid-19, and didn't meet the eligibility criteria for testing. However, I tried to restrict contact with others.
Some days I didn't feel like going out of my gate at all (which is very unusual for me), but when I did I only walked in the local area near or after dark. I didn't meet people, I didn't have a cough or runny nose, and had no reason to touch any surfaces at all while out walking. So I don't believe I was at any risk of spreading what I had.
Since then, I haven't been trying quite so hard to meet nobody, but have still tried to pick less frequented streets or trails and less common times and to keep my distance. When meeting or passing others, I choose one side of the track, and they almost always choose the other. I wash my hands before and after the walk, and try to avoid touching surfaces, etc. while walking.
Not completing the bucket-list
Those choices are mostly the combination of my first two principles: I want to be out in nature and active, and believe I can do it in a responsible way that doesn't increase the spread of the epidemic. But that doesn't in any way require me to visit my favourite trails across the city, let alone in other parts of the state.
If you happen to have a particularly special trail on your bucket list, now is probably not the time to visit that trail. The further away it is from your house, the more likely it wouldn't be responsible to visit it.
Over the years, I've done a lot of walking in Melbourne's often-crowded CBD, as well as the gardens surrounding it. They are beautiful gardens, and I'd like to walk through them again. However, I typically travel there by train, and I don't think at this time it's responsible to use public transport for non-essential travel. It's just another place where you might be exposed to the disease or increase the spread.
I believe it would be safer visiting more distant trails by car than by public transport. I personally haven't done it yet, though I may if the shutdown stretches into months and it remains legal.
If you drive straight to the trailhead, use no facilities, maintain social distancing while hiking, then return home, I think this should have a similar level of risk to doing it in your local area. However, it does increase the chance of coming into contact with other people from a different area. You may need to get fuel more frequently, buy food from a takeaway place near the trail, or buy groceries at the destination rather than in your local area. And each of these are extra opportunities to spread the disease.
The risk increases when spending multiple days away from home. For example, taking a holiday over the Easter break is a great Aussie tradition, as it's one of the last available holidays before winter. In past years, I've visited popular places in Victoria like the Alps and the Grampians during Easter. There are beautiful walks there, some of which are not very well known.
However, you would still be living in a different community, coming into contact with people from across Victoria, and generally increasing the chances of serious spread. Our Prime Minister and state premiers have strongly discouraged people from taking Easter holidays this year, and I'm sadly inclined to agree.
Doing an overnight hike increases the risk in a similar way. For example, I belong to a Pennine Way walking group, and the general feeling there is that it might be possible to walk the Pennine Way now, but it's not a good idea. I certainly wouldn't do it, because I relied on accommodation every day as well as pubs and grocery stores for food. Right now, all pubs and some of the accommodation is closed.
However, even if they were open, it probably wouldn't be responsible for me to walk the Way: It would significantly increase the number of communities I would interact with, as well as increasing the risk of spreading the disease from place to place along the Way. And that is why some of the accommodation providers have chosen to shut and some of the hikers have cancelled their Pennine Way plans for this year.
Hikers who are wild-camping and carrying their own food might be OK, but they would still be vulnerable if conditions changed or they injured themselves.
Not group hiking
I almost always walk alone, so the third principle I gave doesn't really affect me much. Going walking with people that you are already living with and in regular close contact with probably won't contribute to spreading the disease. But for anything else, it's probably not the time. If, for example, the guidelines were to allow ten people to walk together, it's not the time to go walking with your nine best mates from nine different households.
Not getting injured
To the best of my knowledge, hikers don't go out with the deliberate goal of hurting themselves. However, all walks contain some risk of injury, and more strenuous or complicated walks will have more risk. At this time, both hospitals and rescue services in remote areas are more likely to be under stress. This is one of the reasons why, for example, the British Mountaineering Council has recommended putting climbing and hill-walking on hold in favour of walking locally.
This isn't about personal freedom, but about the good of the entire system in a time of unusual stress. Many people have had elective surgery cancelled which, while "non-essential", might have made a great difference to their personal quality of life. It's certainly possible to injure yourself on the most innocuous-seeming local walk - but try not to take their place because of your own particular brand of adventure hiking.
One final thing to consider when hiking in Australia is snakes. I've walked many places around Victoria in the last few years, and can only remember seeing one snake - but yes, it was poisonous. Be careful, where possible observe social distancing with any snakes you happen to meet, and try not to get bitten.
Everyday hiking
I wrote a few years ago about the value of everyday hiking, and I think it's highly applicable now. I'm pretty sure I've walked the circuit walk near home more in the last couple of weeks than I had in the rest of 2020.
However, while my area in the Dandenong Ranges is certainly beautiful, I've had great experiences walking locally in every place I've ever lived or worked. It can give exercise and contentment and joy, so long as you are willing to take the time to appreciate the things you see, both large and small. And if you haven't tried it, now might be a good time.
In the last week I've been working at home. It is somewhat isolating, though I did get an unexpected and bedraggled visitor one lunch time: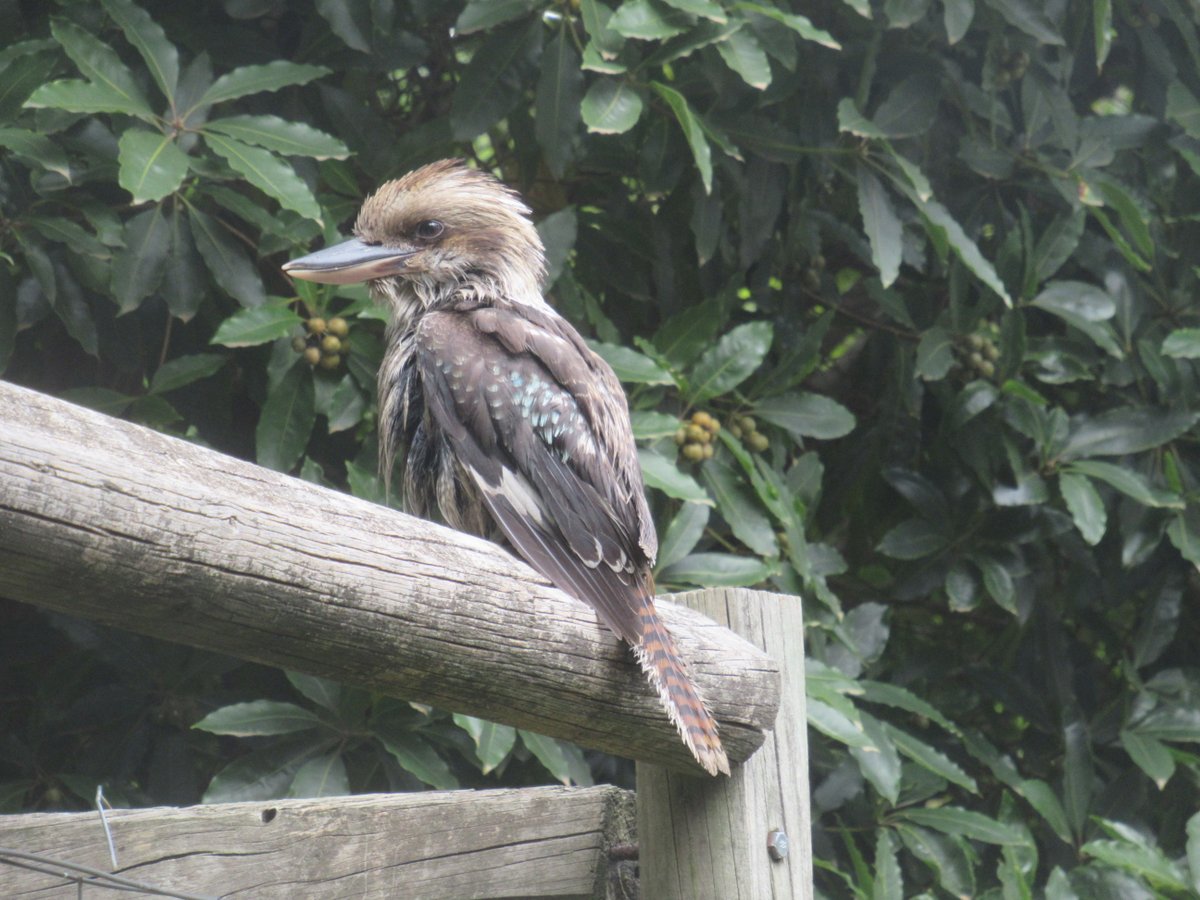 In the evening I've been going walking (or running) near sunset, camera in hand. The other day, for example, it was walking to Ferntree Gully Quarry and watching the sun slowly sink below the horizon: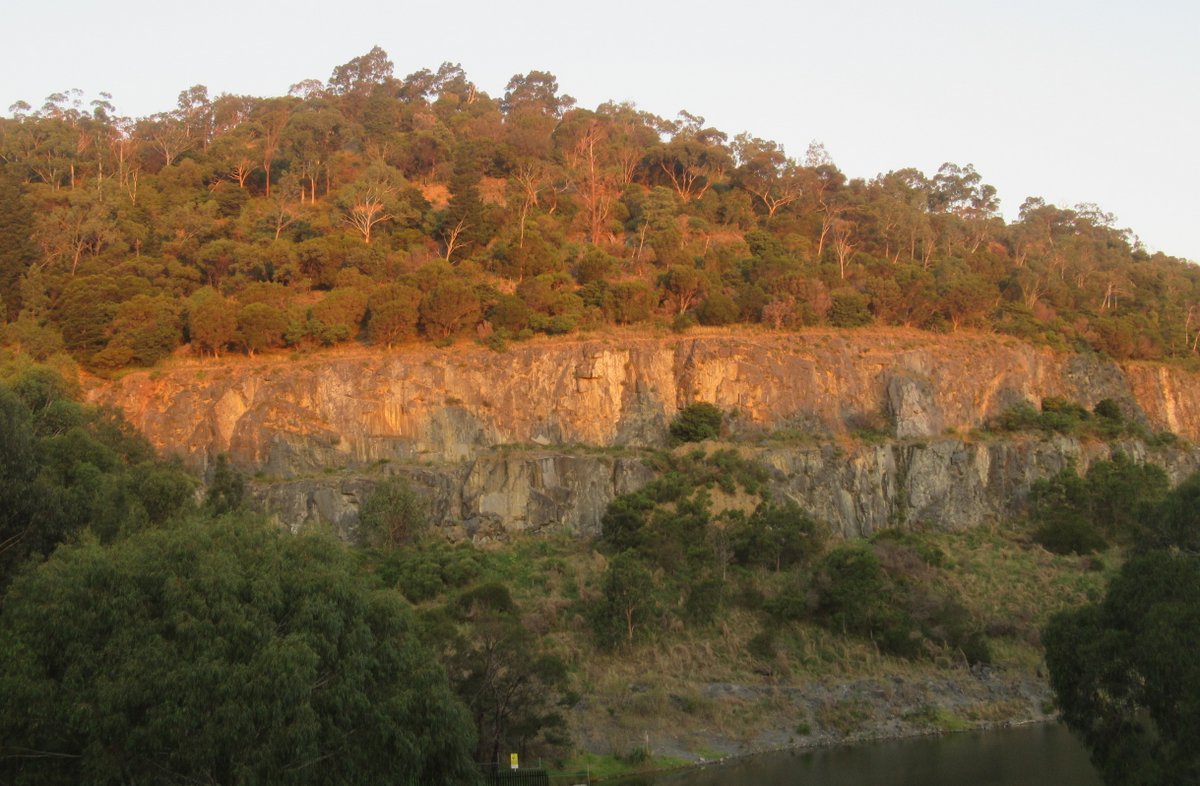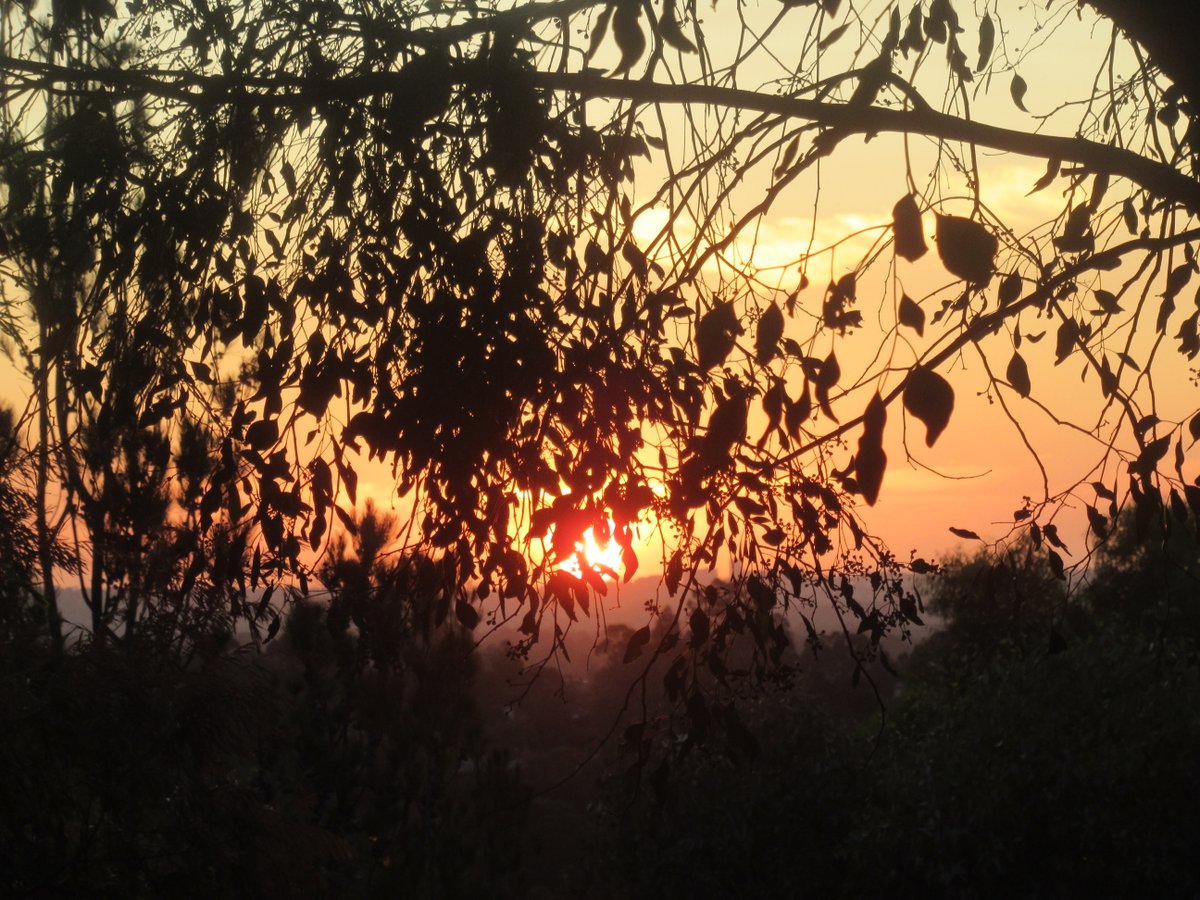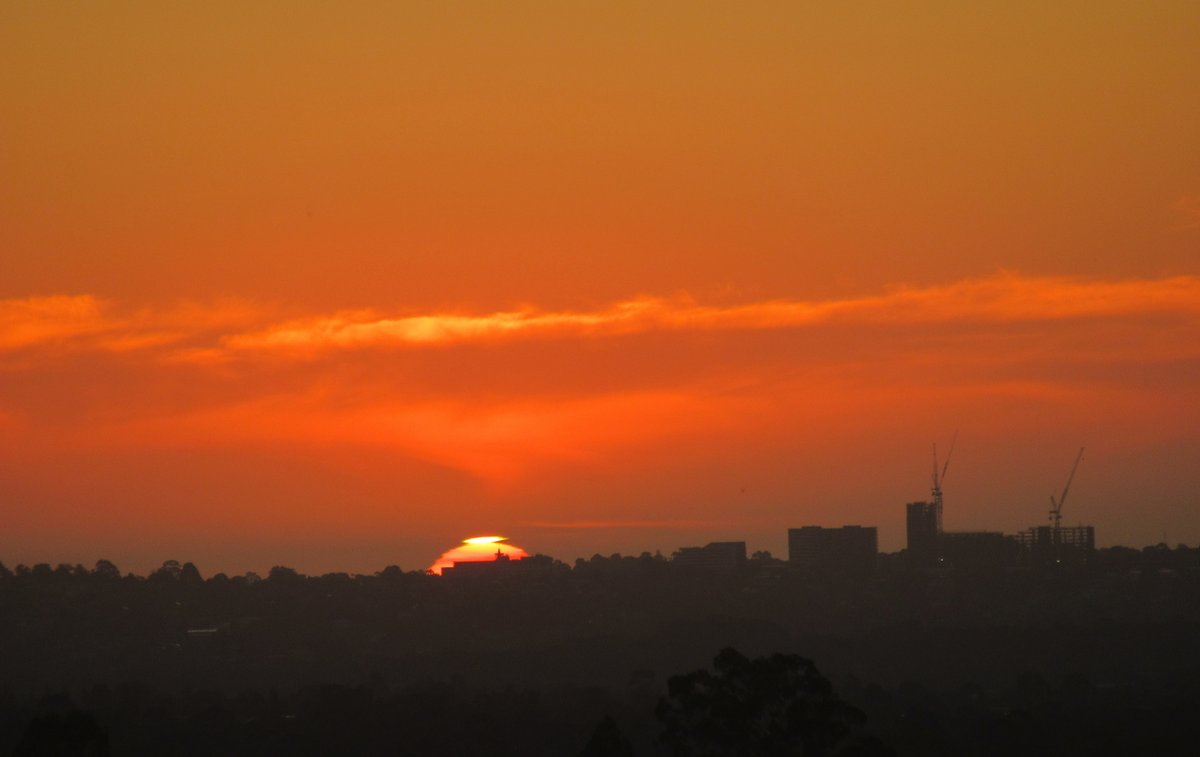 After sunset, I was then able to return through the Dandenong Ranges in the growing darkness. The street lights were stretched out beautifully below me, I saw very few people, and those I did see I had a good excuse to avoid.
This evening I saw several wallabies within a few hundred metres of my house. Near sunset is one of the best times to see wild animals anyway.
Your garden and your local area is probably different from mine, but I'm pretty sure there are things to see and do. Or at least that if I was there I'd find things to do.
But is it really permitted?
I saw a radio program here today answered the question "Can you still go for a bushwalk?". Their response seems broadly similar to mine, though they also correctly note the massive message confusion between "make sure you observe social distancing when you go out" and "just stay home, OK?". I believe my approach is both currently legal and does not increase the risk of transmission. However, restrictions are continuing to change rapidly, so keep an eye on it.
I think humanity the world over is recognising that this is a stressful and unusual time. Where possible, it is important for people to have a way of getting exercise, a way of getting out of the house, and a way of reducing stress. Walking in nature does provide exercise and can be very relaxing.
There are places overseas with a higher level of lock-down than Victoria which still allow residents to walk in the local area. Some have even waived park fees to encourage people to get out in the great outdoors (preferably maintaining appropriate social distancing…).
It is possible for this to be abused in ways that will increase the spread of Covid-19. If so, it may be necessary to be more restrictive. After all, most of the beaches around Melbourne have had to be closed because the rules weren't being followed, though at least in theory walking or swimming at the beach should be able to maintain the appropriate social distancing. However, I hope Victoria will continue to allow walking - in the local area if nowhere else.
Hope for the future
Covid-19 has significantly changed our lives, and will continue to change them. However, while we may only be able to communicate electronically, we still have family and friends. We still have natural beauty and sunsets and wild birds and animals around us.
Coronavirus or no coronavirus, the spring flowers will still bloom in the northern hemisphere. The autumn leaves will still turn colourful in Melbourne. I hope to be able to admire those leaves - walking by myself and trying to avoid other people. Just like last autumn 😉.
The other day, I happened to be looking at my photos taken while walking from Grindelwald to Lauterbrunnen in the Swiss Alps in 2016. I had been planning to return there in August. At this stage it would almost certainly be irresponsible for me to visit Switzerland then, and it may not even be possible to do so. It's a disappointment.
However, there are still memories. There are still photos. And there are still plans for the future. As I wrote last time with the World Cup final, I think to keep going through difficult times we need hope that things will get better one day.
I hope one day to go back to hiking in different places across Melbourne, across Victoria, across Australia, and around the world. But now is not the time. In the meantime, maybe I can finally finish sorting through my photos from New Zealand last year 😉.
EDIT, 31/03/2020: As expected, the rules changed the day after I finished this post, this time mostly to limit public gatherings to two people rather than the ten I mentioned above. However, "exercising" was mentioned as one of the reasons for leaving home, which I think includes hiking as above.
I was walking in the Dandenong Ranges in the evening both yesterday and today. The weather was beautiful, and I saw more people in the Dandenong Ranges than I expected, mostly in couples. However, we still kept our distance while passing and had very limited time in any kind of proximity.