When I was younger, a hike was a major endeavour. Usually, we were somewhere far away from Melbourne, exploring a place that was different from our usual environment.
While I appreciate long and difficult hikes in different parts of the world, I've also come to appreciate the beauty in everyday walks and in places closer to home. And I'm sure that there are many who could likewise benefit from short breaks spent walking.
Regular walks
On workdays, I walk to and from the railway station, and I usually take a short walk at lunch-time (which limits me to nearby places). On weekends, I am able to drive far and wide, but often it is easier to just start walking from my house. This can mean walking in the Dandenong Ranges, or it can mean walking to the local shops, exploring neighbouring suburbs, or just wandering the streets. What could be interesting about that?
Changing seasons and views
Consider my walk from the station: I follow exactly the same route day after day, and often one day looks like the next. But, as I walk along the street, each garden I pass is a new display: some vibrant with colour, others fairly nondescript. Since each garden owner has chosen different plants, there is plenty of variety, and it's all completely free.
Over the course of the year these displays change significantly. In the autumn, first one tree decides to change its colour and drop its leaves, then another. In the spring, there are plenty of plants and trees that start putting out leaves, grow flowers, and produce fruit. It's now the end of December and well into summer, and I continue to see new types of flowers.
And it's not just limited to plants: There are often birds around singing, and even a simple puddle can contain beautiful reflections. At sunset I can see a variety of colours and patterns that are different every night. At night I can see the moon or the stars in the sky above, or walk to nearby viewpoints from which I can look down on the street-lights stretching out before me.
Christmas also brings new sights, both at daytime and at night. During December I saw toy soldiers, crackers, Christmas trees, and other red and green Christmas decorations. And earlier this week I wandered through my suburb after midnight and found many different displays of Christmas lights, from simple flashing lights to elaborate displays of Santa, stars, snowmen and reindeer.
None of these things require elaborately organised hikes or distant objectives. They just require me to take a break during a busy day and to pay a little more attention to what's around me as I walk past.
I've included below a few photos from everyday walks I take near my work and my home. While few of my readers will have exactly the same places nearby as I do, in my experience there are usually places of interest around.
Near work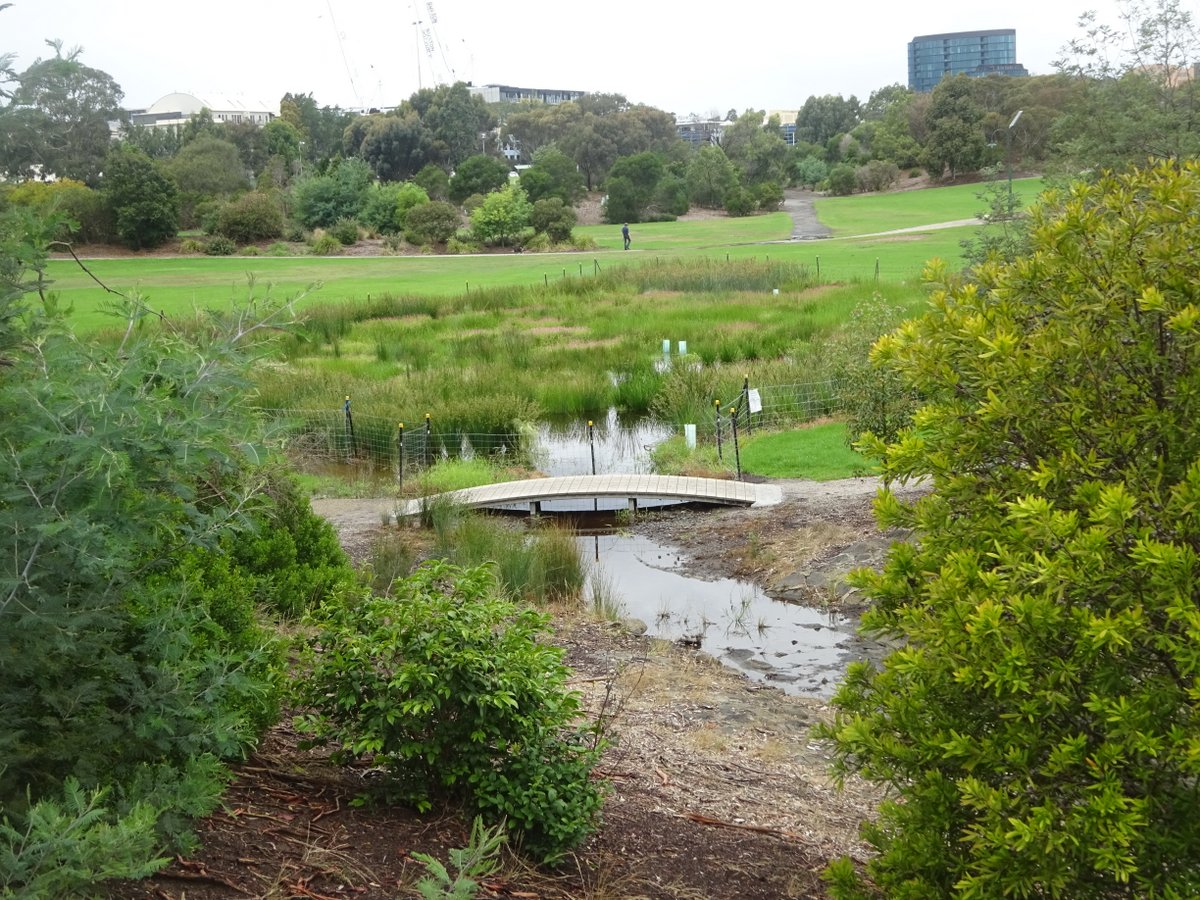 As this is the closest park to my workplace, I visit it most weeks. It has gravel trails running through it, with several ovals and some native vegetation, and it's very popular with dog walkers. On the skyline there are towers and cranes to remind you how close it is to urban life, but if you kept your eyes down you could imagine it was further away.
The park also doubles as a drainage area. The wetland area I pictured was planted earlier this year: before that, the entire area was one big puddle in winter. Finally, to add a little local colour, for a while after the bridge was built, there was a helpful sign "Beware of Trolls! Cross at your own risk."
Near home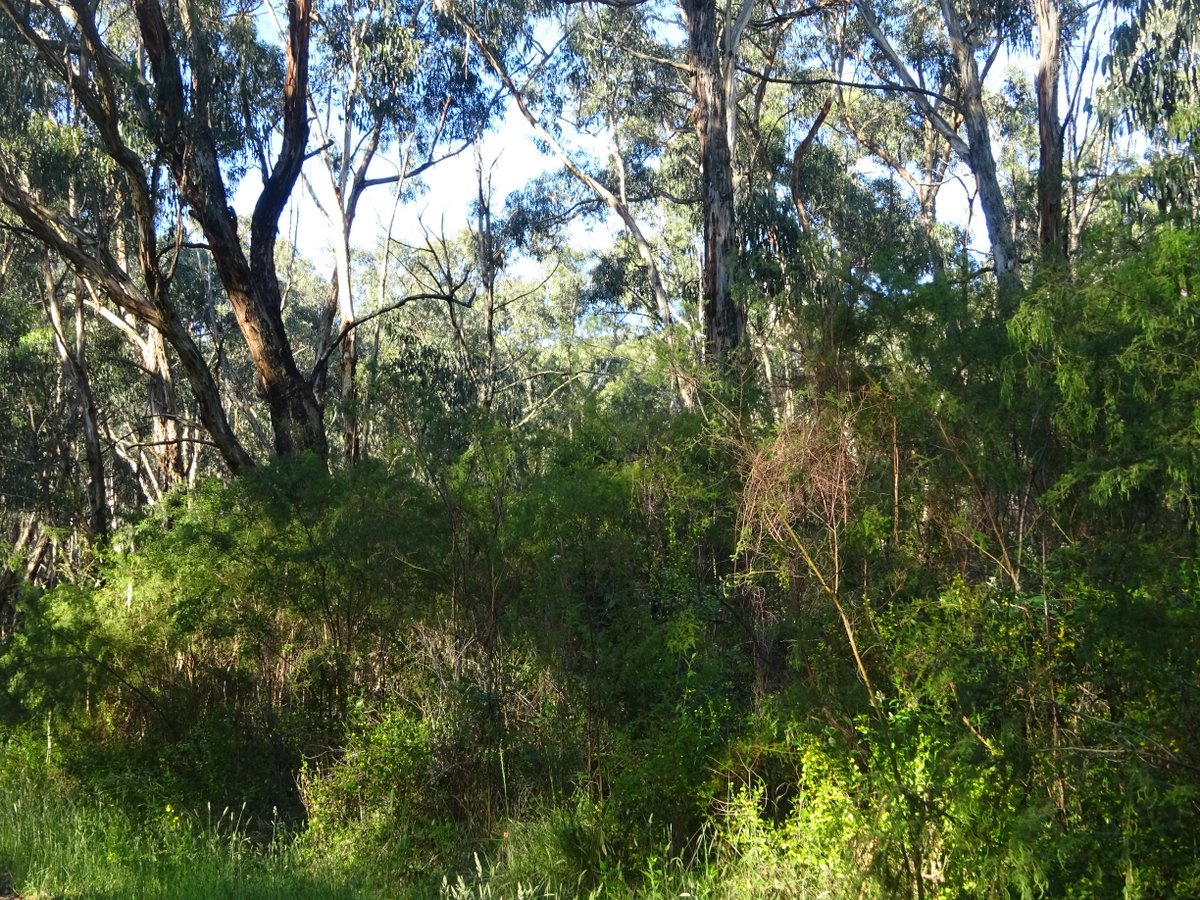 I have a simple one kilometre circuit walk from home which goes through the bushland pictured above. While it may look like bushland stretching off into the distance, you can actually both see and hear the traffic from the nearby road. There are plenty of birds in the area, particularly crimson rosellas, and I've seen the occasional wallaby.
Sunset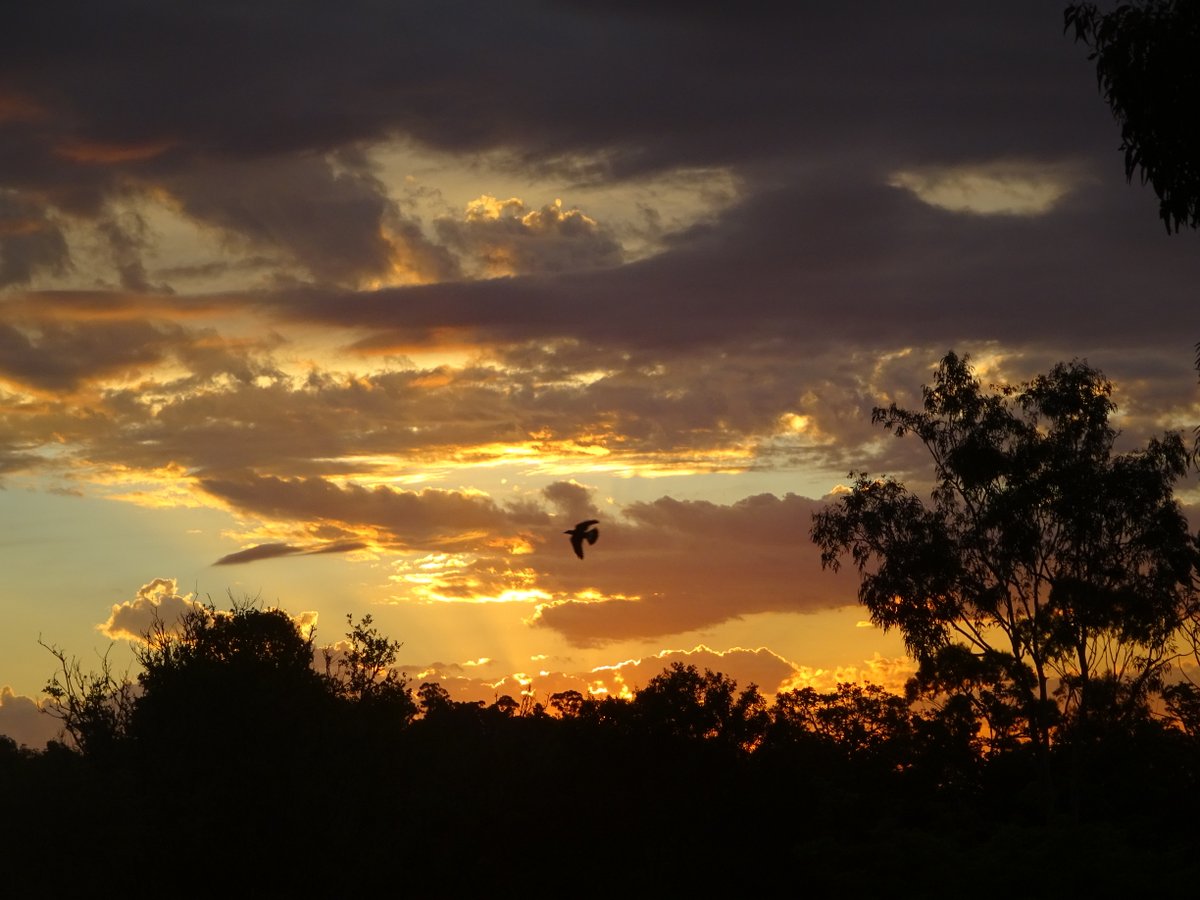 This picture of a bird crossing the clouds was taken from the other side of the road from my house. I have seen beautiful sunsets in many places, but sometimes it's nice just to be able to take a quick break to admire the sunset without having to go anywhere particular.
So how do they measure up?
I'm not trying to say that I'm special because I have some nice places close to me. After all, they are pleasant spots, but if I were able to travel anywhere in the world instantaneously, I doubt I'd be visiting these places.
With ideal transport, you might find me in the Grand Canyon or Zion National Park, or maybe in the Swiss Alps. You might find me wandering by the Thames rather than by the Yarra. Closer to home, you might find me in the Australian Alps or in the Grampians. You might find me admiring the power of water, whether it is watching a mighty waterfall or admiring waves crashing against a rocky cliff.
The problem with each of those places I've listed is that they are much further away. It takes time and effort to organise a visit to them, and it can be expensive and difficult fitting it in with work.
The reality is that unless something significant changes in my life, it is likely that I will spend over 90% of it within an hour's drive of my home. I treasure the times when I do get to visit and hike in amazing places, but I want to be able to see beauty in the everyday, not just on special occasions. Sometimes a ten or twenty minute break right now is more helpful than the plans for an amazing getaway in six months or a year.
And it's not like there's nothing to see. I think that if for some reason I were only able to hike in places that I could reach on foot from my house or from my work, I could be content with that. Sure, I would miss the snow-capped peaks, the waterfalls, and the waves. But even in a few square kilometres of Melbourne suburbia or of the Dandenong Ranges there is plenty of variety to discover.
Conclusion
Hiking is one of my main hobbies, and it takes a lot of time. I really wouldn't recommend anyone to take the longer hikes I do unless they have that passion for hiking. But I think many people would benefit from taking more short walks near their home or office and watching the seasons unfold.