Brave British Bazballers meet Accomplished Aussie Ashes-holders
It was about this time last year that we first heard about Bazball. The English Test cricket team had had significant away losses to both Australia and the West Indies, but now they were at home with a new captain, a new coach, and a new approach.
At first it seemed like it couldn't last, but then it turned into an almost unstoppable winning machine: In the lead up to the Ashes they had won eleven out of thirteen matches under Ben Stokes and Brendon McCullum, while also seeing some truly remarkable individual and team performances.
Now the approach faces perhaps its sternest test, against the old enemy and newly minted World Test Champion Australia. The team that last week dug deep and took first blood.
What actually is Bazball?
Brendon McCullum ("Baz") was a fast scoring New Zealand wicketkeeper-batsman and later specialist batsman and captain. He's now the England head coach. The aggressive style of play England adopted under him and captain Ben Stokes was dubbed "Bazball" early on, and the name has stuck though England don't like it.
In the popular imagination (including mine) it's most commonly associated with fast run scoring and insane fourth innings chases. And there has certainly been some of that.
Last English summer Jonny Bairstow and Joe Root in particular pulled off some unlikely run-chases. Then in Pakistan they beat a long-standing record for the most runs on the first day of a Test, before ending up finishing their innings with 657 at over a run a ball. At the start of this month against Ireland they again topped 500 at over a run a ball. These things just aren't done.
As it happens, McCullum has the fastest Test century, while Stokes has the second-fastest Test double century. While both were great innings, neither of them led to victory. Part of what Bazball has changed is making the fast scoring a team effort, not just the province of a few fast-scoring individuals.
After the last English summer I thought England's success were most due to home-town advantage and the incredible batting of Jonny Bairstow. When they were going to tour Pakistan and NZ with Bairstow injured I thought they were setting themselves up for a fall. But no - things haven't always gone their way, but they've kept up the spirit admirably. Harry Brook emerged as a new century-making machine, while Root, Pope, Duckett, and Crawley all made centuries at a quick pace.
It's not just about the batting, though: An underrated part of the Bazball approach is actually getting 20 opposition wickets. Fast scoring may give the bowlers more time to get wickets, and it may set up a large enough target to place scoreboard pressure on opponents, but without those wickets the best you can get is a draw. England have used attacking fields and gone for wickets over economy. And that's mostly worked to put pressure back on opponents.
Then there's one final thing the Bazball revolution has been about: Good people management. England have been very strong on creating an environment where players are trusted to know their own game and to play their best for the team rather than just their individual results. And that has meant an environment players can (and have) succeeded in, with significant team success following.
They've been aggressive, fearless, perhaps even foolhardy. But the net result has been doing the things their opponents don't want them to do, and as a result successfully wrong-footing those opponents. And in the process producing some outrageously entertaining cricket.
Can they repeat that on the mighty Australia?
A matter of rankings
As far as team rankings go, Australia is second in the world, England is third. There's not a lot between them.
One of the talking points in the lead up to the first Test was that Australia had the three top-ranked batsmen: Labuschagne, Smith, and Head (the first time in my life-time the same team has had all three top batsmen). It was an interesting stat - but in practice that was leaning on past history: Smith and Head had recent form from the WTC Final against India, but Smith has been below his best for a while, and Labuschagne a long way below his best. It was actually Usman Khawaja who had probably been Australia's best batsman.
After the Test, well, England's Joe Root is back to #1 (well deserved - without the weight of captaincy he has been one of England's best batsmen during the Bazball era, and was certainly England's best batsman in the last Test). Labuschagne, Head and Smith drop to 3, 4 and 6 respectively - but Khawaja rises to #7.
With the ball, both Australia and England have multiple top 10 bowlers. England have three to Australia's two, and they include bowlers who are particularly effective in home conditions.
Playing with the rankings like this is just a numbers game - but I think it also reflects the potential both sides have. Both have good batting and good bowling - and they've also both won enough difficult Tests to get a top 3 team ranking.
Some necessary pessimism
Being an Australian Test cricket fan at home has mostly been a good deal the last twenty years. There have been some series defeats, perhaps most notably to India, South Africa, and England. But Australia have won the last three Ashes series in Australia by 5-0, 4-0 and 4-0. And only significant rain prevented them from taking a clean sweep against both South Africa and the West Indies last summer.
Australia away is a different story. There have been some credible victories - but also some embarrassing defeats. In England, Australia haven't won an Ashes series since 2001. Every time before they come they talk a good game - but they've ended up falling short time and again.
This has actually already happened in India this year. First in 2017, then in 2023, Australia talked up the up-coming India tour as the time they were going to conquer the Final Frontier. In 2022 on the subcontinent they'd won the series against Pakistan, and drawn the series against Sri Lanka. They had the right batsmen, the right bowlers, and they were all prepared for a historic victory. And then in short order they were 2-0 down. They did then take away a creditable win and a draw - and beat India in the WTC Final for good measure - but the wait for an away series win against India will continue.
Part of the problem is that in England, as in India, games can be lost in a session. It's happened a number of times to Australia in the last few Ashes series, and some of the bowlers who caused it then are still around and in good form.
Talk is cheap. A first match win is encouraging, but I don't think I'll be confident of an Australian series win until I see them take their third victory. And past history shows I'm right to be a little skeptical of that happening.
Even 2019 confirms this. That time, Australia were actually arguably the dominant team, and had a good chance at being 2-0 up with two to play. Then a Ben Stokes masterclass changed the scoreline to 1-1, and Australia had to be content with drawing the series 2-2 to retain the Ashes. Better than they'd done since 2001 - but still not quite enough.
My opinion at the start of the series was that 2-2 would probably be a fair result (though unless there was a tie, that would mean the first draw on Stokes' watch). Australia might have come in with a lot of hype, but a strong England has home advantage and thus probably a marginal edge (I still think that true even after last week's win).
Don't get me wrong: I'd love Australia to win. I'd also love for them to prick the Bazball bubble. But last Test was not that.
Australia dug deep for a commendable win after the teams had been fairly level for most of the game. It wouldn't be a surprise for that result to be reversed in the next test. Or for either team to find a dominance lacking in the first Test.
Three Bazball defeats (and counting)
Bazball now has three defeats to its credit. Though those three defeats have to be set against eleven victories and no draws (in itself quite a remarkable stat).
Only one of those three defeats has really been decisive: South Africa thrashed England by an innings in the fifth Bazball Test. Thrashed them at Lord's, actually - the same ground as the second Ashes test will be played on. South Africa then lost the next two Tests badly to lose the series.
At the time, that match was supposed to provide the template for beating Bazball. South Africa had the bowling to challenge England, so the story went - but they didn't really have the batting to back it up. Australia potentially has both.
England have actually lost two of their last three Tests, but they weren't really significantly outplayed in either of them. Against New Zealand, England took a seemingly decisive first innings lead. Then on follow-on a spectacular Kane Williamson century set England a tough run-chase, which after many twists and turns they lost by one run.
Last match was fairly level most of the game. Sometimes one side nudged a little forward, sometimes the other, but either side could easily have won from almost any point. On the Australian side particular credit was due to Usman Khawaja with the bat and Nathan Lyon with the ball, as well as to captain Pat Cummins digging deep with the bat to take Australia over the line in partnership with Lyon. But England also had contributions which deserved victory, perhaps most notably with the bat from former captain and newly crowned #1 batsman Joe Root, and with the ball from long confirmed Australia-worrier Stuart Broad. So, as I've said, it really wouldn't be a surprise for the Lord's Test to be equally evenly matched but with a fifth day England victory.
I hope Australia deliver at least another two Bazball defeats. I also hope that at least one of those will be the decisive Bazball-repudiating victory I've been waiting for since last English summer. The match in which English aggression leads them into a first innings collapse they can't dig their way out of. Or in which the strong Australian batting line-up absorbs everything the English bowlers can throw at them and piles up a match-winning score anyway. Or maybe one of each for good measure. But I'm not confident of it.
However, if we get flattened one match by a fast-paced first innings 600, or by an improbable fourth innings run chase, I'm not sure I really mind - so long as it's entertaining. Since they started, it has felt like what England is doing shouldn't work - but it mostly has. They deserve credit for that. I'm in awe of what they've achieved, and of what they may achieve in future. But I still want Australia to take them down a peg or two with slightly more conventional Test cricket.
Khawaja, Bazball player extraordinaire?
For this series, England have dropped Ben Foakes, their wicket-keeper and most reliably old-school batsman, for Jonny Bairstow, one of their most prominent Bazball poster boys. On paper, this was probably a reasonable decision - he provided useful runs at speed, though he also missed some chances behind the stumps that could have proven decisive.
But remember, Bazball isn't just about speed of scoring. It's also about trusting players to know their own game and do what's best for the team. Even Ben Stokes has been known to score slowly when the situation demanded it.
And when put that way, that's exactly what Khawaja has done for Australia since his brilliant Covid-assisted return at the start of last year. He's shown that he understands his game well, and he's playing exactly the role Australia trusts him to play. Last test he played with calm, soaked up the pressure from England, and deservedly took the Man of the Match for his role in Australia's win.
So does that make him a great Bazballer? Maybe that would make the idea of Bazball meaningless. Or maybe it just adds extra nuance. I'm not sure.
Australia does have players known for scoring fast and so seizing the advantage from the opposing team, perhaps most notably David Warner to open and Travis Head in the middle order. Khawaja isn't among those players. Nor for that matter are Smith or Labuschagne, though both have the potential to score fast. Instead, all three are known for batting deep once they get in. Australia will find swift centuries helpful if they come - but if key batters can bat deep enough and for long enough, they probably won't need to score fast. Just wind England up, then leave them to fall apart making the pace any way they can.
To me, this is the real point: Australia have made it clear that they're not going to try and out-Bazball England. Instead, they'll trust their own game.
They made some unpopular decisions in the first Test, most noticeably with defensive fields, and I'm sure they'll make more unpopular decisions. Probably some of those decisions won't achieve what they're aiming for, either. But Australia know what they're facing, and they're going to win or lose on their own terms rather than let England dictate the one true way of playing Test cricket. The likes of Ollie Robinson may talk up England's moral victory, but Australia are busy chasing actual victories.
On to Lord's
Lord's Cricket Ground is really the home of cricket. So when I was in London in June 2016 (almost exactly seven years ago), I made sure I took a tour. It certainly looks lovely: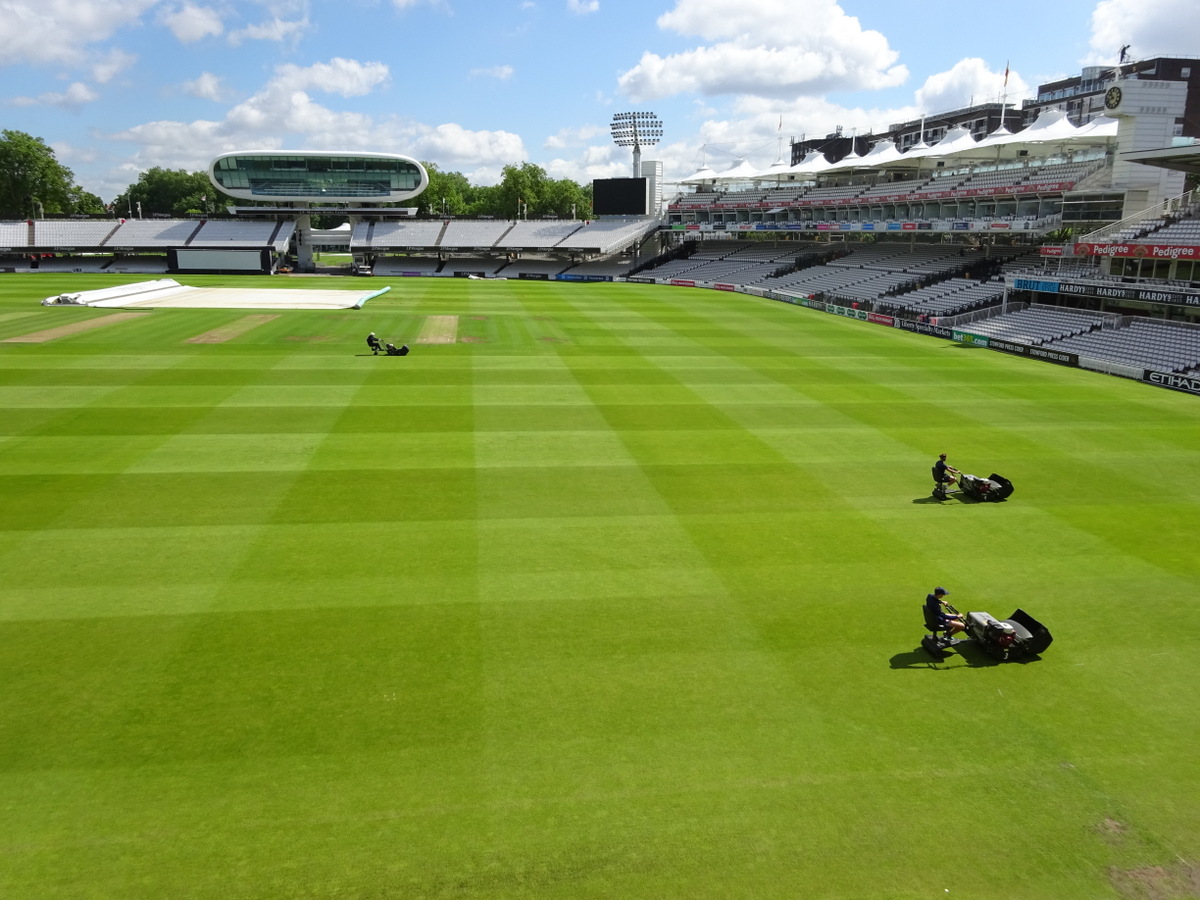 That was also where I first saw the actual Ashes (then held by England):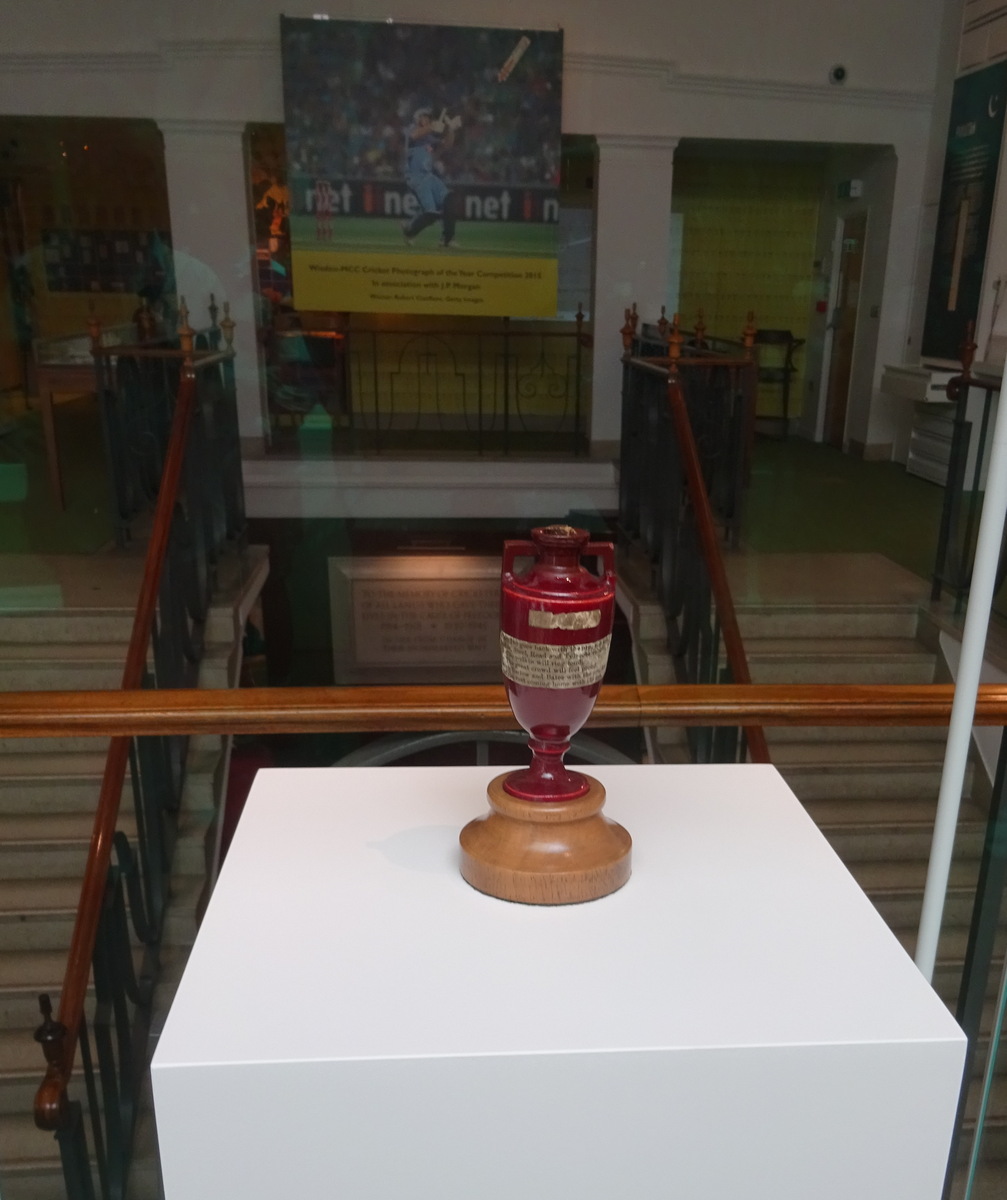 At the time, Smith was one of the most recent entries on the Honours Board with his maiden double century. He was then in the middle of his purplest patch (four consecutive years with over 1,000 Test runs averaging over 70). Like I've said, he hasn't quite reached those heights again (though he was close in the 2019 Ashes tour). But he's still a force to be reckoned with and an automatic selection.
I'm sure he'd love to put himself on that Honours Board again. And so will the other Australian batsmen and bowlers.
Some of England's batsmen and bowlers did against Ireland at the start of the month. But I'm sure they'd similarly love to appear again. Playing for the team or not, an entry on the Lord's Honour Board is a meaningful achievement. And I suspect that goes double if it's in an Ashes Test against the old enemy.
So far, it looks like there's not a lot of rain expected for the match. And so long as we can avoid long delays there will probably be a result.
Australia have the ability to replicate their victory, just as England have the ability to avenge it. Either way it will be hard work.
Bazball or no Bazball, we will hopefully see a tight contest between two sides with good batting, good bowling, and very different approaches. Australia have the series lead, but England have many wins in the last year and a slight home advantage. As always, I support Australia, but will be happy to acknowledge and applaud a good English win. And even more happy to applaud moments of English brilliance in another Australian victory 😛.