Covid Diary: The importance of hope
Last week, I went to a concert for the first time in nearly a year. Indoors, no less, and with masks. And in 2019 that wouldn't have been a significant event, but coming now it got me thinking about hope.
Something to hope for
I first saw these concerts advertised back in July, just after Melbourne had gone into a second lockdown. The situation was uncertain, case numbers were rising sharply, and I didn't even know when I'd next be able to see family and friends. Thinking about an in-person concert seemed like a luxury.
However, I decided to get a ticket anyway - largely because of the hope it offered. It wasn't till February, and I had no idea what the situation would be by then, but I really hoped it would be better.
I told myself in advance that if, for whatever reason, I felt it wasn't safe, I just wouldn't go. Maybe I'd be able to get a refund, maybe I wouldn't. However, to me the real value of the ticket was as a reminder of the hope - hope that lockdown wouldn't last forever, and that times would improve.
Not a return to normal
"Won't it be great when things go back to normal?" Probably you've heard it. Perhaps you've said it. I've certainly said it, and I've heard plenty of other people saying it too.
I do think it's a good long-term hope. Even here in Australia, where Covid-19 is under fairly good control, Covid-19 controls and restrictions prevent me from doing many of the things I enjoyed doing in previous years. However, I think it's important to be able to mark other improvements.
From the start the "return to normal" message has been fairly simple: We'd get a working vaccine, everything would go back to normal, the end. I think the reality will be more complex and challenging. From early on I remember hearing the warnings that vaccine development and approval can take a long time, that most vaccines fail in clinical trials, and that even approved vaccines wouldn't be perfect. The virus seemed more stable than, say, the flu virus, but it continued to mutate, and some of those mutations could make it more difficult to control.
Progress has actually been better than I expected, and some of the vaccines seem to have higher efficacy than I expected, but there's still a long way to go. Manufacturing doses, distributing them worldwide, and then getting them actually injected in enough people is a massive operation. And over the last couple of months specific mutations have been in the headlines: Do they make the disease more infectious? Do they make vaccines less effective?
Basically, though, we're a year in, and could be waiting a long time for "normal". Hope is good, but it has to be tempered with a little realism. Unrealistic hopes will just lead to disappointment.
However, there are things that we can look forward to now.
Pushing boundaries after a lengthy lockdown
On that July day, restrictions were slightly looser than they had been during the first lockdown. I would have to keep working from home and be unable to visit family and friends, but had already developed coping strategies. What I couldn't know was that, with numbers continuing to rise, restrictions would get tighter in August. The lockdown lasted 112 days - nearly 4 months - and at times it felt like it would never end.
There was a nightly curfew. A 5km boundary. A one hour limit on time spent out of doors exercising. Mandatory masking both indoors and outdoors, with very limited exceptions. And, perhaps most infamously, a "Ring of Steel" separating Melbourne from the rest of Victoria.
I think I was in a better position to deal with it than many, but one of the things that helped was hope. There would come a time when different activities that I was missing would be once more safe and permitted. I couldn't know when that time would be, and it would be different for different activities, but I planned to be ready for those times.
Typically in spring I would visit a number of our public gardens on different weekends, admiring the new leaves and the flowers. A couple of those gardens are within 5km of me, so I visited them during lockdown and kept lists of the ones further afield I wanted to visit. That meant that when the limit was extended to 25km I was ready to take advantage of it. By the time the limit was removed altogether I'd visited those parks on my list within 25km, and so was free to focus on the remaining ones.
Family time
However, it wasn't just time spent alone in the great outdoors. I hoped to spend time with family in person rather than electronically. Like so many things about that lockdown, it took longer than expected, but finally the time came when outdoor gatherings were permitted.
For us, that meant a family picnic at Pound Bend on Halloween. We hadn't met for months, so there was much talk. There was food. There was French cricket. There was even a resident Aussie food-snatching demon: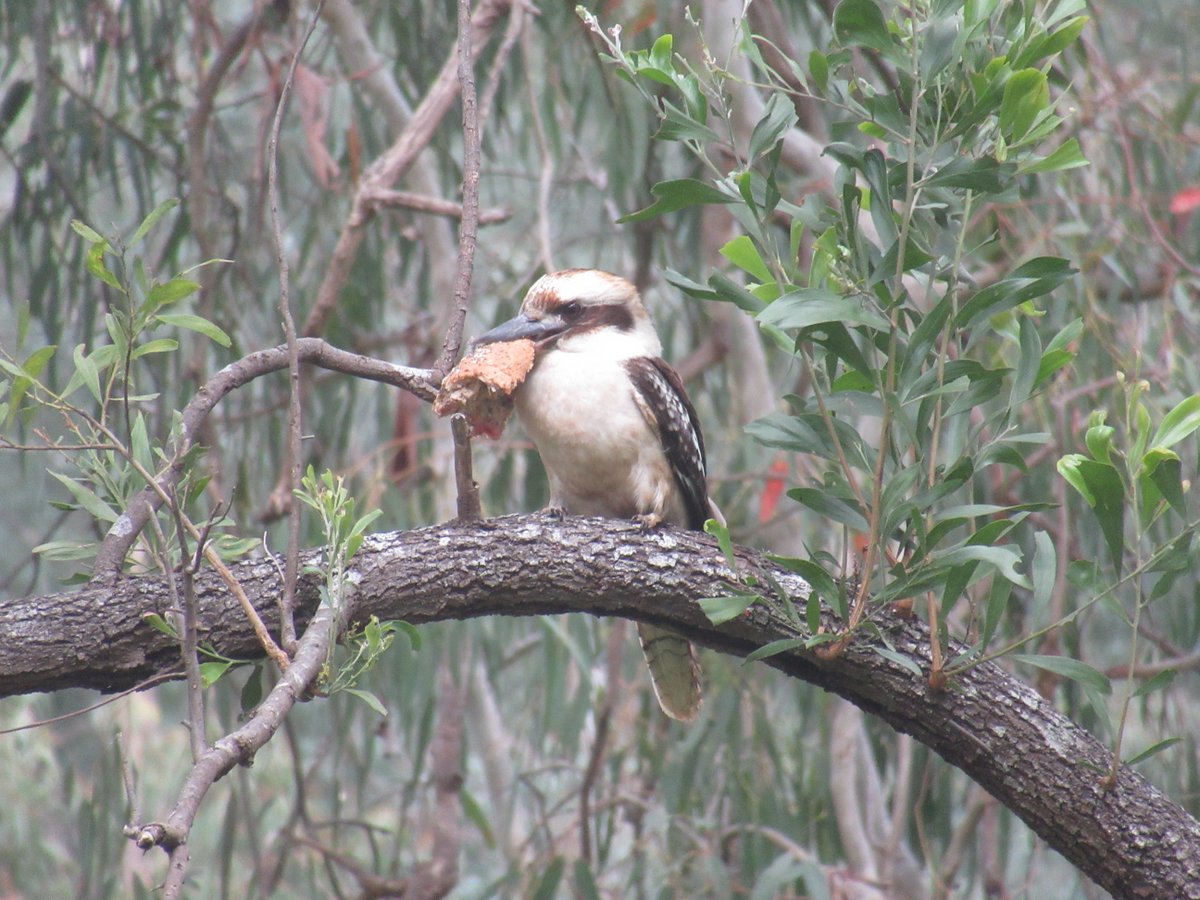 Later, we were permitted to have those gatherings in people's houses. That meant family dinners. Playing board games. Watching movies. Having birthday parties.
It may not have been exactly the same as it was, but it was pretty close…
Dining in at restaurants
Then came the time when the local pub re-opened for meals. Since my brother was also working from home, we were able to have lunch there one day. Yes, we had to pre-book and then on arrival register our attendance for contact tracing, capacity was much lower, and masks had to be worn on entry (though obviously not while eating). But it was still nice to safely return to something which at the start of the year had been routine, but had since become unutterably scary.
Getting to this stage did take longer than I hoped. However, what that meant was that by the time it was permitted case numbers were much lower and I was much better mentally prepared to turn hope into action. Re-opening after the first lockdown had been a little quicker, but I'd found that meant I wasn't actually ready for some of the opportunities I'd been hoping for.
Regional Victoria and interstate
However, it wasn't just metro Melbourne parks that I had been missing. Usually in spring I try to at least get long weekends somewhere in regional Victoria, and I hoped to be able to do the same after lockdown. That time didn't come till mid-November, when I went camping with my brother in the Victorian Alps. I was obviously so disconnected from "normal" that I managed to leave half my tent at home, but fortunately it all worked out in the end. Mount Buller was a long climb, but it was well and truly worth it to be back in our Alps, probably my favourite area in Victoria.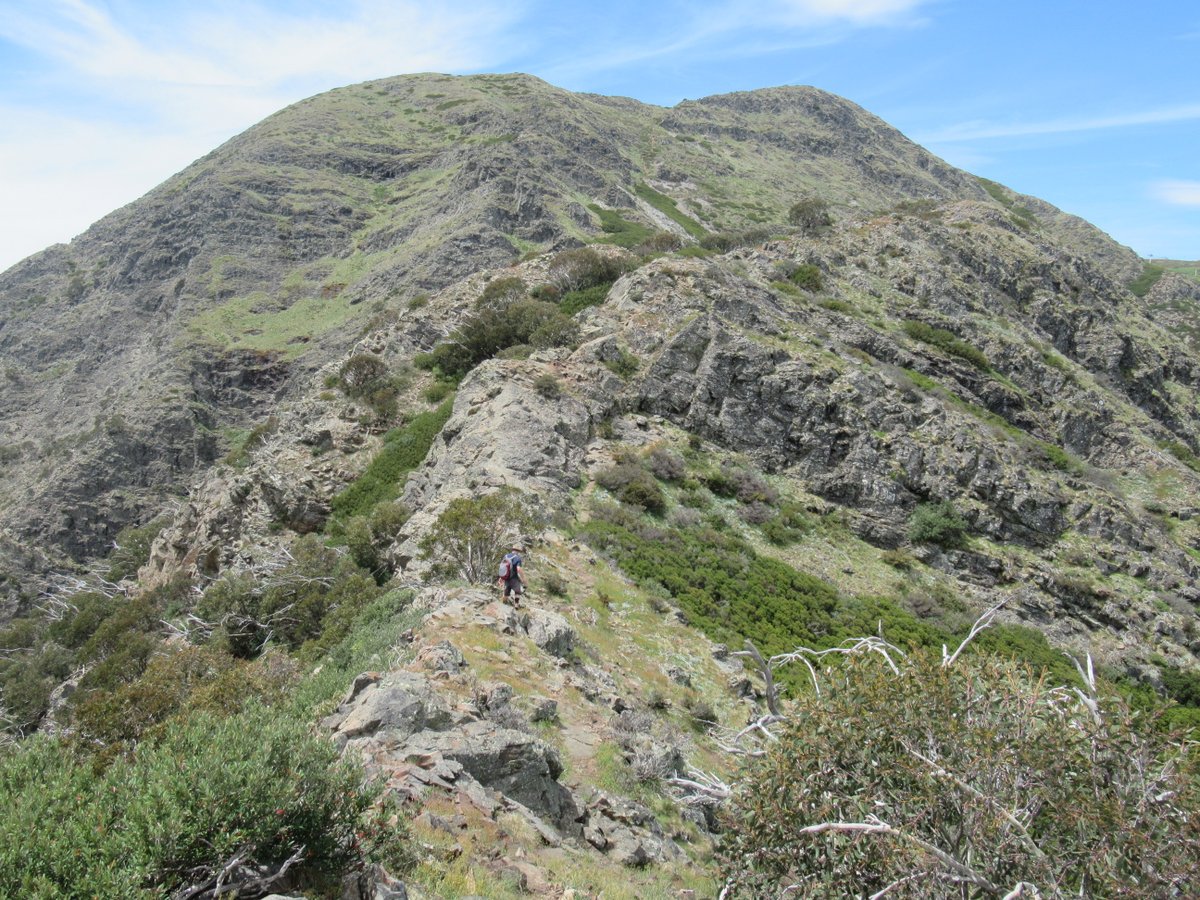 However, like many people, I'd taken hardly any leave during the year, and so had been hoping for a slightly longer trip once conditions improved. In particular, that weekend had given me a taster and I wanted to spend more time in the Alps. Since the interstate borders re-opened in preparation for Christmas, I decided to take a week off in early December, skip the Christmas / New Year crush, and visit the NSW Alps as well as the Victorian Alps.
In particular, my hopes coalesced around returning to Kosciuszko, Australia's highest peak. It was four years and ten months since I'd first visited it, loved it, and said that I'd be back within five years. What better time to make good on that than in a period of relaxed restrictions during a global pandemic that confined me to Australia?
At the start of the year I'd hoped to see snow in the Swiss Alps. I couldn't really hope for snow in the Australian Alps in December, but I still wondered whether it might happen. And snow did fall the morning I visited Kosciuszko. Visibility was under 100m in places, and I soaked my boots walking over miles of snow-covered trail, but I had a great time.
I had reached the highest point in Australia, and it looked very different from when I'd last been there: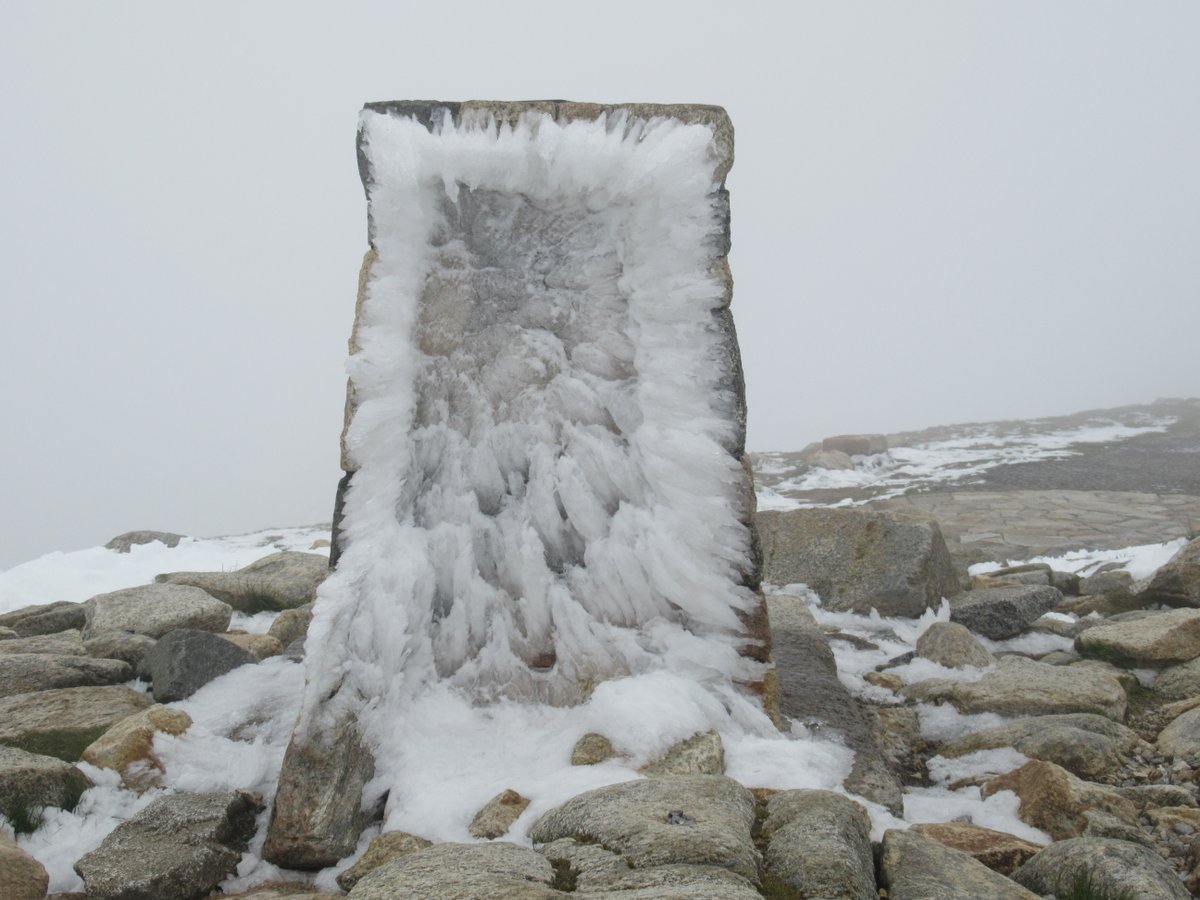 That trip had given me something to look forward to, then hope turned into a reality even better than expected. For me, that was the literal pinnacle of 2020, and one of two emotional pinnacles (the other one being the Women's World Cup Final - as it turned out, the last "normal" weekend of the year).
There had been a Covid-19 case in Sydney a few days before I left Victoria, which made me a little nervous. Not because I was particularly worried about catching the disease (I would be hundreds of kilometres from Sydney and was only going to be in NSW for a few days), but because state borders had been playing strange tricks all year.
I expected Victoria to treat the borders more proportionately, and so I crossed the border, had a great few days, then returned to the Victorian Alps for the rest of the week (yes, both Feathertop and Bogong lived up to expectations). However, as it turned out, I got back the day before Greater Sydney was declared a red zone, and a mere three weeks before the New Year's Eve when Victorians had to dash back from summer holidays as all NSW was declared a red zone.
A special day
That brings me back to the concert last week. Back in July, I'd been willing to skip it if I didn't consider it safe. However, the day marked the second time we'd reached technical elimination after 28 days of zero community transmission, so I felt it as safe as anything can be.
In the end, I decided to take the whole day off and visit the city for the first time since March. There were skyscrapers and fountains, gardens and museums. Previously, I'd been visiting the city most months, so during lockdown I'd definitely been hoping when the time was right I could return. And, since Museums Victoria were talking about keeping visits short, I visited two museums and the next door IMAX.
Perhaps those things hadn't seemed so special when they were a regular occurrence, but they do now. Yes, the day was something of a fulfilment of hope and a return to normality, but it was also appreciating all over again why I like those things.
Among other exhibits, the Immigration Museum had a pop-up Covid-19 display. I was particularly struck by this crocheted sun: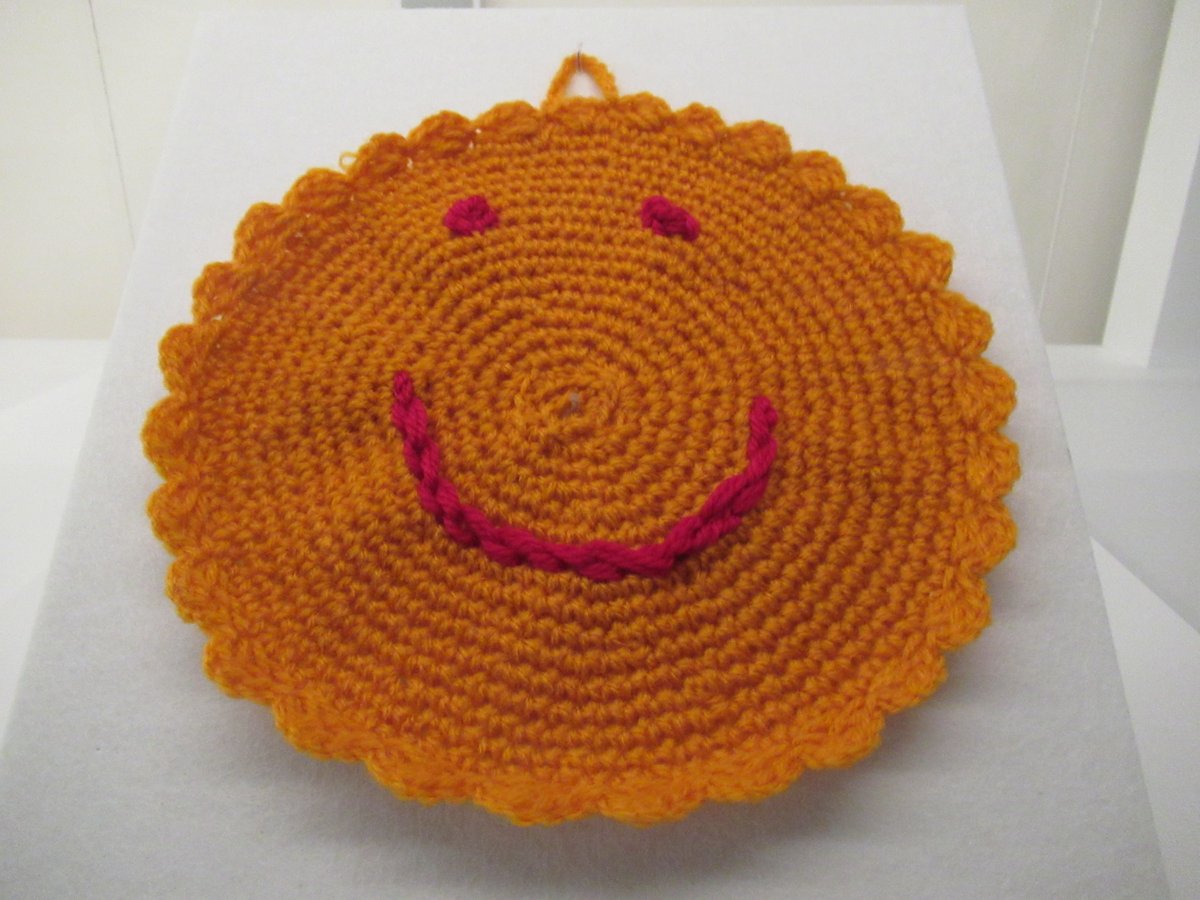 It was made in April 2020, during the first lockdown, to give a message of hope: "The sun will shine again". And I think that hope is very important.
A concert
That evening was the long awaited candle-lit concert. Vivaldi's Four Seasons. The sign of hope, planned during a hard winter and realised on a beautiful summer day.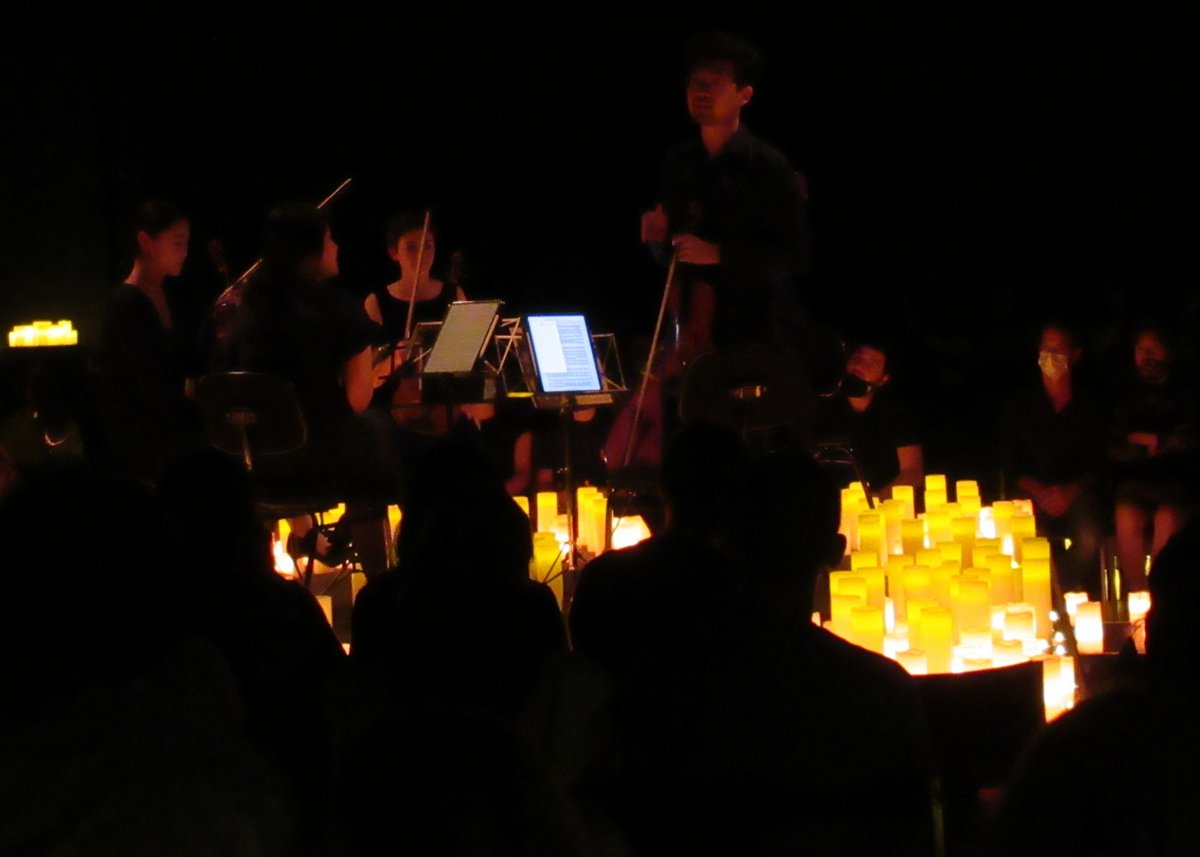 At the time masks weren't required in most indoor venues and, given the lack of (known) community transmission, I doubted they were actually necessary for this event. But if that was what was necessary to run the event, I preferred to wear a mask rather than miss it.
A late night press conference
On the train on the way home, I discovered there was to be a late night press conference. A staff member connected to one of the quarantine hotels had tested positive. It was stressed that there was no need to panic, but a couple of the restrictions were tightened.
Back in October and November, as restrictions eased, officials emphasised that the summer was going to be "CovidNormal". The hope was that, with Covid-19 under tight control, we could have a great summer. But it wasn't going to be "normal".
That day was just another day in CovidNormal: Yes, it was a great day spent doing things I enjoy which used to be normal and which I'd hoped would be permitted after lockdown. But they hadn't completely returned to normal, and there was still the threat that the situation could change rapidly.
A snap lockdown
This week we had more cases reported, connected to a different quarantine hotel. I wrote most of this post Thursday night, including saying "I believe our contact tracing is greatly improved, and definitely hope that this outbreak is contained long before it forces us back into lockdown". However, after much speculation Friday morning, the afternoon press conference declared a 5 day circuit-breaker lockdown. That will take us through to Wednesday next week. Who knows what comes next after that?
It really wasn't what I wanted to be writing today. One of my hopes for summer had been to thru-hike the Great Ocean Walk. I'd done the preparation and the organisation, and was actually scheduled to start today. It's better knowing in advance than having lockdown called part way through, of course, but it's still disappointing.
However, I think this is a good illustration of my point. The situation is not "normal". I can't know with certainty what will come next week or next month.
What I can still do is hope: Hope for better times to come, both for general improvements in the situation and for specific things to become possible. Maybe I'll be able to do the Great Ocean Walk sometime after the current lockdown. Maybe there will be other days wandering peacefully through the city, other concerts or plays that are considered CovidSafe, other times spent with family and friends.
Longer-term hopes
For me, an important thing that has given me hope and continues to give me hope is being able to travel internationally again one day. I have friends to meet and places to see and experiences to have.
However, here's where it's important to temper hope with realism. I would particularly like to travel to the US in September or October this year. I think that's theoretically possible, but it would need a lot of things to go right both in the US and Australia between now and then.
Most of those hopes rest on vaccines, but at best rolling out those vaccinations will be a major logistical exercise. Various Australian health authorities have said they consider international travel unlikely this year. And that does make a certain amount of sense to me: Since we've already kept our borders closed nearly a year, I imagine we'll be conservative re-opening them.
I think it's OK for me to have that hope for this year, but I'd be setting myself up for disappointment if I treated it as a certainty. However, the hope isn't just for this year. Maybe I'll be able to travel internationally this year, maybe not. But I definitely look forward to it happening some day.
An actual return to normal
I think the long-term hope is an actual return to "normal". Being able to move on from the uncertainty and the many changes we've had to make to our lives, from the major to the small but annoying.
To me, it's things like not having to frequently don masks. Not having to check-in when visiting anywhere. Not feeling an instinctive need to keep a distance when encountering others. Not having to worry about what might change next week or next month.
But it's also being more easily able to have mass gatherings of people: Festivals, sporting contests, concerts, plays. Some of these things have been permitted, but often with lower capacity and a lot more red tape and hygiene theatre. Understandably, that means that many event organisers just don't even bother trying.
Conclusion
I've tried to describe my approach to the changing situation here in Melbourne. I'm aware that there are many worse off than me. Different readers will be in different situations round the world, with different options available to them, and different things they consider safe. Different people are also going to value different things from me, and be missing different things from me.
However, I do think it's important to have things to hope for. In our current situation, when things really aren't normal, "hope" and "return to normal" often end up mixed together. I certainly hope for a return to normal, but it's probably a long way off. In most situations there will be some things that were "normal" that are permitted and safe, and I think it's important to be able to look forward to them.