NZ 2019: Glaciers, icebergs, and snow-capped peaks
It was probably five years ago that a friend visited our near neighbour, New Zealand. Coming back, they talked about the beauty of the glaciers, and said I should see them while I could.
That was part of what drew me to add Switzerland to a UK trip in 2016. And it was also part of what convinced me to make New Zealand South Island my next overseas trip. It certainly didn't disappoint.
An aerial glimpse
I expected to have seen snow-capped peaks and glaciers within a week of arriving. What I hadn't expected was to get an aerial view on my first day.
In retrospect, it should have been obvious that a flight from Melbourne to Christchurch would cross the NZ Alps. However, even when the airline gave me a window seat I was still surprised (and pleased) to see glaciers and mountains shortly after crossing the coast.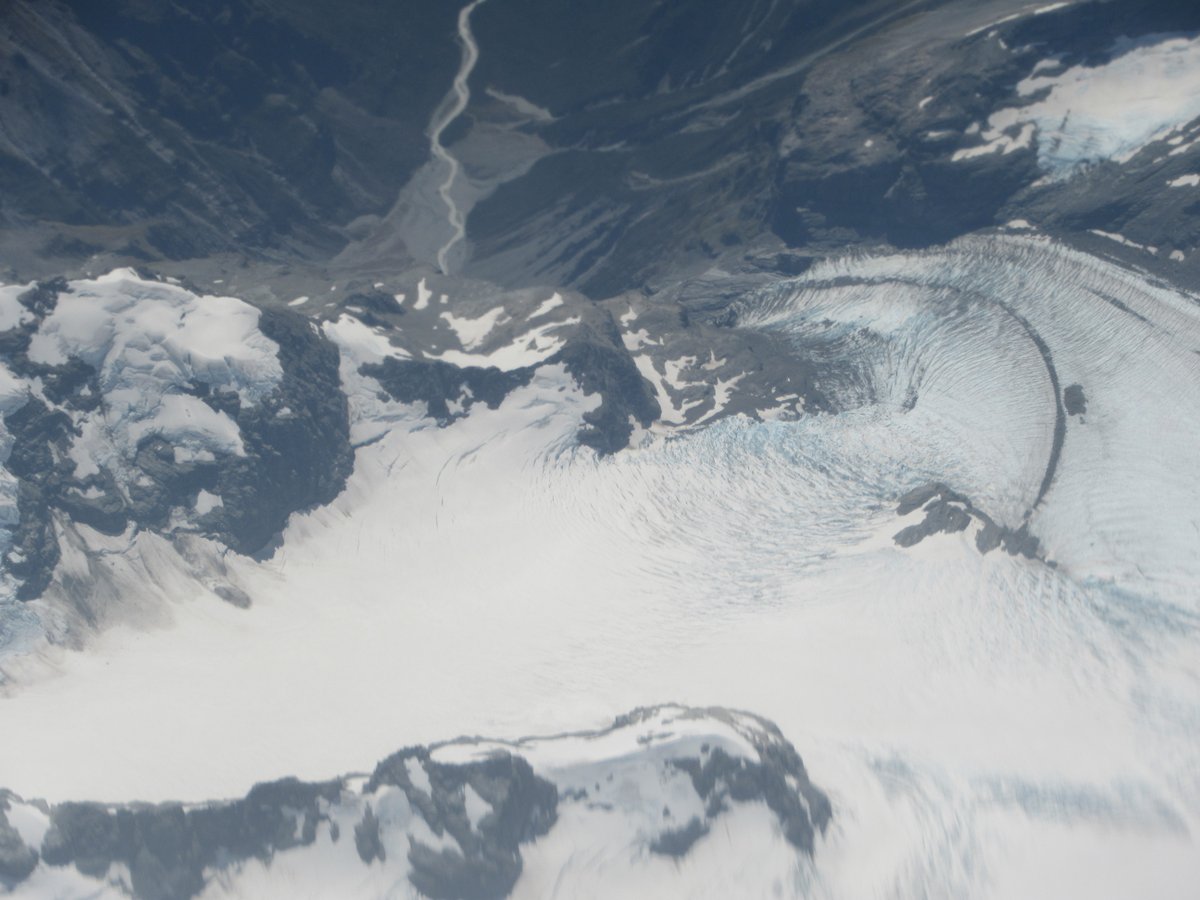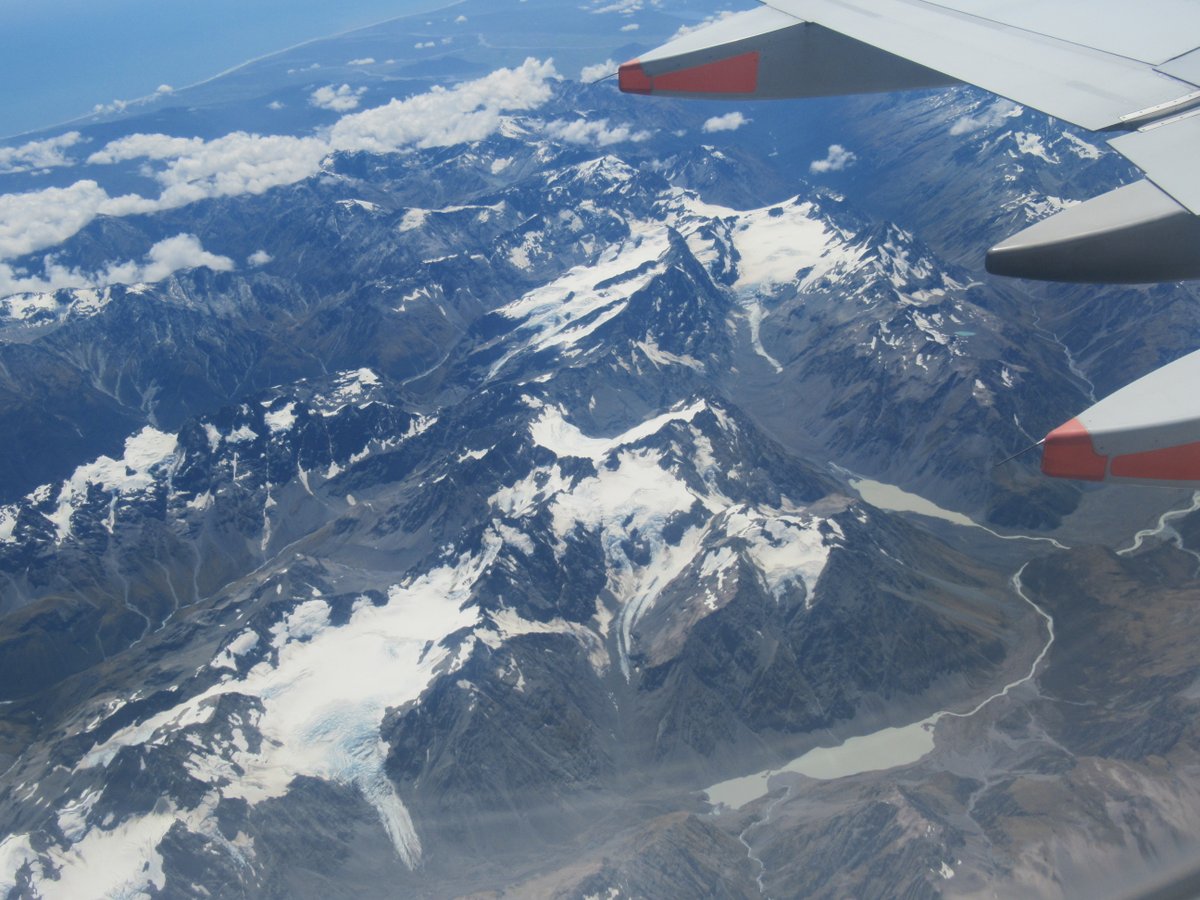 Note particularly that there is still ocean in the top left of the second photo - the mountains really are very close to the sea. Apparently, tectonically speaking that very west-most part of New Zealand is still on the Australian Plate, so I'm sure I felt much more at home there 😉.
As I was to discover, people pay large sums of money to get these kind of mountain views in helicopters or aeroplanes (though it's not just views - helicopters in particular allow people to land in otherwise difficult to access spots).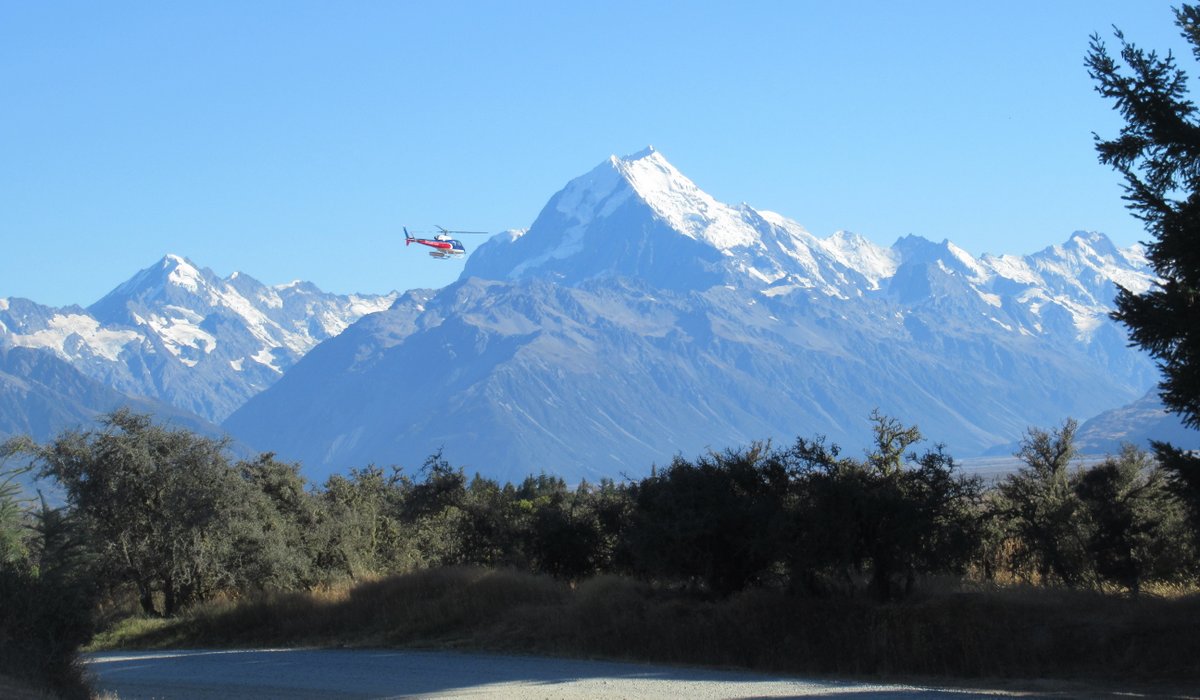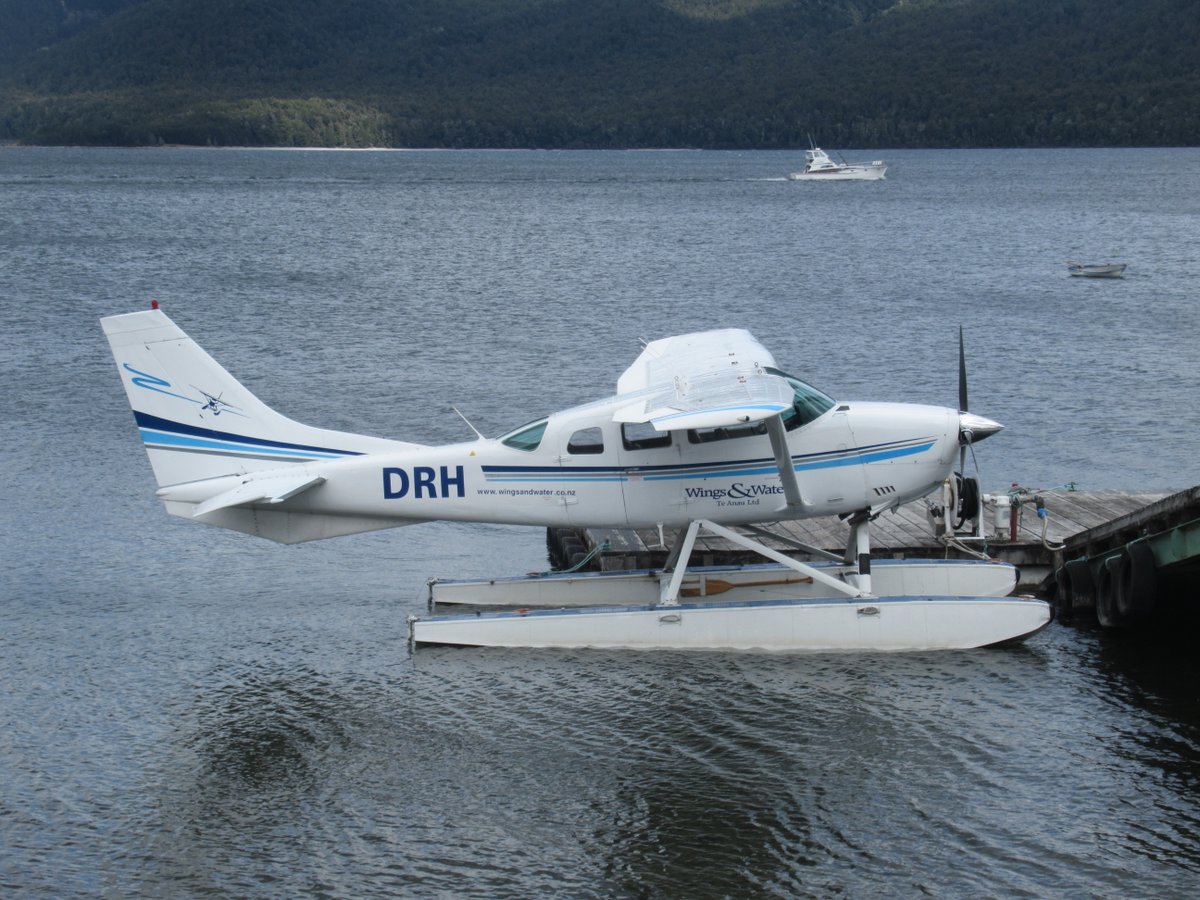 For that day, though, I was content with my bonus aerial view, and looking forward to seeing the peaks from ground level.
Of course, all such views are weather dependent. I wasn't given a window seat on the way back, but given the low hanging cloud on the day, I doubt I would have seen much.
Franz Josef Glacier
After crossing Arthur's Pass (with its own impressive peaks) I headed to Glacier Country for my first planned encounter with New Zealand glaciers. Specifically the Franz Josef and Fox Glaciers - two of only three in the world that come out in the middle of rainforest.
The walk to the Franz Josef Galacier terminus showed the beauty of nature, but also the power of the glacier and the river and the devastation it could wreak: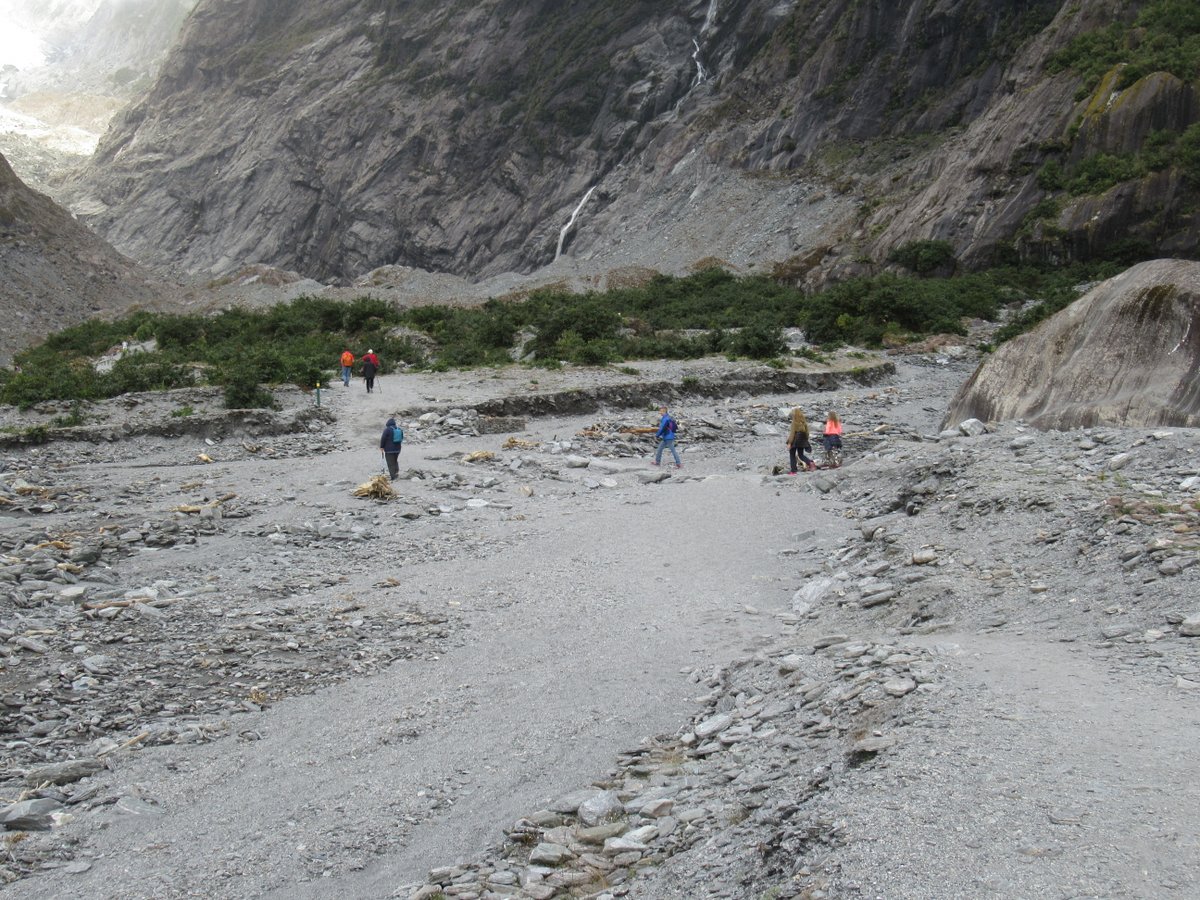 I remember one section where there were three larger waterfalls next to each other, any of which would be a highlight of most walks: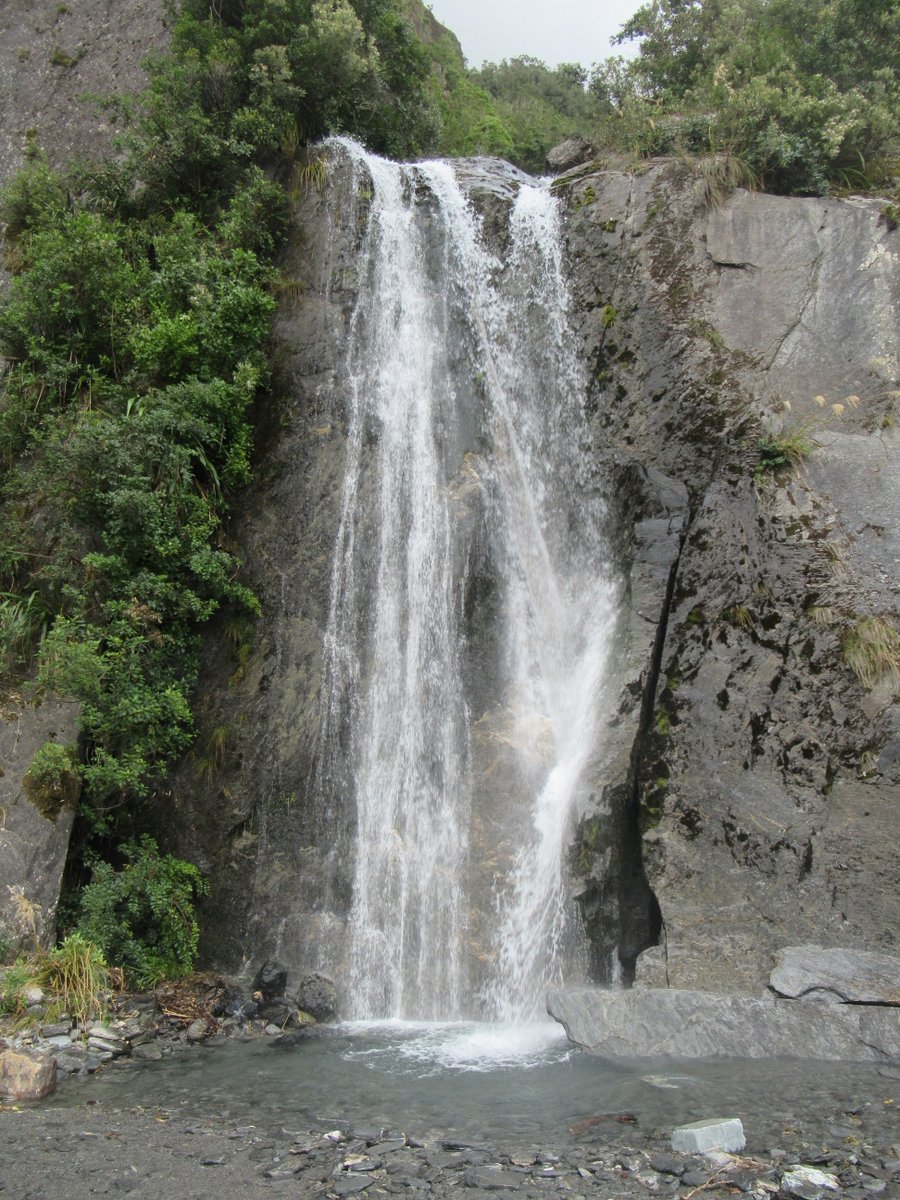 But here, they were just a point on the route, and the eye was continually drawn to the terminus (well, when it wasn't behind clouds). On reaching the viewpoint, it certainly didn't disappoint: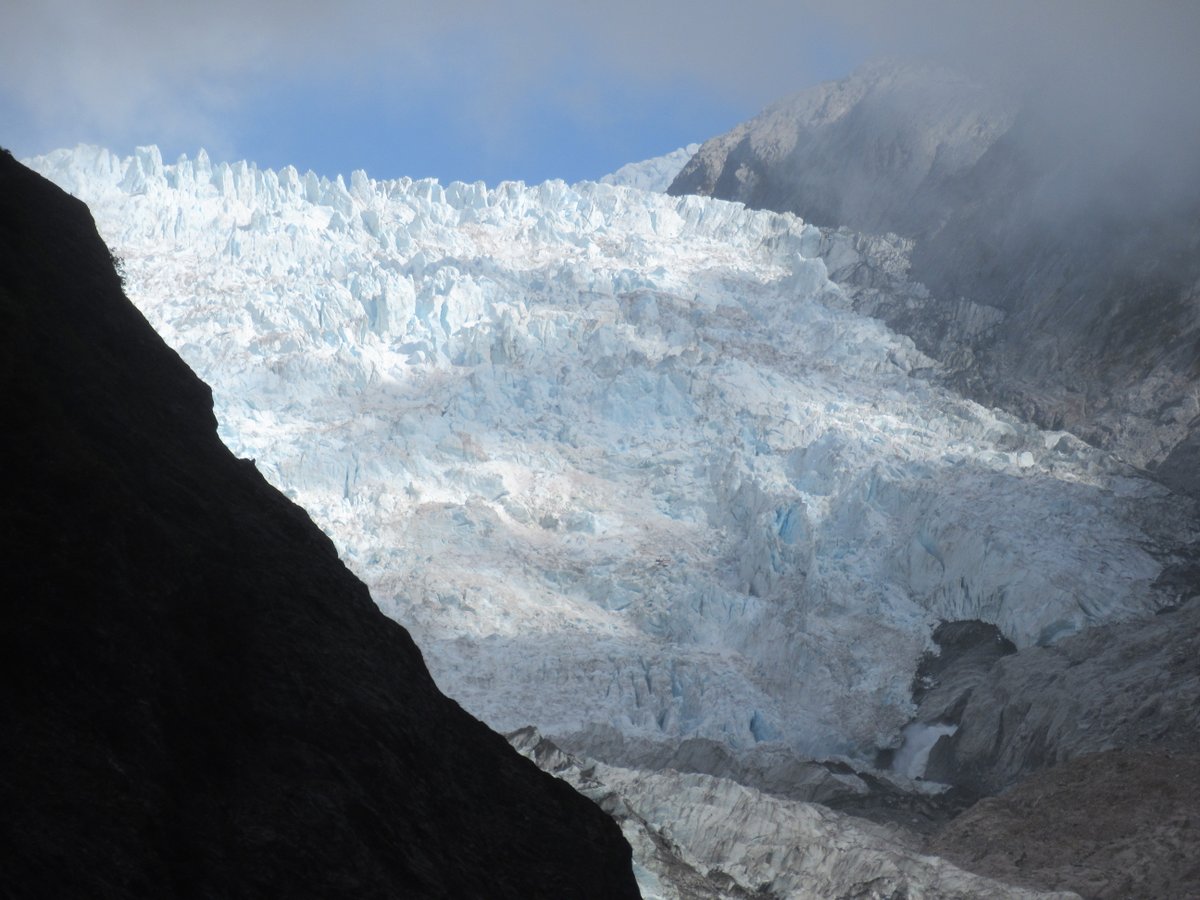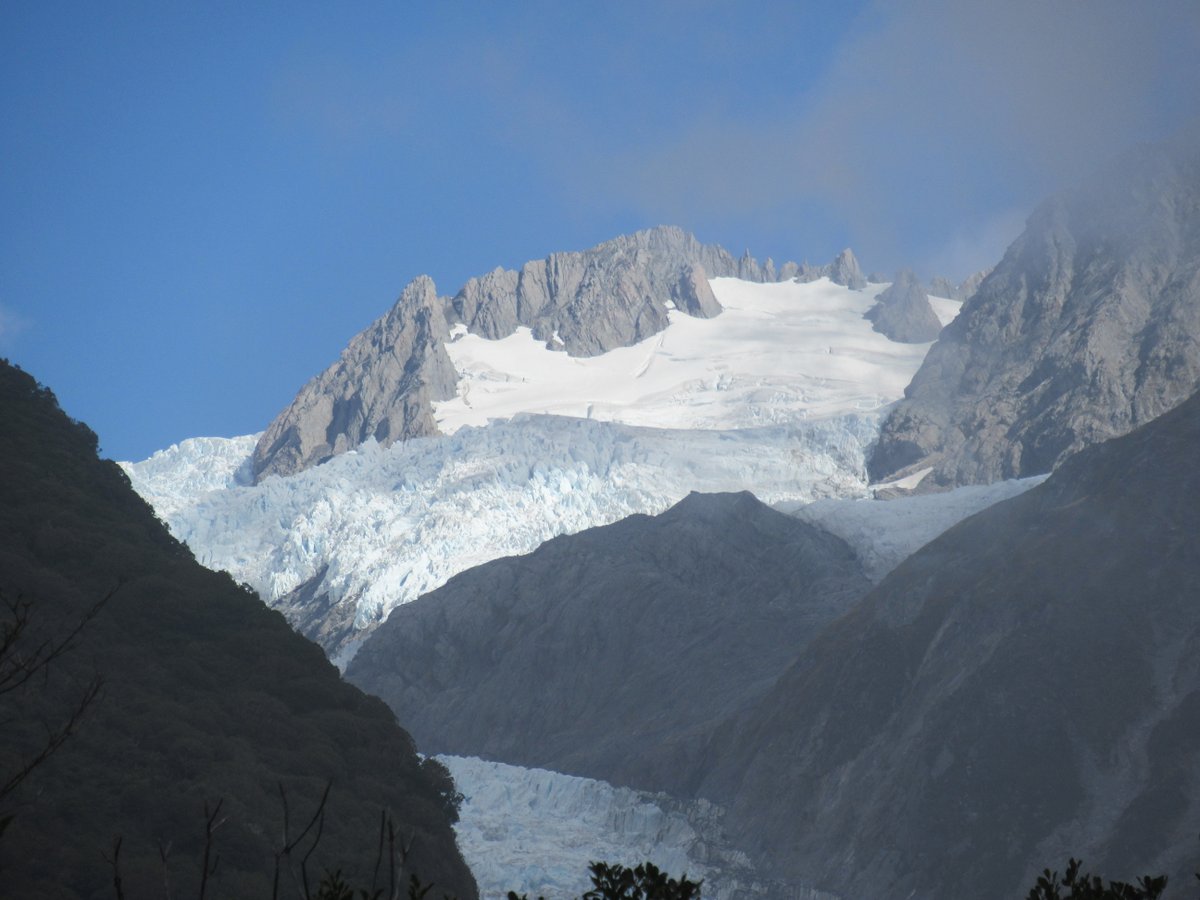 However, even among the beauty of the walk and the majesty of the final view, there was still a note of sadness caused by the signs along the way showing the retreat of the glacier. At different points on the trail, it showed the end of the glacier in 1908, 1921, 1940, 1960, and finally 2009: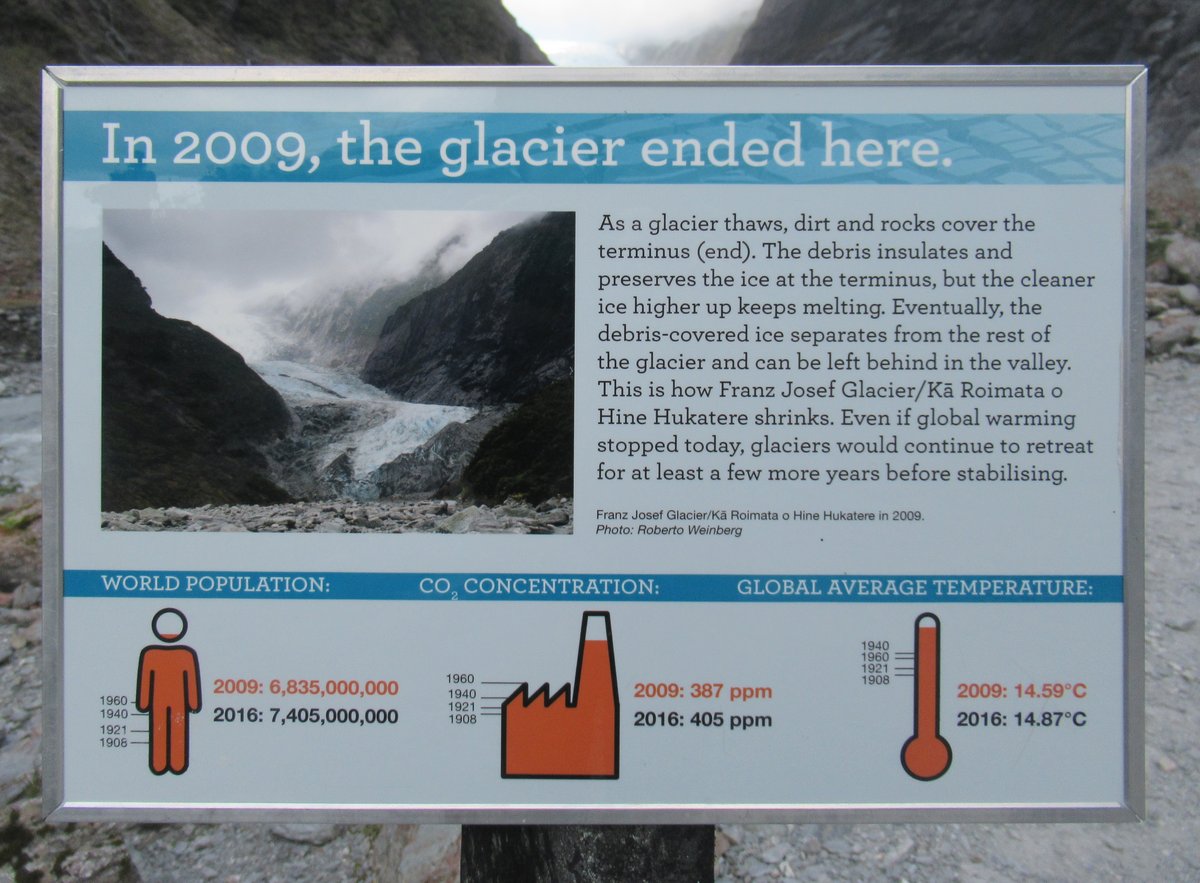 The 2009 one was only ten years before I was there, but it was still a long way from the current terminus.
My friend wasn't wrong to tell me to visit the glaciers while I still could. Not only do they face a warming climate, but they were also expected to melt more quickly this year because of the ash and smoke from the climate-fuelled Australian bushfires. For better or for worse we do live in a connected world.
Fox Glacier
I spent less time at Fox Glacier than Franz Josef, and the terminus view wasn't quite so beautiful, but it was impressive in its own way and had many of the same ingredients: Wide river valley, waterfalls, and of course lots of ice.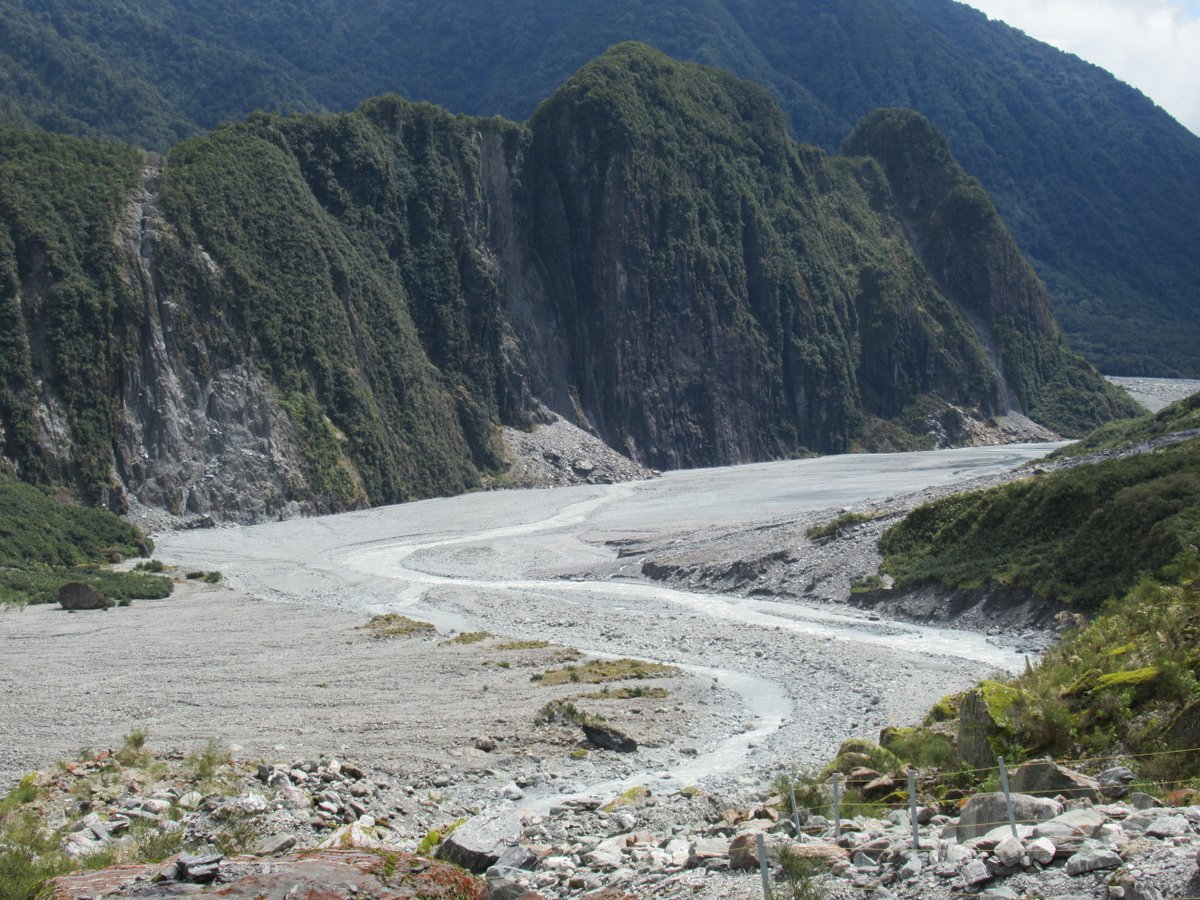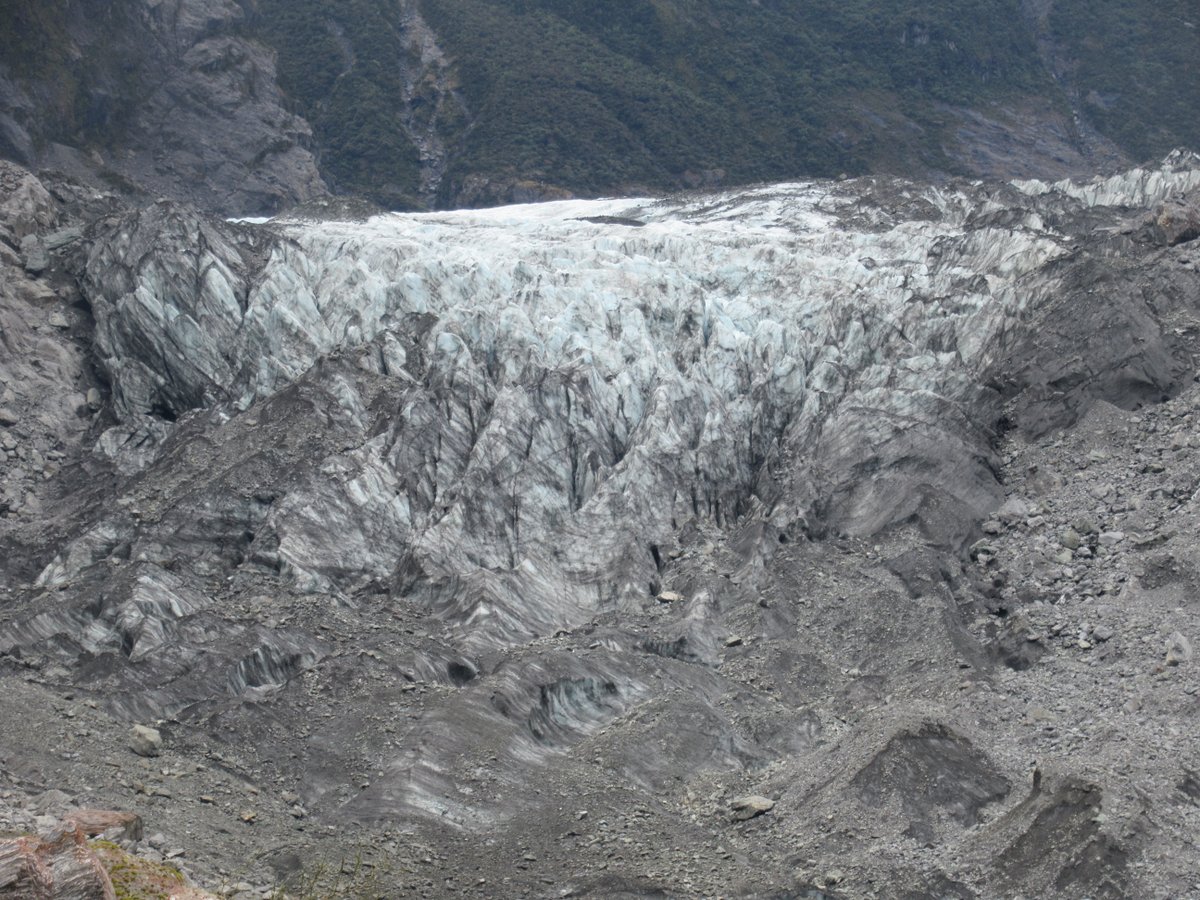 That entire region gets very high rainfall, so I was glad that the rain came to a stop as I was leaving my car, the clouds over the terminus cleared just before I reached the viewpoint, and the returning rain held off till just after I got back in my car. Then I left the clouds in my rear view mirror, and an hour later found me walking by the ocean in the sun further south.
Mount Cook
Mount Cook is the highest mountain in New Zealand, and getting to the area shows the difficulty of navigating mountain terrain. It's actually only 12 km horizontally (and maybe a few kilometres up) from Fox Glacier Terminus to Mount Cook. However, you need to go a long way south to find a pass through the mountains, so it's actually over 450 km by road from Fox Glacier to Mount Cook Village.
Even in New Zealand, one does not simply cross the mountains.
Mount Cook was where Sir Edmund Hillary proved himself before tackling Everest, and Mount Cook Village now has the "Sir Edmund Hillary Alpine Centre", including a statue of him looking toward the peak: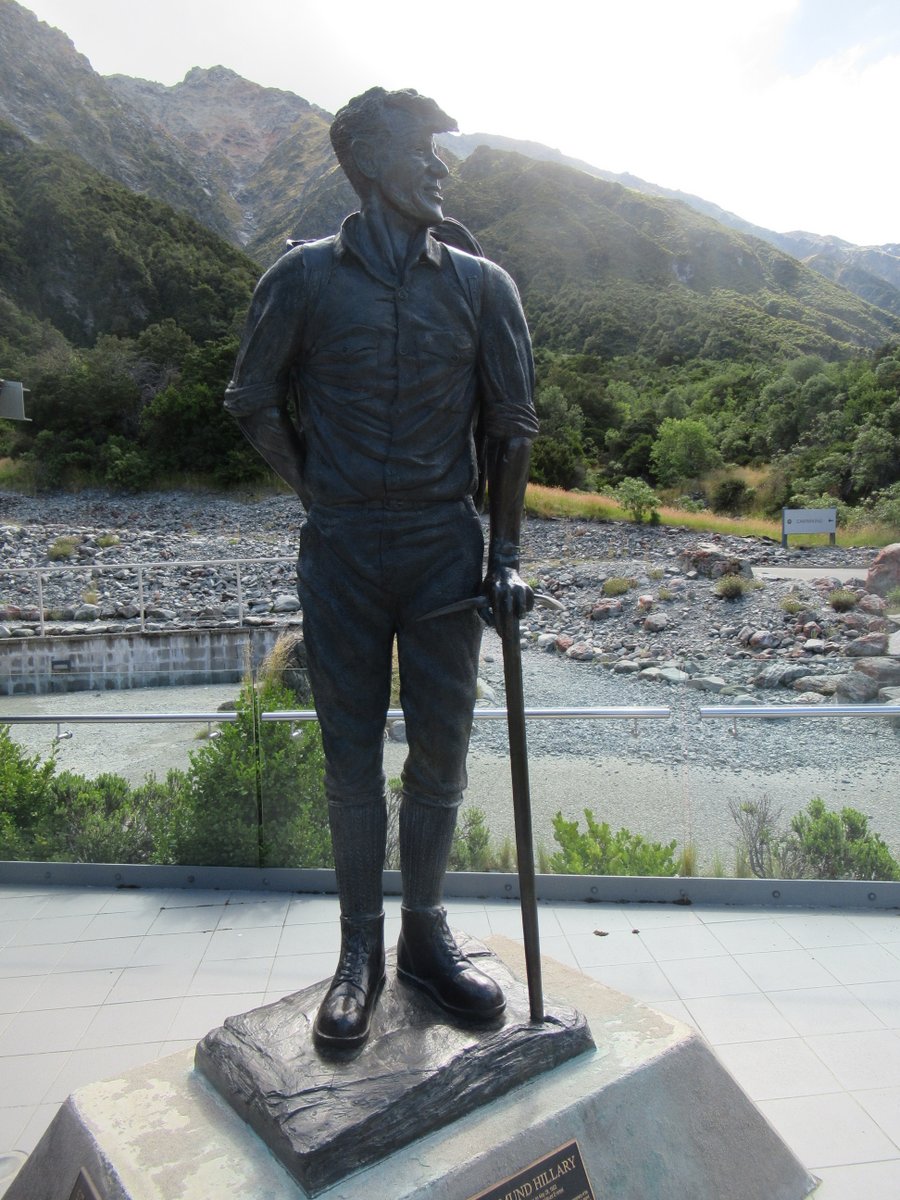 I knew there were icebergs on Tasman Lake, and I'd looked forward to seeing them. But it was far more impressive than I expected: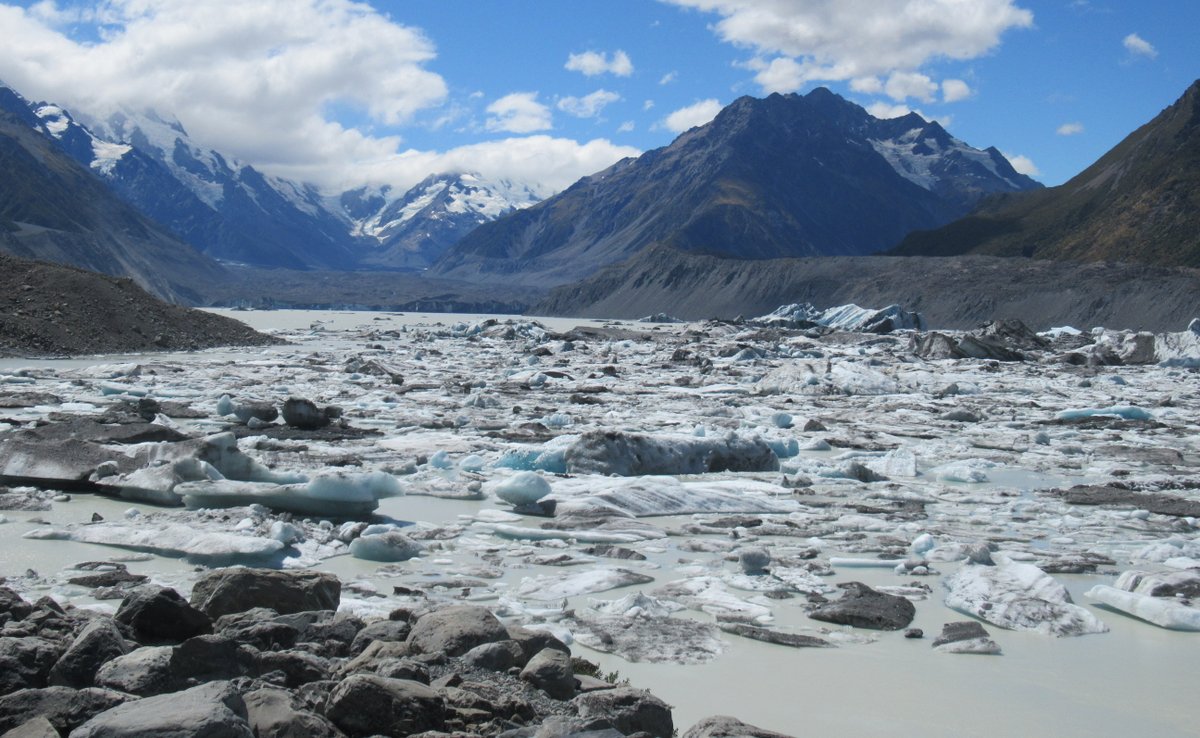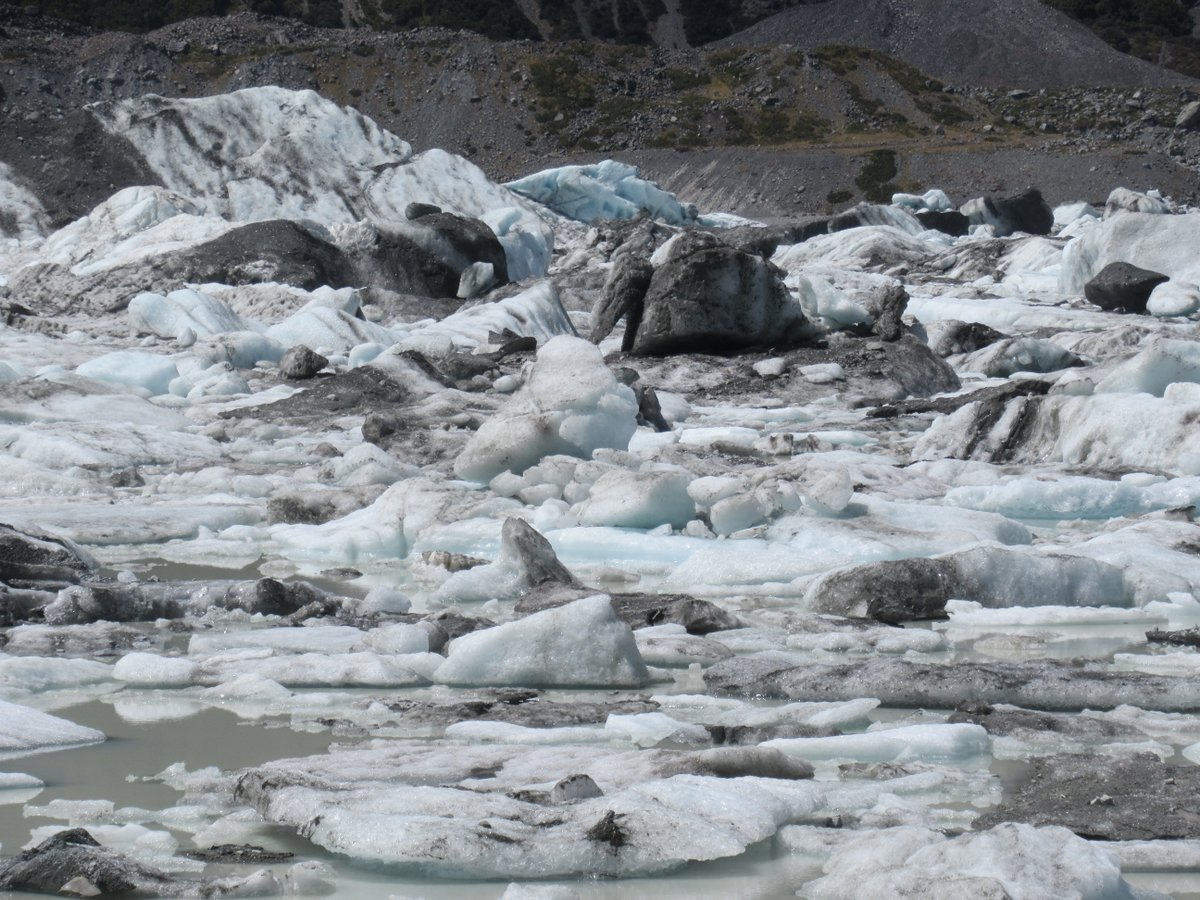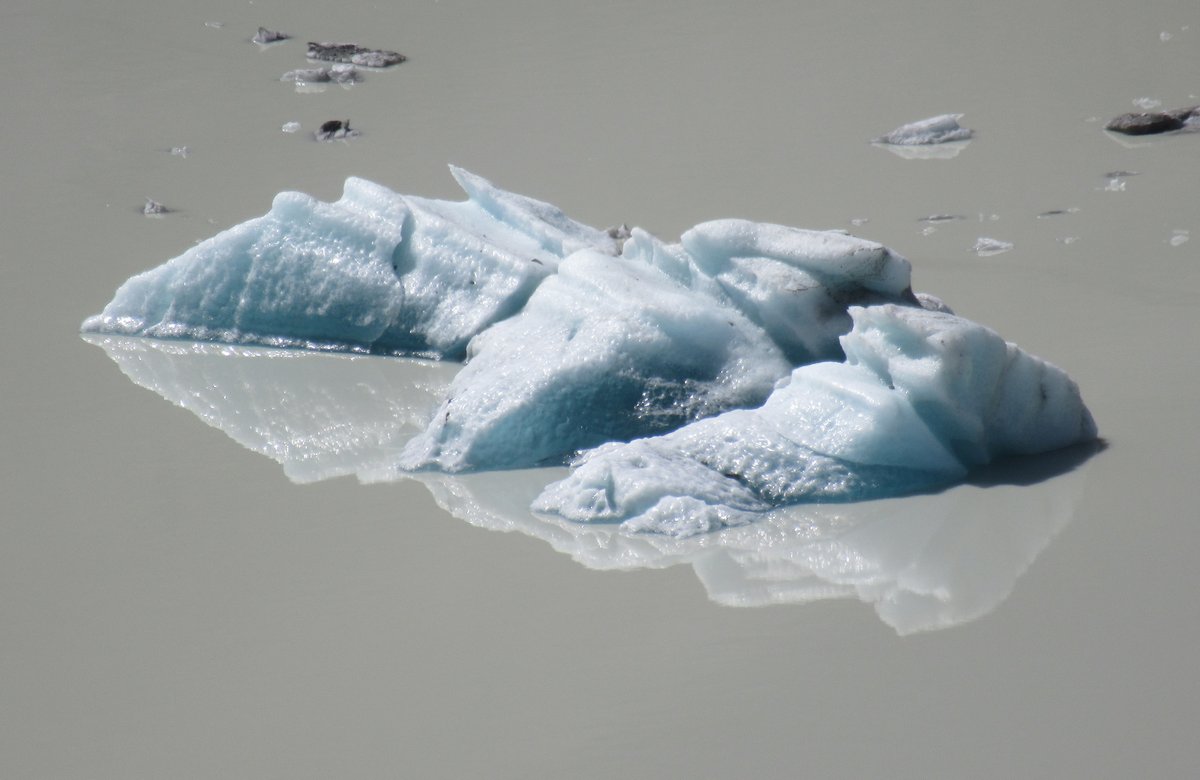 However, seeing that many icebergs was also a little sad because of what it showed about glacial retreat. I knew that February was the best time for seeing icebergs - but that's because the world is warming and the Tasman Glacier is retreating.
Just like in Glacier Country, the Mount Cook area would have been beautiful to walk in even without snow-capped peaks and iceberg filled lakes. There were swing bridges and raging rivers and flowers and pleasant scenery: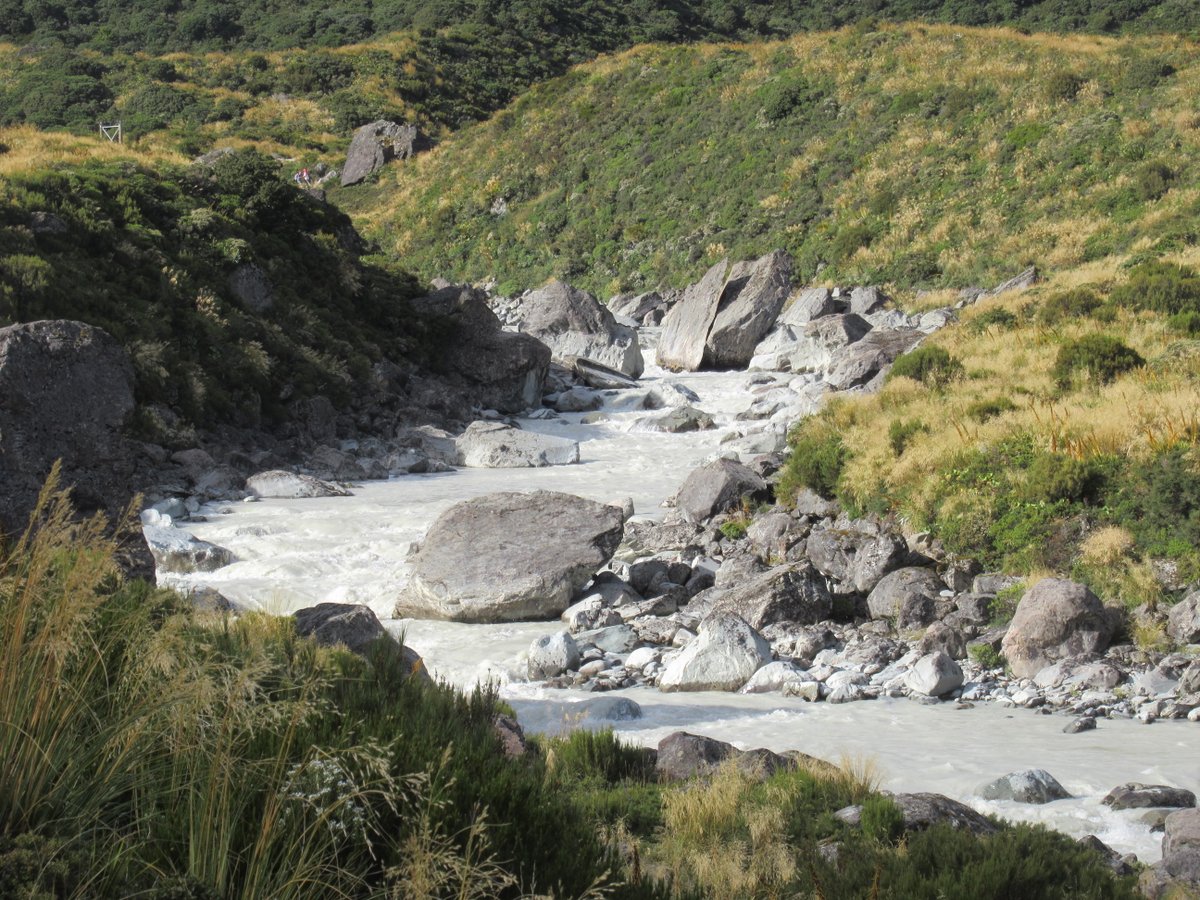 But there were also plenty of views of Mount Cook and other snow-capped peaks: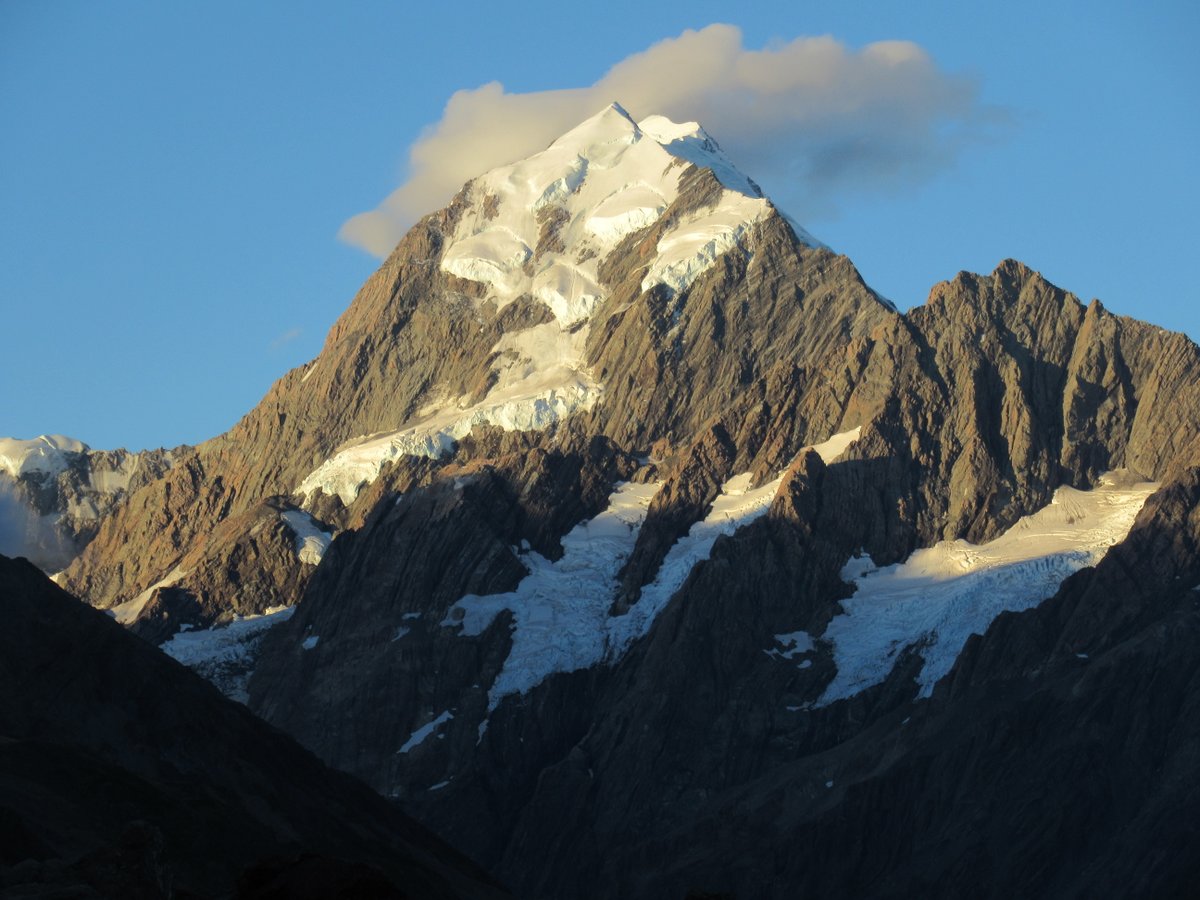 Not only were there icebergs floating on Hooker Lake, but it even gave me the chance to hold my own little piece of iceberg: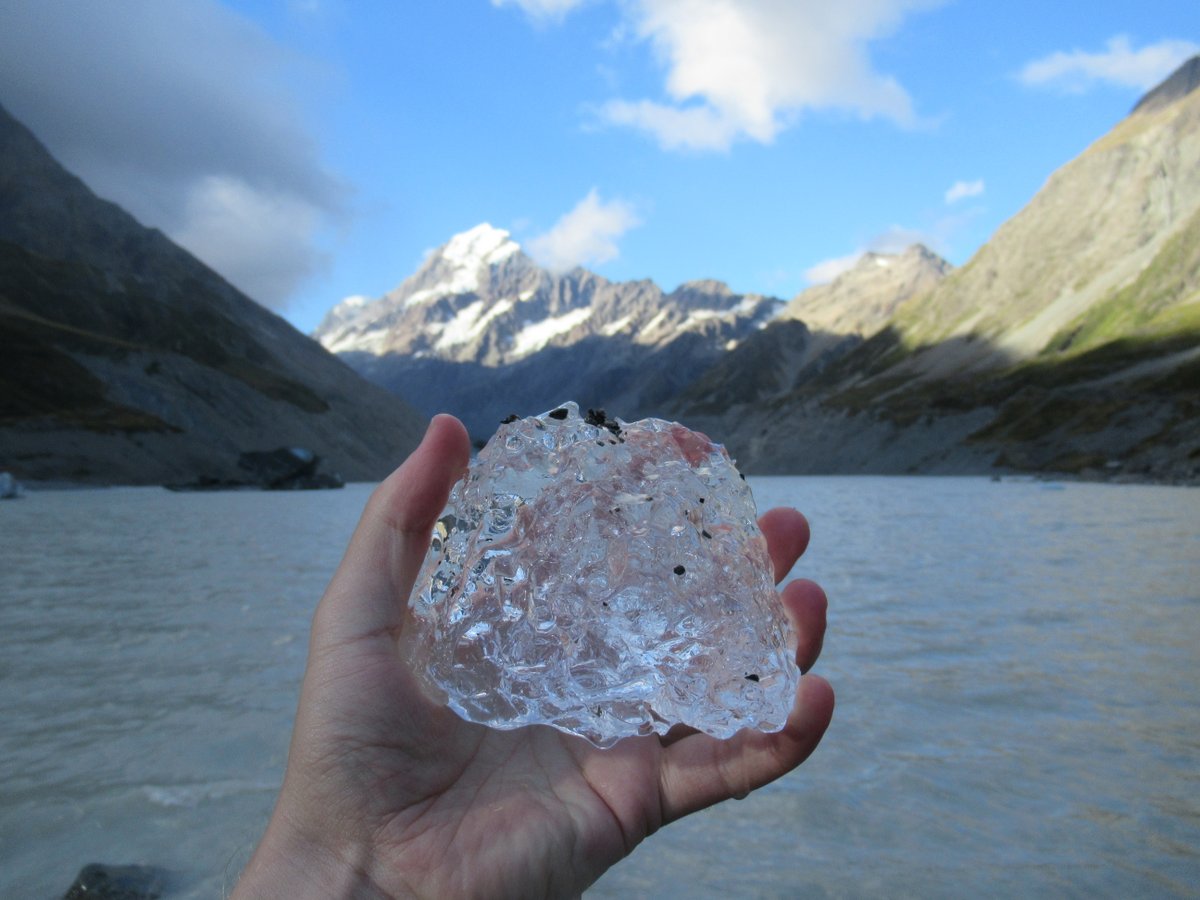 And to meet a group of kea, the only alpine parrot in the world: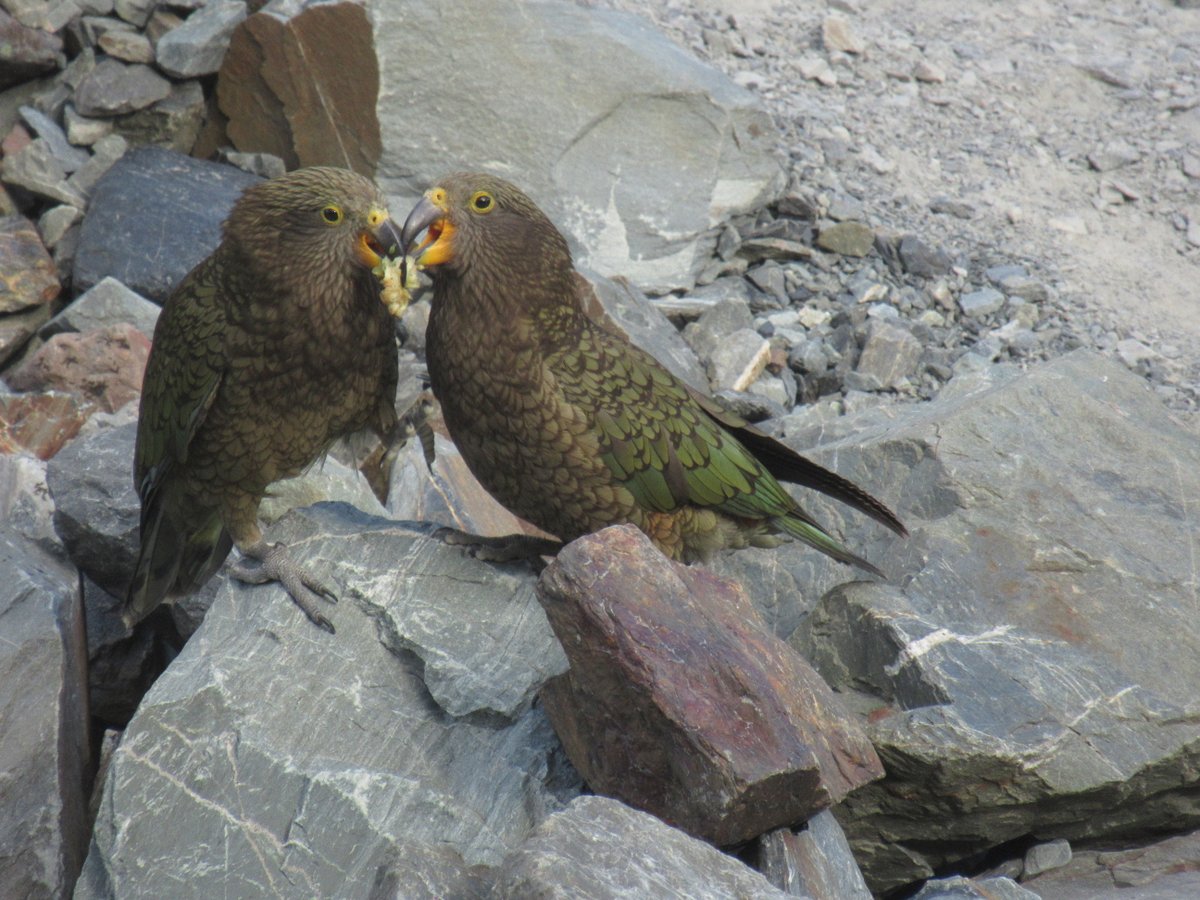 Laketown
Lake Pukaki, one of the larger lakes near Mount Cook, was also chosen as the site of Laketown in The Hobbit. It was one of the places of which Martin Freeman said:
The background is so beautiful that people will think it's CGI. It looks too perfect.
However, I can safely say that I recognised the location when I saw it in The Hobbit, and it really is that beautiful in real life.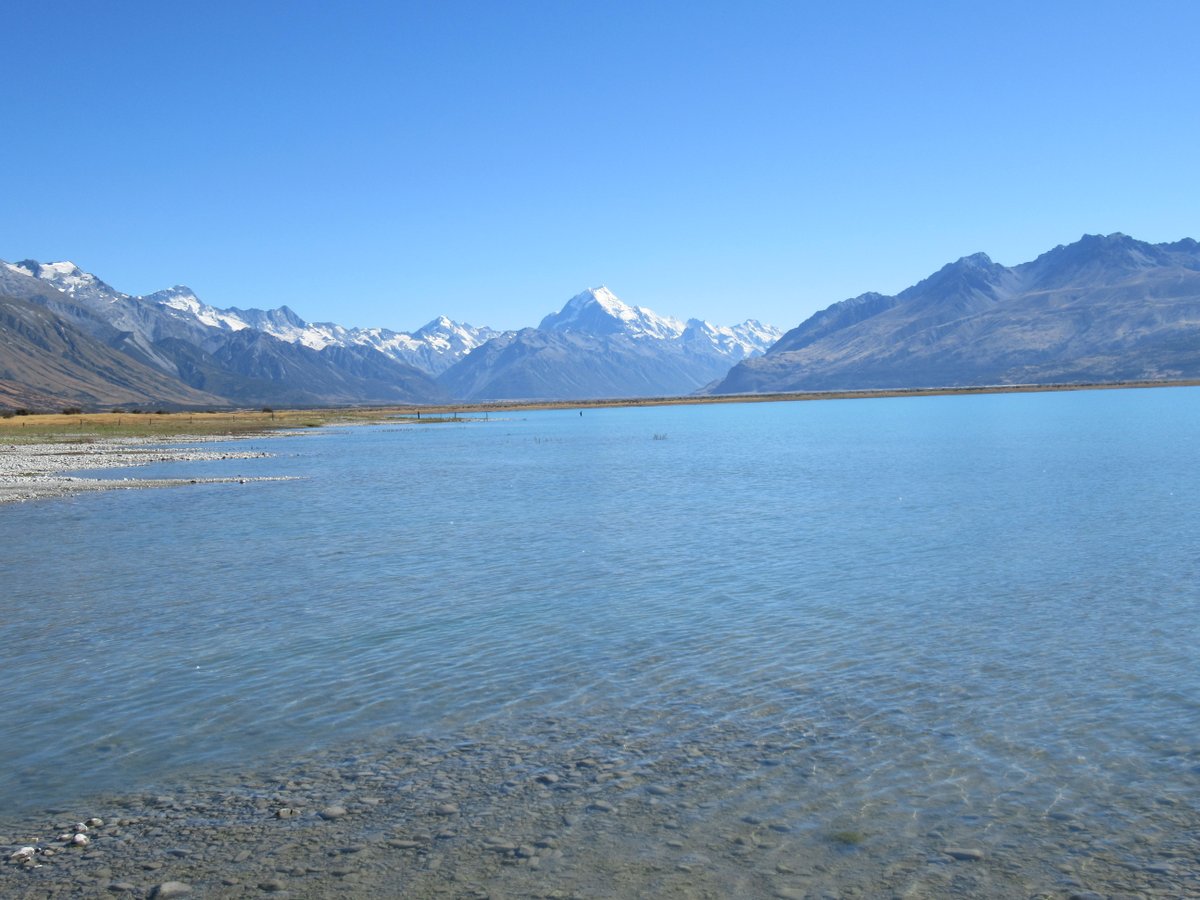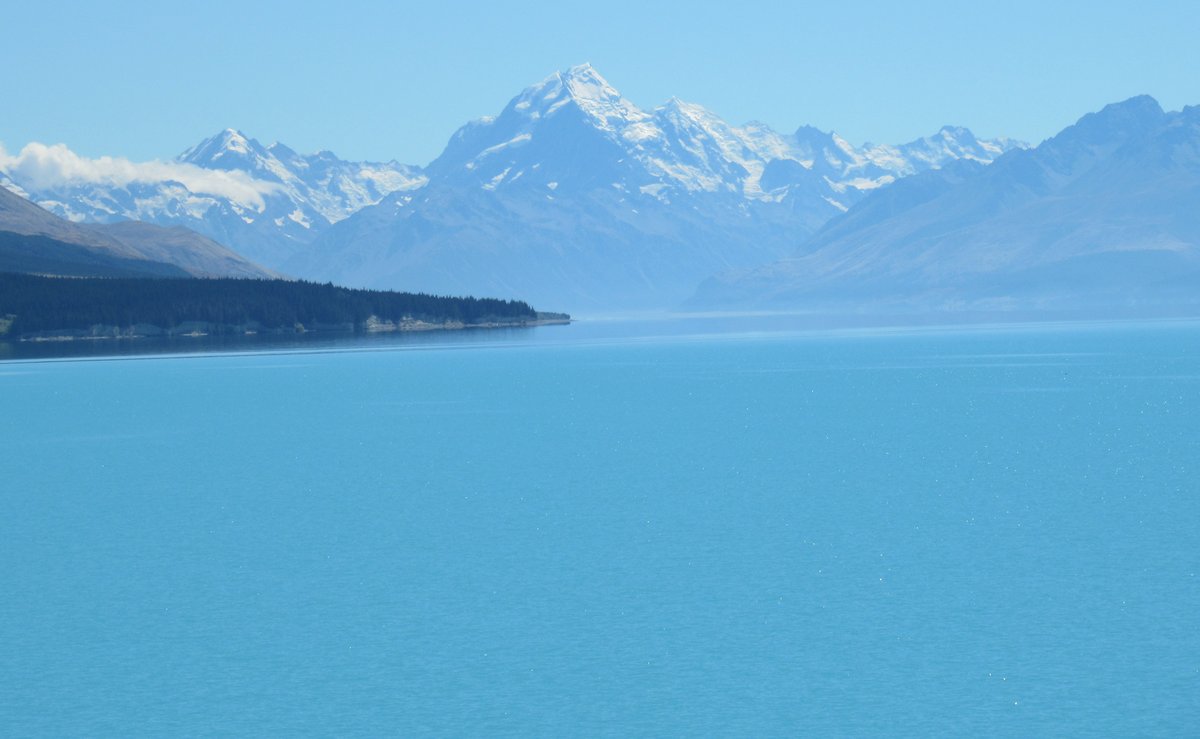 In fact, it's probably even bluer than those photos show. The glacial flour gives so many lakes and rivers a very vivid colour - Switzerland is the only other place I've seen streams and lakes like it.
It's a little sad to say, but I found when travelling around New Zealand that you can see so many impressive rivers that they actually lose their impact. But when looking back at my photos I'm reminded of how breath-taking it can be.
The Routeburn Track
The Routeburn Track is one of New Zealand's most famous overnight hikes. I just did the first section of it as a day walk, and it was the best day walk I did the entire trip.
What started off as a rainforest track with occasional views of the river below: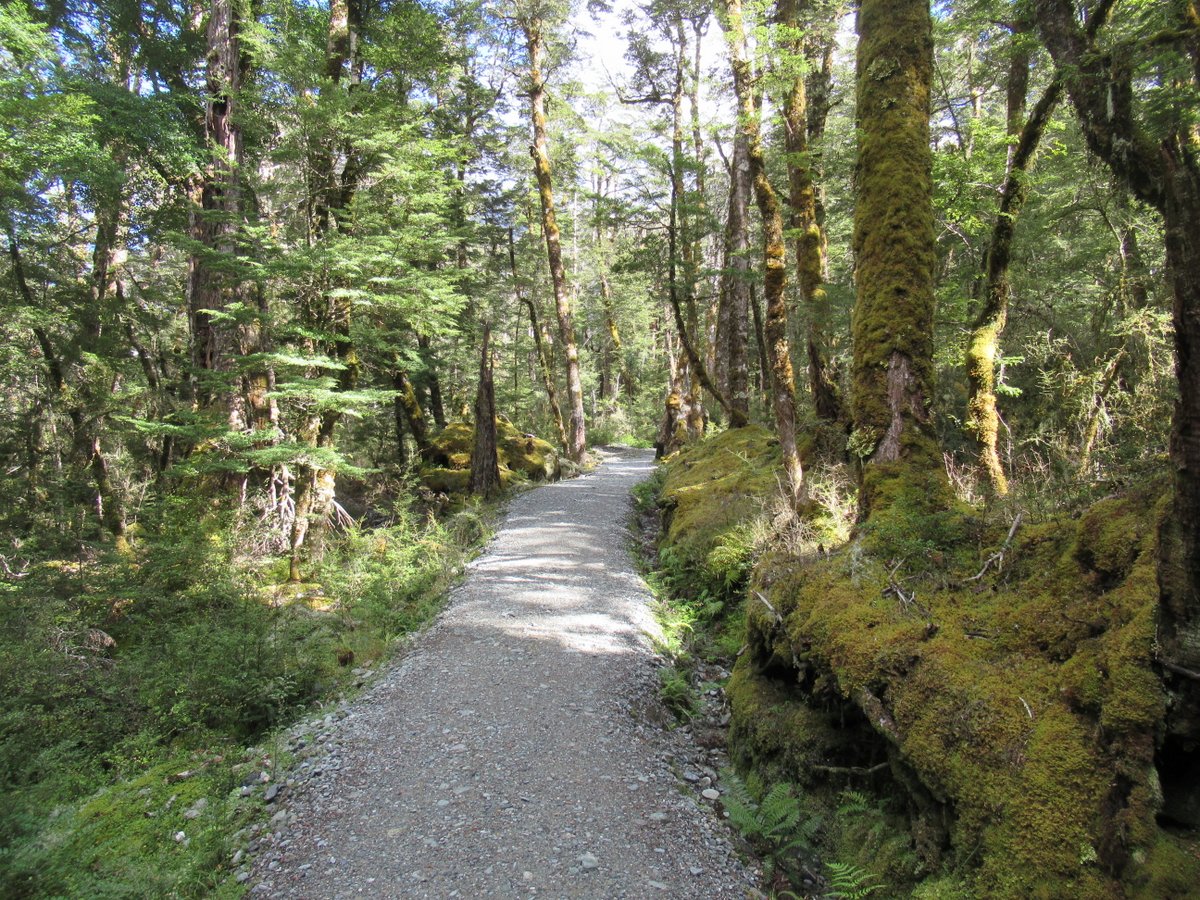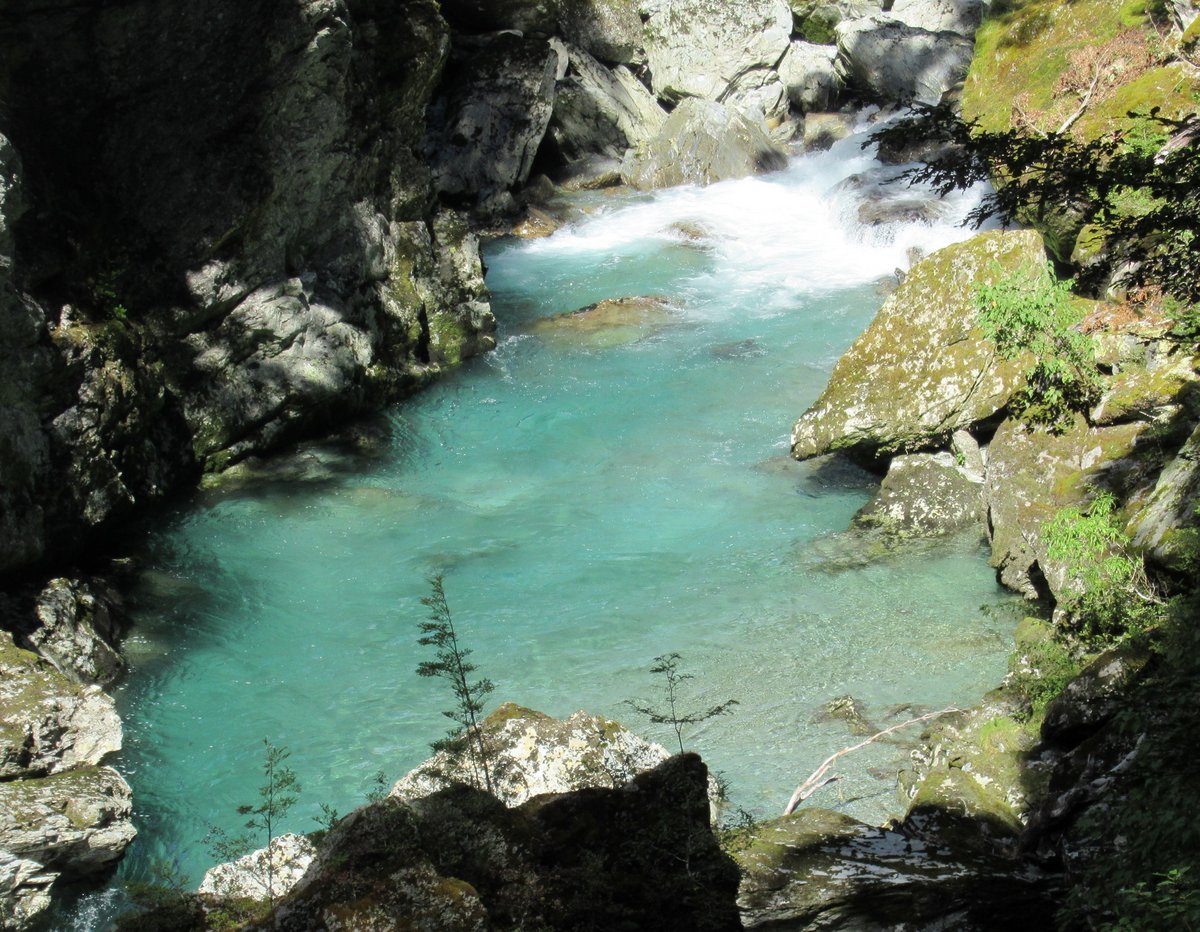 Turned into distant views of mountains: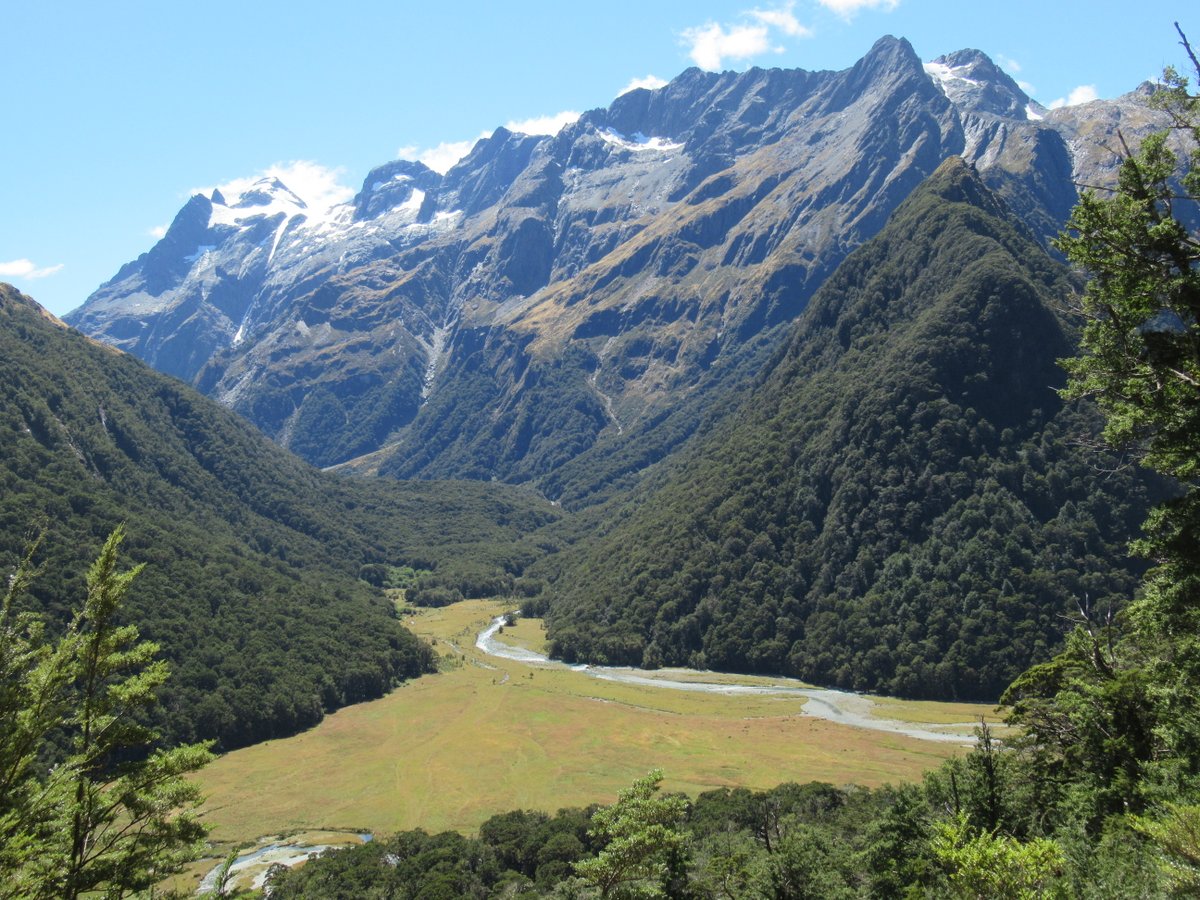 Then it was among the mountains, including high lakes and snow-capped peaks: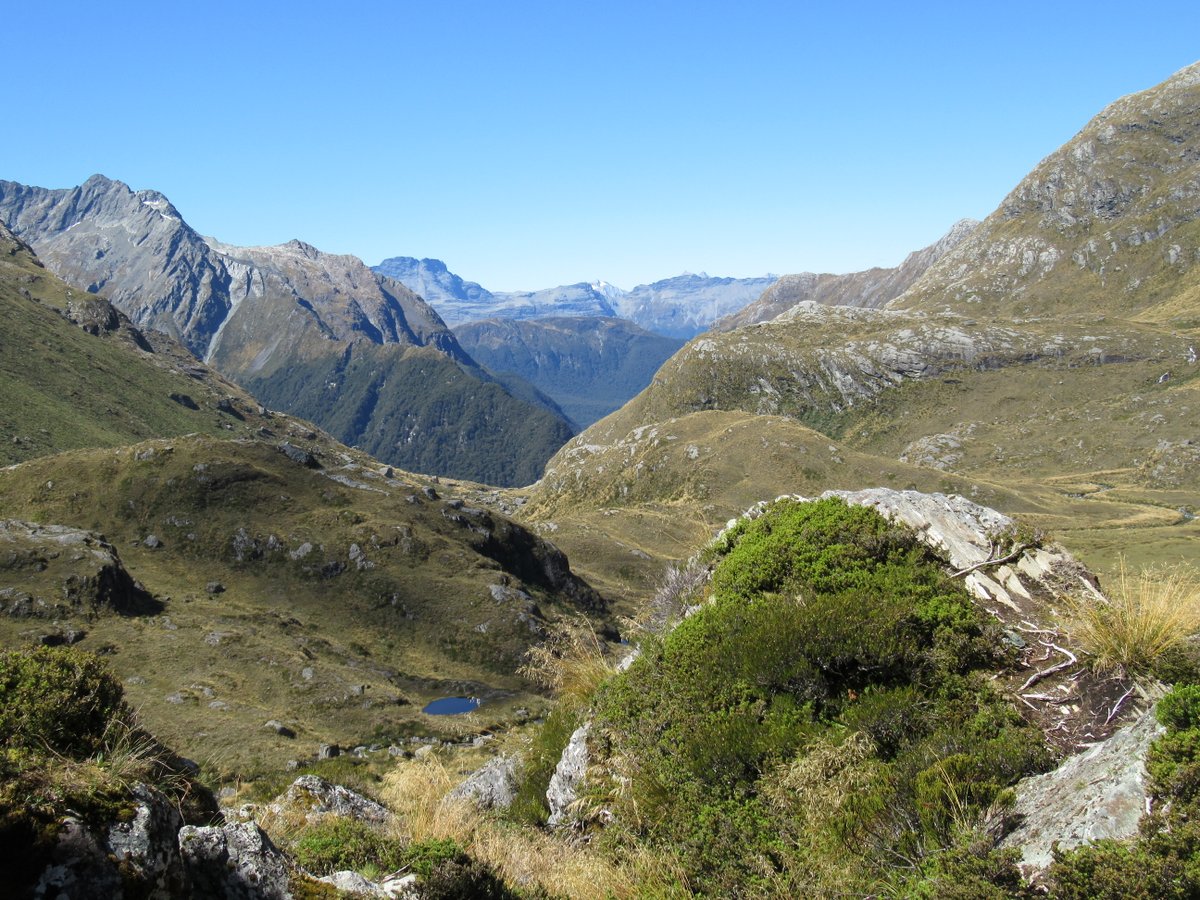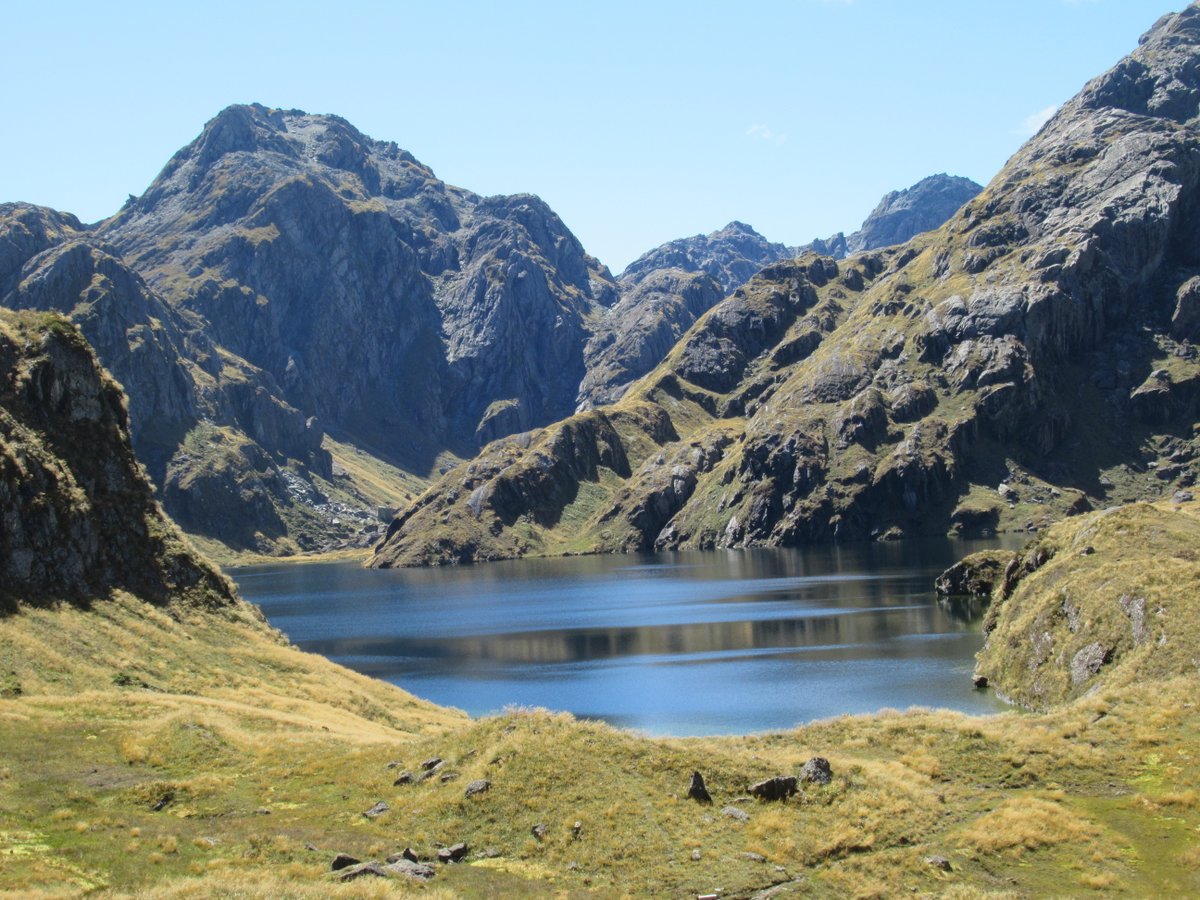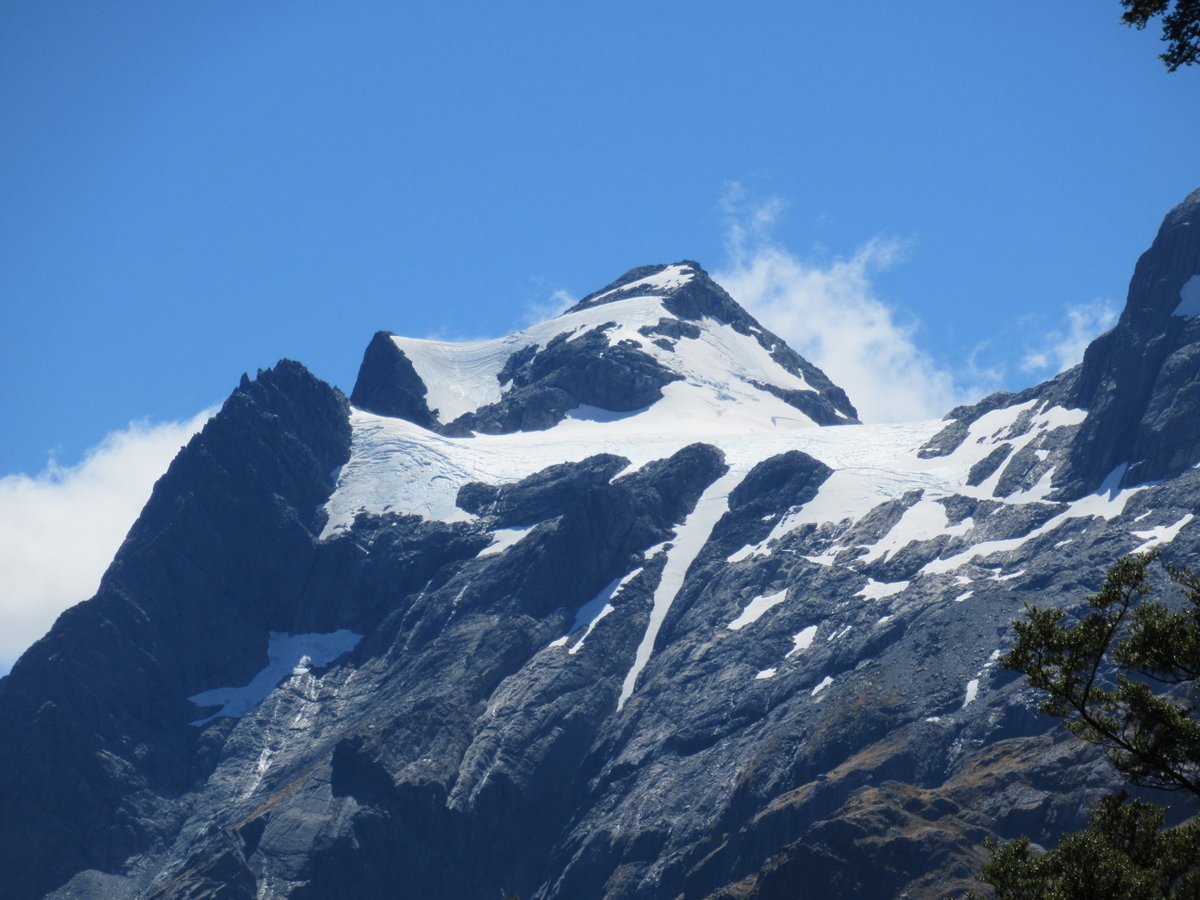 A famous fiord
When talking about how glaciers have shaped New Zealand, it's hard to look past what is probably the most famous fiord outside of Norway: Milford Sound. Go back far enough, and the glaciers stretched right out to sea and carved many fascinating structures, including the fiords. Glaciers definitely have a lot of artistic talent (though perhaps many of their works are best enjoyed posthumously 😉).
When I was first considering visiting New Zealand I planned to go to Milford Sound just because everyone goes there. I didn't think it looked as impressive as the snow-capped peaks and icebergs, but there had to be something worth seeing.
However, by the time I'd left I was a convert: I'd seen towering cliffs, mighty waterfalls, seals, dolphins, the works. It's a long drive there and back, which can make for a full day (even for me 😉), but there are many beautiful places on the way and it's worth every minute.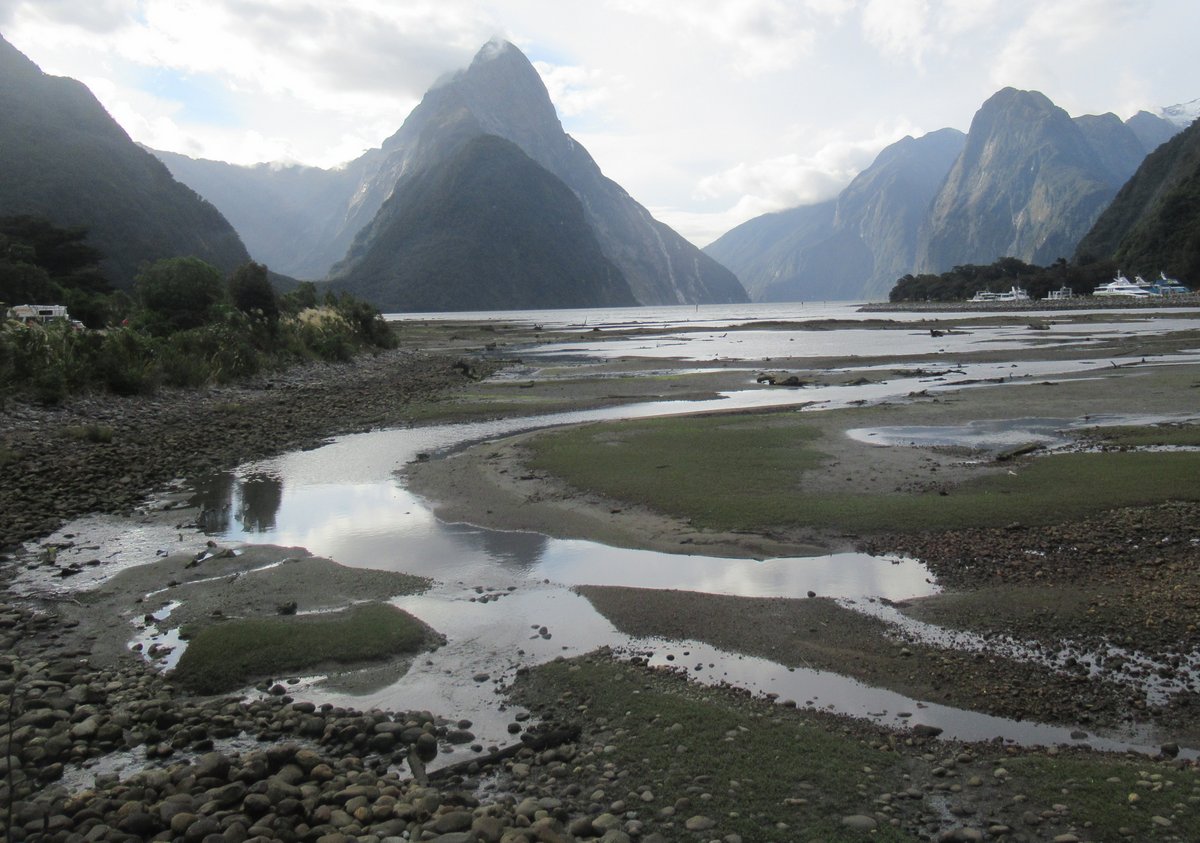 The photos I'd seen hadn't prepared me for quite how big it is. Even large cruise ships looked small by the cliffs in Milford Sound.
Kayaking
Finally, I didn't want hiking and taking photos to be the only ways I appreciated the snow capped peaks, so I decided to join a kayaking tour on Lake Mapourika (near Franz Josef).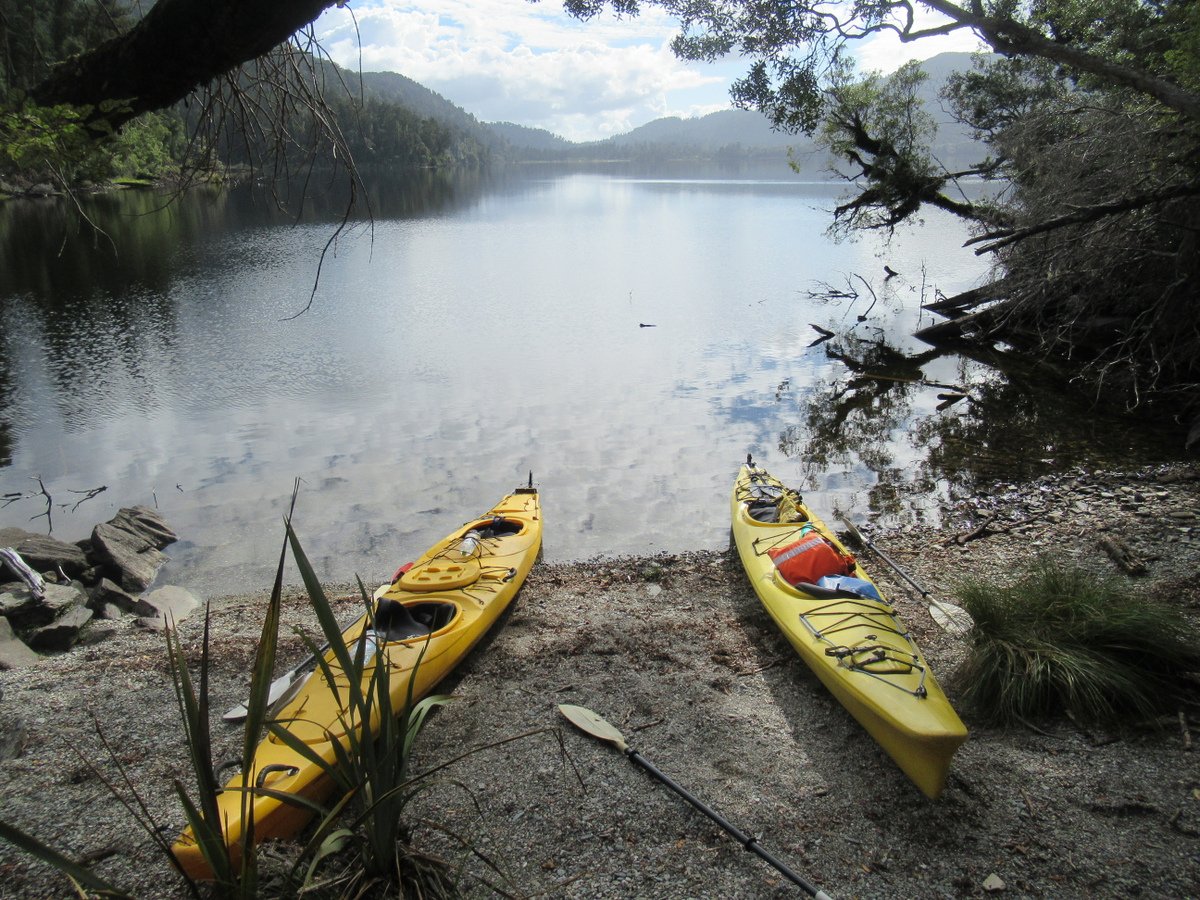 The snow-capped peaks in the distance were reflected in the lake: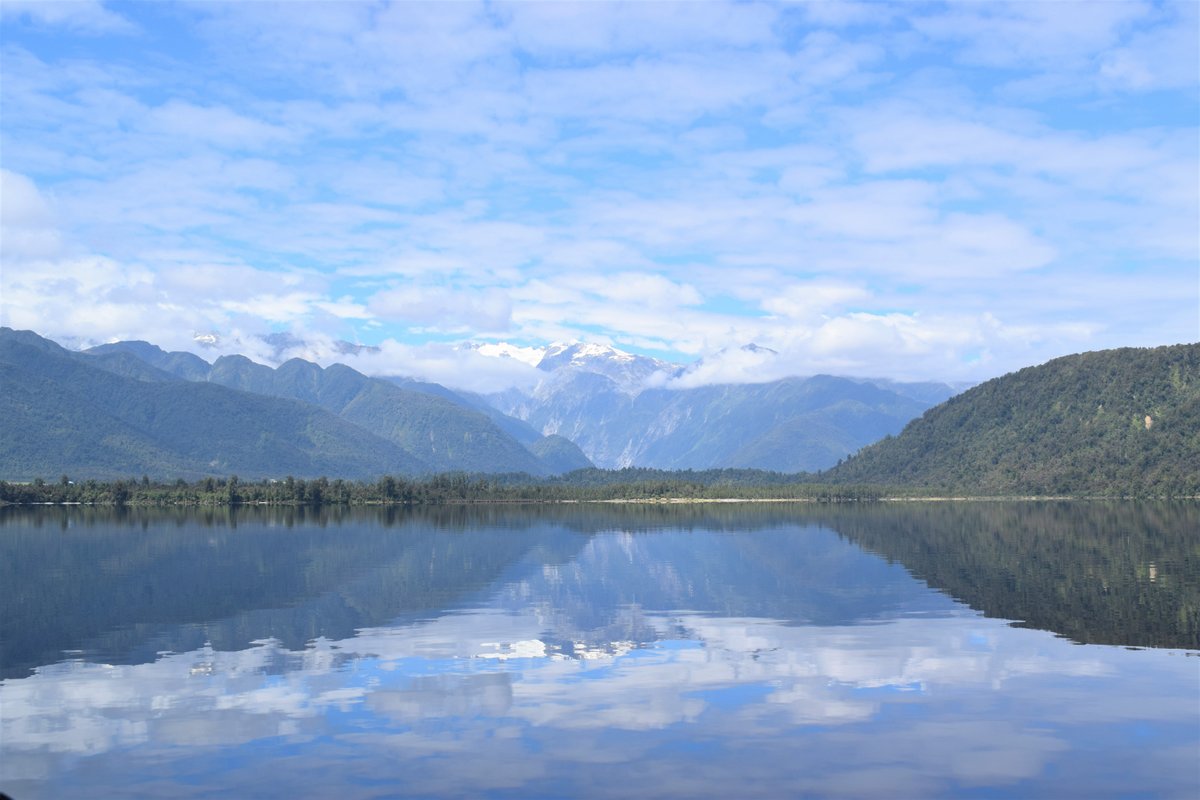 The lake was fairly smooth that morning, which made the slowly changing reflections mesmerising.
And when we reached the other side of the lake, we also got to walk through a kiwi sanctuary, which made for something particularly NZ. Of course, given kiwis are nocturnal we didn't actually see any - but it was the experience that counted. It's good just to know that they are being protected.
Later, we went into a small creek surrounded by a meadow of flowers: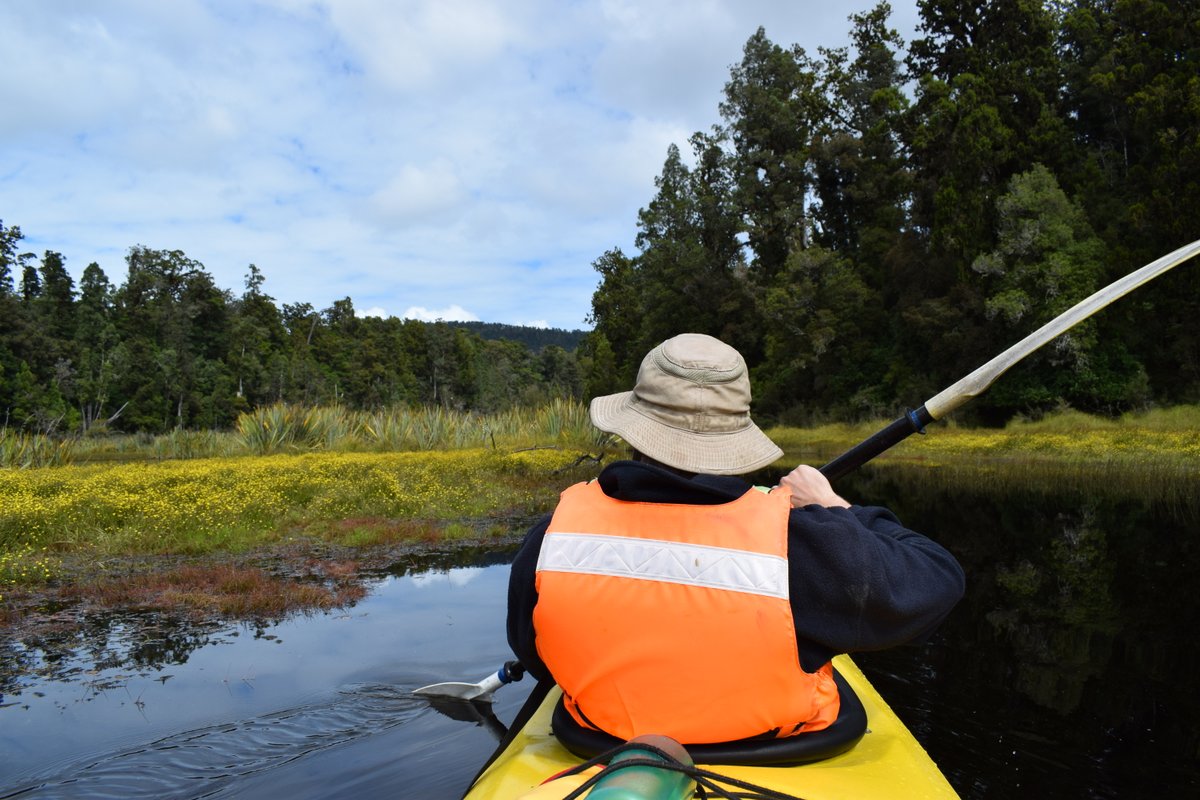 It too was magical - just a different kind of magic. So peaceful, so calm, so beautiful. I'm not a very frequent kayaker, but I think it was the most wonderful experience I've ever had on the water.
Conclusion
The snow-capped peaks and glaciers were the main reason why I chose to visit New Zealand, and they turned out to be even better than I expected. I also found many other wonderful things in the country, some of which may make it into subsequent posts.
For now, though, I can definitely recommend New Zealand - particularly if, like me, you're already in the Southern Hemisphere. Just maybe wait till Covid-19 is under better control and borders are more open first…