Scaling the highest peaks
This year, I climbed to the highest point of five different nations for the first time: Australia, England, Wales, Scotland, and the Isle of Man. I also climbed the highest point of my home state of Victoria for a second time.
Climbing the tallest mountain in my home country has been on my list for years, so I made sure I did it before exhausting my leave going to the UK. Doing the UK Three Peaks was a key part of my planning for exploring the UK. I was already planning on spending a lot of time in England, but this gave me a goal to target: I wanted to make sure that I spent at least a week in Wales and Scotland, rather than just dashing in, climbing a peak, and dashing out again. The Isle of Man felt too small to spend more than a few days on it, though I found I could have easily spent longer (it doesn't seem as well known as it should be).
One of the things my list shows is the importance of choosing your countries carefully. The highest point I reached during the year was in Switzerland, at least a kilometre higher than I got in Australia. And yet it still wasn't enough: to reach the highest mountain in Switzerland I would have had to go another kilometre up and used specialised equipment. I only spent about six hours in France, and still ended up climbing higher than England and Wales. I seriously considered visiting the Netherlands and trying to reach its highest point (a mere 322.7m high), but decided (wisely) that I'd prefer to spend my time exploring the Swiss Alps.
In this post I'll just deal with the absolute peaks. Tomorrow, I'll finish with some honourable mentions. (Edit: second post here)
Mount Kosciuszko, Australia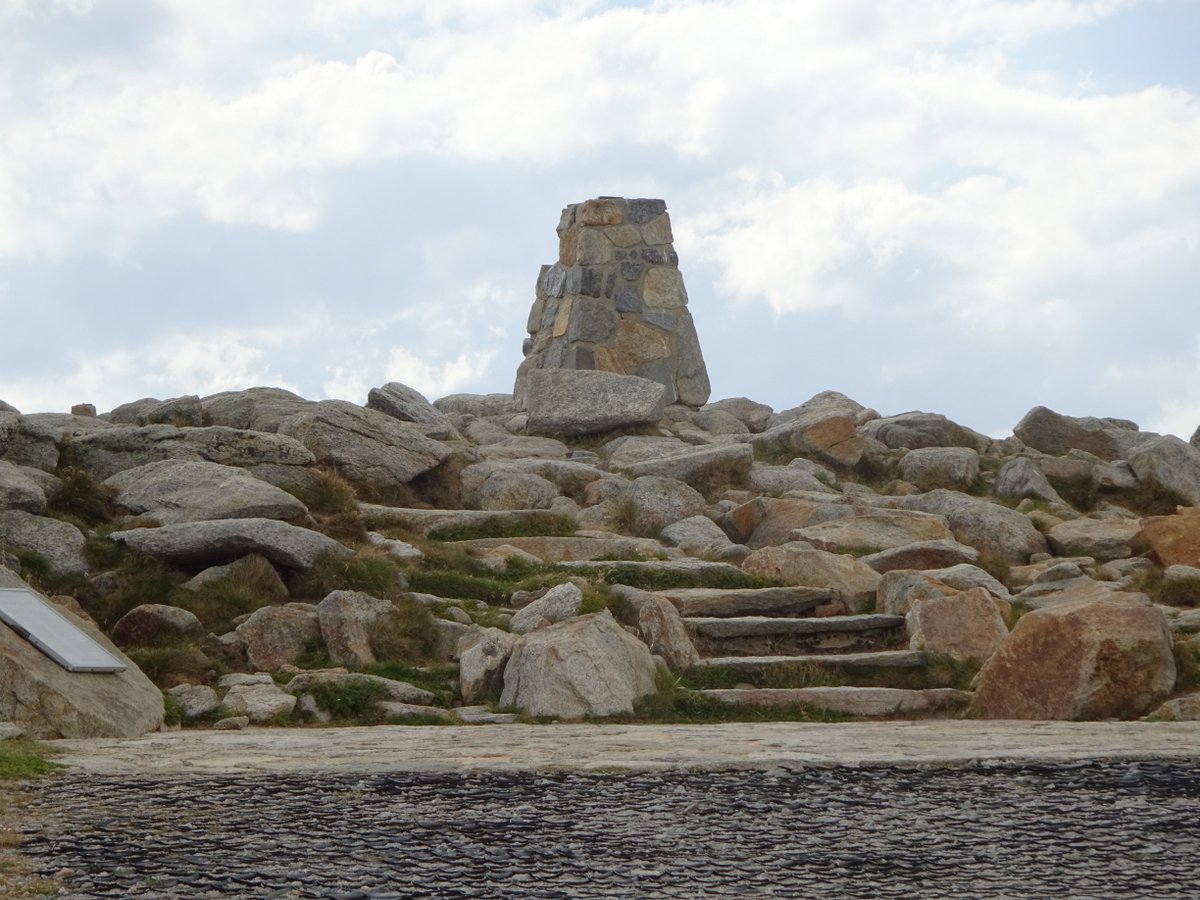 I climbed Kosciuszko twice in three days, from two different directions. Both times I managed to avoid the crowds at the peak by only turning up late in the evening when respectable folks had all come and gone. The longest route is the best, taking you past several glacial lakes (rare in Australia) and lots of alpine meadows with species unique to this elevation in Australia. It is a fairly exposed route and had the strongest winds I remember facing in Australia (though I found stronger in the Scottish Highlands after a gale prediction).
Mount Snowdon, Wales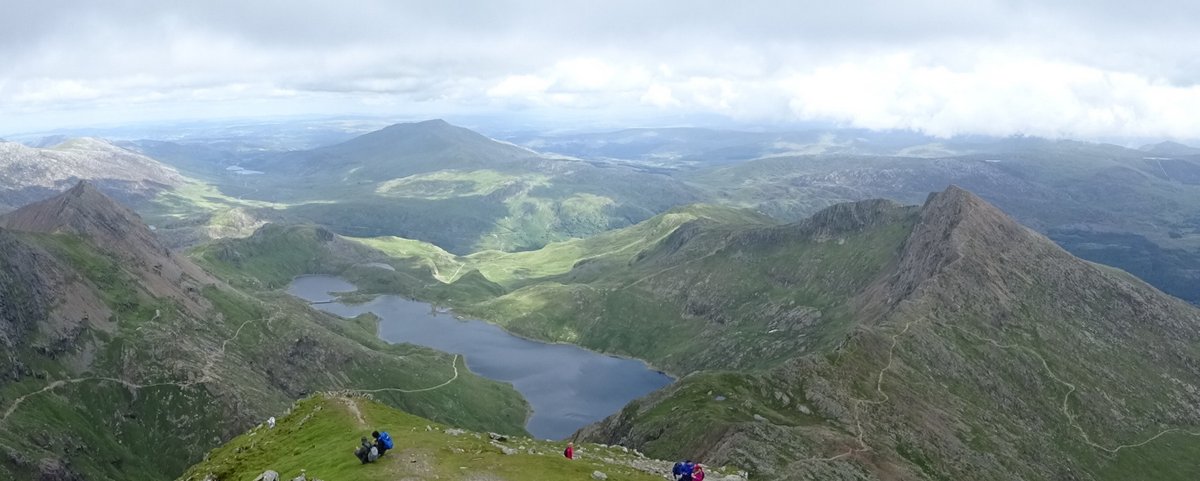 The country around Snowdon reminded me a lot of the Kosciuszko area. It has a number of different routes up, and because I was relying on bus transport I was able to go down a different route from the one I went up. I had been concerned by the weather, but it was very obliging. Cold at the top, yes, but it was sunny, and the clouds lifted off the summit when I was halfway up, and started to return half an hour after I left the summit. The scenery is magnificent, even reaching to the nearby sea, though it does feel odd having sea gulls gliding past cliff faces a kilometre up. It encouraged me to try and learn how to use my camera's panorama feature (quick tip: I would not recommend trying to learn in cold and windy conditions. My camera's software just calmly told me "You need to move the camera in a straight line". Almost as if I just wasn't trying. The picture above was one of the few that worked).
There is a train right to the top, so visitor numbers fluctuate a lot during the day, but I'm sure it's much more satisfying walking it all myself. It is considered the easiest of the UK Three Peaks, but it was good to have got one under my belt early.
Scafell Pike, England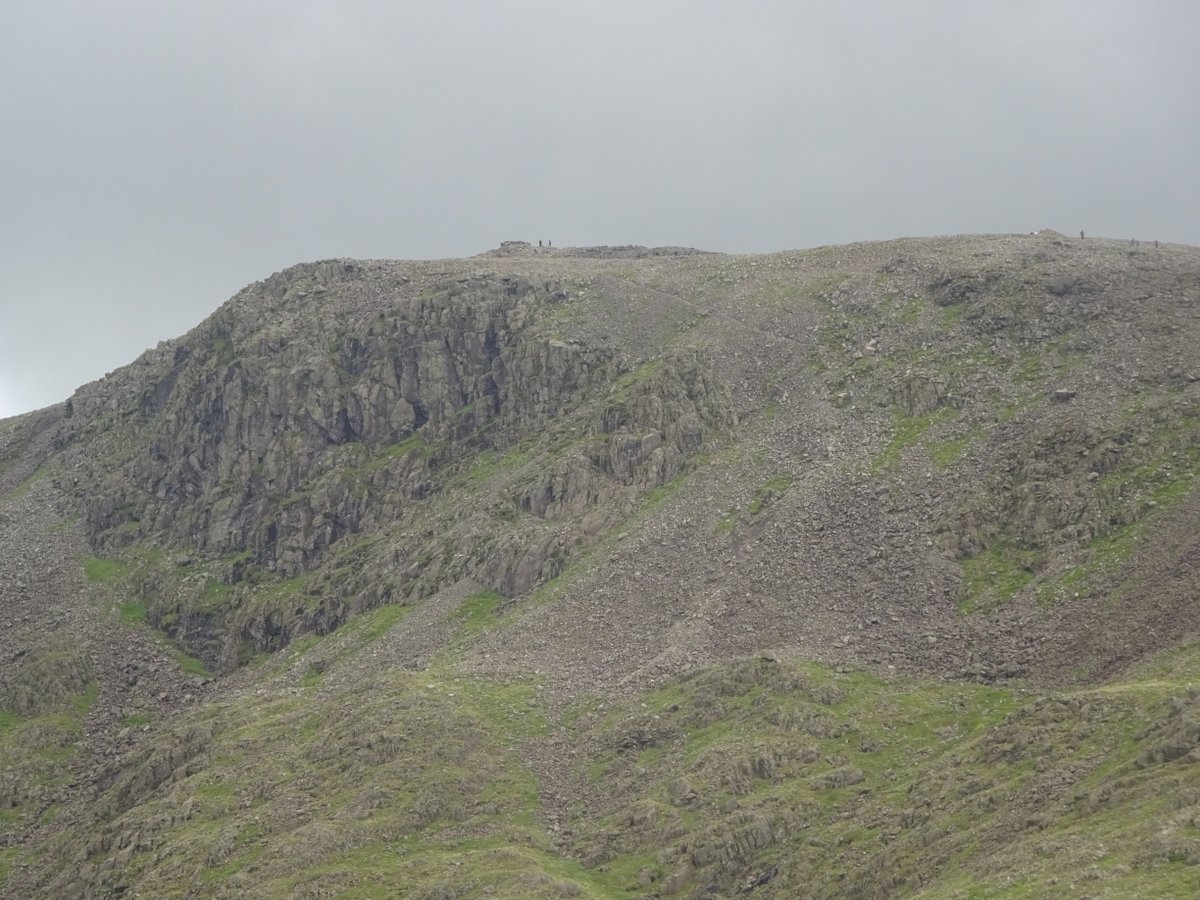 Though it's the highest mountain in England, Scafell Pike still doesn't reach 1 km. It's a fun climb, so long as you leave the official (and overcrowded) National Trust route and do a circuit including at least two of the several good alternatives. Much wilder country than I found in the better known parts of the Lake District last trip. There were scree-covered slopes to climb, steep enough that I was left to wonder "Why aren't these rocks sliding down?" It was cold and wet with visibility zero when I first arrived at the top, but given it had cleared to reveal magnificent views within ten minutes I wasn't about to complain.
One of the most unusual things about this peak is that it is a war memorial. Given to the nation in 1919 (for the historian in me, that's more than 30 years before the first national park in England was established). The plaque at the summit reads:
In perpetual memory of the men of the Lake District who fell for God and King, for freedom, peace and right in the Great War 1914 - 1918.

This summit of Scafell was given to the nation, subject to any commoners rights, & placed in custody of the National Trust.
Ben Nevis, Scotland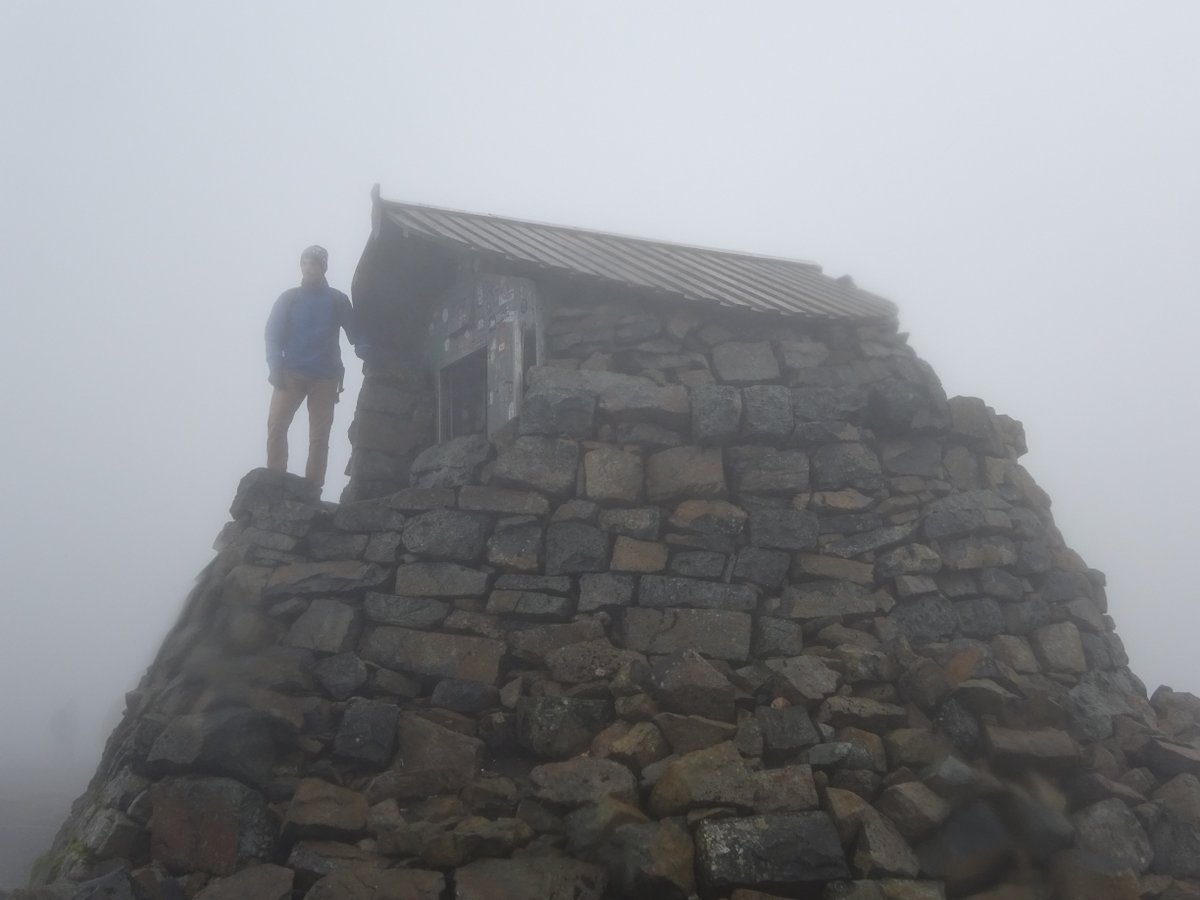 As the tallest mountain in the UK, Ben Nevis draws the crowds, quite a few of whom made it abundantly clear they weren't really prepared for the walk. Nice views for the first couple of miles, then I vanished into a world of white, with vague outlines of figures and dramatic rocks and cairns looming into view or disappearing. There was very little rain, but all my pictures from that point on are blurry because it was impossible to keep the condensation off the camera lens (or anywhere else). The "feels like" temperatures at the summit were below 0°C, and I also saw some ice near the top. And this was in August! I stayed up there for a while, and couldn't feel my fingers again till at least half an hour after leaving the summit. As well as the summit cairn, it also has a refuge hut which qualifies as the highest residence in the UK. Makes quite a surprise seeing that appear out of the mist.
As with the other UK Three Peaks, this one has views out to sea. Though in this case it's to a sea loch rather than "true sea".
Snaefell, Isle of Man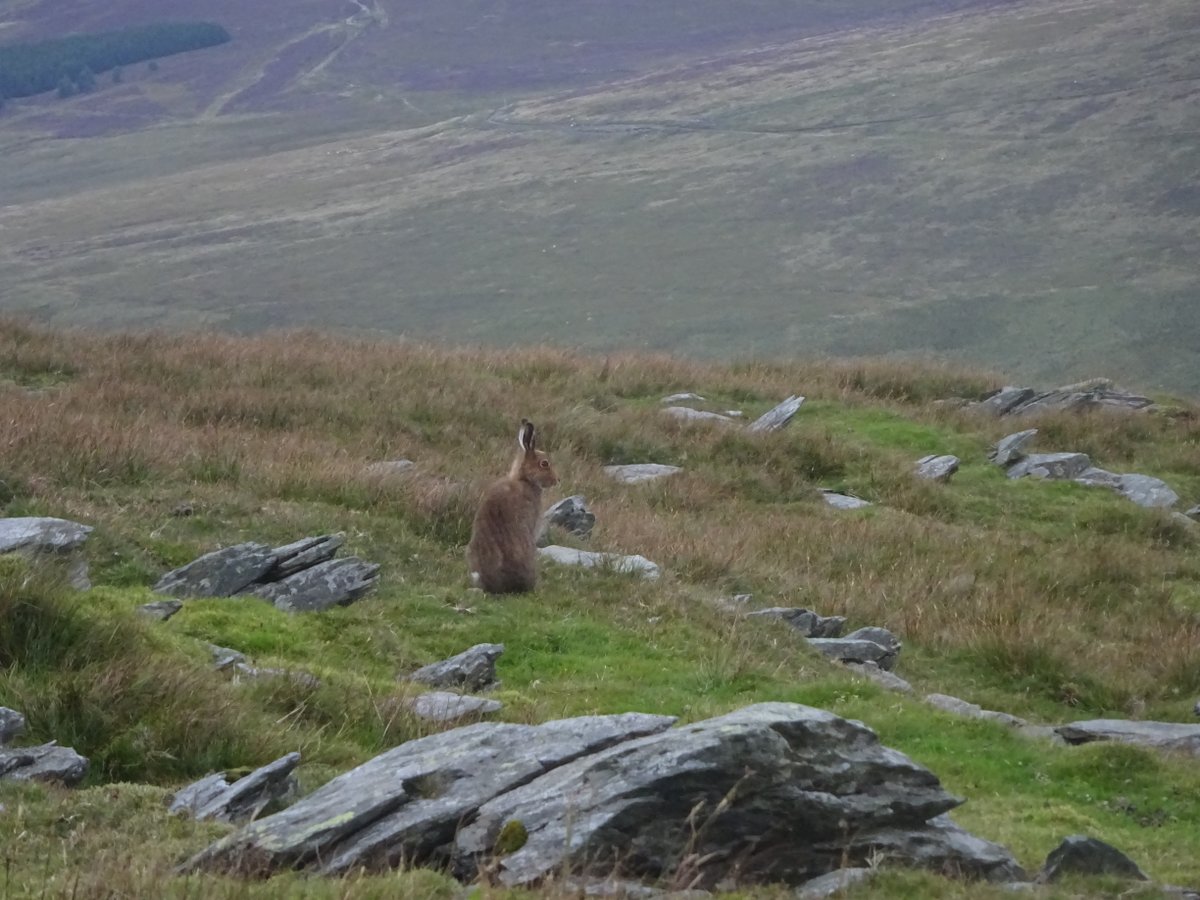 This one is only 620 m high (similar to my local Mount Dandenong), but it is the tallest peak on the Isle of Man. It has a railway to the top, but you can get to the first stop and then do the remaining distance on foot. You know you are near the summit when you reach the Spitfire up there.
It is said that from Snaefell on a clear day you can see seven kingdoms: Mann, Scotland, Ireland, Wales, England, Neptune, and Heaven. I could certainly see back to Douglas as well as to England, Scotland, and Ireland. Maybe I saw Wales as well, but I'm not sure: I saw something in that direction, but thought it was cloud. As we went down at night we could see a Scottish lighthouse flashing. It feels funny, but it is just a reflection of how much the Isle of Man is surrounded by the other British Isles.
I also saw the only mountain hare I saw on my trip, and plenty of sheep who realised that the railway line was the obvious place for a rest.
Jungfraujoch, Switzerland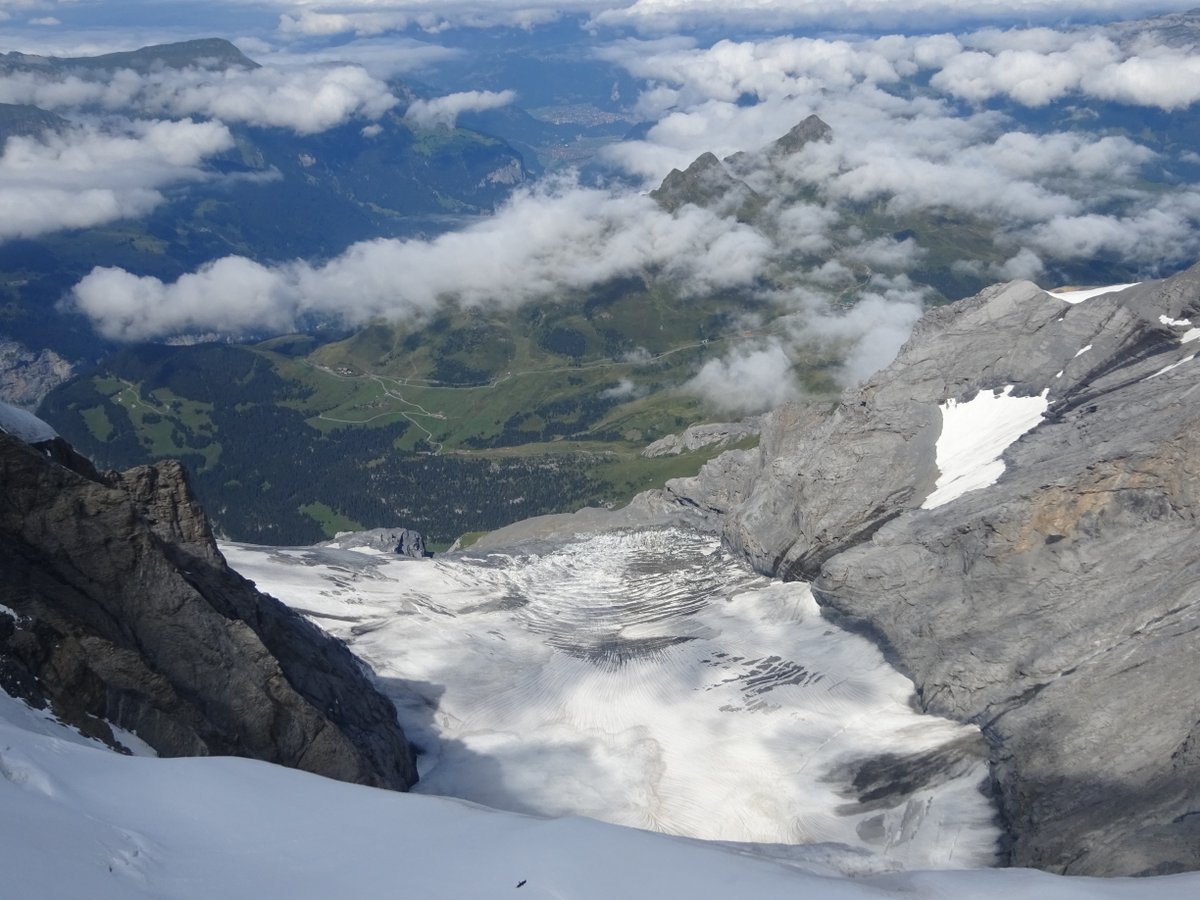 This doesn't really count, because it isn't the highest point in Switzerland, I didn't reach a peak while walking, and most of the hard work was done by a train which carried thousands of tourists up (including me). But it was the highest I went this year without flying in a plane.
I know plenty of people who have been here: It's one of the best known tourist traps in Switzerland, pretentiously called the "Top of Europe". But it's also an amazing place with the best views I saw in Switzerland and attractions like the Ice Palace and the highest chocolate shop in Europe. I was also impressed by the number of sporting events that have taken place up there.
There is a walk to the nearest refuge hut, and naturally I took it. The walk is on the Aletsch Glacier, the largest glacier in the Alps. And, despite being over 2km higher than Ben Nevis, it was still a lot warmer than Ben Nevis and I overheated. Sorry to disillusion you if you expect any glamour walking on a glacier, but it's just like walking on a hardpacked snow trail. Not much different from snowy trails I've walked on in Yosemite and Zion. The main difference was the crashes of falling rocks, snow and ice from time to time - a reminder that glacier country is less stable and more prone to avalanches than the solid earth I'm used to walking on. Yes, the trail they provide you doesn't go too close to cliffs and is considered safe - but don't go beyond it without proper equipment and training (I didn't).