A Christmas Carol - Reimagined!
Charles Dickens' A Christmas Carol has become such a part of our Christmas tradition that it's been almost endlessly adapted. But imagine it set in the modern Melbourne era (yes, a summer Christmas) and turned into an opera.
That was the premise of Victorian Opera's latest production. And I really enjoyed it.
More than anything else, what got me there was curiosity. I know and love the original, so I was curious to see how it worked as an opera, and what had changed to make it a "very Melbourne production".
I then found it far better than expected. The staging was good, the singing was good, and the rhymes were fun - but there was also so much more to it.
Spoiler alert
I'm trying to avoid major spoilers, but I'm sure there will be some. Should you wish to watch it first, it is available online (behind a pay wall). And if you're not aware of the original Dickens' novella and its role in the Christmas mythos - well, there are probably even more spoilers.
A Christmas icon
The story has become an important part of our image of Christmas. Even those who don't know the original will probably know some of the ideas from it. As Anna Goldsworthy, the librettist, put it:
The book has all the fingerprints of Dickens' genius: the deft characterisation; the social purpose; the generosity and human insight; the comedy and the satire; the deep seriousness of its themes. But it has something else besides. A Christmas Carol is so finely wrought a fiction that it has entered the realm of myth. An uncanny number of A Christmas Carol's characters and sayings have been absorbed into the vernacular: Scrooge; the Ghosts of Christmases Past and Present; Tiny Tim; 'Bah Humbug!'; 'God bless us everyone'. It is that rare type of book that becomes archetype, and opera loves archetypes.
This was captured early on at Scrooge's house, where a carol singer beginning with "God rest ye merry gentlemen" gets the sung response "Bah humbug! Bah humbug!". And it didn't let up.
Using actual Christmas carols
One of the advantages this opera has is the number of well-known tunes and songs that can be used as instrumental accompaniments, given new words, or subverted. After all, Christmas can be evoked very easily in mid-December.
Of the tunes used, I recognised at least We wish you a Merry Christmas, God rest ye merry gentlemen, Oh Little Town of Bethlehem, and Jingle Bells. And there are probably others I missed.
Australiana
The setting is very definitely Australia, and Melbourne (though, as a life-long Melburnian, I probably expected to get more of the references than I actually did). But I think it would come across just fine for those not familiar with Melbourne as a generic "Enjoying the festive season". Take for example this scene:
Orchestral interlude: Festive Melbourne: Christmas carol music punctuated by Scrooge's exclamations: 'Bah humbug!' Salvation Army Bands. Sugarplum Fairy and Myer Christmas windows. Christmas lights in Fed Square. Carols by Candelight. Queen Victoria markets. Noise of Christmas drinks and traffic and purchases being made.
I know many of those places, and have actually visited the lit up Fed Square multiple times this Christmas season, but still took it more as a pleasant Christmassy interlude than something Melbourne specific.
Further back in time, the child Scrooge was at a school somewhere on the Goulburn Valley Highway. And when the books came to life, it wasn't Ali Baba and the Arabian Nights, but the likes of Blinky Bill, Snugglepot & Cuddlepie, and The Magic Pudding that made their appearance.
The children played cricket (which wouldn't be out of place in Dickens' England - Pickwick Papers even includes an early match - but perhaps not in winter…). And to me that was special, because playing cricket with family members is an important part of my childhood memories of Christmas. There was also a reference to "footy tipping", which is perhaps more distinctively Melburnian.
Begone, winter! ❄️🌞😎
When I mentioned the opera to a relative, they said "But it's such a wintry tale - how could it possibly be moved to Melbourne?" Honestly, I'm not sure how much I've noticed that about the original. But, looking back at it, it's definitely there. Take this, from the "Christmas Present" section:
They stood in the city streets on Christmas morning, where (for the weather was severe) the people made a rough, but brisk and not unpleasant kind of music, in scraping the snow from the pavement in front of their dwellings, and from the tops of their houses, whence it was mad delight to the boys to see it come plumping down into the road below, and splitting into artificial little snow-storms.
…
There was nothing very cheerful in the climate or the town, and yet was there an air of cheerfulness abroad that the clearest summer air and brightest summer sun might have endeavoured to diffuse in vain.

For, the people who were shovelling away on the housetops were jovial and full of glee; calling out to one another from the parapets, and now and then exchanging a facetious snowball—better-natured missile far than many a wordy jest—laughing heartily if it went right and not less heartily if it went wrong.
I have never had a Christmas like that. Never. And I'm not sure I ever will.
To me, Christmas has always been a summer festivity, with long, warm days and outdoor activities when it's not too hot. Perhaps even a water fight. Hail is the closest I've been to a White Christmas.
This never stopped me appreciating A Christmas Carol - I guess I just ignored the parts that didn't fit my own context.
Anna Goldsworthy addressed this too:
How we transpose it not just to this era but also to this country where Christmas looks quite different to what it looked like in Victorian England. A lot of the aesthetic of A Christmas Carol is sort of interior and wintery and snowy and cozy and it's to do with the hearth and fires inside burning and so on. Trying to think about what an Australian Christmas looks like and how we've realised some of the feeling of that book and its very different climactic context, so one obvious change I made was to the Ghost of Christmas Present. He's a wonderfully hedonistic character in the original who is wearing his fur-trimmed gown and is surrounded by beautiful rich Christmas fare. I was trying to think of what a contemporary Australian iteration might look like with such a person, and I thought maybe a surfer who is really fully partaking of that Australian version of hedonism: the outdoors and to the abundance and copiousness to the way he acts.
Like so many parts of this opera, it just worked. Christmas Present was fun and engaging, and worked so well that I didn't even notice how different he was from the original.
Set in modern times
When A Christmas Carol was first published, Melbourne's Hoddle grid had only recently been laid out, and the nascent city was still part of the Port Phillip district of NSW. The gold rush that made Melbourne the richest city in the Southern Hemisphere, the historic buildings, the skyscrapers, the suburbs I grew up in - all these things were in the future.
Not only is this opera set in Melbourne, but it's unapologetically set in modern times. It's not a period piece, and it's not the world of Dickens - but it works, and works well.
The modern vibe starts early, with Scrooge and Cratchit in the office working on computers when niece Freda* comes in. Later, Christmas Present took every chance to take selfies.
However, at a more fundamental level, one of the biggest differences is readily available electricity. Dickens references a lamplighter running along the street, "dotting the dusky street with specks of light". In the street were gas lamps, and indoors he references candles and open fires as sources of light.
To me, even with the long days of summer here, one of the things I associate most strongly with Christmas is Christmas lights. Colourful lights, flashing, sparkling, bright and active. I was out last night wandering my local streets. There were reindeer and penguins, Santas and Christmas trees, stars and presents - so many variations, but all of them were lit up.
And that applied to the opera itself - yes, it had Christmas lights on stage, but it also fundamentally relied on readily available electricity and lighting for almost every effect.
* This gender flip is part of a broader push to have more women on stage, intended to reflect the greater number of roles available to women in modern times. But it's also a concession to opera - doing it gave the composer access to more sopranos and mezzos.
Social justice
One of the things motivating Dickens was the inequality and the poverty he saw. As Anna Goldsworthy puts it:
Then beyond that, there's something so universal about Dickens' themes of generosity and inequality and I suppose the meaning of Christmas, and by extension what it is to be a human with a social conscience, that I felt these were really applicable to our own time. In some ways more than ever. I mean inequality is still a massive problem, greed is still a massive problem and a whole lot of things in contemporary society are only exacerbating these problems for us. It's really interesting to re-examine this text through the prism of our own era.
Early on, in a subversion of God Rest Ye Merry Gentlemen, Scrooge takes aim at the concept of a "true spirit of Christmas" - the woke, the do-gooders, and the ideal of saving the world from poverty. He even goes so far as to call Christmas a "socialist fraud" (though, in all honesty, if there is any fraud in our modern Christmas I think it's more likely to be a consumerist capitalist fraud than a socialist one…).
In the same way as Tiny Tim could well be the spiritual heart of the original, I'd say the spiritual heart of the opera is Tiny Tim's rendition of O Little Town of Bethlehem. It starts with the traditional first verse, then later verses talk about problems with aged care, with Australia's treatment of refugees, and with our treatment of First Nations people. It's quite different from Dickens' original, but I think inspired by the same type of social justice concerns as he was. And it surprised me at first - but it works.
Enter Christmas Future
In the original, Christmas Future was a figure of menace:
The Phantom slowly, gravely, silently, approached. When it came near him, Scrooge bent down upon his knee; for in the very air through which this Spirit moved it seemed to scatter gloom and mystery.

It was shrouded in a deep black garment, which concealed its head, its face, its form, and left nothing of it visible save one outstretched hand. But for this it would have been difficult to detach its figure from the night, and separate it from the darkness by which it was surrounded.

He felt that it was tall and stately when it came beside him, and that its mysterious presence filled him with a solemn dread. He knew no more, for the Spirit neither spoke nor moved.
I was interested to see how the opera would handle it, and I'd have to say it does full justice to that original description. It was an opportunity to move on from carols and festive scenes to darker and more emotional music and singing and staging.
To me, it was this section, and how different it was from what had come before, that elevated it from "fun Christmas opera" to a wonderful opera.
Christianity and the festive season
For some in Melbourne, the religious parts of Christmas are a big deal. Christmas' True Meaning is about Jesus.
But for many (perhaps most?) it's just not.
And yet the original text has Christian themes, some of which have to be carried across to an opera like this. I addressed that on this blog early on:
In spite of the book's many invocations of God and of Jesus as part of Christmas' "sacred name and origin", I think it presents an essentially humanistic approach. The main idea is of humans working together. The book is full of concern for the poor, but the concern is for their well-being here and now, not for their future salvation.
…
The book ends with Tim's words "God Bless Us, Every One", but truly there is no God required here.
And I think the same is true of this opera. It wasn't accidental saying above that a social justice message was the spiritual heart of the production. That was arguably true of the original text, but more so for this opera because there are fewer direct religious messages than in the original. Society has moved on, and it's no longer the default.
The one reference that's practically unavoidable is the "God bless us, every one". And that does get sung with gusto near the end. But the opera actually ends with the cast singing "We wish you a merry Christmas, and a Happy New Year". To me that seems much more appropriate for an opera - and for the modern festive season.
An unexpected sunset
At interval I went out for a breath of fresh air, a couple of hundred metres from the bay - and discovered it was just about sunset. Being me, I ran over to the beach and took lots of photos as the sun slowly sank below the horizon: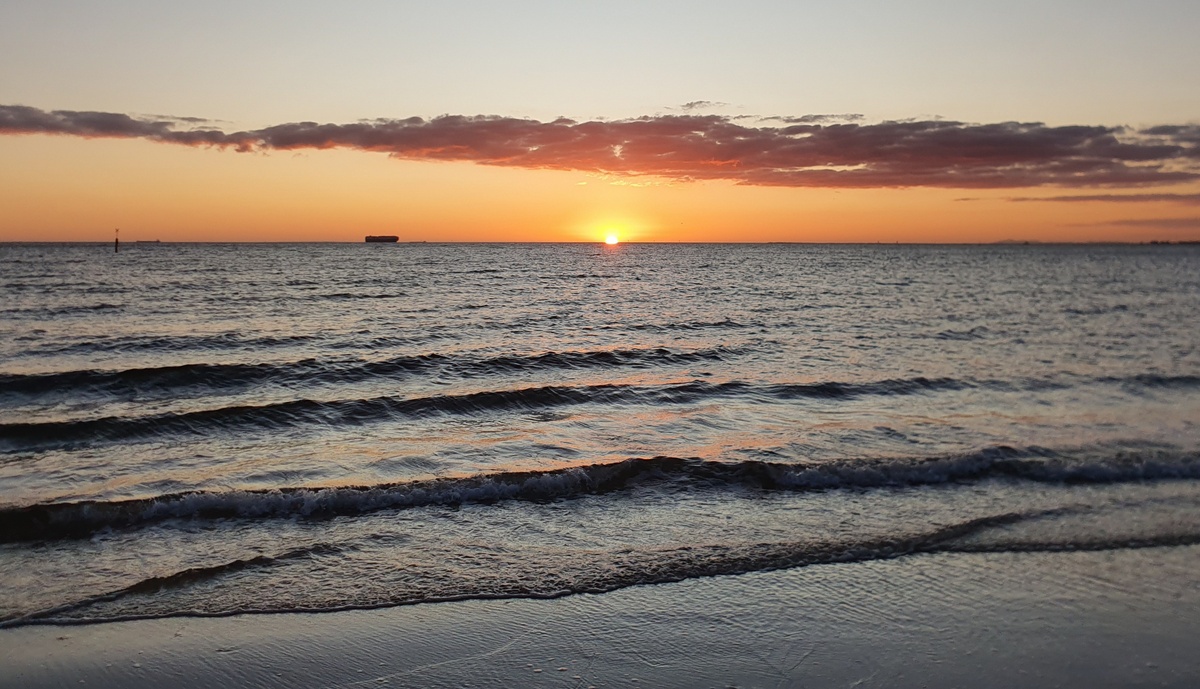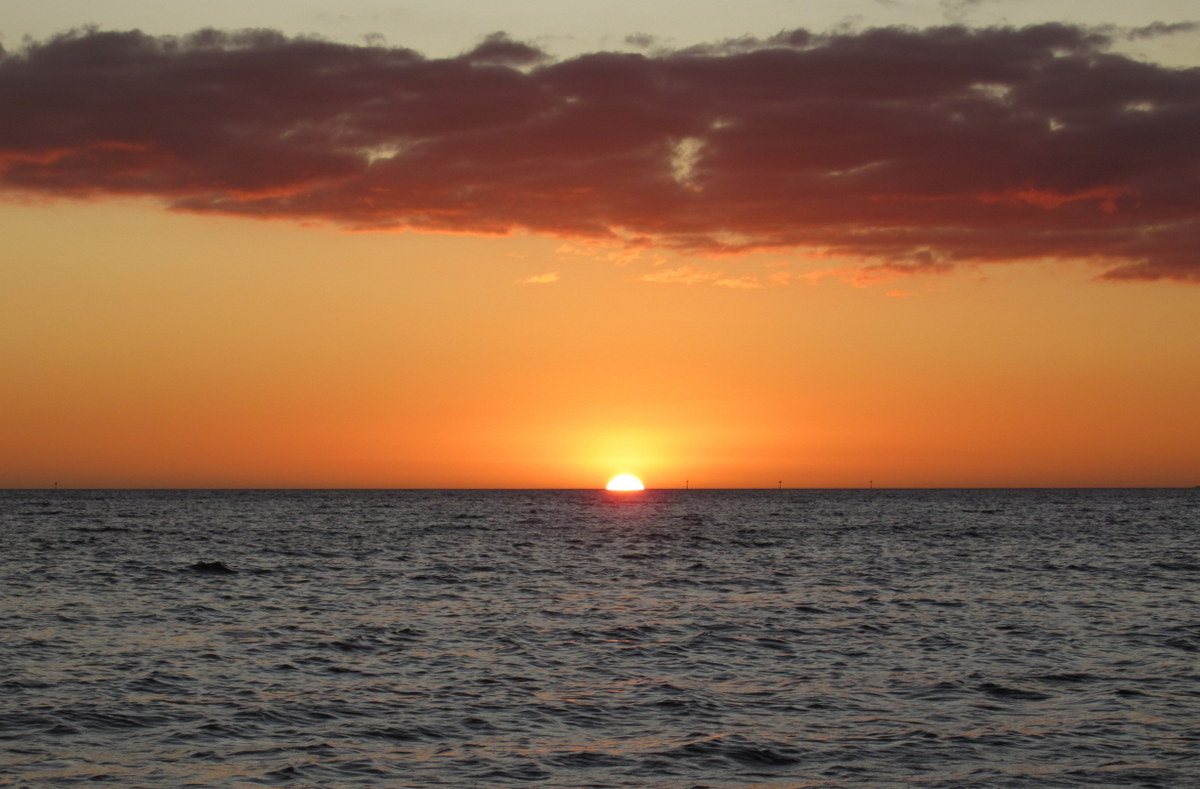 Then ran back again so as not to miss any of the opera. Quite probably I was the only one there who did that - but it was worth it.
And I think this is interesting as another example of how different the Christmas season is in summer. In winter, sunset would have been long gone by the time the production started. And it could well have been too cold for me to want to walk along the beach listening to the waves after the end of the opera. In summer, what did a little thing like getting home after midnight matter? 😛
Conclusion
I'm a Melburnian born and bred. I like going along to live stage productions and live music. I like Charles Dickens' A Christmas Carol. And I also like many traditional Christmas carols. So the odds were good that if the opera were a good adaptation I'd enjoy it.
But it moved me so much more than I expected. It made me laugh, and it made me cry (OK, technically since I was in public I didn't actually cry, but I felt like it). And if they were doing it again for Christmas next year I'd strongly consider going along.
So I'd happily recommend it to others. I was at the final live performance of this world premiere season, and I don't know whether it will be staged anywhere else. But it is available online behind a pay wall for anyone interested.