Some running Ashes commentary
Last week, I wrote about Bazball and the ongoing Ashes series, including some predictions of how it might go. So I wanted to keep a running commentary on how those predictions are going, and the unexpected ways the series twists.
The Third Test
This time round, England ended up with a tight win after another see-sawing game. In spite of both sides missing quite a few chances, wickets fell quickly enough that my concern about rain proved misplaced. And, perhaps in confirmation of some of the Bazball spirit, both teams relied on batsmen scoring quickly to tip the scales their way. Australia weren't able to bat long like they did in the first two Tests. In fact, they were into their second innings on day 2, and the match was finished on Day 4 in spite of only getting 25 overs on Day 3.
Much as I'd have liked Australia to win, it was probably the fairest result, really. After two tight matches and one that Australia dominated, 2-1 is a much better scorecard than 3-0.
It was a fairly good match for returning players: Mark Wood got Man of the Match for a 5 wicket haul in the first innings and useful quick runs in both innings. Mark Wood brought added pace and uncertainty for Australia, and ended up with Man of the Match after England had wanted Wood since the First Test, but he hadn't been quite ready. And after his display this match we can see why they wanted him: The extra pace made the Australian batsmen a little more uncertain.
But it wasn't just Wood: Moeen Ali took Smith and Labuschagne to put up his 200 wickets (now only the 3,000 run target remains…). Chris Woakes took 3 wickets in either innings, and kept the chase together with the bat before hitting the winning runs. And for Australia, Mitch Marsh made a century and took a couple of useful wickets.
Initial preview (03/07/2023)
At the end of the Second Test, England captain Ben Stokes said:
We're 2-0 down but we've won 3-0 against NZ, 3-0 against Pakistan, so we know we can do it.
And it's true - but Australia are now (including the WTC Final against India) 3-0 in England this summer. Stokes' England could reverse that, but the odds don't seem in their favour. England now need to win this one - a draw will guarantee Australia keep the Ashes, while a win would give Australia the series.
With a short turnaround and both pace attacks having taken on a heavy load (though more so England's), both sides surely have to be considering rotating some of their bowlers. For spin, Nathan Lyon has been the glue holding together the bowling attack for many years, and after his unfortunate injury Todd Murphy will get the chance to see if he can take the same role.
England will be hoping for Moeen Ali to return. For the record, I'd like to see him get the 3,000 Test run / 200 Test wicket combo (which only requires another 49 runs and 2 wickets), though I don't think he'll be a decisive factor in the series. He has in the past been brilliant with both the ball and the bat at times, though I'd think it's been a while since he could justify his selection as either a front-line batsman or a front-line bowler.
I'm not sure anything needs to change with the batting - both sides know what their players can do. I'd think Australia has to be a little happier with their batting, but England have based a lot of their strategy on continuity of selection and trusting players to know their own game. And their players have produced a number of amazing innings in the Bazball era.
Final preview (06/07/2023)
This Test will be Steve Smith's 100th Test. And I'm sure he'll want to mark the occasion with another century. Will he be able to? Will he be able to match Warner's MCG double century in his hundredth? We'll wait and see.
So far, the forecast looks like some rain on day 4, and potentially a lot of rain on days 3 and 5. Perhaps we'll see the first Bazball draw?
Another rankings update
Australia still have four batsmen in the top 10, though their order has shifted. After his Lord's century Smith is the highest at #2, then there's Labuschagne, Head, and Khawaja at 3, 4, and 7. Root has been demoted from #1 to #5, which seems a bit harsh. The other noticeable one is Duckett going up a long way after a good Lord's performance: Up 24 places to #18.
With the ball, Australia have lost the services of one of their top 10 bowlers (Nathan Lyon), and that's a big loss. The other, captain Pat Cummins, has moved up to #2.
Day 1
Australia started the day by losing the toss and being sent in. Though apparently they've won 11 of the last 12 Tests where they've lost the toss, so maybe it's not so bad. Except that the last loss after losing the toss was the last time they were here at Headingley…
Broad got Warner in the first over, in a throw-back to 2009. And after that wickets fell fairly regularly, even though I think all the rest of the top 7 were dropped at least once.
Australia were 4 down at lunch. Then looked like being still 4 down at tea before Marsh fell for a run a ball century. I didn't even know Marsh was on the Ashes tour - a Marsh century wasn't one of my predictions for the match, and a Marsh century before tea on the first day even more so.
Then after tea Wood triggered an Australia collapse - all out for 263. By the end of the day, England were 3/68. Once more a fairly evenly balanced match.
So how did the day go? Well, at the start of the day I'm pretty sure I'd have been disappointed by 263. But after seeing Australia 4-85 it seems a good enough recovery. And after seeing England three down by stumps it doesn't seem so low a score. Australia could well end up behind on first innings, depending on how they bowl and how England bat, but at lunch I was afraid they would lose the match on the first day, and thanks to Marsh (and to England for dropping him and Head) Australia are well and truly in the game.
Australia specifically had Marsh as a Cameron Green replacement - a batsman who is also a useful bowler. And it doesn't matter how well your #6 bowls, they need to be able to bail you out with the bat sometimes. And that's what Marsh has done. Could he now justify his selection as a specialist batsman over, say, Matt Renshaw or Marcus Harris? I don't know, but it would certainly be nice if he could.
Day 2
Like Australia had before them, England continued to lose wickets in their first innings. From 5-87 they recovered to 7-142 at lunch, and Australia looked like taking another substantial first innings lead (in a repeat of the last Test) before another Stokes spectacular reduced the lead to 26. Yet another example of a score I'd have taken at the start of the day, but a little disappointing after having England on the ropes.
The rest of the day was more of the same: Australia making runs, but also losing wickets, some to careless shots. At 4 down with a lead of only 142 England has a big opportunity (though the pair at the crease did made the majority of Australia's runs in the first innings…).
Once again at the end of the day the match seems fairly even, though maybe a slight edge to England. Australia will want a big partnership from Marsh and Head tomorrow, but with rain expected it's unclear how much time they will get in the middle, or what the conditions will be like.
Cummins' comment at the end of the day seems apt here:
I'm sure the fans are loving it but I wouldn't mind a stress-free day or two. It's all set up for another wonderful match.
Day 3
As predicted, the rain came down. No play before lunch. No play before tea.
I was starting to wonder whether we'd lose the entire day, but no, Australia was able to resume their innings after tea. And went back to losing wickets again, though not quite as quickly as post-tea on the first day. A Head fifty meant Australia stayed in the game, but not really where we would have wanted them. England's openers survived five overs, leaving only 224 to win.
Day 4 will probably see better conditions, and with less rain forecast I have to imagine the match will be settled one way or the other tomorrow. No draw due to washed out days.
It again feels like England are slightly ahead, particularly if conditions favour them. The main ray of hope for Australia is that so far each innings has got less than the innings before. England have capable batters, but it won't necessarily be easy batting, and England will need to reverse that trend to win.
Day 4
Not a lot to say about this day, really. When Bairstow was sixth out with eighty runs still required, it felt like Australia was still in it with a good chance. But then Brook finally showed the form which had almost made him one of the fastest to 1,000 Test runs.
Australia felt very reliant on Cummins and Starc. Both got wickets, and in fact Starc got a 5-for to match Cummins' first innings 6-for. But he also conceded the winning runs in an expensive final over. Todd Murphy only only got two overs, which was a surprise - I can't help but imagine that if Lyon had been playing, he'd have bowled a lot more, win or lose.
Australia had their moments, but at the end of the day England was the better team and deserved their win. And, much as I'd have preferred an Australia win, it was probably the fairest result, and means we go into the Fourth Test with the series still alive. That has to be worth something, right?
The Second Test
Australia came into this Test one up after a fairly evenly matched first Test. And they left it 2-0 up. I said I wouldn't be confident of an Australian series win until I saw them take their third victory, and it's true - but this win felt more decisive than the last one.
It wasn't just that Australia won, but the way they won. The first Test, either team could easily have won. If we'd seen four repeats of that, you could reasonably expect England to win a couple of them.
This Test Australia were on top for most of the match. They were sent in to bat in conditions where they've collapsed in previous series, and they survived and then thrived. They lost a key bowler early, but still managed to take 20 wickets. By the end, only a Ben Stokes spectacular could really have given England the match.
A headline I saw on waking up after the first day rung true: Australia are quite good, England might not be as good as they thought. I thought England should have a slight edge with both ball and bat at home, and maybe they will show that in the coming Tests, but right now it doesn't look like it.
Day 1
This was the day I dreaded. Under cloudy conditions, Australia lost the toss and were sent in - facing a team including Stuart Broad and Jimmy Anderson. Usman Khawaja and David Warner had weathered similar conditions in the WTC Final, but that was against a neutral India, not the mighty home team. I seriously expected they would be five down by lunch.
It didn't happen. England had a couple of chances, but they didn't take them, and only managed to take the one wicket on the stroke of lunch. Conditions eased, and Warner, Smith and Head all made fifties. It was disappointing when Joe Root took a couple of late wickets, but the day definitely ended with Australia on top.
If Australia had won the toss, Cummins said he would have sent England in. Given the day's result, that made me wonder if actually it was a good toss to lose. Perhaps it was, or perhaps the Australian bowling attack would have capitalised on the conditions better and had England 5 down by lunch. We'll never know.
What we do know is that by the end of the day, Josh Tongue had taken a couple of beautiful wickets, Joe Root's spin had kept England in the game, and Anderson and Broad were wicketless in conditions that should have suited them.
Australia couldn't win the Test on the first day - but at least they hadn't lost it on the first day as they had in previous series.
Day 2
400 felt like a bare minimum for Australia. And after a couple of early wickets I started to wonder whether they could make it. But Cummins stuck round again, Smith made his century, and Australia made 416. Perhaps not as large as I hoped, but enough to give them a chance.
Then out came England in perhaps better batting conditions and switched on Bazball mode. What's more, Australia suffered a major unexpected injury.
For many years, in my view, Nathan Lyon has been the glue holding the Australian bowling attack together. Sometimes he's underappreciated, but there's a reason he's still there. He's been effective both home and away: Bowling long spells, holding down an end, allowing the pace bowlers to be rotated, and making frequent useful breakthroughs. And he did that again today, breaking a dangerous opening stand shortly before suffering a serious calf injury.
He was in his hundredth consecutive Test (a record for a bowler) and closing in on his 500th Test wicket. I expected him to play all five Ashes Tests, as I'm sure did most other people. For this Test, England are going to be wanting to chase like they did last summer, and Lyon was one of Australia's best chances of stopping that chase.
And so at the end of the day England had six wickets in hand and were only 138 behind Australia. Like Australia might have preferred to have been three down after the first day, England might have preferred to be two down. But with a depleted Australian bowling attack, Brook and Stokes in, and Bairstow to come, there seemed a good chance that they could take a first innings lead, perhaps even a decisive one. Australia were still ahead on the scoreboard, and I hoped they could take a first innings lead, but it felt like it might be advantage England.
Day 3
Today was England's chance. I was out during early play, but on the train home could see they'd lost another couple of wickets. So far, so good - but I really wasn't expecting to get home to find England bowled out to give Australia a 91 lead. Travis Head - a part-time spinner less well regarded than Joe Root - had taken two wickets in an over.
At the start of the day, I'd thought an Australian first innings lead possible, but was thinking more like 10 or 20. Fifty would have been good, but 91 definitely handed Australia the advantage.
Once more Usman Khawaja and David Warner did their job, blunting the English bowlers in difficult conditions and setting things up for later batsmen to flourish. When rain ended the day early, Australia had the lead over 200 with 8 wickets in hand and two of their best batsmen at the crease.
Australia would certainly like a bigger run cushion, but the England bowlers had got movement without wickets to match. It felt like if Australia got both movement and wickets in the 4th innings it would be game over. Even without Lyon.
Had England then either:
Bowled Australia out cheaply.
Pulled off another amazing run-chase.
I'd have said good for them. But it just didn't feel likely.
Definitely advantage Australia.
Day 4
Once England finally broke the Khawaja / Smith partnership, Australia were already 278 ahead. After that they took regular wickets with a somewhat boring but effective short ball attack, but it felt like it might be too little, too late.
Then the innings finished with Nathan Lyon hobbling out to bat. Brave, perhaps, and in the end he put on an extra 15 runs with Mitchell Starc, but it was very difficult to watch. No singles, only boundaries, and I was just hoping he wouldn't make his injury worse.
So there it was: England had a target of 371. I'd have preferred 400, but even 350 would probably have been enough.
It was impossible to write off an England attack that had pulled off a number of amazing chases last summer, but they didn't look like an unstoppable team any more. And when the Australian bowlers got the early breakthroughs the England bowlers had been unable to, it began to look only a matter of time. A Duckett reprieve allowed England to get to stumps only 4 down, but there were still over 250 runs to go.
Australia the clear favourite.
Day 5
Well, as it turned out, today was all about Ben Stokes. On previous days he'd been hobbling sometimes in the field, and struggled to get through his overs - and yet he'd almost single-handedly beaten Australia at Headingley in 2019 to level the series, and it was possible to happen again. Australia started the day well on top, but while Stokes was still there there was still reason to worry.
Duckett went, then (slightly more controversially) Bairstow. But through it all Stokes still seemed to be calling the shots. Short balls galore wouldn't shift him, he was farming the strike well with Stuart Broad, and there were a few too many big sixes.
Nerves increased. There were missed chances. An England win seemed increasingly on the cards. Win predictors started to give England more than 50% chance. And yet - to me it still felt like Australia was just one wicket away. Ideally they would be able to shift Broad and the rest of the tail - but if they got Stokes it was game over.
And that was what happened. Stokes made a brilliant 155, but he left with 70 runs still to go. And the remaining bowlers couldn't make it over the line.
England had run it closer than I expected at the start of the day - but Australia had been on top the majority of the game and deserved the win.
Thoughts on the Bairstow dismissal (17/07/2023)
Originally, I mentioned the controversy above without addressing it. But now I've decided I have opinions, and those opinions mostly haven't been reflected by others commenting on it, so why not?
My starting point is this: I'd prefer Australia to have won without using that particular tactic. Bairstow may have been careless but, unlike, say, a non-striker leaving their crease early, he was clearly not trying to gain any advantage of it.
At the same time, it was well within the Laws of the Game. The umpires gave it out because it was out. I don't think there was any particular need for Australians to "give a warning" or "withdraw the appeal" or any of the many other things that have been suggested since.
And so, if people want to appeal to some nebulous "Spirit of Cricket", they can. Though I'd probably agree with Simon Taufel:
My experience is when people don't like a dismissal under the Laws of Cricket, they cite the Spirit of Cricket to support their view.
[I'll also note that the "Spirit of Cricket" section cited there includes principles like "Play hard and play fair" and "Accept the umpire's decision", both of which Australia arguably did better than England]
Calling it Australian cheating, though, as many have, when Australia were the ones that were following the law is very Orwellian use of language.
What I disagree with more is the idea floating round that that particular dismissal the only reason Australia won the game. This was a game that they had mostly dominated. That's why I said I'd prefer Australia to have won without using that particular tactic: I think they'd still have had a good chance of winning.
It's easy to look at the final scorecard and say "England only lost by 43 runs, so all it would have taken was a Bairstow fifty". That ignores the match situation at the point of the dismissal. England were 178 short, with 5 wickets in hand. They weren't completely out of it, but they certainly weren't the favourites from that position.
Bairstow was returning from serious injury. Up to that point, he had made one fifty in his first three innings of the series, and that fifty was a first innings fifty. He was on 10 in an innings where his top order colleagues had been reduced to 4-45, and for all we know he could have been out caught behind next ball. Even if he hadn't been, it's not clear Stokes and the tail would have resisted Australia as well as they did without that stumping as catalyst. Things would have been different, sure. But that doesn't mean all those differences would have gone England's ways.
Yes, I saw Bairstow's brilliant Bazball run-chases with Root and Stokes last summer. Without doubt he could have produced something similar this innings. But nothing in the innings we've seen so far made it a foregone conclusion.
Commentators promised he'd make Australia pay in the Third Test, and he didn't. They're now saying he'll do it in the Fourth Test. Perhaps he will. Perhaps he won't. But my personal opinion is that, even without the controversial stumping, Australia would have been favourites to win the match.
It all blew up in a way that I doubt the Australian team expected. We even had the unedifying spectacle of both the UK Prime Minister and the Australian Prime Minister entering the debate. Not to be taken too seriously - but really, is it a surprise that each of them supported their respective teams?
Incidentally, Carey has revealed that a similar dismissal was one of the earliest ways he himself got out, back when he was fifteen. Very similar to Australian PM Anthony Albanese's message from primary school: Stay in your crease. I remember that same message, actually.
After the conclusion of the match and the England team trying to gain the moral high ground, there have been many comparisons to other incidents: The past behaviour of Mr Baz himself while playing for New Zealand, the actions of past England teams, the actions of Bairstow the keeper in the same Test. I don't think most of them are direct enough comparisons. But this one is perhaps the most interesting:
Well, well, well 🧐

"It's within the rules of the game and that's how it is!" - Bairstow 2014#Bairstow#Ashes23

Thanks for the heads up @YallopDiana 👏 pic.twitter.com/aNX1KeZIkW

— Andy Lee (@andytomlee) July 4, 2023
I imagine Alex Carey would agree with Bairstow's comment afterwards: "It's within the rules of the game and that's how it is." And so do I.
The whole incident felt like a storm in a teacup, and like sour grapes from the losers. But at least it gave us some fun memes: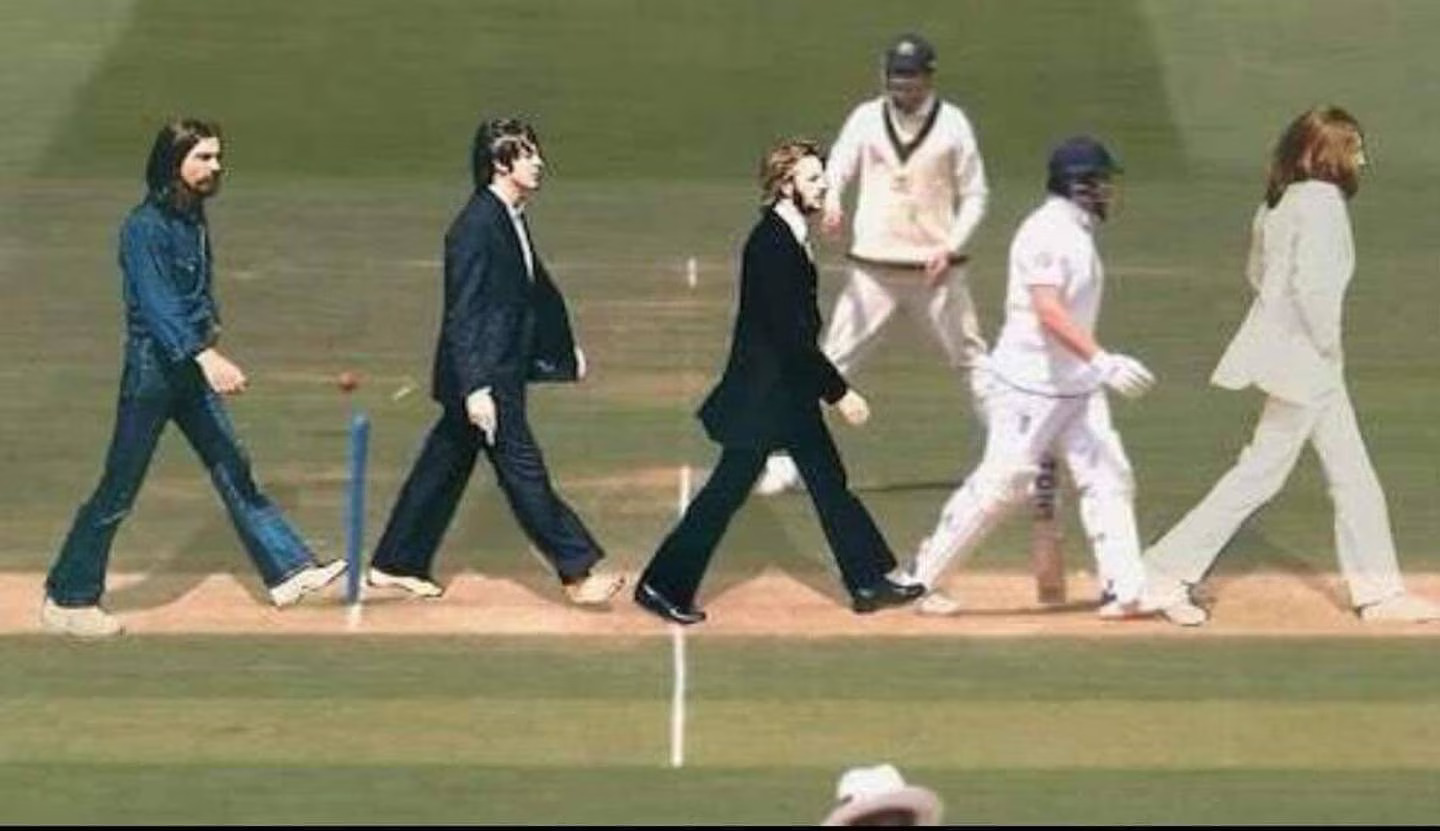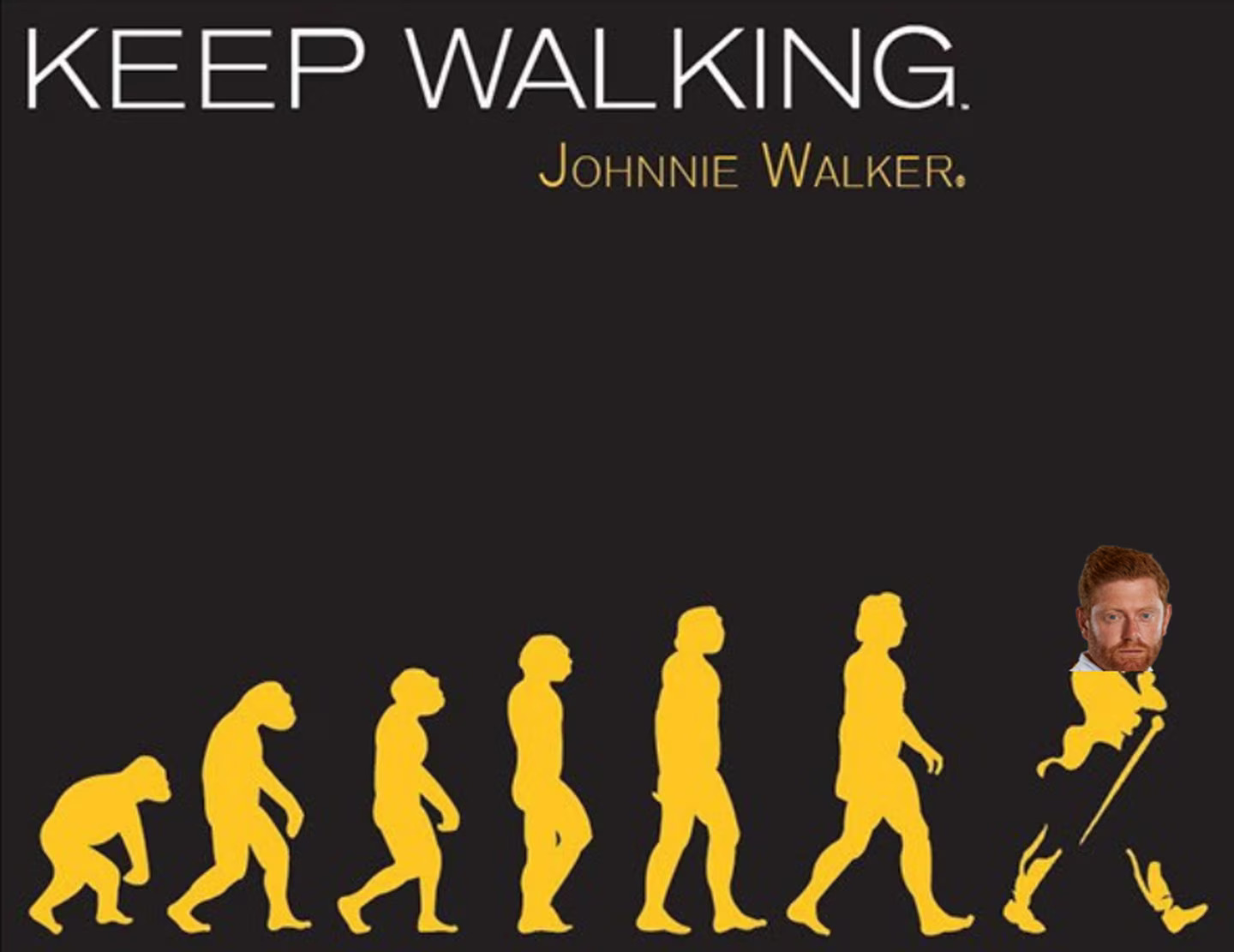 To me, the final result was that Australia ended with a much-deserved win. And if the incident helped motivate England to win the Third Test and keep the series alive - good for them!